Yes you read that right. Let me tell you one more time in case you missed it…but I redid our bedroom again!! This makes #4 I think? There wasn't anything wrong with the old room, but it was just lacking. Lacking life, lacking coziness, and lacking personality. I like the word lack today apparently. But once we got in the new upholstered bed, everything was just grey. Grey I love, but the grey walls, grey bed and grey curtains were just too much together. So now, here is a room I love. Our new navy and coral bedroom!
Hello new full of life room! And I'm bringing accent walls back y'all. When I hinted to you all last week about this secret project, I only showed you the white wall…so I hope you are shocked with the blue wall! :)
Here is the before.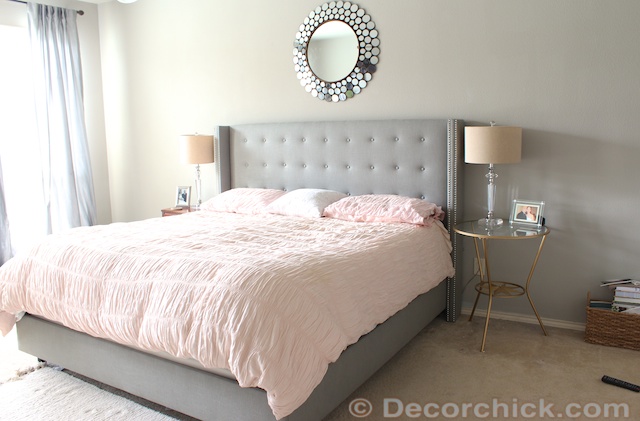 Pretty drastic yes? I have Sherwin Williams to thank for it since they asked me if I wanted to be a part of National Painting Week, and I'm of course like YES!! It was the perfect opportunity to do something with our room that's always been that not so perfect room in my eyes, and to really have fun with it. I chose the color blue to work with because I have been drooling over navy spaces lately. And pair that with coral and orange and I go bananas.
And what do you think of Ms. Peacock?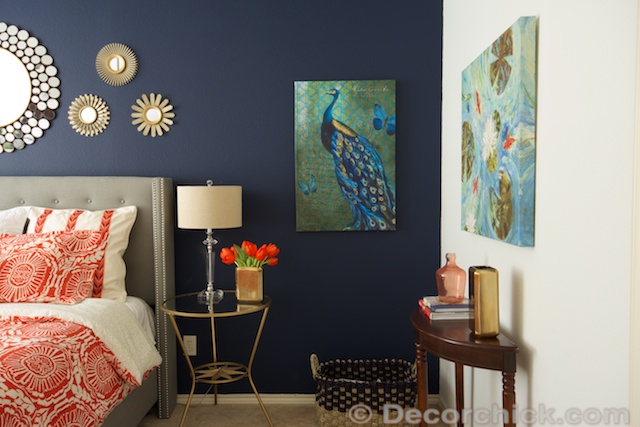 That was a total non-usual Emily purchase (at Homegoods) and I'm so glad I went for it.
Isn't that navy blue color fabulous? It's of course Sherwin Williams in Naval. It's a rich and true navy blue and not royal blue, which I did not want.
We used their Emerald line of paints.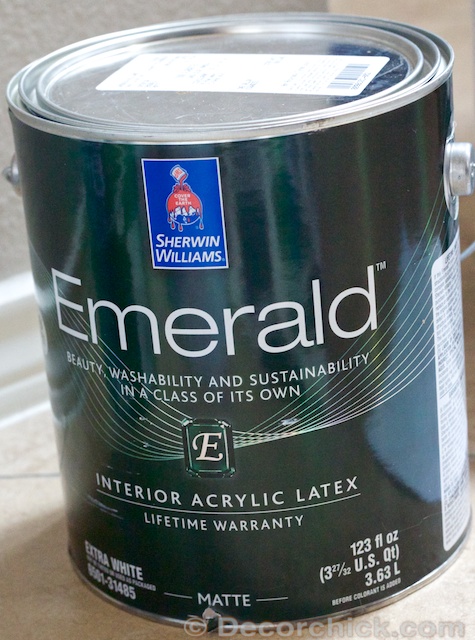 I've been using the Emerald a lot lately and love it. It covers great and goes on super smooth. I used the matte finish in both colors. I just did the 1 wall in the navy blue, and the rest of the walls and the ceiling I painted white (SW Alabaster), the same color as our kitchen cabinets.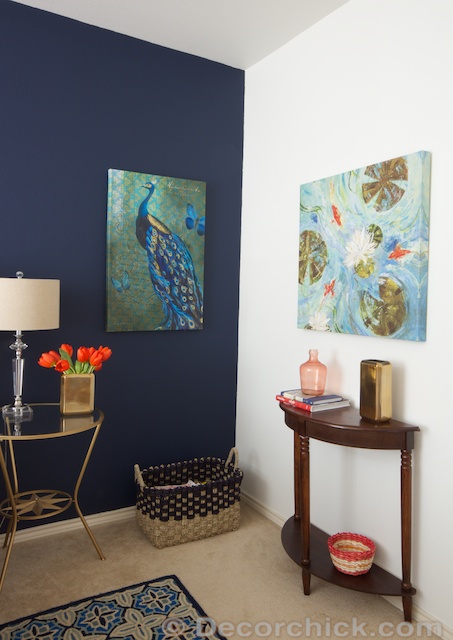 I love the coziness of the dark moody blue and then the crisp clean white. It's refreshing. I wasn't sure about white walls, but I am loving them.
I found this great ikat chair at Homegoods too and it fit in perfectly with the room.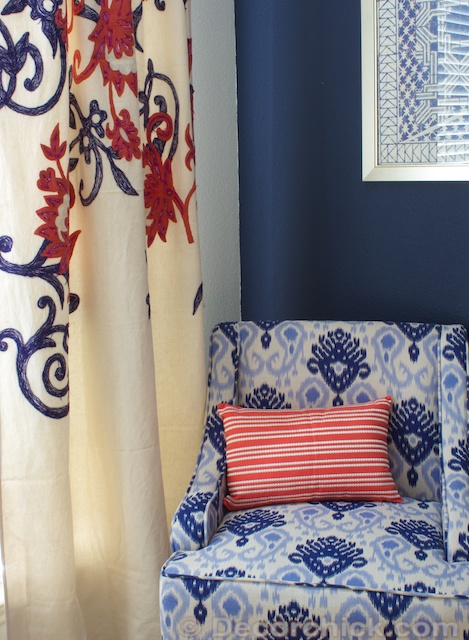 Now these curtains. Can we talk about them for a sec? They were a TOTAL splurge from Anthropologie. But oh my heavens they were totally worth it and I don't regret that purchase one bit.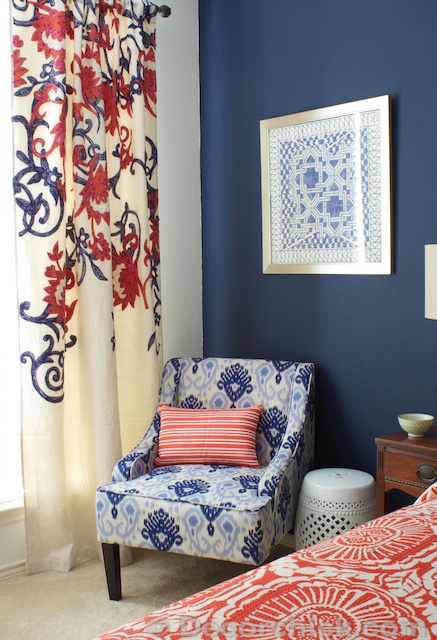 A close up of this gorgeous hand-stitched fabric and detail on them.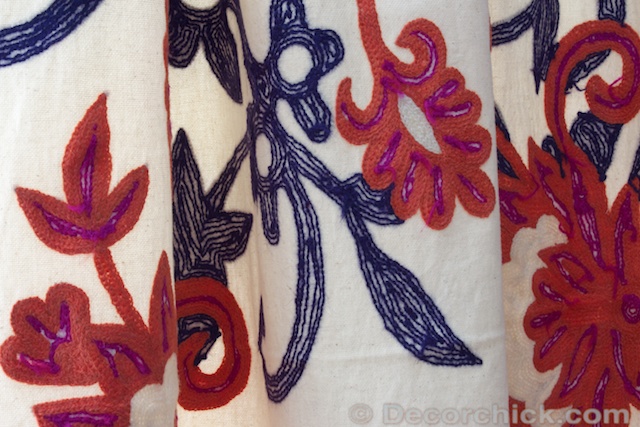 They were meant to be. Navy and coral curtains? Nearly impossible to find. Don't believe me, try and google some. So I thought and thought about these for several days before purchasing. So glad I did!  Not so glad that I'm addicted to Anthro now, but oh well.
The bedding and pillows I ordered online from Echo.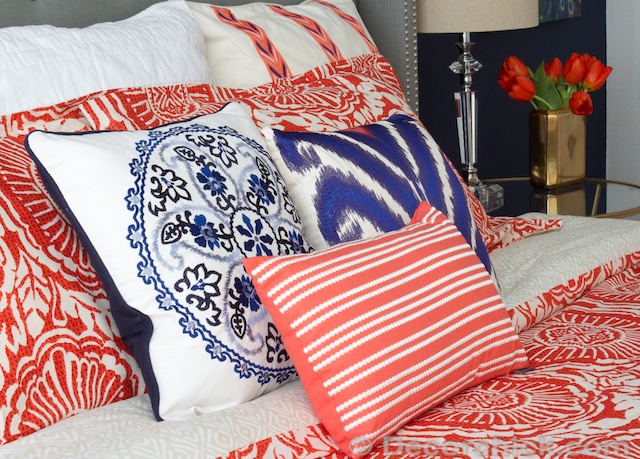 I've complained numerous times about duvet covers and how they make me want to pull my hair out strand by strand, so I'm happy to say this is NOT a duvet and just a comforter. It makes life much easier for me. One day maybe I will get the hang of duvet covers, but until then…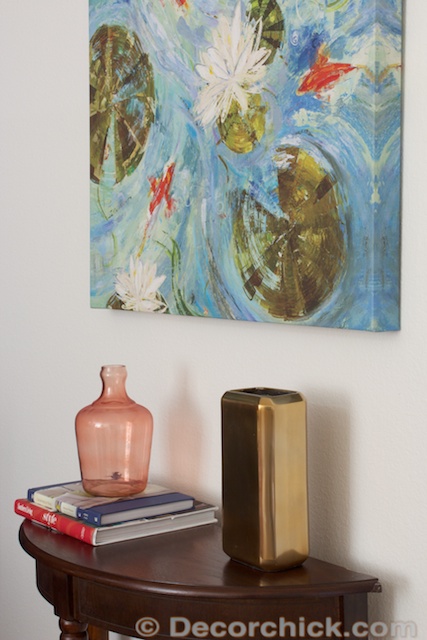 Here is a full room shot so you can see more of the white walls and ceiling.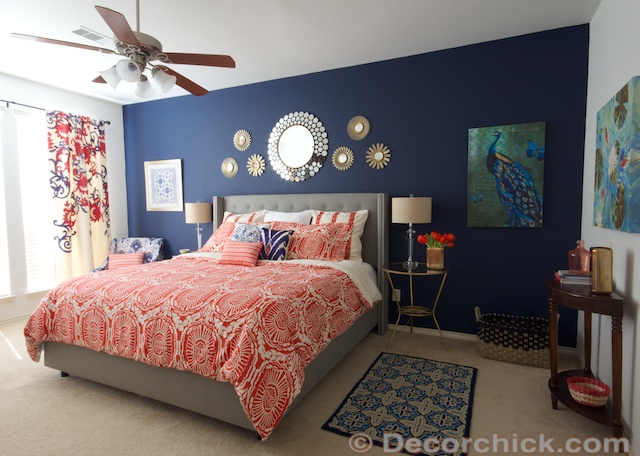 The new pictures hanging on the wall are all from Homegoods. They were on clearance too except the peacock. I think I paid $60 for her? The little wooden half-moon table was from Marshall's on clearance for $35 too because of a broken leg that I fixed.
The big mirror above the bed I had (from Kirkland's), and the other small accent mirrors are the Target Threshold mirrors that come 3 in a box. They don't look impressive in the box at the store, but once you hang on the wall no one will know they are like plastic. :) I gave them a little rub n' buff rub down too to give them a little more brassy effect.
Aren't these orange tulips beautiful?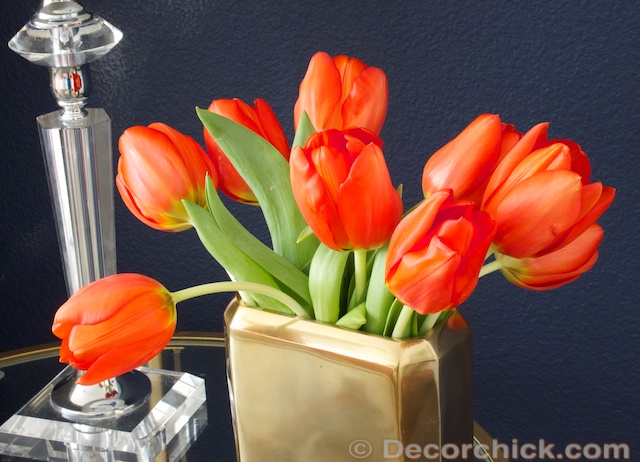 That pic was straight out of the camera with no edits. So vibrant!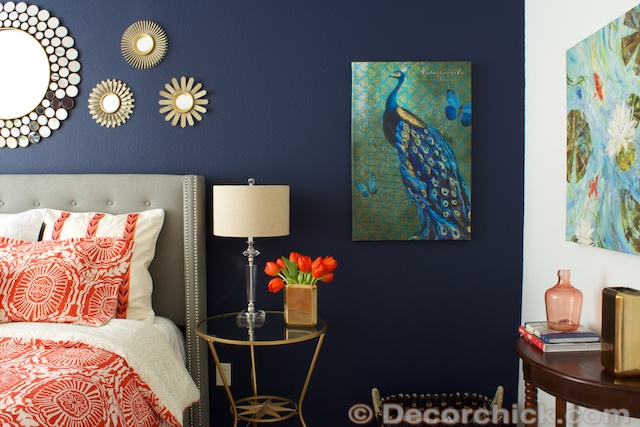 And one more before for grins and giggles…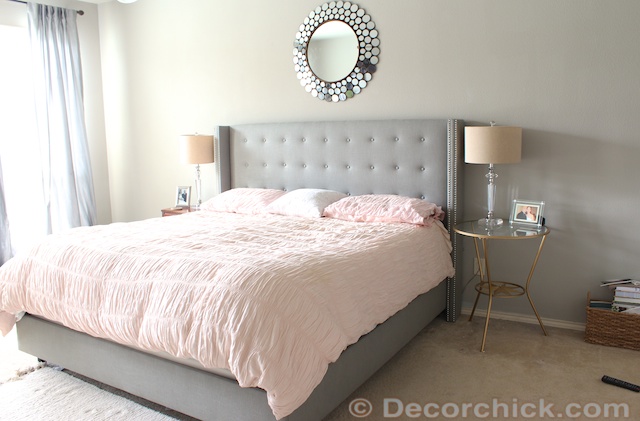 And after!
For even more grins and giggles, you can see the first bedroom makeover here, the second one here, and the 3rd one here. Wow. Be prepared for awful photography skills back then, have mercy on me. So this really is the 4th redo! I wonder how many I can do in my blogging career? Guess we'll just have to wait and see.
Throughout this entire week some of my favorite bloggers are doing their own DIY projects in honor of National Painting Week too! Be sure and check out Amanda from Recycled Consign & Design today as she has transformed something with a shade of blue too, and then tomorrow you can look forward to some pops of orange from Design Crush & The Brick House so I hope you will follow along!
So are you shocked about the transformation? I hope so. That's my goal in life–to keep y'all on your toes! :)  You ready to bring accent walls back? Oh yea baby.
xxoo,
Decorchick!
*thanks to Sherwin Williams for sponsoring this project. And as always, all photos, musings, opinions are always mine.
Let's Connect!