I finally get to show you all our new bed! I have dreamt of an upholstered bed for the longest time. The bed we had in our room which I last painted white, I never liked.  I have good reason to so just trust me on this one. I did like it better after painting it though. But besides it being MASSIVE and taking up our entire room, I wanted something more simple and cozy, and definitely something without a footboard so our room would feel more spacious.  And here's the new bed!
That's a big difference than our old bed isn't it?!  This is the bed I've been drooling over for several months and now it's mine! And guess what? I put it in my curator sale which is happening NOW at Joss & Main! It is such an amazing price for the whole bed, not just the headboard. I also had it in my last curated event. So be sure and check out my special curated sale if you wanted to snag up this bed too, or to get some other fabulous things for your home!

The quality of the bed is great. Really pleased actually. And it's always iffy buying such a big product online but I took a chance and glad I did.
I love the tufted headboard and nailhead trim.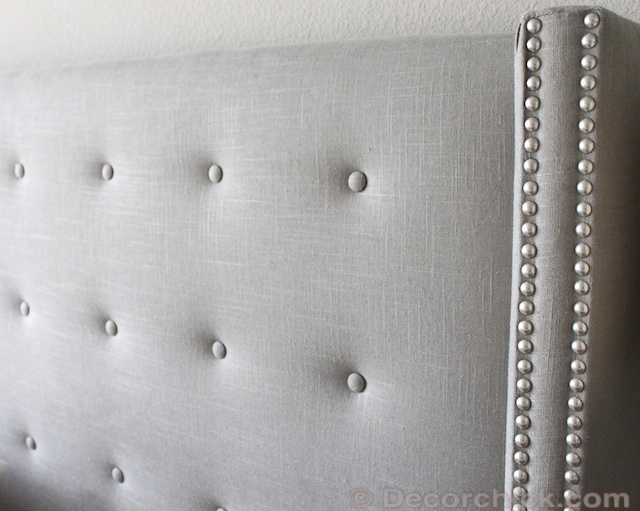 It is all real heavy duty nailhead too. The fabric is a grey linen and it's so pretty. Nester has this exact same bed and I did ask her how she liked it before I bought ours. She loved it too and we both did end up having an issue with a screw hole stripped on the headboard, but her husband fixed that up and we got ours fixed too. Not a big deal.
We also have a thick mattress so I like how it doesn't show any space in between the headboard and the mattress.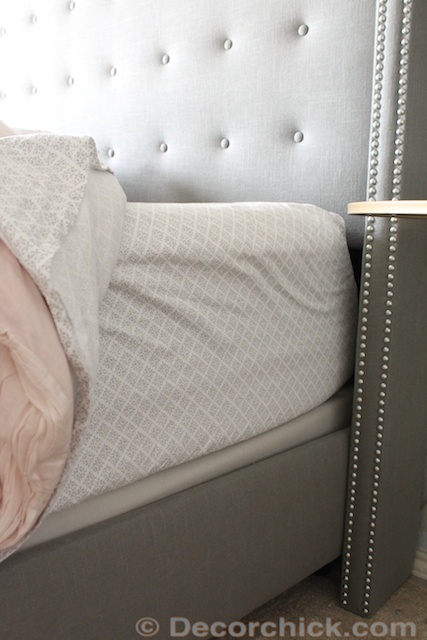 Did that make sense? I think you know what I mean by the picture. But it sits up plenty high. :)
Here are a few more shots of the new bed.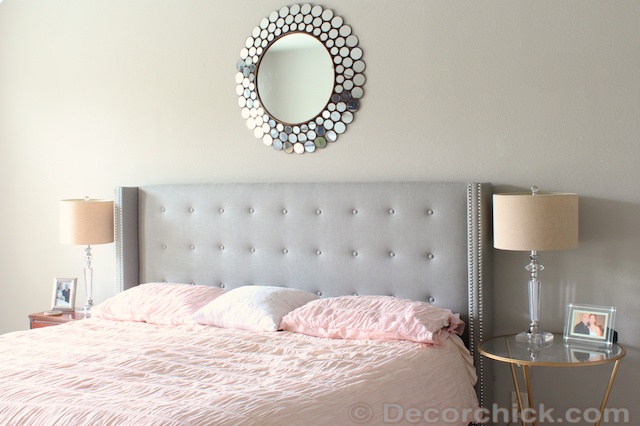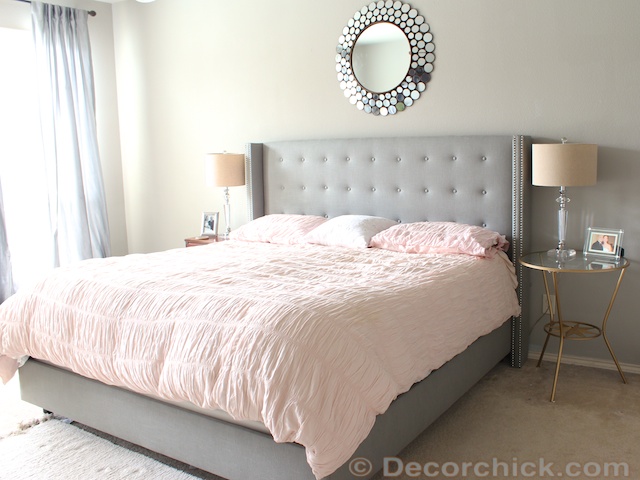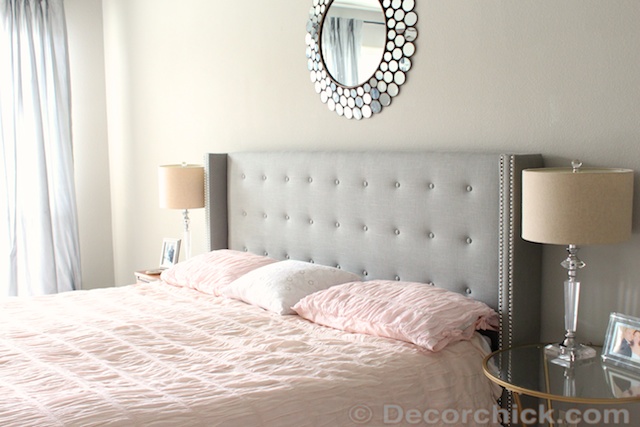 I found that brassy table at Homegoods on clearance for $45 and it was just what I was looking for. But I need another one! I have the wooden side table on the other side of the bed that came with my garage sale entryway dresser and I do like it too. But I'm all about brass right now!
So anyway, I love love love our bed and can't wait to get in it every night. It's SO nice leaning up against a soft headboard vs. what we used to have. It's the little things. :) Oh, the paint color in here is Sherwin Williams Mindful Grey.
I kept the crystal lamps we have had in here and just swapped out the shades. I had some in the garage. They aren't even the same shades, but they are the same color and texture so they work. Love shopping in our garage. :)
Don't forget to check out the Joss & Main curated event happening now because it only lasts a few days. I picked out some pretty things for you! :) If you aren't a member yet you can sign up here for free with my special invite.
So what do you think of the new bed? I love having extra room in here now instead of a huge bed swallowing up our room. Sharing this post at Sarah's Before and After party.

xxoo,
Decorchick!
Let's Connect!