*UPDATE* – This room has been redone again, so click here for the latest redo. :)
Well our room is just about finished so I'm going to show it now.  :)  I know you probably want to see pictures first, but let me just talk a little bit…or a lot.  This will be a long post, but there will be lots of pictures so hang with me. :)
Sadly, I haven't touched our room since we've moved here which is a little more than 1 1/2 years now.  I know the master is something that shouldn't be neglected, but I did because I wanted the rest of the house that everyone sees when they come over to be pretty.  No one goes into the master!  But another reason I haven't done anything to our bedroom is because I didn't know what I wanted to do with it.  All I knew is that I didn't want it dark.  Then a few weeks ago, I finally got inspired…
I was inspired by House of Turquoise's post on Beloved Rainwashed.  Wow, it was a beautiful color that captivated me.  Then I started doing my research on the color, reading all the comments, and even emailed another bloggy friend, Renee, who I saw used this color.  I wanted to make sure she LOVED it, and she did.  You can check out Rainwashed in her new beautiful kitchen here.  So, off to Sherwin Williams I went!  And nope, I didn't even test it on the wall.  Just bought my 2 gallons at $10.75 a piece and went on my merry little way.  Yes, I get SW paint reeeeally cheap.  I'm a SW gal and at that price wouldn't you be too?!  You would think after my last painting mishap in the kitchen I would have learned my lesson, but I just knew this was gonna be a goodin'.  And it was.
Blue is my favorite color.  Aqua, sky blue, turquoise, royal blue, any blue really.  I've just never decorated with it really and I don't know why.  I've been missing out though, that's for sure.  Blue is not "cold" to me.  It is so soothing, calm, peaceful, serene and just lovely.  It's a different kind of "warm," definitely cozy, like most people want in a master.
Ok, I'll shut up now.  Here are some before pics.  Beige, beige, beige, with orange nightstands.  Awesome!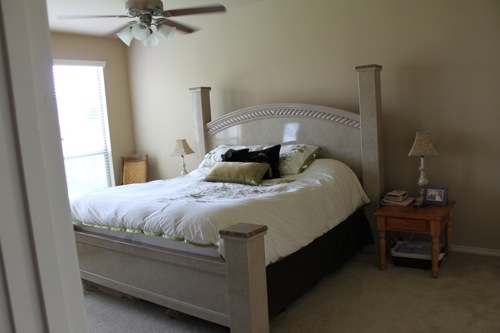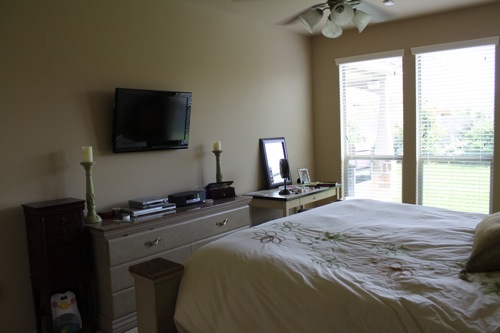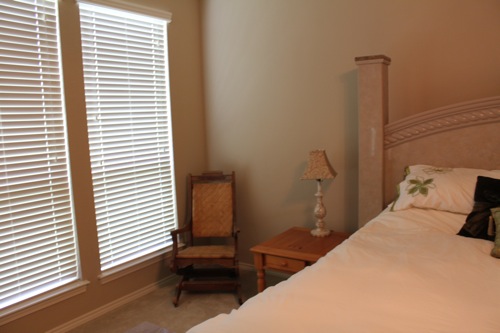 And after!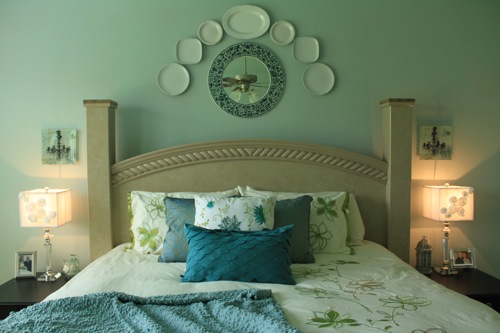 LOVE!!  The paint color is obviously Rainwashed by Sherwin Williams.  It's a beautiful soft blue-green-gray-turquoise color.  It changes all day long and all of the colors it changes are awesome.  You will see in all of the pictures how it takes on different shades.  I kept the same duvet cover we had because I still like it, and it goes with the room great.  So that saved lots of money! Would like a new bed skirt that is long and billowy though. :)
I did buy most of the accessories from Homegoods, and most everything was on clearance.  I spent $170 TOTAL on the room, which is not bad at all considering there was nothing in here.  Some things are thrift store, Goodwill, and dollar store items too.
Here is the room as you see it when you walk in.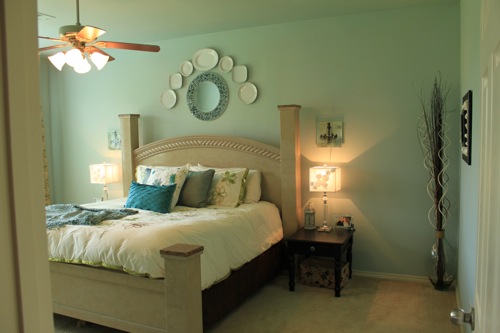 I was going to paint the headboard, footboard, and the dresser, but I didn't.  I have plans to make a headboard and get rid of the footboard altogether.  But now I actually like the furniture again because it looks good in here with some color.  So yay!  I do have plans to put crown molding in here for sure, and either beadboard or board and batten all around.  That will just be fabulous!
More views of the room…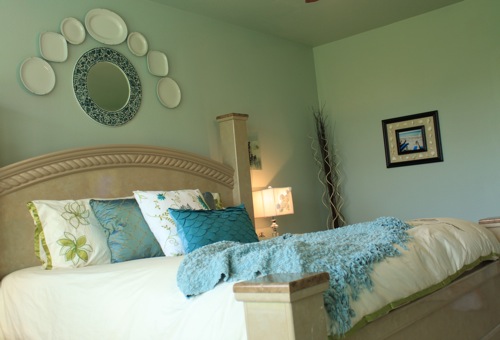 Did you see the ceiling?  Yes, we painted it the same color!  Paint your ceilings people.  It's really true what they say.  Really opens up the room and doesn't chop off anything.  I'll be doing this from now on in every room for sure!
A view of dresser.  I didn't replace the hardware, just painted them white and added a little of the blue paint and glaze over them. I'll replace the hardware one day.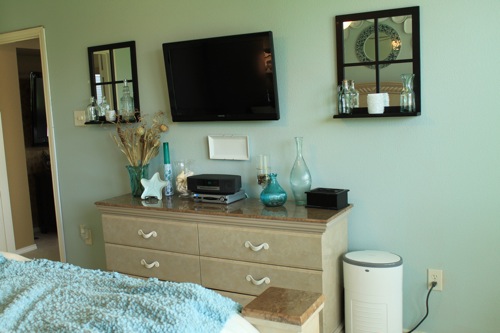 Sorry, have to have a diaper genie in here.  And yes, we have a tv in our bedroom.  Don't hate me please.  I love watching tv in here before I go to sleep. :)  Need to hide that cord though!
View from master bath (sorry it looks dark).  But isn't the ceiling cool??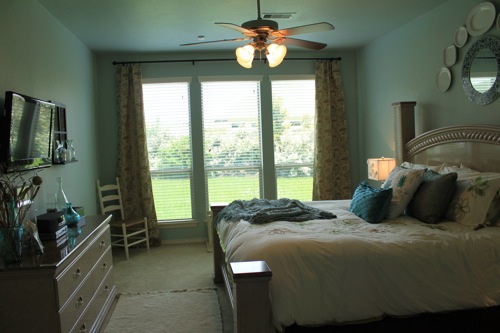 I made those window treatments too.  I made them exactly the same way as I did here in the breakfast area.
Close up of the fabric on window treatment.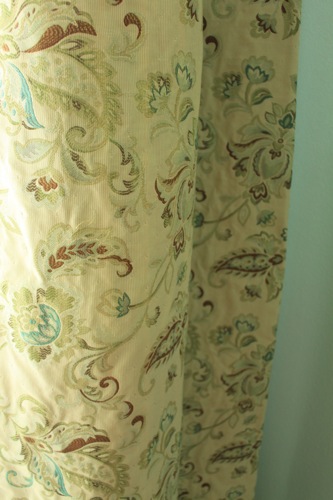 I love this fabric.  It ties in all the shades of blues, greens, and other neutrals in the room.  I got the fabric at Hobby Lobby.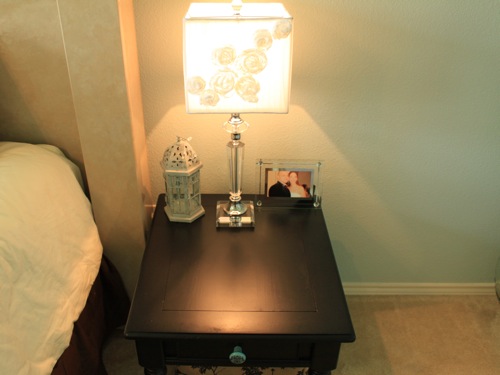 A $5 thrift store rush chair that I redid and will be posting about soon.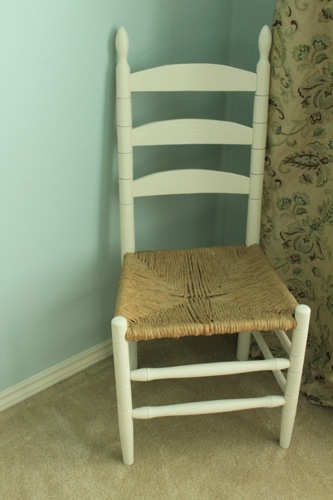 A cute rush seating bench I found at Homegoods on clearance for $29 (because a part was broken that I fixed) that matched my chair perfectly.  Underneath it is a jute rug that was $5.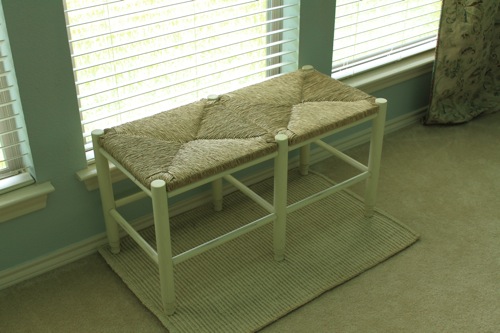 Love these plates I put above each of our lamps that are from Hobby Lobby.  Love that chandy!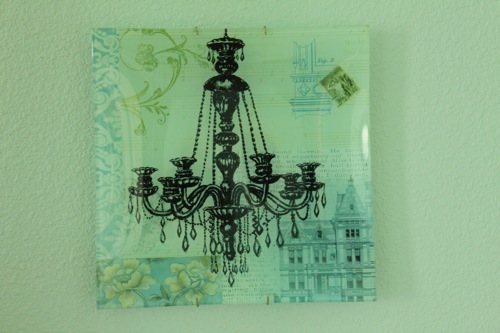 New crystal lamps that were on clearance from Homegoods.  I've been drooling for some crystal lamps for a while and knew that's what I wanted.  They were actually the first things I bought for the room.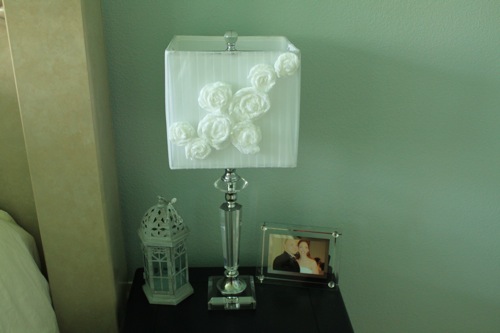 I made the rosettes on the lamp and will be posting a tutorial soon.  Very, very easy.
Love this tall vase stand that's wrapped in jute on top.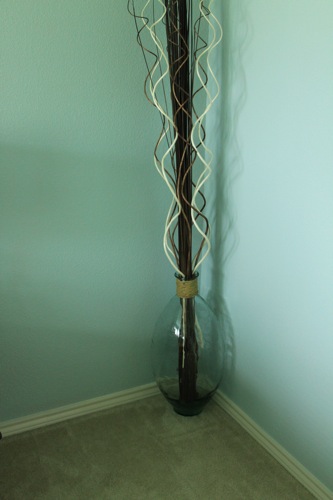 A cute new basket (to hold diapers) from Hobby Lobby that's made of Jute…$5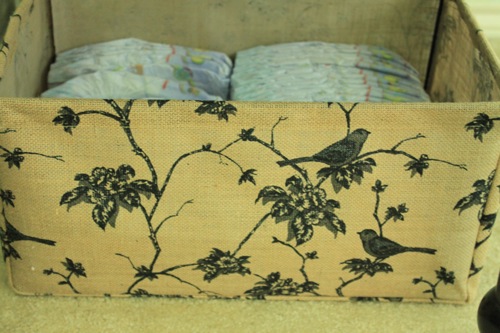 A view of the accessories on the dresser.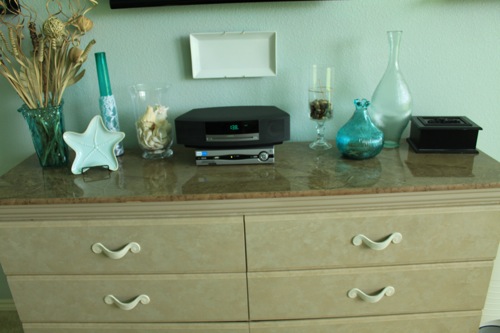 I have a dollar store hurricane and my lace bottle on the dresser.  As you can tell I am nuts for the blue, green, and clear-ish bottles.  I can't help myself.  I have them above the dresser on those mirrored shelves too.  If you scroll up a few hundred pictures you can see them.
Wow, is anyone still reading this?
So, that's about it for my abundance of photos.  The moral of this very long post is to decorate your bedroom if you haven't already, but don't do it until you are inspired and have a vision.  If I would have done our room 6 months ago, it would have been way too dark and I know I'd be wanting to change it.  I am pretty certain I will like our new master room in every season of the year.  :)
And just because I am mean and want to bombard you with more photos, here is another before and after.
Before…
And after…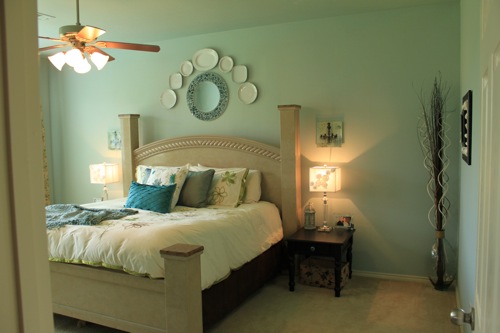 I'm off for some peaceful sleep now.  :)
*UPDATE* – This room has been redone again, so click here for the latest redo. :)
xxoo,
Decorchick!