Hi guys hope you had a good weekend! The weather in Texas was gorgeous!! I was able to finally snap some pictures of our new master bathroom, and the diy coral painted vanity! I just love it!! The pop of color in there is so fun, and not overwhelming since I went neutral with the grey paint on the walls. Now come say hello to Coral Beauty.
I don't know why she's called Coral Beauty, but my daughter names all of her animals and toys, so I figure I should name my projects too. Isn't she pretty? And so fun and unexpected! When I mentioned before about this project, I said in that post that I haven't seen many coral vanities around. White and black yes. But coral or another fun color, not so much. But I am now convinced you all need to go paint your vanities YESTERDAY and I promise it will give your life a dose of happy. :)
Remember the before of the bathroom? Beige beige beige and a white vanity?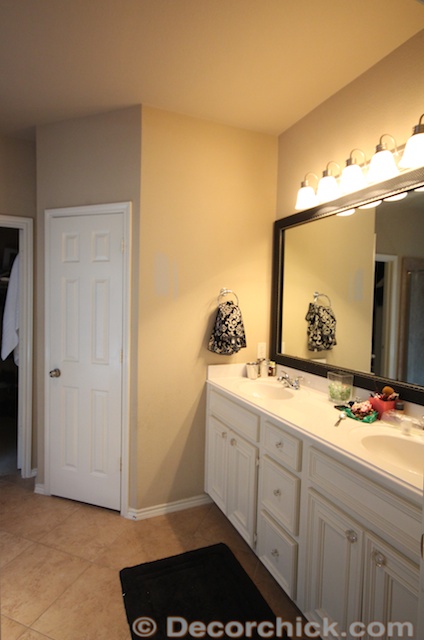 And if you are paying attention, you will notice in that before the frame around the mirror is black. Well, the black frame looked horrific with the coral vanity, so I just painted it white! It is one of those mirrormate frames that stick on (like, permanently), and rather than deal with trying to get that frame down in one piece and not shattering our mirror, I decided paint would be the way to go. So glad I tried it. I used some latex Emerald paint by Sherwin Williams in Alabaster (same white I've been using everywhere lately) in a semi-gloss for it.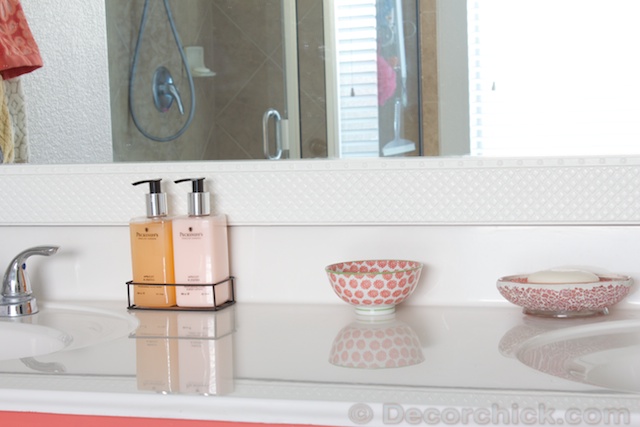 For the vanity, I used Sherwin Williams' All Surface Enamel, latex base in a satin finish.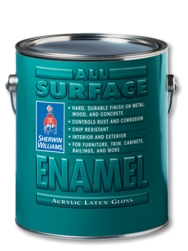 The color I used is called Coral Reef. It's a perfect coral shade in my opinion. One word about this enamel paint though…It's very thick! Almost like glue. And a quart was more than enough for my vanity and I did 2 coats (all with a brush) and I still have a full can almost. It spreads out really nice and covers well so I'd definitely use again.  With it being so thick you don't get drips or anything which is nice.
Since my vanity was already painted white, all I did as far as prep work goes was clean the cabinets really well (I removed the cabinet doors), then sanded down a few spots where the paint was chipped until it was smooth, and that was it.  Very simple. I just used a brush to paint the whole thing because there was no point really in a roller since I have that extra trim on the doors.
I got the hardware from Anthro…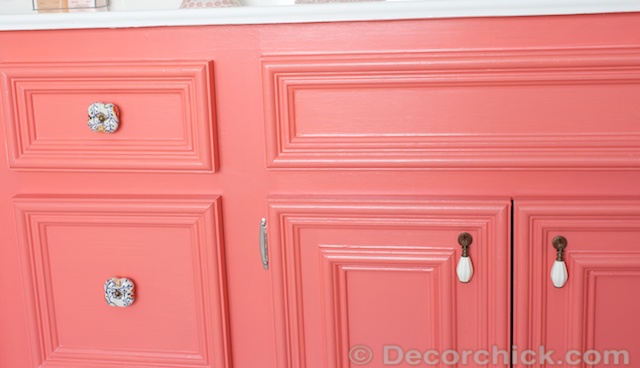 Fun fact: I tried 2 other sets of knobs from Anthro, and 1 from Hobby Lobby and didn't like all 3! Then when I had to go back to return again at Anthro, I decided to try some different knobs yet again, and these were the winners.  Coral Beauty turned out to be pretty high maintenance.
Here are a few more pictures for your viewing pleasure. :)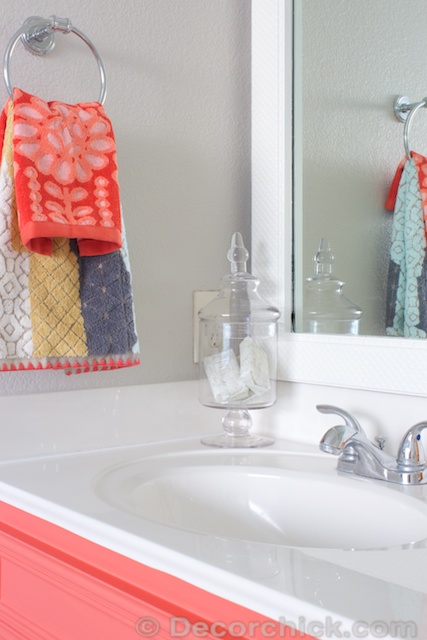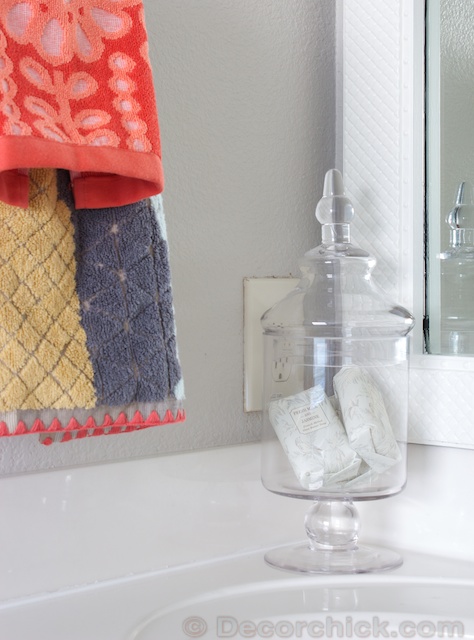 (remember everything is prettier in glass!)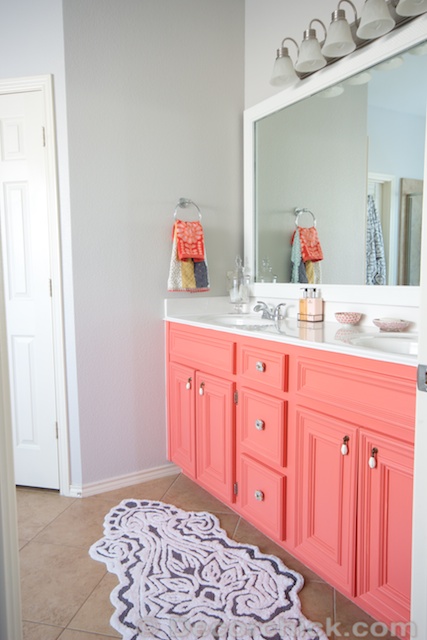 And here's a full room shot of the bathroom so you can see everything.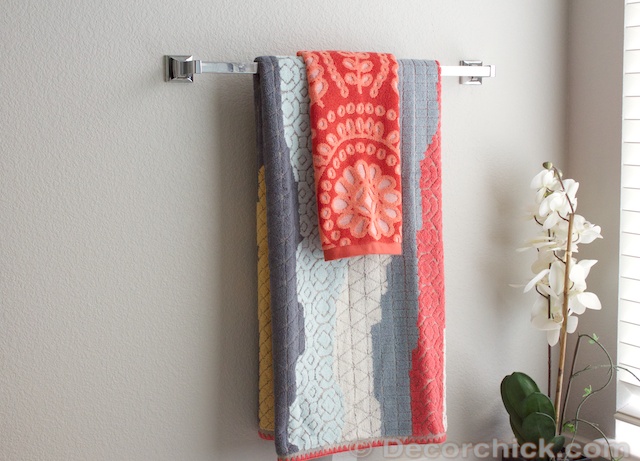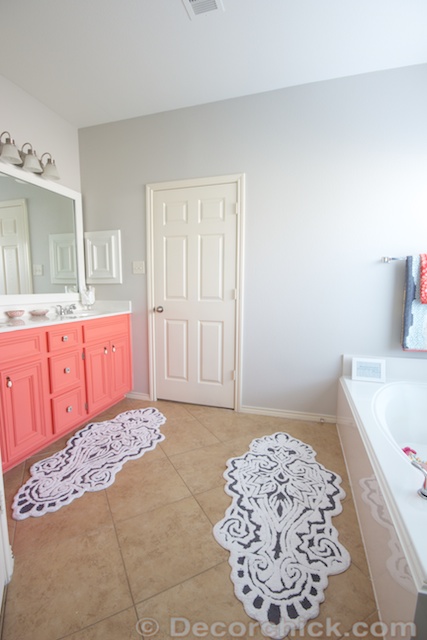 There isn't a lot of wall space to do any fun treatment really (or it's at least not top priority now), and I'm still on the hunt for some decorative things to hang on the wall. Finding cool stuff for bathroom walls isn't easy. And honestly I'm just happy with the grey walls and diy painted vanity now. Oh, and my Anthro rugs. Totally worth it. :)
I still need to paint the doors and trim in the Alabaster too because the old trim is too creamy/yellowy now. I did paint the little medicine cabinet above the vanity the new bright white and it's way better. Makes SUCH a difference.
So what do you think of the coral vanity?
My husband's face was priceless when he walked in on me painting it this color, but turns out he actually loves it. Really. And he loves the rugs. He's a keeper. And I particularly love it because I am madly in love with coral (duh), and it goes awesome with our navy and coral bedroom.
So I want to know now…what are you going to go and paint?! :)
Sources: Paint Color-SW Agreeable Grey // Vanity Color-SW Coral Reef // Rugs, Towels & Hardware-Anthropologie //
Sharing this post at Sarah's before and after party.
xxoo,
Decorchick!
Let's Connect!