Today is THE DAY!! It's been so hard keeping this room all to myself for several months now. Sitting on a completed room and not being able to write about it immediately is almost torturous to a blogger. But finally, the dreamy, and very pink girl room we have worked so hard on for our daughter can be shared!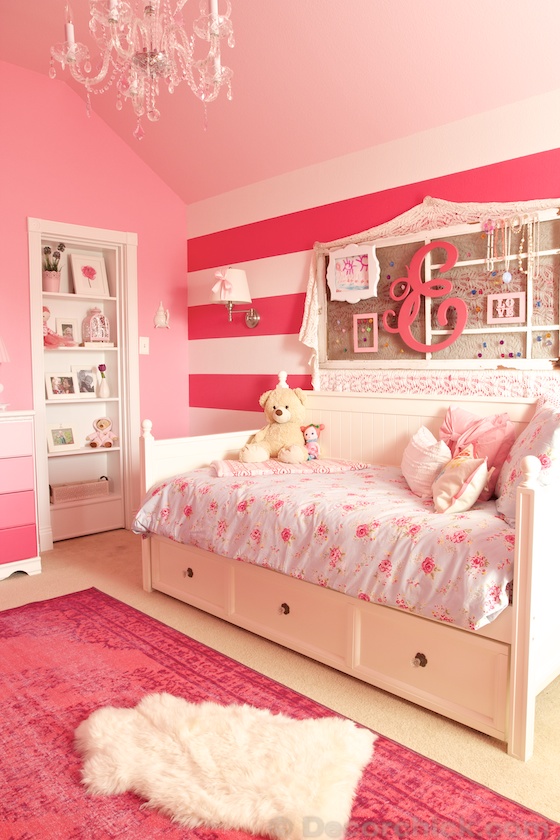 You're gonna have to hang with me in this post guys–lots of info! There will be tons of photos, and I will be doing several separate posts after this too.
You all know that I participated in Sherwin-Williams' National Painting Week last year with our master bedroom makeover, and I was thrilled to be a part again this year being assigned the color PINK! Perfect for Emma and to get her big girl room done. And I used FIVE shades of pink! :) Will get to all of that later though.
Here is what her room looked like before. I took lots of time cleaning it up before I snapped photos.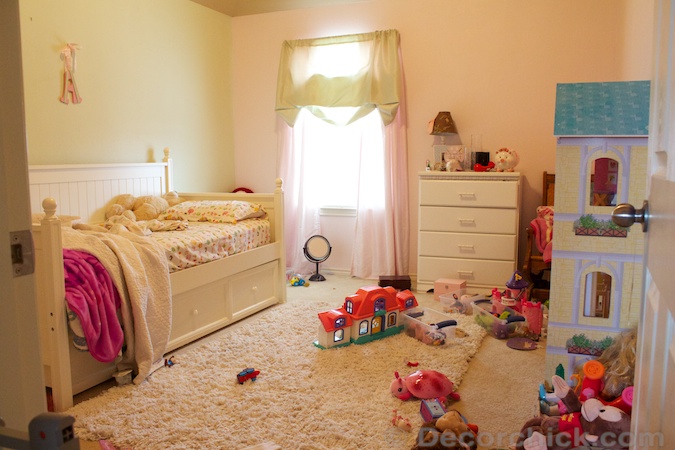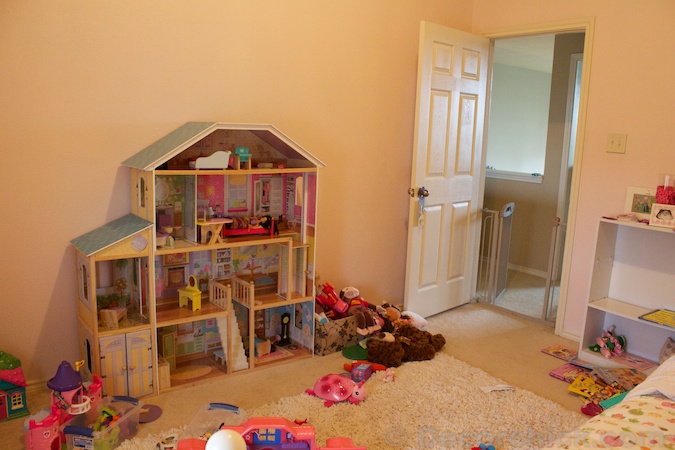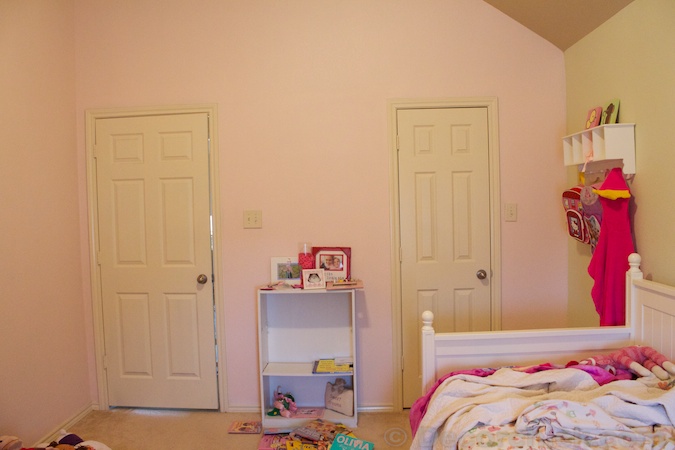 It's important to know a little history about our daughter and how this room finally came together.  She will be 5 in July. You may remember she wanted her entire room in pink and purple from her cute little video last year. And while I tried to go against her wishes of having everything painted in pink (I decided to just have a few purple-ish accessories), that was not cool with her. So I had to repaint this room twice.
See? I tried to do a few white walls at first with softer shades of pink.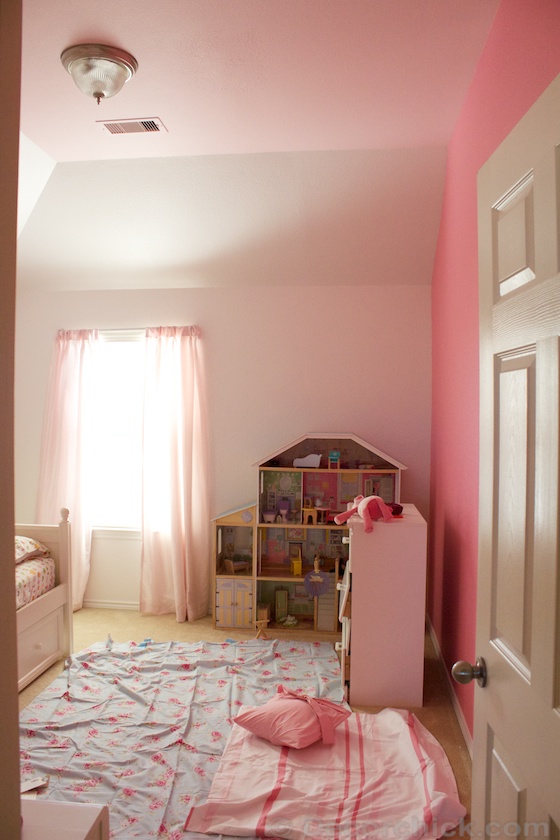 I was hoping she would be happy with the 1 pink wall, and the rest of the walls white and a light pink ceiling. But NO. She wanted it top to bottom PINK! And not just any pink. She wanted those bright, barbie-ish, purple-y pinks. The pinks I first chose were again, not the ones she picked. I was playing it safe (and going against her wishes again) by going with lighter and softer pinks.
And well, ultimately, we wanted EMMA to love her room, and because you are only 4 and 5 years old once. So let them be a kid for pete's sake and have a colorful room if that's what they want.
So I put on my big girl panties and went bold.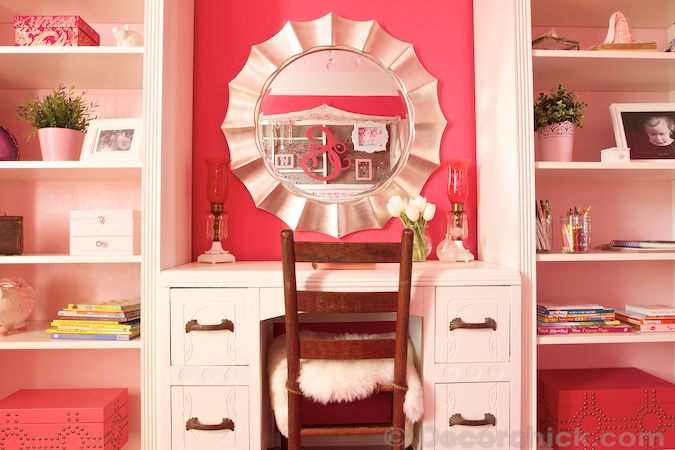 Can you believe that's the same room?
And I have to say, Emma was right and chose the perfect pinks all from the very beginning. I should have listened to her all along. Otherwise she wouldn't have a bright, spunky room like this, and a room that she wanted.
I mulled and mulled (and my husband played a big part in this room too) over the design of this room. I had plans all along to flank her bed with those 2 bookshelves. But then we placed them by the bed and then you barely saw the stripes I painted (which aren't supposed to be hidden), so hubby suggested to put them on the opposite wall. And of course he was right.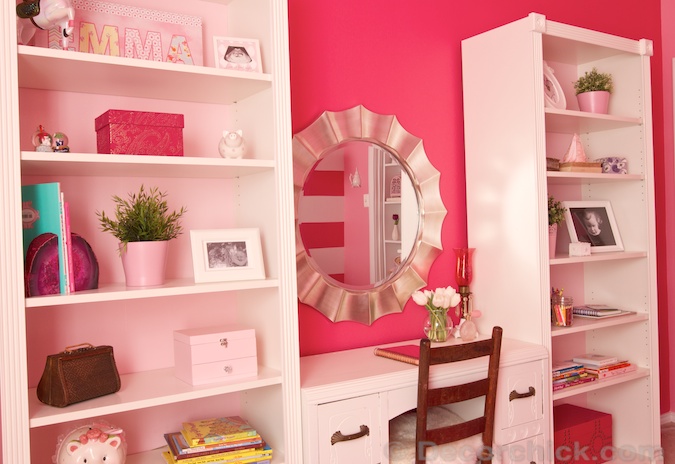 Of course there are a few mama touches in here with the accessories, but I really tried to keep the colors bright and fun and something a little girl would like, and of course things that Emma already loves. And things that would grow with her as she gets older.
If you are asking where the toys are, or where that dollhouse is that is in the before picture, well we have cleaned up the gameroom, which is right across the hall from her room, so the play kitchen, the dollhouse, and other toys are in there now. Emma's books and stuffed animals and dolls she plays with daily are still in her room though. But it's great to have the big dollhouse in the gameroom now too, so her little sister can play too.
I bought a big laundry hamper thing at Homegoods for the toys that stay in Emma's room now.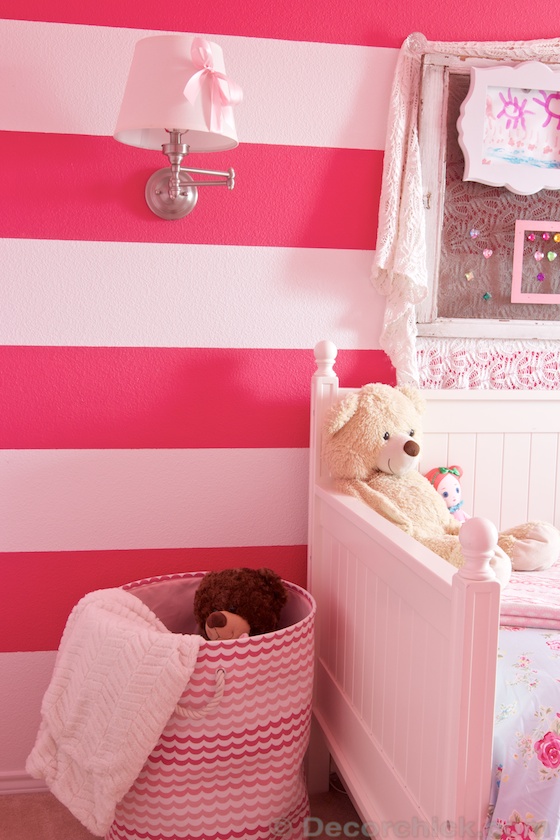 I will admit I was stumped what to do over Emma's bed for a long time. So I went to my favorite antique store and enlisted Tracey from Southern Sister Designs to help and get some new fresh ideas from her. She spotted this old antique screen door, told me it would be magnetic, and I was sold. So I hung it up!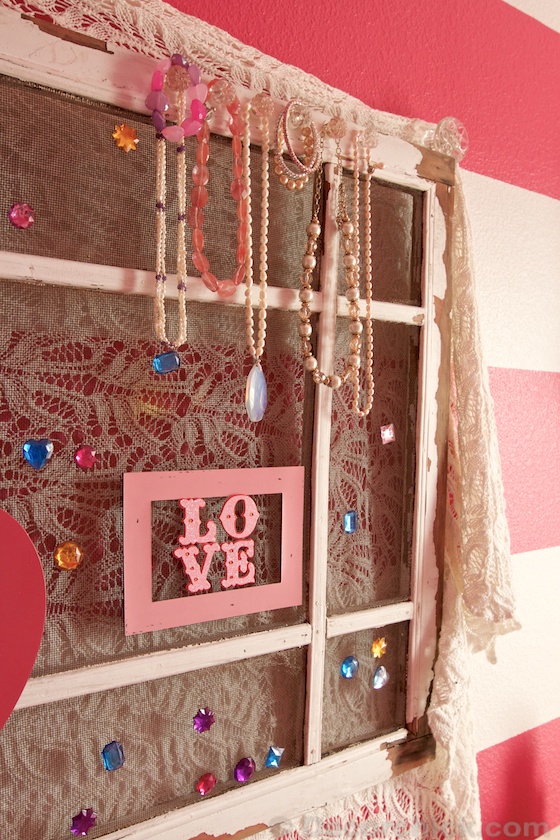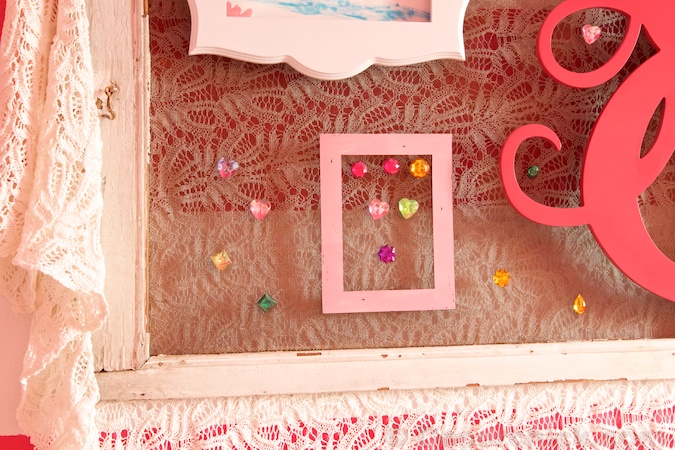 I just bought those little gems and attached magnets on the back so Emma could play with them and put where she wanted. The door she can just have fun with and display her art and everything!
I found that lacy fabric at the antique store (think it was curtains at one time?) and just draped it behind the door for a little more detail, and put crystal knobs around it for some princess bling.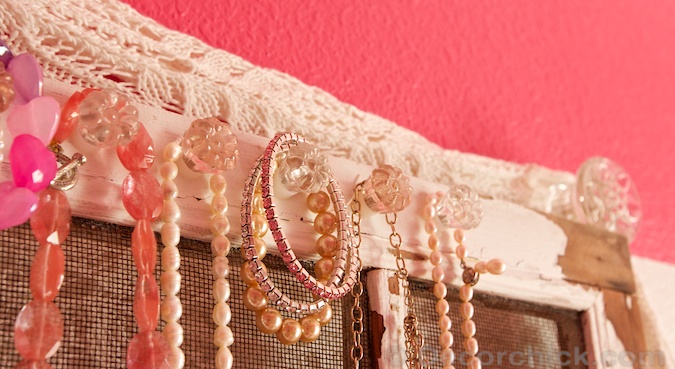 I'll show you how I made the jewelry hanger with the knobs in a different post.
So gosh, I bet you are wondering about that hidden door bookcase aren't you?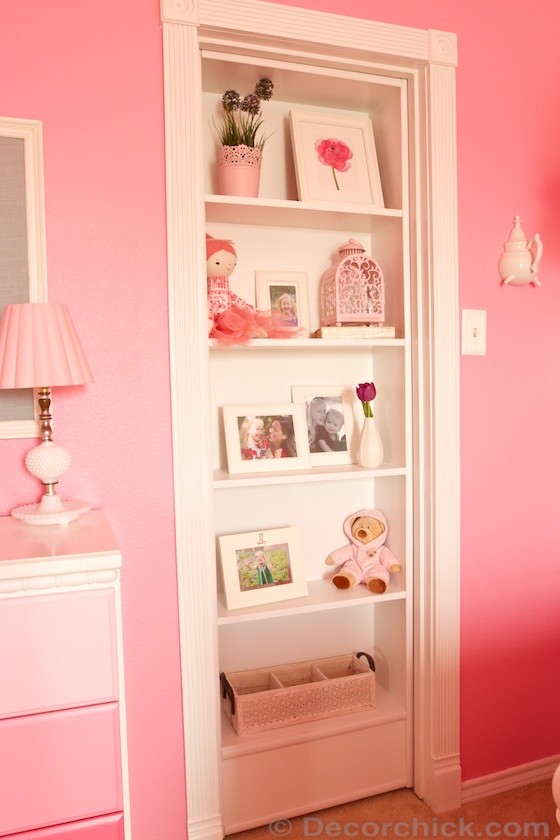 Can you believe that? It's a bookcase. BUT A HIDDEN DOOR!!! THAT MY HUSBAND BUILT!!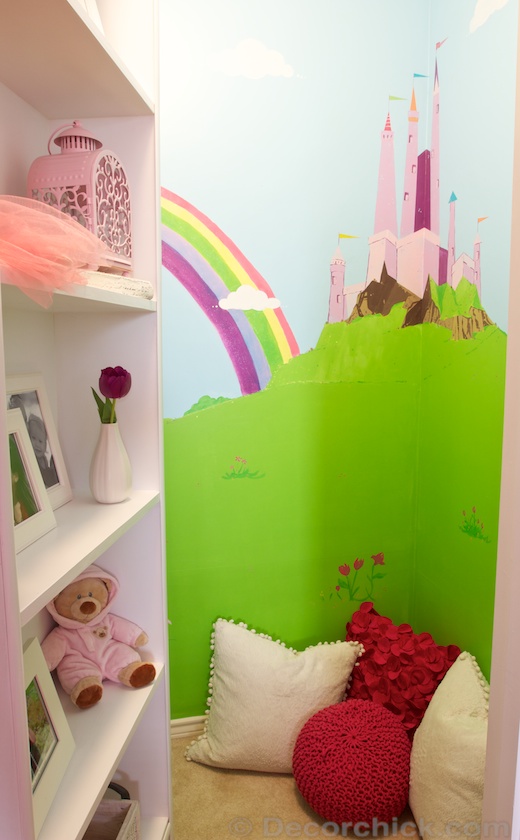 Sorry guys I get a little excited. It's just not everyday you see a hidden door that leads to a magical play closet.
UPDATE: See THIS POST for the details on the hidden door and secret room. 
But I do have to thank my incredibly talented brother-in-law, David, who DREW AND PAINTED THE MURAL HIMSELF, BY HAND!!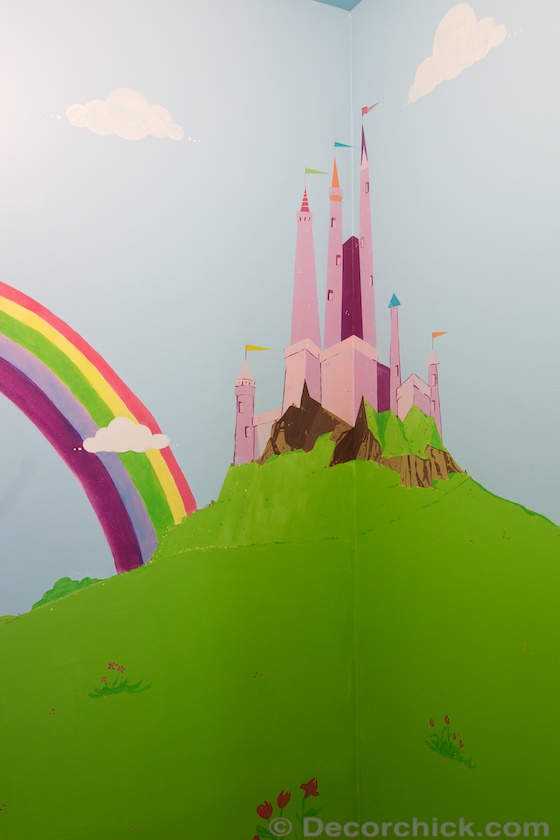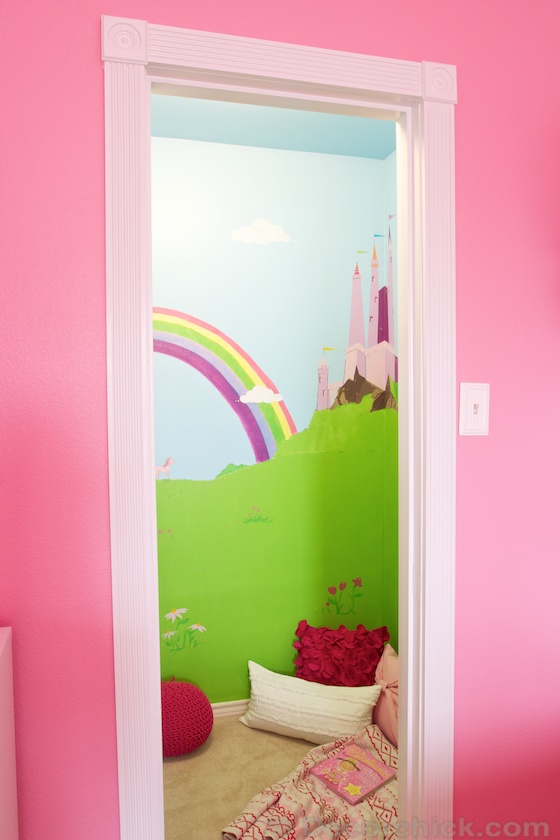 Mercy, I need to go put on some Peace & Calming oil I get so excited!!
And again, mad props to the hubby because that was all his idea too. I was just going to play it safe again, and paint the door hot pink because I'm wild and crazy like that. Which I did. But then he took the door down so we have a pink door in our garage. :)
Okay, so more on the room…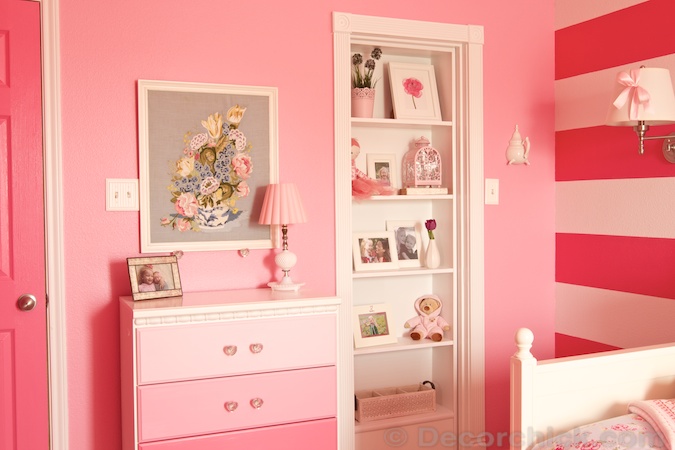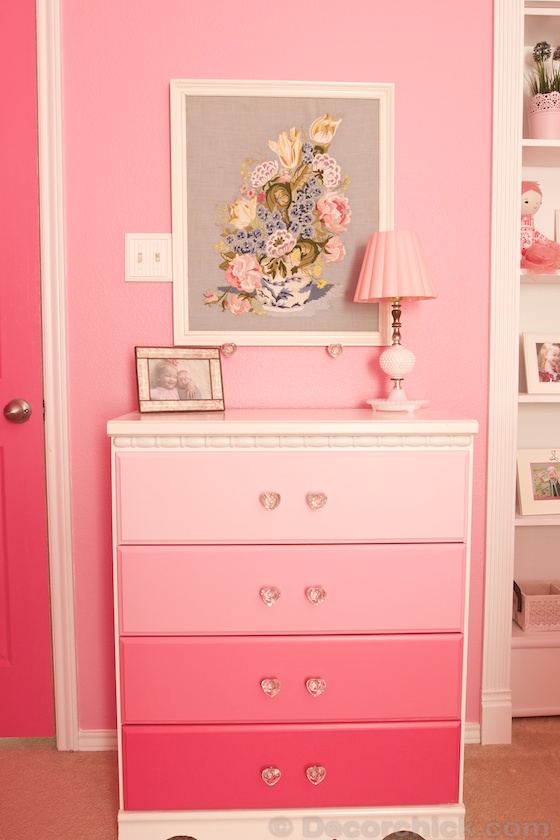 We re-purposed her old white dresser and I painted it ombre style as shown here.
TONS of things came from the antique store for her room makeover. I wanted things you couldn't find at any old store, and special things. The milkglass lamp, these cranberry candle holders, her desk and wooden chair, many frames, the needlepoint art, the screen door to name a few.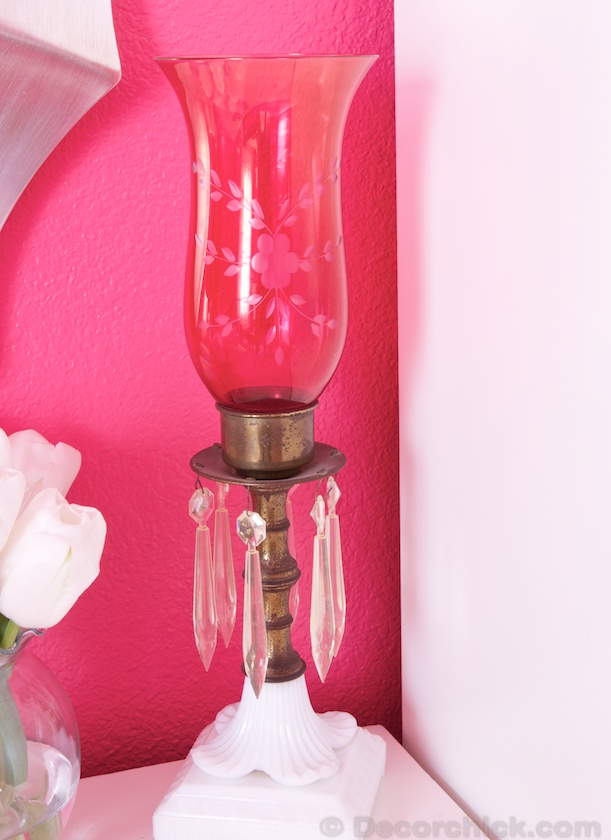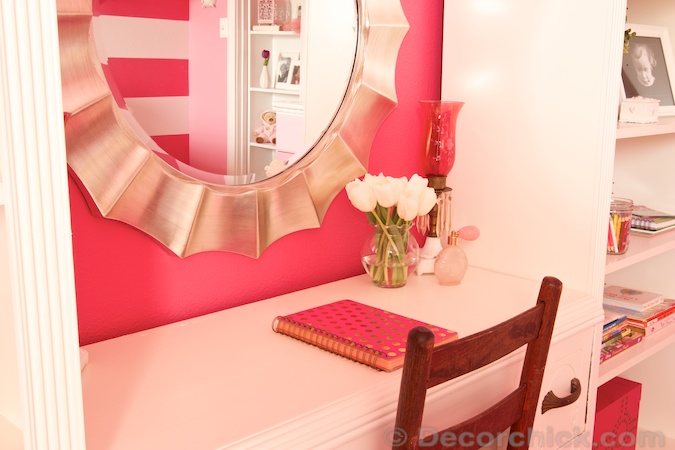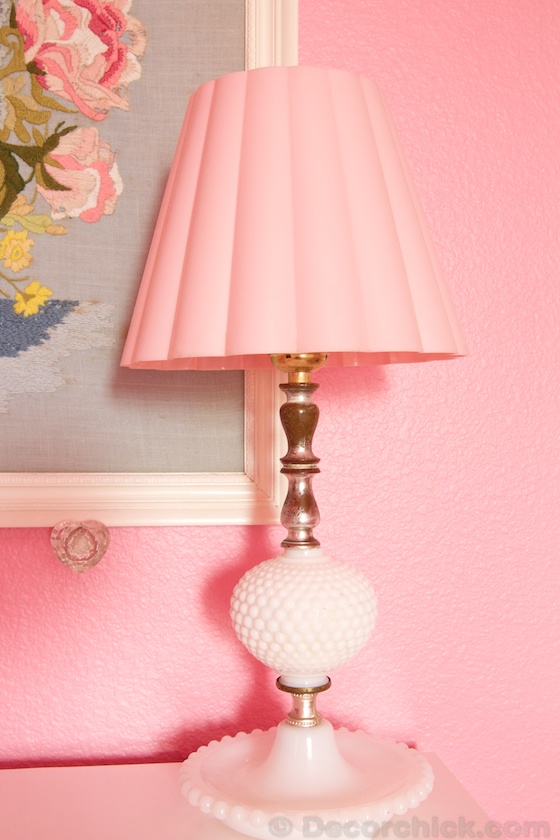 This little side of the room where her silhouette that we made is, also has a little place for her to hang up pictures and her bags and whatnot. And have a tea party on her old table that I painted the top white on.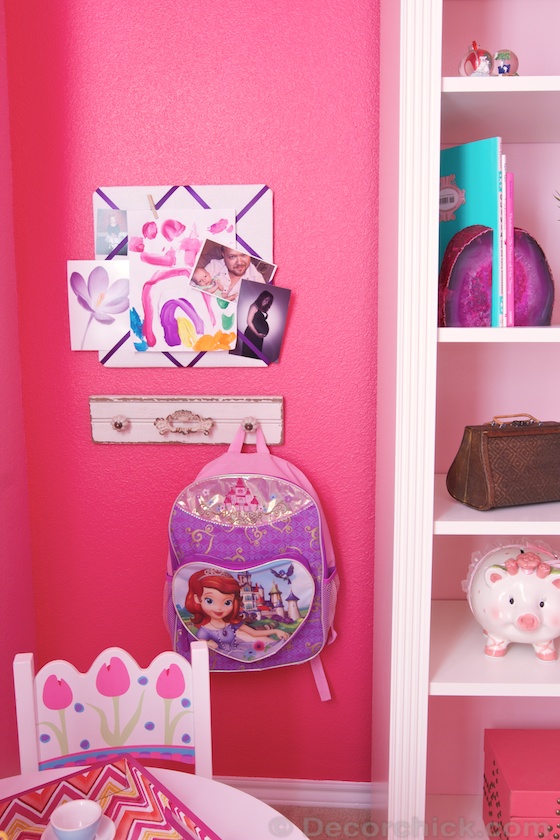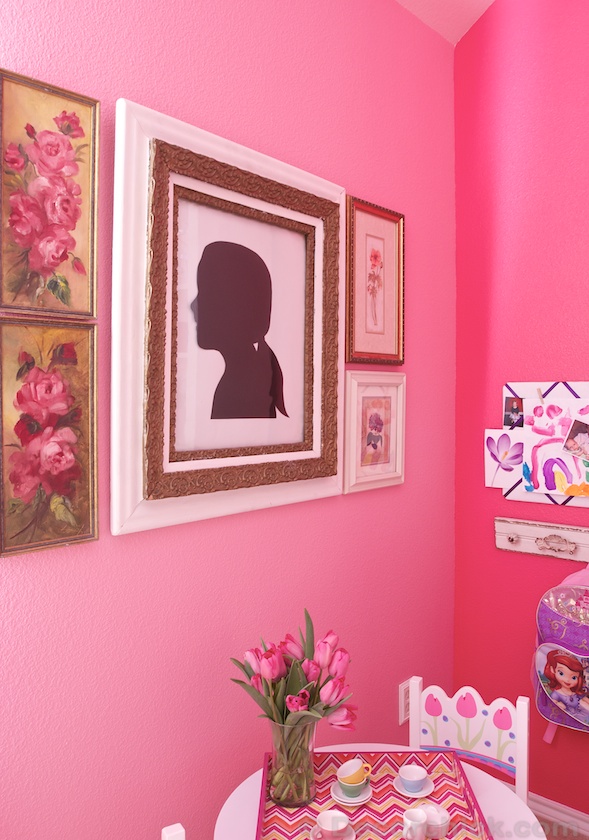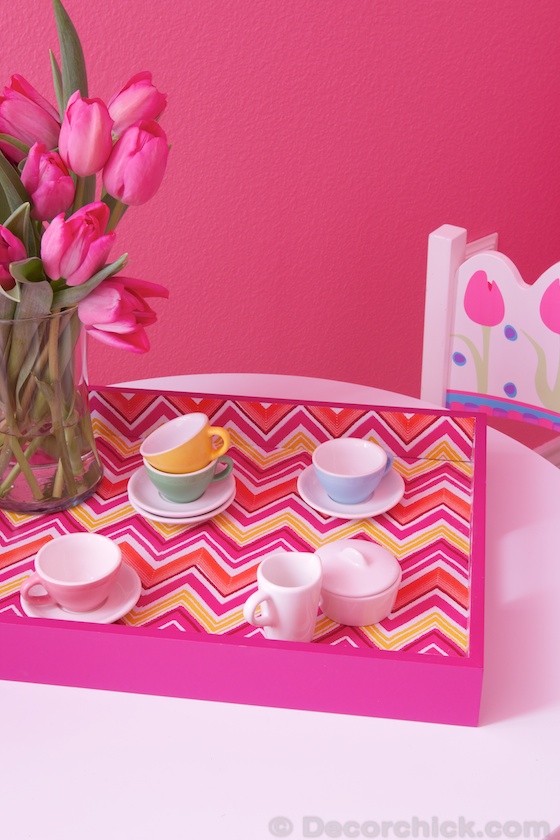 And a few more little touches. Emma loves baby pictures of her and family photos, so I was sure to include many in her new room. And a little art supply area.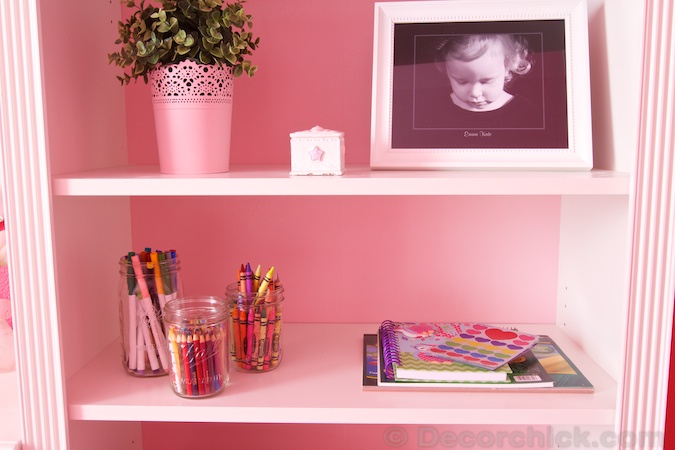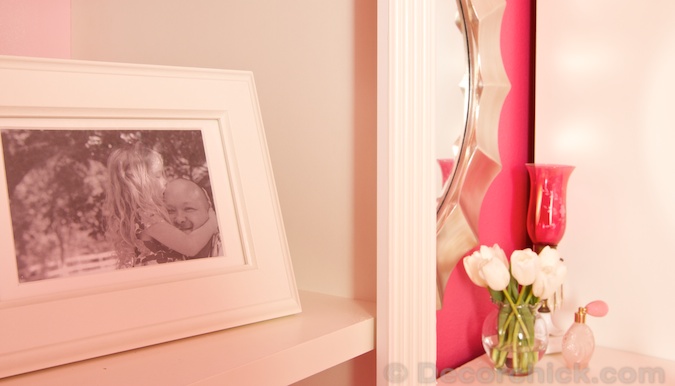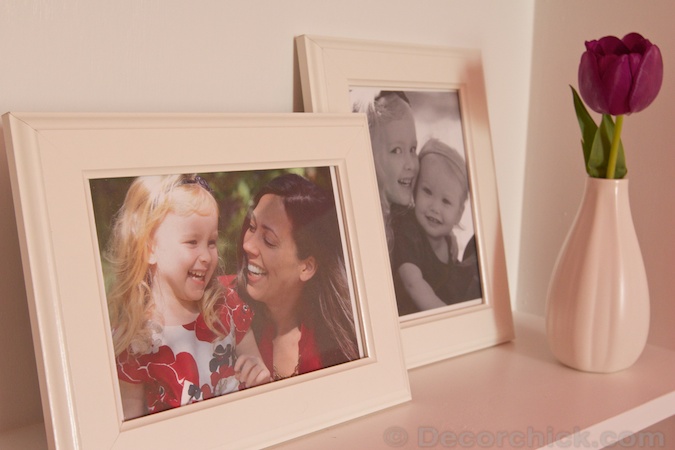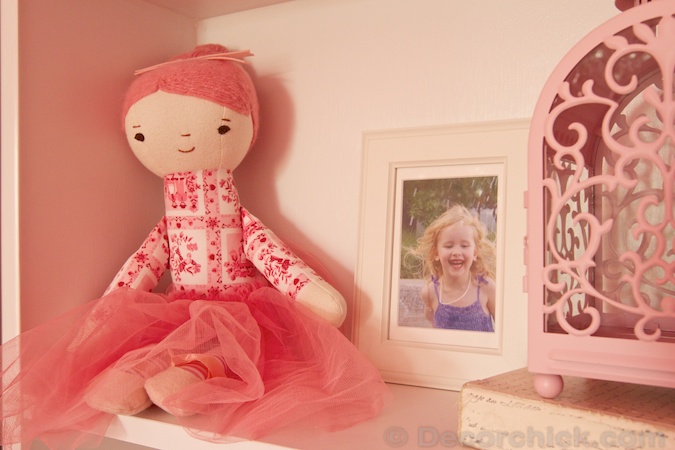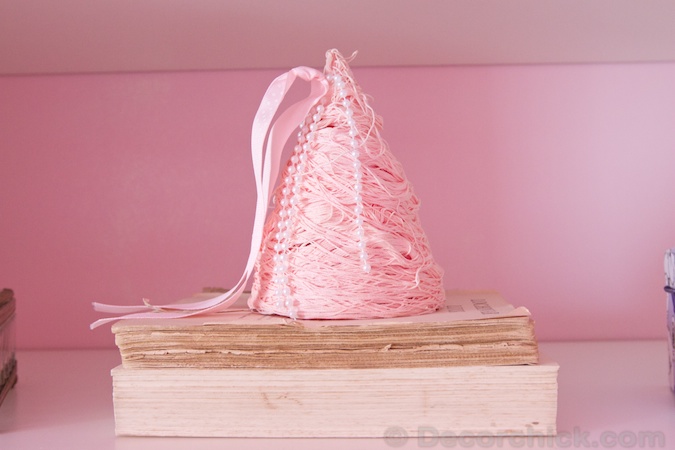 (that was the homemade birthday hat I made her when she turned 1 year old. Sniffle.)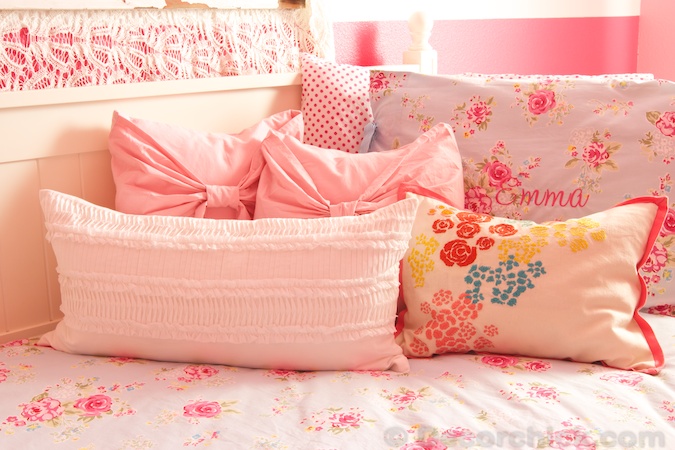 And a crystal chandelier dripping with pink jewels completes this one of a kind big girl room.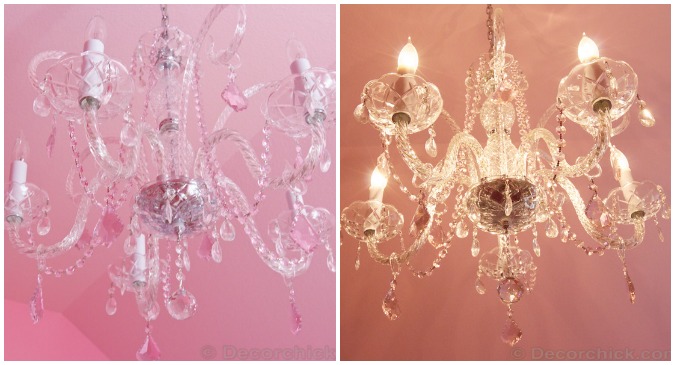 If you want to see me all awkward again on camera, here's another chance because I did a tutorial on how to paint stripes on textured walls. And hubby's mad editing skills.
Okay, and a few more.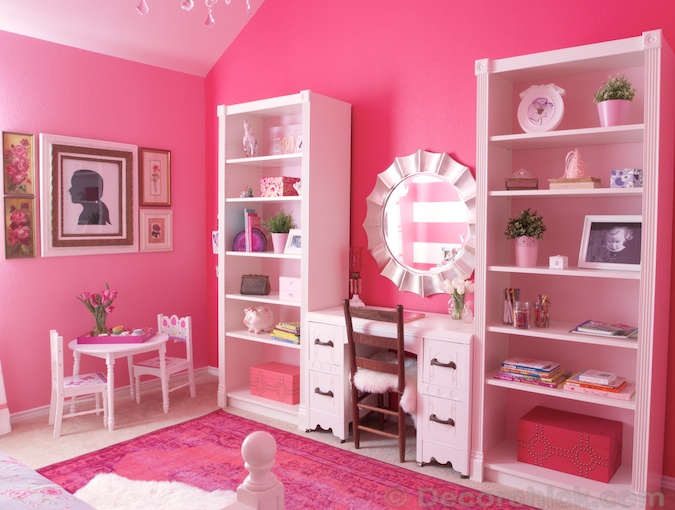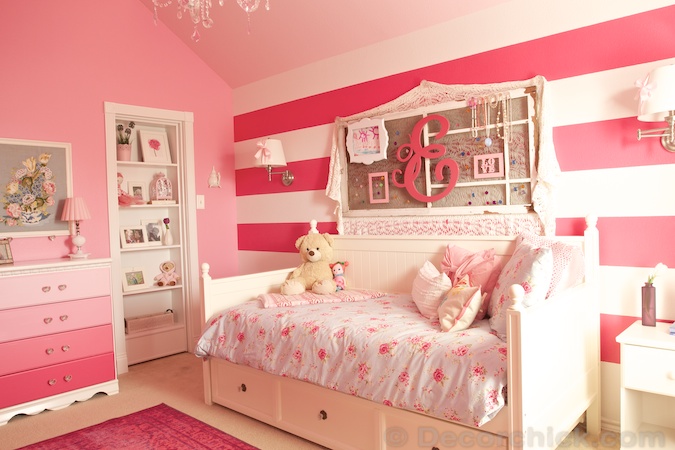 The day we finally called the room done, and when I finished taking the photos, Emma wanted to have a little party in her new room. So this is the special little girl herself, along with little sis and us having a tea party complete with raisins and Strawberry Shortcake birthday hats.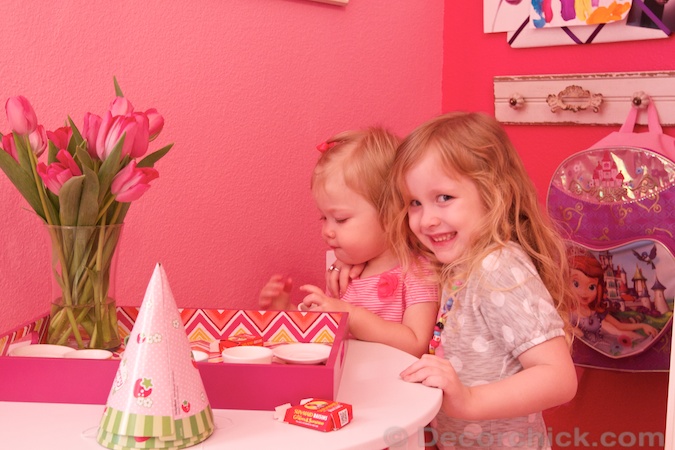 She loves her room, and we do too. And surprisingly, this was the most difficult room I've done to date. You would think it would be the easiest because she is only 4. But she is 4 almost 5, and has opinions and her own style too. So when you put your heart and soul into every single detail praying your daughter loves it because you REALLY want her to, is just a different feeling than if I were painting our entryway or something. I got really emotionally attached to this room as it came together, so I hope all of the little details reflect that.
Don't forget I'll do plenty more posts after this one, including sources and tutorials and tricks I did in here. There is a little hack project too, and I don't know if you recognized it yet? But I will get to it soon. :)
Here is another before and after for giggles.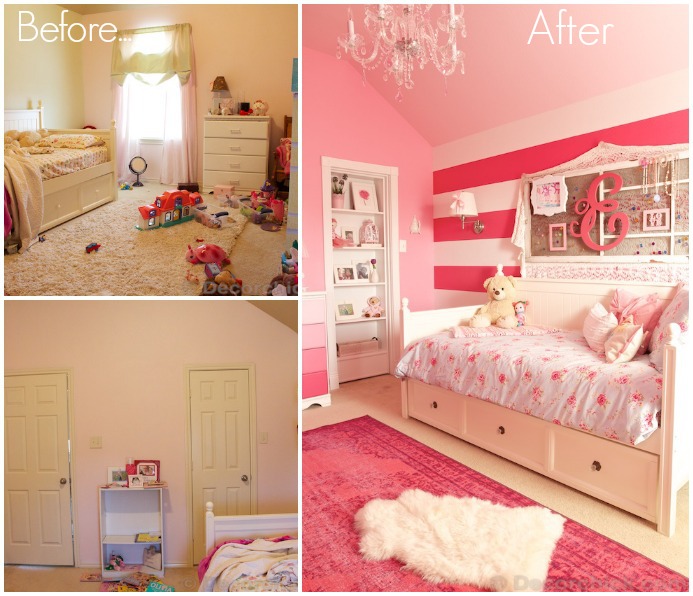 Here's a handy little collage too.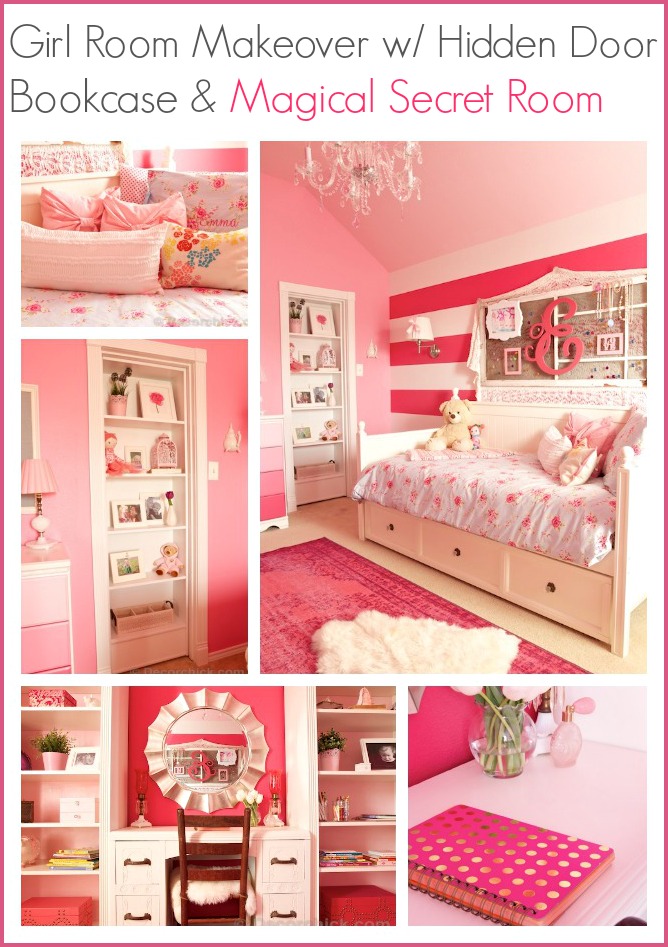 I hope you like it! And I hope you like pink!! :)
The colors used in this room are all of course from Sherwin-Williams and I used their Emerald Paint:
SW 6852 Desire Pink (Ceiling)
SW 6853 Fussy Pink (Main 2 Walls with Ombre Dresser & Small Tea Table)
SW 6854 Impatient Pink (One of the Drawers on the Dresser)
SW 6855 Dragon Fruit (Big Accent Wall with Bookshelves, Pink Stripe Color, and Interior of Door)
SW 6856 Reverie Pink (Backs of Bookcases, and topped with Glitter craft paint)
SW 7000 Ibis White (White Stripe Color)
SW 7005 Pure White (Trim Color & Hidden Door Bookcase)
Please note the first 4 pinks were used on the ombre dresser, and most all were used for mural in the closet. Will get to that Monday. :)
Thanks again to Sherwin-Williams and SWPaintingWeek.com for the challenge again this year!  For more pink inspiration today, be sure and check out Beth at Home Stories A to Z and what she did to her craft room, and The Decorista's side table. They are fab! Coming up tomorrow, and closing out National Painting week with the color purple are Curbly, Thrifty Decor Chick, and Recycle, Consign & Design. So check those out too!
Tell me what you think!
UPDATE:
xxoo,
Decorchick!
*Thanks to Sherwin-Williams for sponsoring this post and including me in National Painting Week 2014. All ideas to make this a pinkalicious room are 100% mine. And my husband's.*