I'm slowly but surely getting rid of the beige walls that are everywhere in our home, and I've pretty much succeeded in several of the rooms! I guess the only beige rooms left now are the bathrooms, and the upstairs hallway/catwalk. I haven't done anything to our bathrooms until recently, and I finally painted ours grey!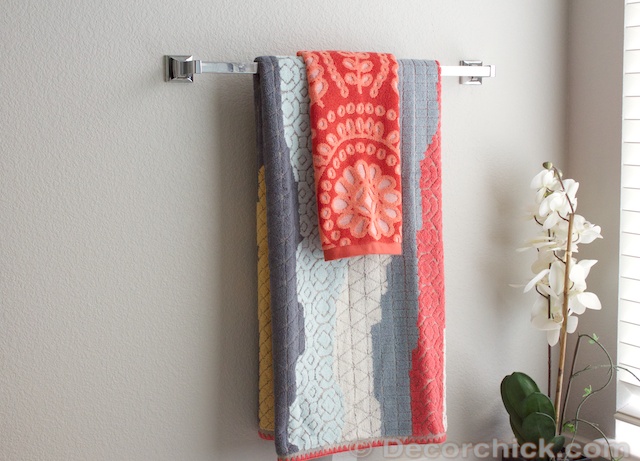 Remember it used to be a sea of beige. Beige walls and beige ceilings. Gag.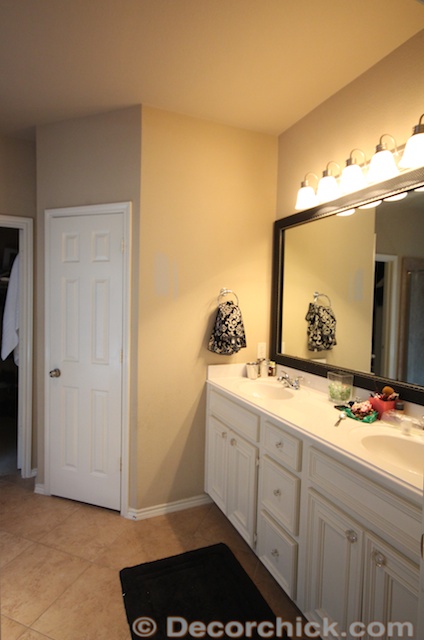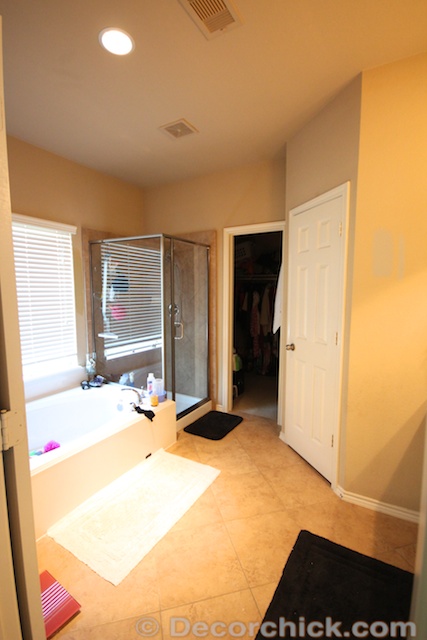 Homeright sent me their Paintstick EZ-Twist Paint roller to use and I was pleasantly surprised how easy it was to use! I am not a big contraption type of person and just usually prefer my old school stubborn ways. But this was extremely easy to put together and use.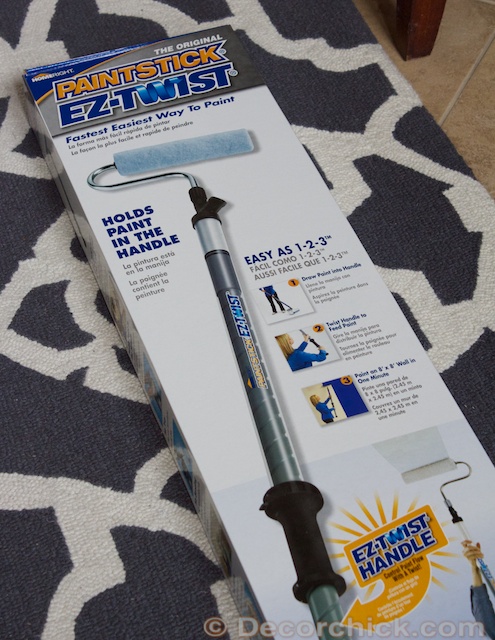 I put it together and filled up the roller with paint.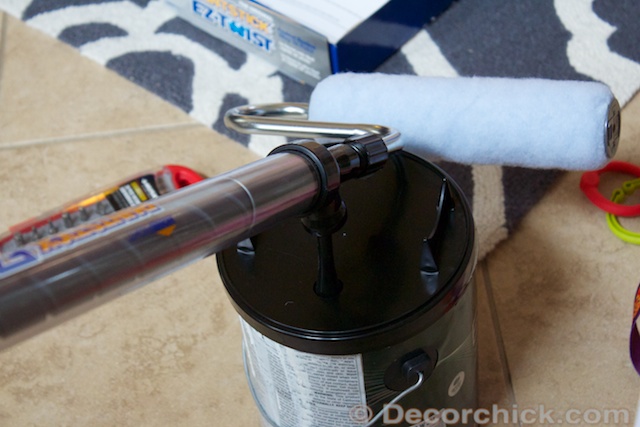 It's great because the handle sucks up the paint from the can and then you just paint the walls or ceiling or whatever you're doing. You don't have the mess of a paint tray or anything so it was pretty handy that the paint would just dispense as needed. And just imagine that handle filled up with paint. I wanted to get a picture of it sucking up the paint but I did this when my husband was out of town and I needed 2 hands to do this. And I don't quite trust my 3 year old with the camera.
I used it to paint our ceiling in the bathroom white.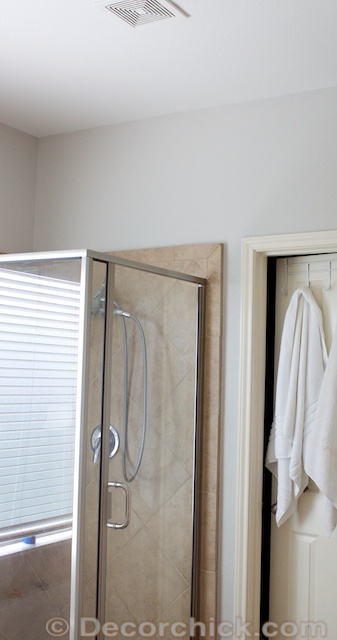 Although since the grey I used is a very pale grey, it's hard to tell in the picture that the ceiling is white!  This next one shows it a little better.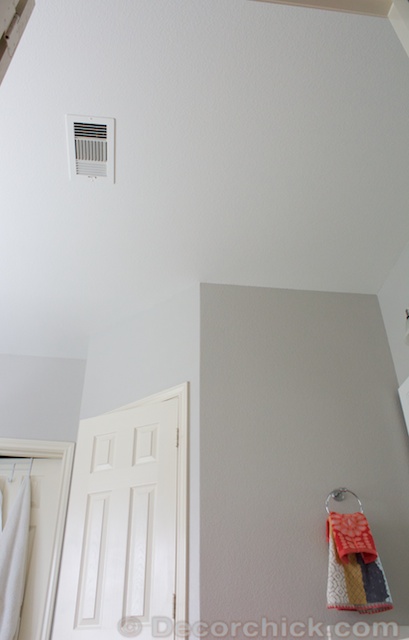 Since there were so many places to cut in and not a lot of wall space in our bathroom, I only used the paint stick for the ceiling because I needed a shorter handle for the awkward wall space. I love it for ceilings and it comes with a splash guard as well. The clean up was a bit more than I am used to as far as painting goes because I'm lazy. Duh. And these rollers have to be washed and you have to clean the paint out of the handle of course when you're done. It is good since it's reusable and that will save you some money in the long run. So if you don't mind the extra 5 or 10 minutes for clean up, you're golden!
I painted the ceiling in Alabaster from Sherwin Williams (same color as our bedroom walls and ceiling and kitchen cabinets), and the walls I painted in Agreeable Grey, also from SW. It's a very pretty light grey and sometimes it does have a soft blue undertone and it's very pretty in the bathroom. And it goes well with our navy blue bedroom wall. I especially love how the color looks at night!
And since I told you all I'm painting the vanity coral already, I'm not quite ready to reveal it yet so I have to hide it out of these photos. Hehe.
But aren't my towels fabulous?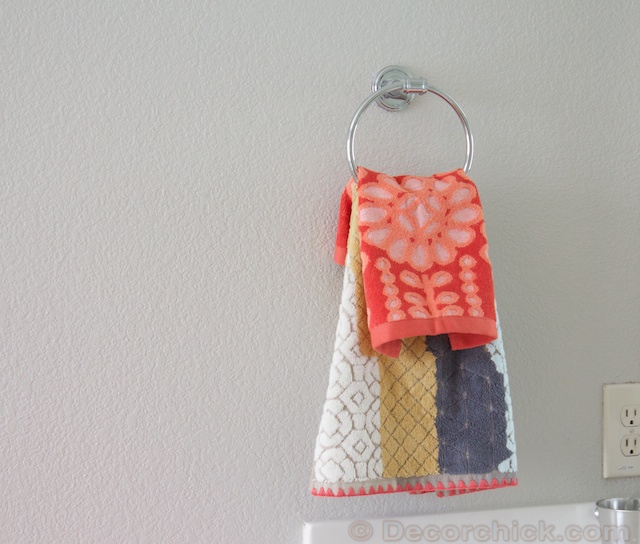 Yes leave it to Anthropologie to have the perfect colors of anything I ever need. I tried 10 other places first and no luck I swear.  And same for bath rugs. Why doesn't anyone make cute bath rugs??! Except Anthro of course.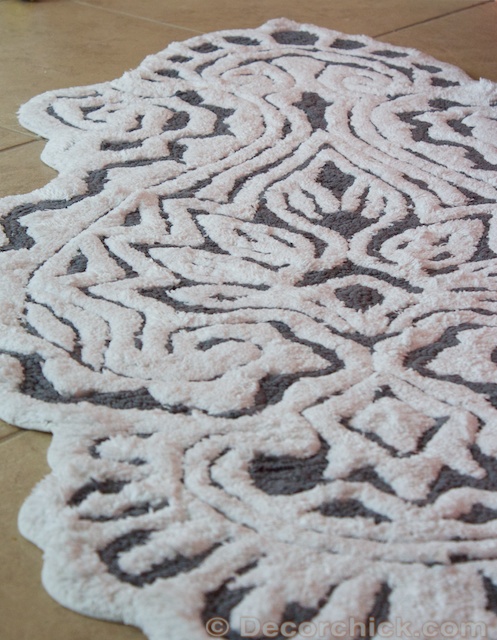 Gah! Oh well. We needed some and ours were about 5 years old anyway. I swear that store was made for me and the colors I want to use. Haha.
I'll show you more of the new bathroom soon! The vanity came out so pretty and I love it with the crisp clean walls and ceiling. Kill the beige! You know how everyone is all "kill comic sans," well I'm all for killing the beige! :)
If you have any paint projects coming up try out the HomeRight Paintstick EZ-Twist Paint roller. I think you will like it!  And I'll show you the vanity soon. :)
xxoo,
Decorchick!
Let's Connect!