I'm beyond excited to show you our new master bedroom…again!  I explained in this post why I decided to change it up again. But the biggest change in here was just paint.  Paint is your friend, and a cheap friend.  When I redid our master bedroom back in June last year, I did love that color (SW Rainwashed), but after living with it for 6 months, I decided that I do love to decorate with blue, but just in small doses with accessories…not blue walls.  Blue walls are pretty, but I grew tired of it too quickly.  And since I am finally learning to try and go more neutral and bring in colors through accessories and not the walls, I opted for a beautiful gray as the neutral backdrop.
Goals for the room:
1.  To be more sophisticated and less beachy;
2.  Less cluttery so that means less accessories on the dresser;
3.  Neutral with a few pops of fun sprinkled in; and
4.  Pretty, clean & crisp, flowy, and soothing. (Can a room be flowy?)
So here are the before pics: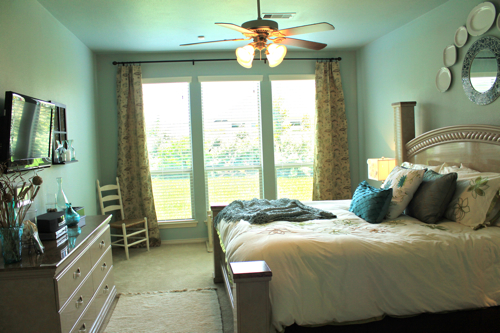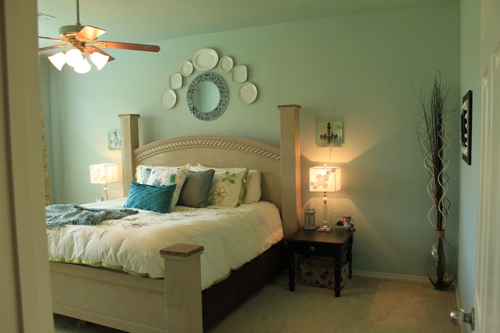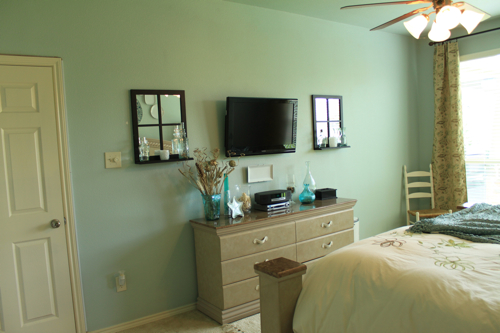 AFTER: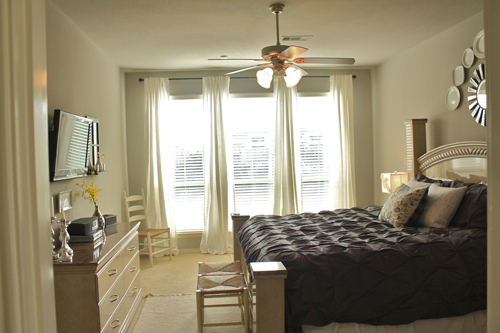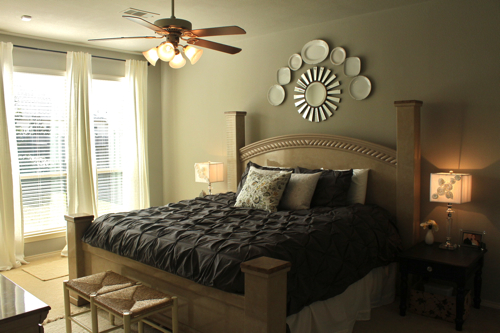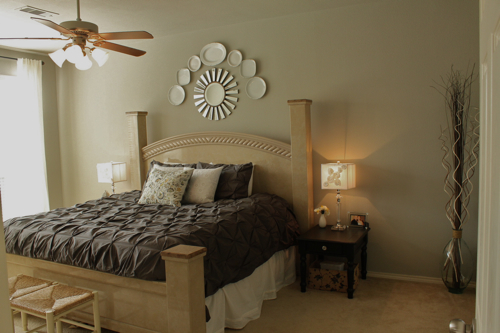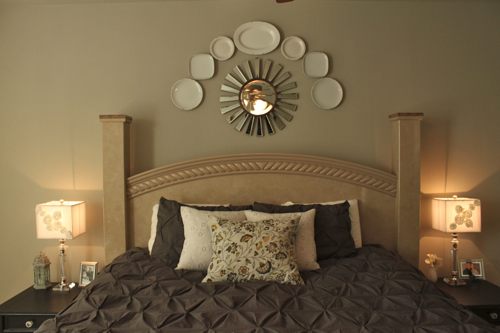 Paint is amazing right?  The only big changes in here were paint, the new West Elm duvet (the color of the duvet is dark gray…not brown like it's appearing on some of your monitors) that was a gift from my Mom, the Ikea curtains, and the Starburst mirror above the bed.  That was another Michael's score during their after Christmas sale and it was $25. Again, why is that mirror a holiday mirror?
I changed out the hideous 50's hardware on the dresser, FINALLY. I should have done that 5 years ago.  The new pulls were only $3.20 at Lowe's.
Barf: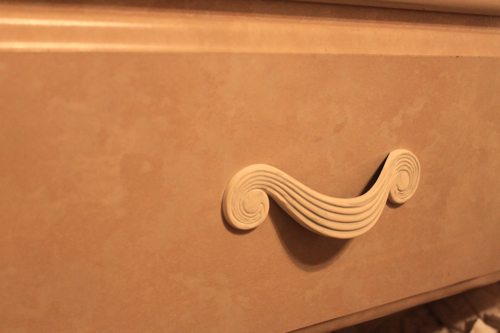 Much better: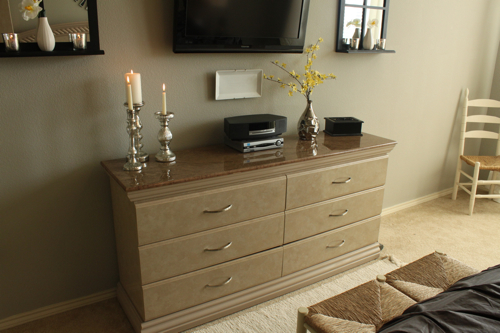 Sure a new bed and dresser would be awesome, but it's not happening right now. For now I'm happy with the $3 pulls that totally changed the look of the dresser.  A pretty chandelier would be great too, but I'm not ready to part with our fan. It's necessary.
The mercury glass candle holders were more Christmas scores at Target and Michael's, and the little white vases are from Ikea and were like $1.99 I think?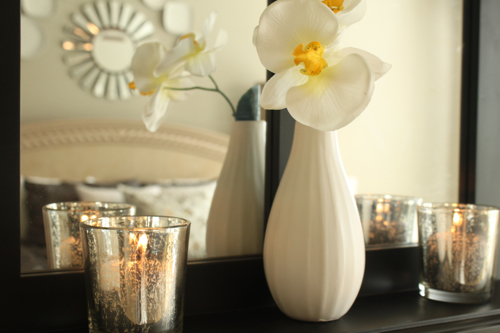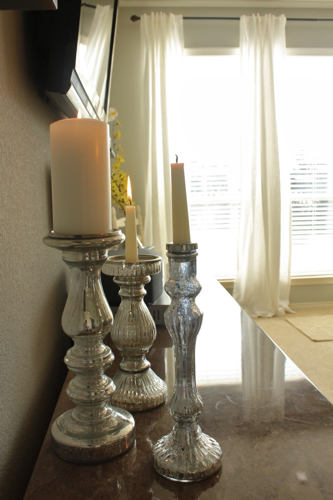 My accent color of choice was yellow, but not a lot…I'm liking the monochromatic feel of the gray and white, but small doses of yellow are yummy.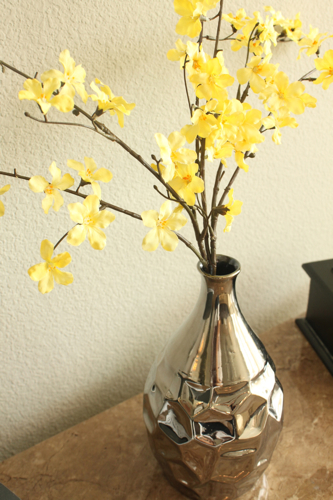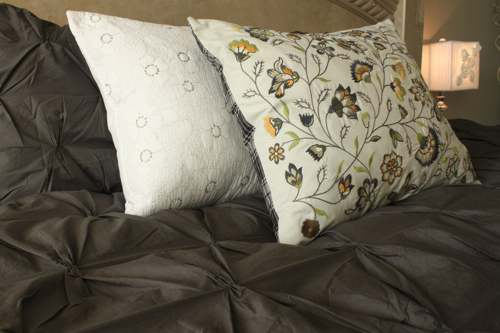 I love that front pillow on the bed that has pops of yellow in it.  It's from Ikea and the 2 white floral ones are from Homegoods.
One of my favorite changes to the room were the curtains.  Ikea is the BEST place to get curtains.  You get 2 panels per pack, and mine were $30. I bought 2 packs of these curtains so I could have 4 panels hanging.  And 118 inches in length!  I did hem them a bit though.  The 98in panels in this style are only $20 a pair. Bargain.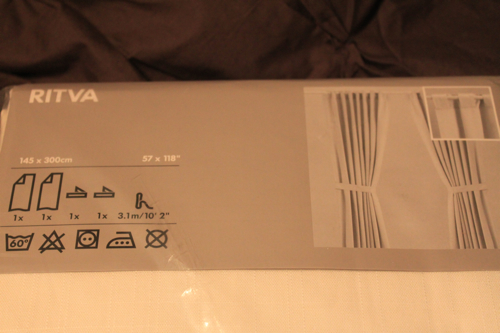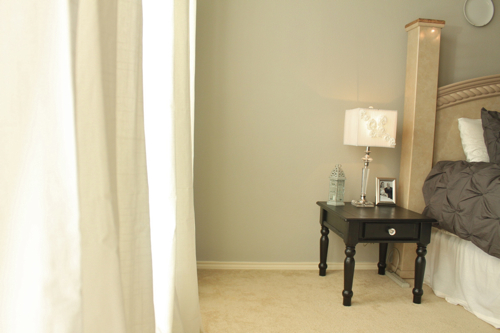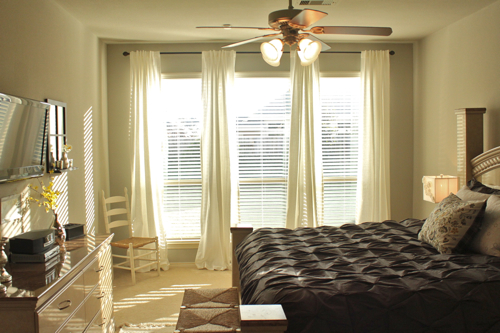 We can even use these as real functional curtains now instead of the big pieces of fabric I previously had just hanging. What a concept.
Found a 4-pack of crystal knobs on clearance at Homegoods for $5.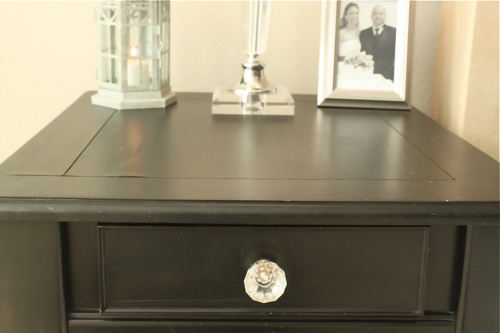 I should paint our end tables white…didn't even think of that till now. They are on their last leg anyway.
And now just enjoy a few more photos because I took a million at different times of the day.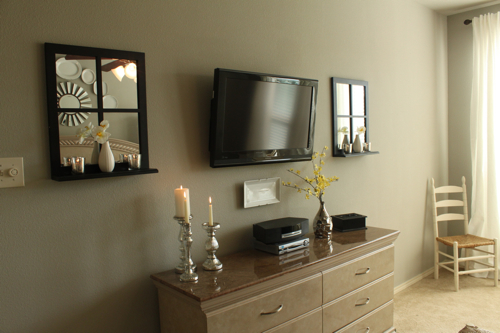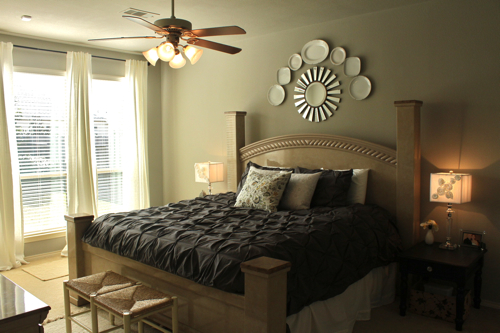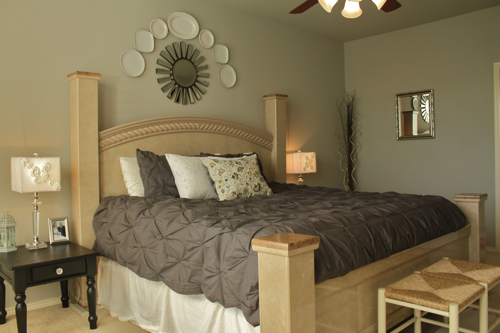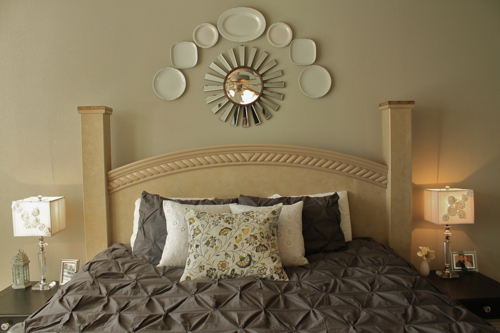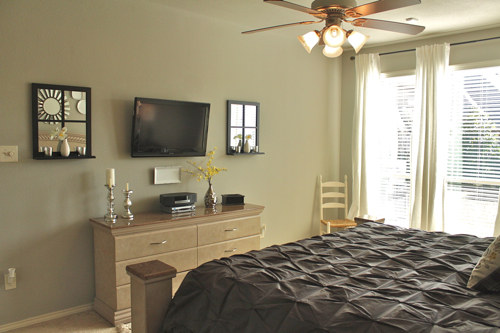 Just for grins, our room first went from this…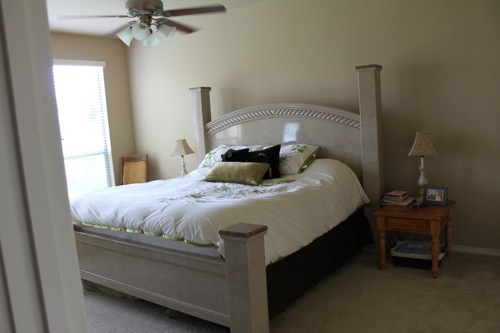 To this…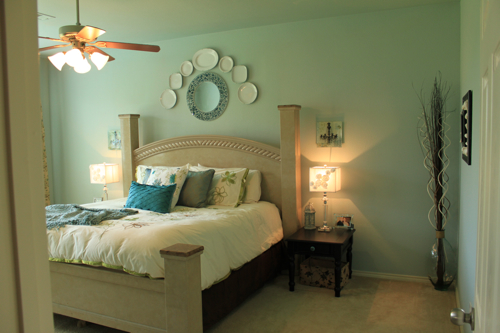 And now to this.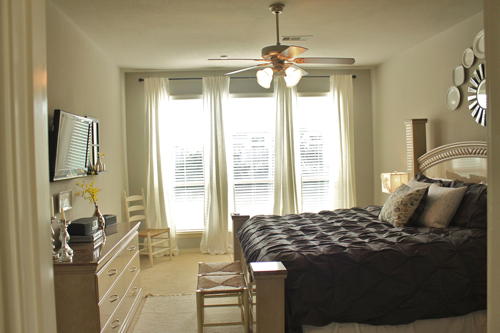 And I absolutely adore it.  I feel like a big girl. :)  Ok spill it, what do you think?  Some of you may even like the blue room better which is totally cool.  I'm loving the gray though! Just ask me 6 months from now if I still love gray and see if I have changed again. :)
Special thanks to Nester and Sarah for giving me a few tips on taking pics of sunny windows.  I tried my darndest and think I'm finally getting it now.  It's not an easy task!
Source List:
Paint color- SW Mindful Gray (Flat finish);
Starburst Mirror – Michael's holiday clearance;
Curtains – Ikea Ritva panels;
Duvet –
West Elm Organic Cotton Pintuck Duvet
; (It's dark gray, not brown)
Pillows – Homegoods and Ikea;
Mercury Glass Accessories – Target and Michael's holiday clearance
To see the previous master makeover click here (it will have where everything else came from if you are interested), and to see how I did the free and long bedskirt click here.
Whew! I think that's it…if you even made it this far.
Sharing this post at Just a Girl and Thrifty Decor Chick's Before and After Party.
xxoo,
Decorchick!