It's true. I keep secrets from you. Every blogger does it just goes with the territory. ;) BUT, they are good secrets! Like top secret projects you will be blown away by. You all will think I am crazy when you find out what I did, but it's good. And until then, ponder over this image for a while…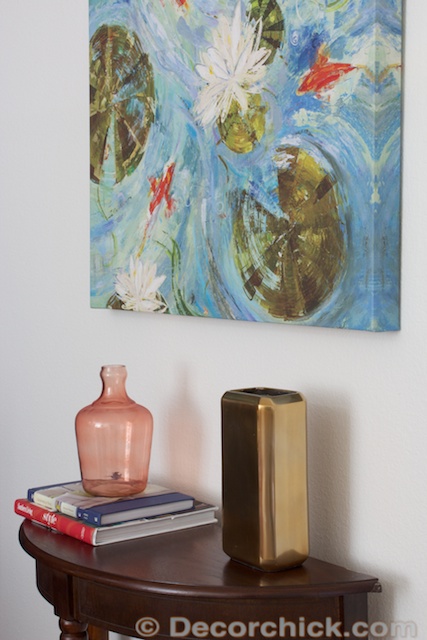 Yes that would be a white wall, a table, and an art print you've never seen in MY house. And you may be thinking, but Emily, your walls aren't painted white?  Well, just wait. Remember I showed you a few weeks ago some inspiration of my favorite color combo right now? Well that might get you thinking more. ;)
I have Sherwin Williams to thank for challenging me to use a new color. And colors I have been wanting to use anyway so it was a good kick in the rear to get er' done.  Sherwin Williams is celebrating National Painting Week which starts April 15 (the site won't be live till then), and it's going to be oh so fun!  Each day, NationalPaintingWeek.com will feature color inspiration, painting ideas, expert tips, product information and one-of-a-kind projects from 14 design bloggers. And I'm thrilled and honored to be a part of it!
I have been DYING to show you all what I did, and I finally can, next week. Don't miss it.
Any guesses as to what I did? How well do you really know me?
xxoo,
Decorchick!
Let's Connect!