Yes it's true. Our master bedroom has undergone a few changes yet again.  When I started using the Annie Sloan Chalk Paint toward the end of last year, I couldn't stop.  And I ended up painting all of our furniture in our bedroom white.  And then I decided to go pink and grey with the rest of the decor, so that's what our bedroom is now and I think it's so pretty!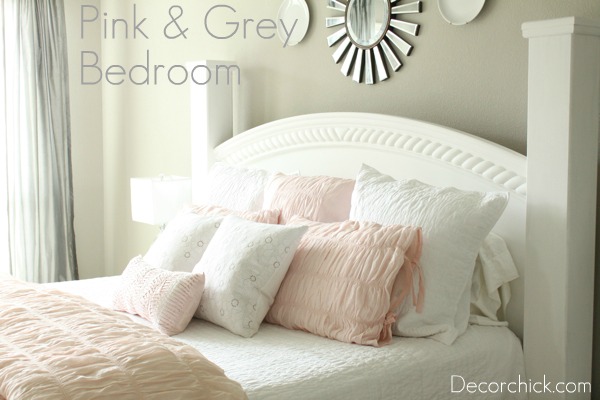 The good thing is that I did not have to repaint our walls or anything. I still like the color from the last master redo.  And the color is Sherwin Williams Mindful Grey (flat finish) in case you don't remember.
I love how the painted dresser ties in with the grey/silver curtains and the wall color don't you?  And yes that bed was a beast to paint.
Let me show you a pic of the last bedroom makeover to show you what the furniture looked like previously.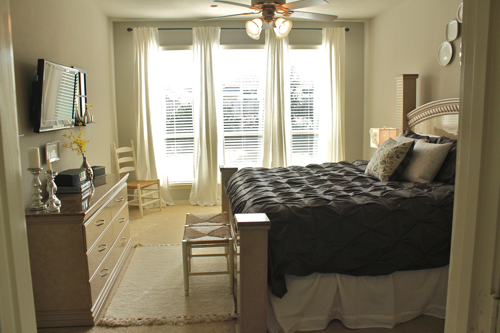 It was all shiny and that faux marble stuff.  I hated it.  So I covered it up with the white chalk paint.  This is still not my dream bed or furniture, but I do love it SO much better in white!  I really want an upholstered headboard/bed–that would be my forever bed. :)
And here it is now.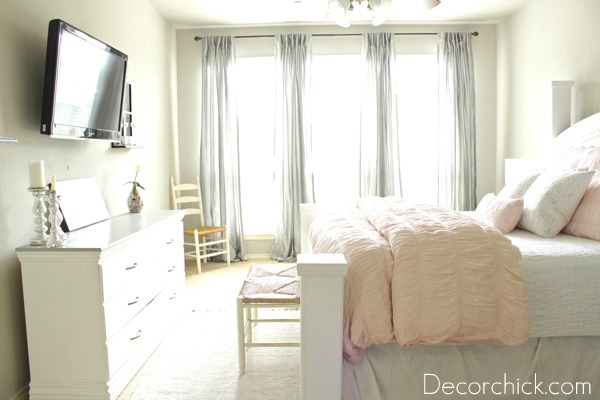 Big difference right?  I'd still like to replace the wicker bench and get a nicer chair for the corner, but for now they will do. :)
Basically everything in this room is exactly the same, except for the painted furniture, bedding and curtains, which I'll get to now. The beautiful bedding was sent to me from DKNY Home and it is the most luxurious bedding I have ever owned. Seriously.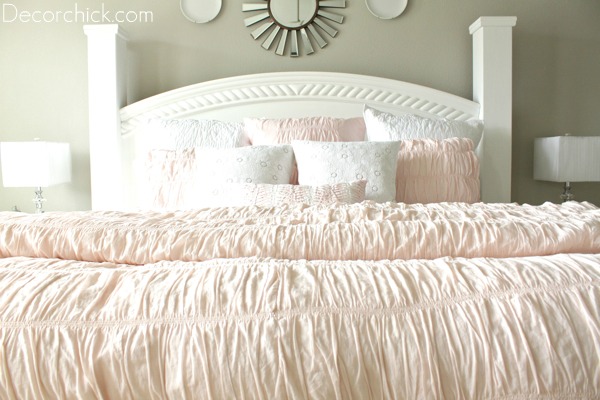 The duvet is just beautiful and billowy. It ALWAYS stays fluffy and my duvet comforter doesn't get lost in it, which was a huge complaint I had with the last duvet cover from West Elm.  I have been calling this "pink" but it's actually called "Blush" and that would be more accurate.  So don't let the word pink scare you away or especially if your guy would freak out about pink bedding. It's actually in between a very pale pink and peach.  So yea, it's blush.  :)  You can find it here on the DKNY Home website.  I love the shams and decorative pillows it came with too.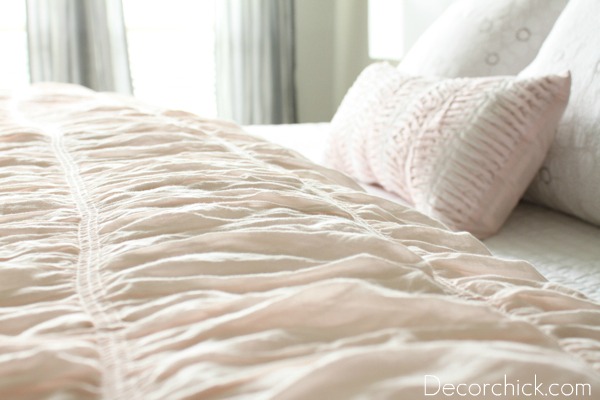 See how billowy it is?  LOVE! I hope billowy is a word.
I know, don't hate me, but DKNYHome also sent me this amazing quilt set.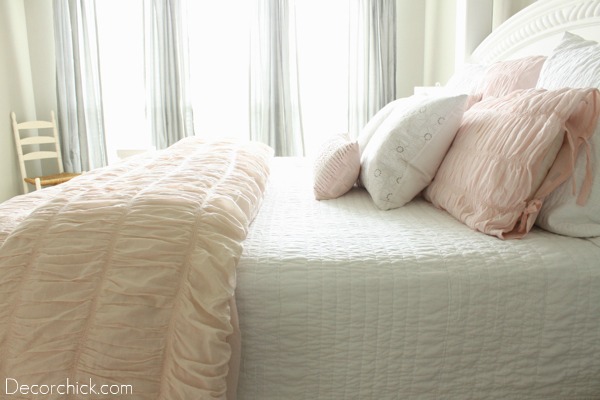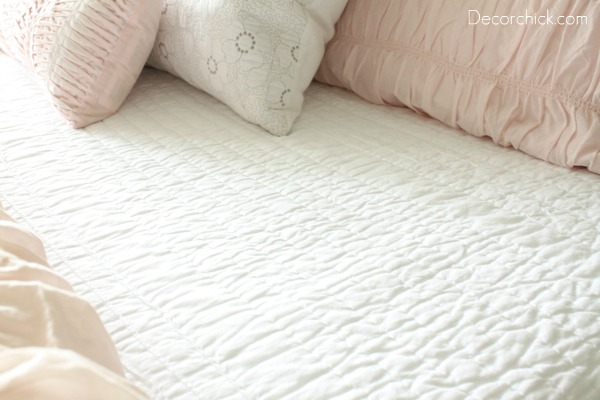 Can I just say how awesome it is to have a quilt to sleep with AND a comforter??  I know that may sound silly, but it's nice to just keep the comforter at the foot of the bed when it's hot and sleep with just the quilt, or you can pull up the comforter and be all nice and comfy. It's luxury I'm telling ya. And this quilt is all 100% cotton so it's super soft and does not get hot. It is called the Haven quilt and you can find it here.
Would you be surprised if I told you Curtainworks sent the beautiful new curtains?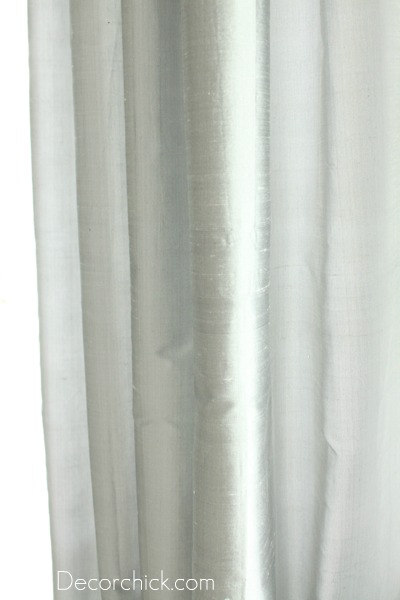 I know you aren't surprised, but they did!  And these are quite luxurious as well.  They are real Dupioni Silk and these are in the color Pewter. You can find them here. I love the pinch pleat too–gives it a more sophisticated look.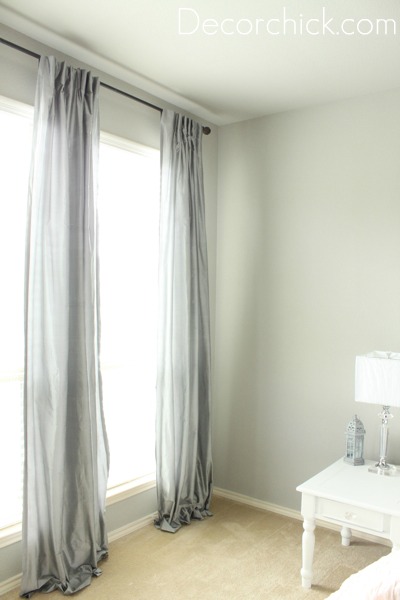 Oh, and also notice I painted our nightstands white too! I told you I couldn't put the brush down.
And just a few more.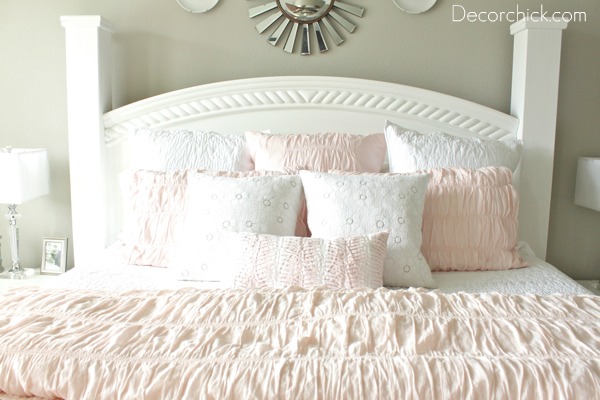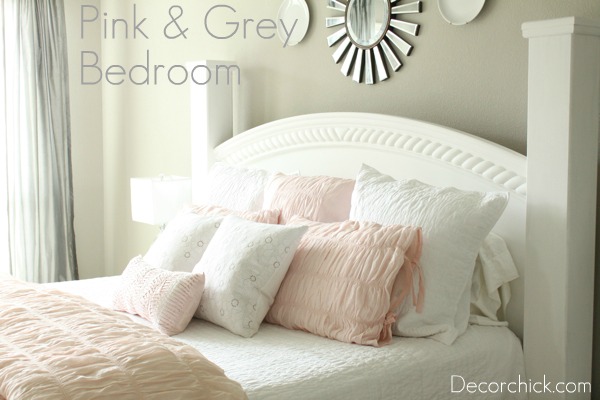 And that's about it!
What do you think of the new look?  Of course there are still other things I'd like to do in here. Lots of things actually.  But we gotta take baby steps, especially with a new baby coming!  At least I love it for now. :)
Linking this post to the Weekend Wrap Up Party at Tatertots and Jello.
xxoo,
Decorchick!