Happy Friday friends I hope you've had a good week! I have talked about sleeping on the blog a few times already. I love to sleep. Probably more than most people. I take naps whenever I can and that's pretty frequently. We got a new bed here, and then talked about the benefits of magnesium in this post which helps for a good night's sleep, and today I want to share something else that has rocked our world.
Say hello to the world rocker, the Sleep Number DualTemp.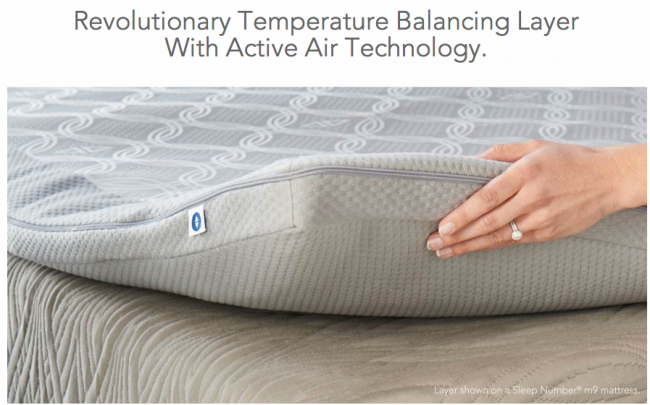 We already have a Sleep Number bed…the M9 series to be exact, and it's been almost a year since we've had it. It's still amazing and we both love it and have never slept so good. But goodness, since receiving this DualTemp to try out, we are sleeping even better, if you can imagine that.
It's an extra layer that just goes right on top of your existing mattress. And you don't have to have a Sleep Number bed for this to work. Most all beds will work. But what it is is a temperature balancing layer that features active air technology that heats or cools each side and allows you to select your ideal temperature at the simple touch of a button. Sounds fantastic yes? How many of your husbands like it freezing cold in the bedroom and you like it warmer? That's how it is around these parts anyway. But the cool thing is that if you both like it freezing you can make both sides cold, both sides warm, or each side different. That's the beauty of this.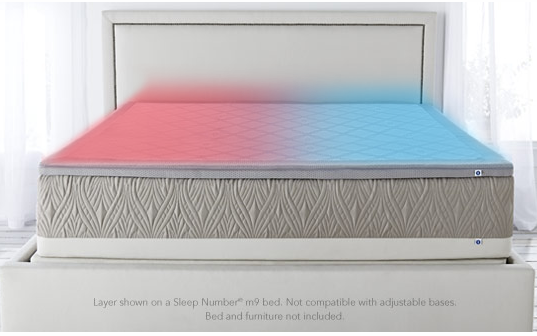 The delivery team set it up for us very quickly. Like almost too quick where I only had a second to snap a photo of it on my phone.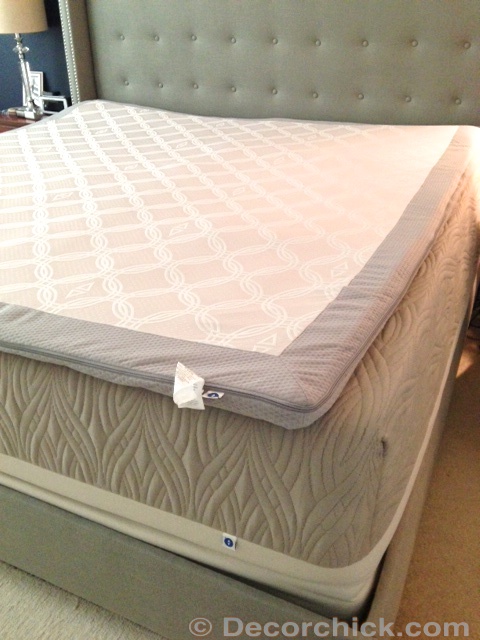 Now when this is all set up, this is how it looks. There is a hose that comes down the side of your mattress and connects to the system which sits on the floor.
That wouldn't be my first design choice obviously, but it probably wouldn't show as much if I didn't have such an open nightstand. I was hoping that part would be able to go under the bed, but that isn't safe and not recommended. So I deal with the grey box on the floor for an amazing night's sleep, no biggie.
When we slept on this the first night, we both loved it. I have used the cooling and the heating side, and what I like to do is get into the bed cold, and then as I drift off to la la land I turn it to the heat setting. My husband just keeps it full blast on cool and he's happy as a clam. In the mornings though he does like to switch it up to the warm setting. We both will start our beds on the setting we want about 30 minutes to an hour before we actually get into bed. Then you really feel the difference. But what I love about the heat setting is that it's not hot heat. I've never once gotten hot from this. It's just a perfectly warm and toasty feeling. :)
Our bedroom gets so hot in the summer time so this will be super awesome to have then. But honestly it's great all year round since we have crazy weather and weird seasons in Texas.
Another thing I like about the DualTemp is that it provides a nice white noise to sleep to. But there is a con for me with that too because it does make it hard for me to hear the kids in their rooms sometimes. But if you have a monitor it wouldn't be an issue. :)
I was concerned about our old sheets not fitting with the extra layer because our mattress is so thick already, that we also got some of their Lyocell sheets. And oh my goodness what a treat those are. They feel like silk and DO NOT SHIFT AROUND!  A big pet peeve of mine in case you didn't figure that out.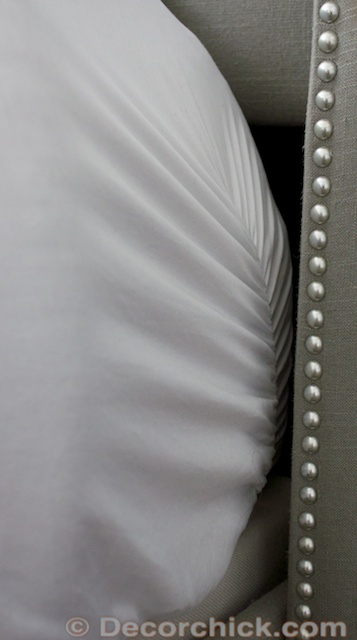 See how they fit the corners? I haven't had to adjust them once. Seriously amazing and good sheets are a must have. These even have an elastic band on the bottom that wraps around the mattress to ensure no slippage. Genius.
And what's a good bed and DualTemp good for if you don't have the right pillows? I am using their CoolFit Foam Contour Pillow 5″ contour, and my husband is using the AirFit Adjustable Pillow with European White Goose Down. Good pillows are so hard to find but man, these really are a big part in sleeping well at night too. I'd highly recommend taking a look at their pillows sometimes. We both love ours, really. Shoulder pain is a thing of the past.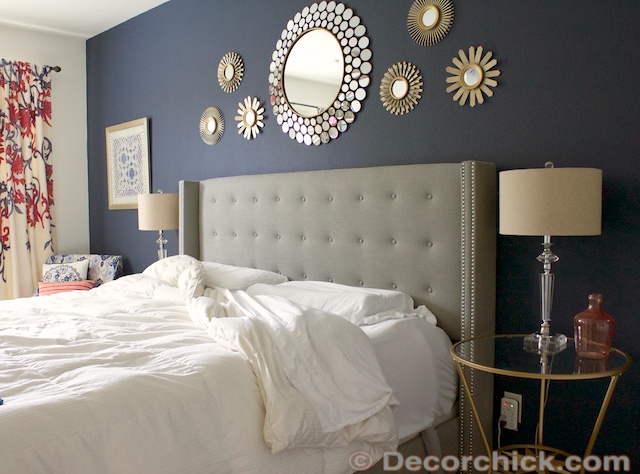 The DualTemp also comes with 2 wireless remotes that you program to your setting.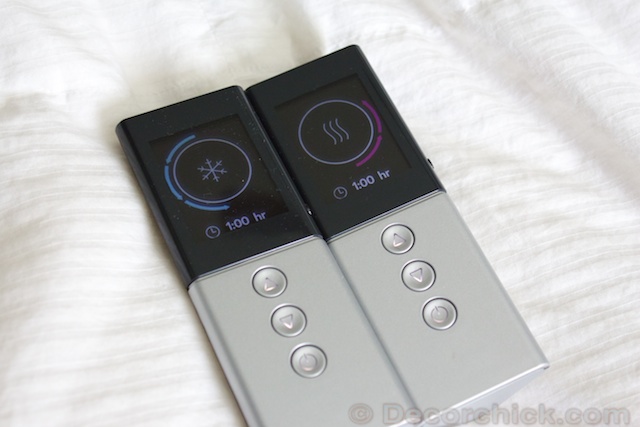 His on the left, mine on the right. You can set them for 1 hour up to 9 hours. We usually just set it for 9 hours and let it run all night. When I take a nap, I'll set it to a shorter time obviously. They will automatically turn off so that's comforting.
So this is what you'll see when you walk in our room now.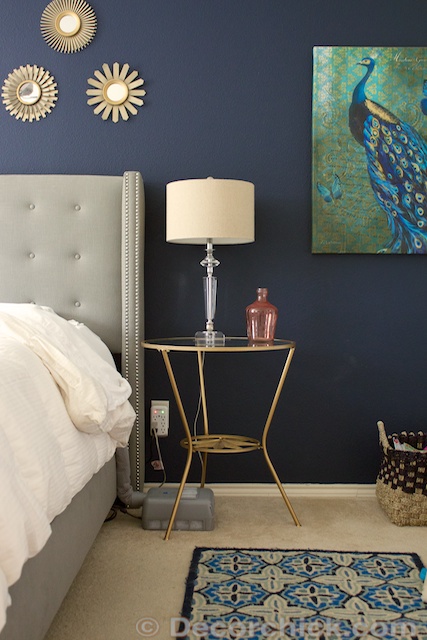 Again, still getting used to the grey box. Maybe I'll start searching for another gold table that's more closed off. :) But my husband has a grey box on his side too.
So overall we really love the DualTemp and the benefits it has given us. Again, some of the benefits and features are:
Dual-sided so each of you can set your ideal temperature
Choose from cool to warm at the touch of a button
Evenly distributes temperature for head-to-toe comfort
Breathable comfort layer softly cushions every curve
Timer allows for automatic shutoff in one to nine hours
Three-year limited warranty offers peace of mind
Sleep is so important to your well being! And Sleep Number is always so innovative with their products. What can they possibly think of next?!
Have any of you tried the DualTemp yet? Would you like to be able to get into a cool or warm bed? I look forward to going to bed every night. :)
And p.s.-All details about our bedroom can be found in this post.
xxoo,
Decorchick!
Thanks to Sleep Number for sponsoring this post and providing the DualTemp. Opinions and sleeping habits are always my own.