Have you ever been so excited you found that perfect piece of furniture for your home?  Well I am, and I found mine while out garage sale-ing.  My mom's area had a neighborhood-wide garage sale a few weeks ago and I was not going to miss it.  I have been on the hunt for a bigger piece of furniture to put in our entry way for a while now, so we scoured all of the houses that listed furniture on the ad and hit those up first.
When I was on my way to mom's house early in the morning, I spotted this one house that had some nice looking furniture out in the driveway and I wanted to stop but I didn't.  I kept on to my mom's but kept thinking about that dresser I saw.  And this my friends, is what I saw that fateful morning.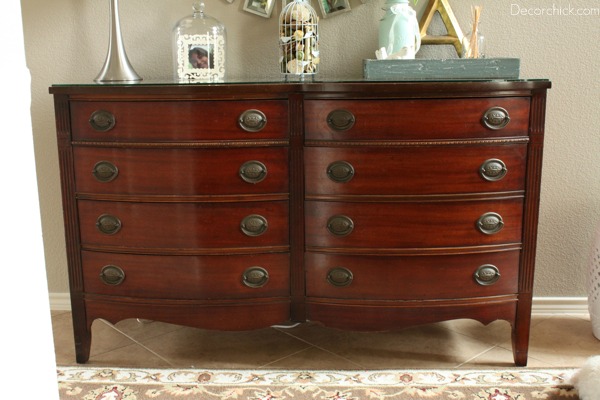 Isn't she a beauty?
So anyway, I get to my mom's and we all leave about 20 minutes later, drive to another house that was supposed to have good stuff, but it was a bust, and then I said let's go back to that one house I passed up on the way here.
So we did, and when I walked up I was like "OH YES."  I didn't even look around at the other things for sale.  This was solid, old, good furniture. They were selling this dresser with the mirror, the matching chest of drawers, and a small side table….for $250 as a set and the lady didn't want to break them up.  Problem was I only wanted the dresser.  And the other problem was that I didn't have $250 either.  I stood by this furniture probably a good 10 minutes and the lady knew I really wanted it. And I was getting nervous because every single person that walked up to her garage sale went to come and look at this furniture!  So I knew it would sell quickly.
Finally, I said we can leave, and so we did.  And I knew right then that was a mistake.
We get in the car and drive like 2 houses down, then I tell my mom I have to go back and measure the depth of it, so I had her turn around.
As I was walking up, the owner JUST PUT A SOLD SIGN ON IT!!!!
I seriously was crushed, you have no idea.  Even the owner said "oh no! she came back!"
BUT….
once she said that, the lady that actually just bought the set turned around and said "Oh, well what piece did you want?" I said just the dresser.  And she said "well great, because I just wanted the chest of drawers!!!!!"  So we ended up splitting the cost and somehow I walked away paying just $100 for the dresser, the mirror, and the little side table!!! (and I'm not using the mirror right now, and I haven't found a home yet for the side table but it looks just like the dresser.) I should also mention both the dresser and the side table came with the glass tops as well. Awesome.
But oh my gosh can you believe it????  I was ecstatic.  It did have several little knicks and scrapes and such, but when I got it home I just used a staining pen and filled all of them in and it looked good as new, to me at least. It probably could stand to be refinished but that's not happening any time soon, and I'm surely not painting it. :)
Ok, so that was the story on this dresser, now I'll show you some more pictures. :)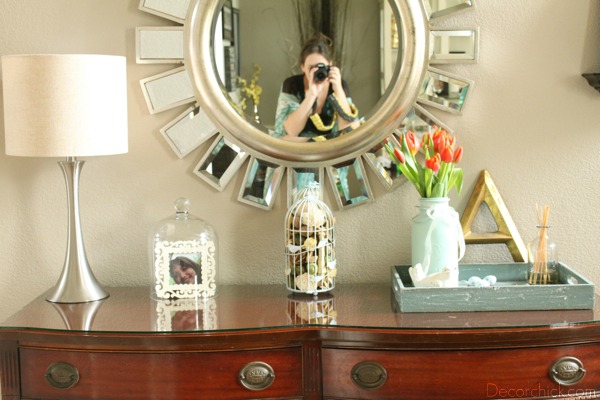 I love the original hardware too.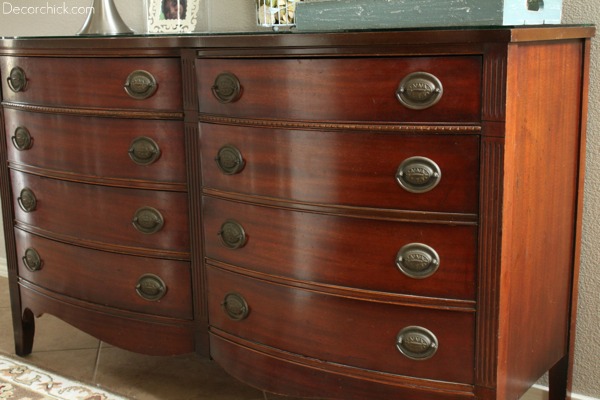 This is the brand on the inside of the drawer.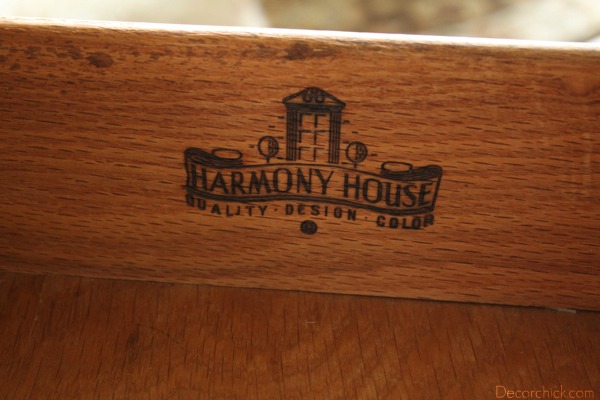 I looked it up and it Sears introduced Harmony House in 1940 through 1968.  Does that make this an antique? To some yes, to others no…just depends who you ask. If you ask me, I say absolutely. Haha!
And it has the dovetail joints too.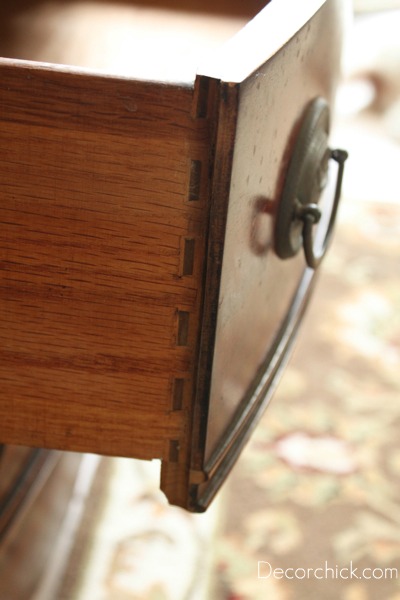 Here is a little spring vignette using my DIY Aqua Painted Mason Jar, and this time I put in some orange tulips.  You all know I love that color combo!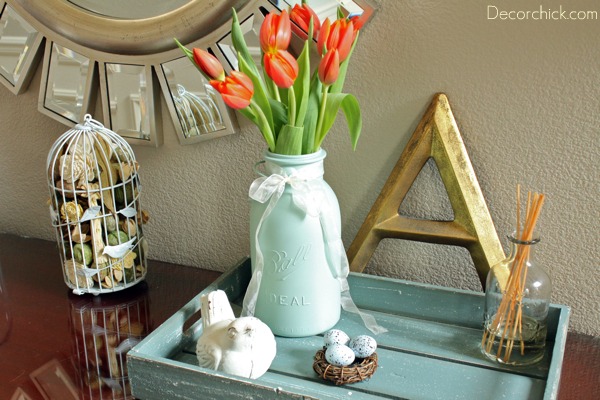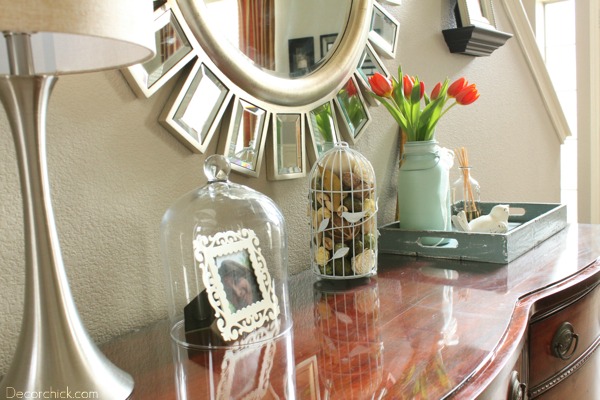 It really was meant to be huh?  I love how it's much bigger, has more storage, and that the top surface is bigger and deeper for decorating. I couldn't fit many things on the other table.
Oh, and if you don't remember, here is what the entryway used to look like with the old table…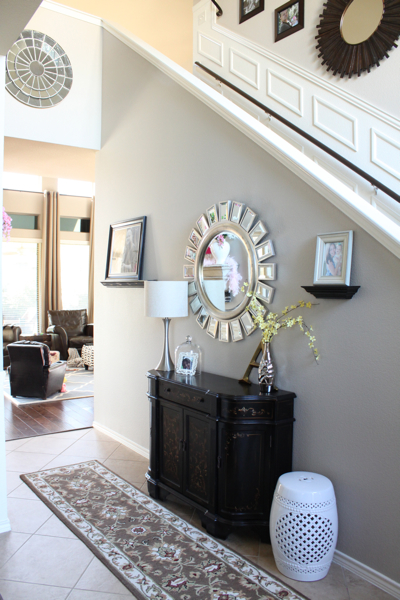 It wasn't bad, but the scale was off with that new pretty mirror I found and the table, plus I just needed something bigger for the entry.
And here it is with the new dresser.
I love it so much! And for the inquiring minds out there, the old table is in the office now in a little corner. :)
So remember, don't wait and buy something if you see it at a garage sale, thrift store, goodwill or wherever you may be. A piece like this definitely won't last long!
Do you like the new dresser in here as much as me? So what treasures have you found lately?  Garage sale season is upon us now so your treasure could be awaiting!
Sharing this post at Sarah's Before and After Party and Tip Junkie.
xxoo,
Decorchick!