Well I've already decorated the house for the Fall season and I'm loving it! Now we just need the weather to be below 90 degrees, then we'd be good. :) I kicked off Fall by first decorating our entry table, and I wanted to go with a more "elegant" look there with non-traditional Autumn colors.  Since I love so many styles and colors, I tend to choose different areas of the house and do different looks. And here is what I came up with for the entry table.
I wanted pretty blues and shiny metallics for this particular look, and I love how it came out. I got a lot of the items at Kirkland's too for ah-mazing prices!
I love these silver honeycomb mercury glass candle holders.  They are so classy and sophisticated in my opinion and will look great for any occasion.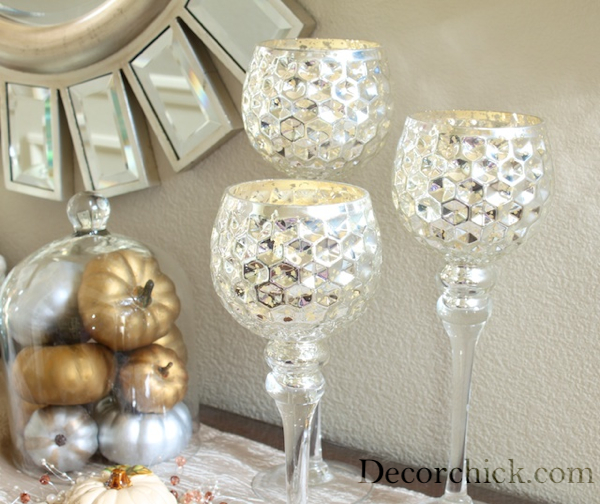 And I had to add my Rub 'n Buff pumpkins to the decor too because they went with the look. I just put them in a big cloche I already had.
When I saw this gorgeous blue-green mercury glass lamp for only $39.99 at Kirkland's it had to be mine!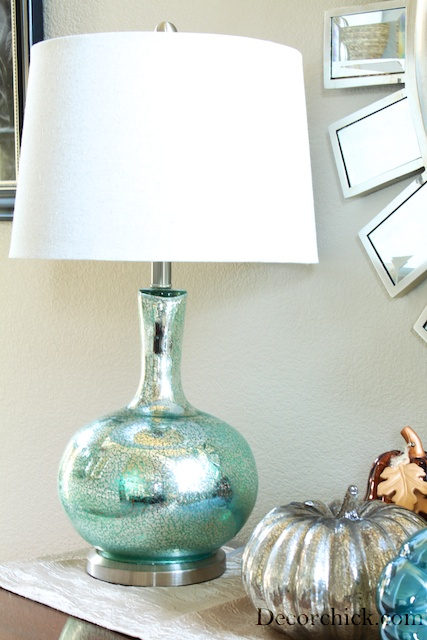 For $40 that's an incredible price and the lamp is huge! The old one I had up was a little too wimpy for our entryway anyway. And of course the color was perfect for my blue/metallic Fall tablescape.
And speaking of more mercury glass (I can't get enough of it), I love this shiny mercury glass pumpkin too.
The blue pumpkin is from there also, and the others I already had and just added to the mix.
I also love the pretty beaded holder that I just put a dollar store pumpkin in.
Those champagne and amber colored beads are so pretty! It goes great with the table runner I snagged up while I was there.
And here's a few more beauty shots.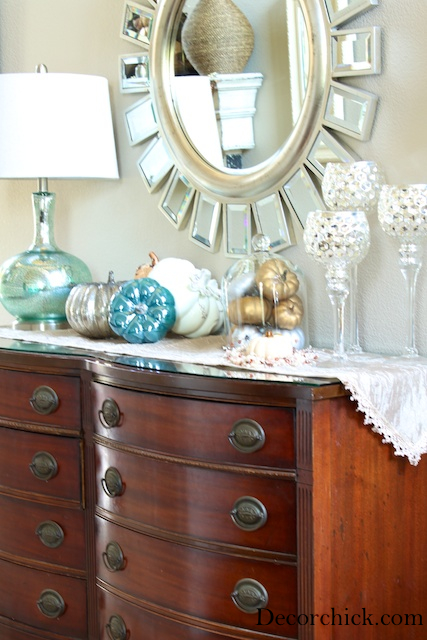 So what do you think?  Are you a fan of the more traditional Fall colors or do you like the blues and whites and metallics? Or all of it? I did our mantel in the more traditional colors and can't wait to show you that either!  Just think lots of pretty metallic golds. :)
I love how our entry table looks for the Fall Season now thanks to Kirkland's, so be sure and check them out because it's a destination for affordable home decor items. They always have amazing sales too! Don't forget to stay up to date with Kirkland's on Facebook, Twitter and Pinterest too!
Oh, and you can read about that dresser in our entry way here. It was a garage sale find!
Also be sure and check out my Fall Gallery post where all of my Fall projects are under one roof! ;)
Sharing this post at The Lettered Cottage Fall Table Party.
xxoo,
Decorchick!
________________________________________________________________________
Also find me on Facebook, Twitter, Pinterest, Google+, RSS and Instagram
 Disclosure: I received compensation for my Kick Off Your Fall blog post. Kirkland's partnered with several bloggers like me to raise brand awareness in the month of September. All purchases and content are on my own accord and reflect my personal opinion and style. Kirkland's blogger outreach policies abide by the WOMMA Ethics Code, FTC guidelines and social media engagement recommendations.