I haven't painted anything in a while, like a room or anything, but I have the itch now.  Maybe it's my 2nd trimester nesting kicking in?  Regardless, me and my bump are ready to have some fun with a paint roller again. And I think I am going to start the laundry room redo.  And since the laundry room is kind of closed off from the rest of the house, it can be fun colors in there. Hey, anything to make laundry fun, right?
I was looking through my Pinterest boards today and kept coming back to this one board where everything I have pinned is orange and aqua.  I just love those color combos so much.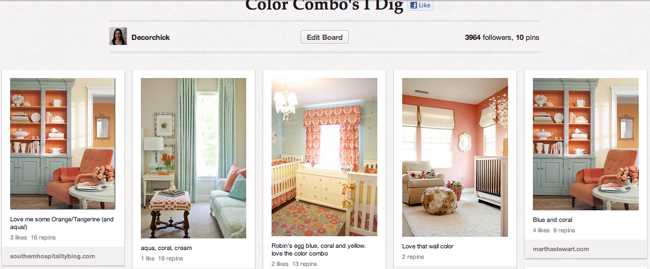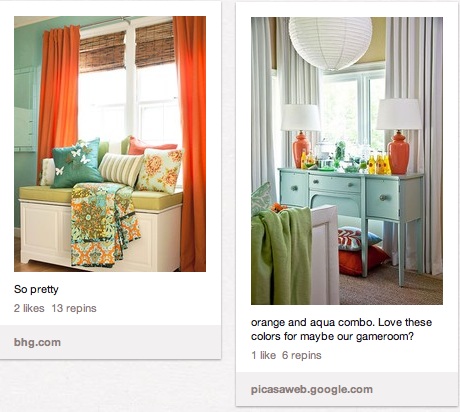 Pretty right?  I still haven't decided if I'll do orange or aqua walls.  I'm considering more of a coral-like orange too.
Oh, I guess you want to see the actual laundry room now. Brace yourself–this photo is from when I had the mess link party.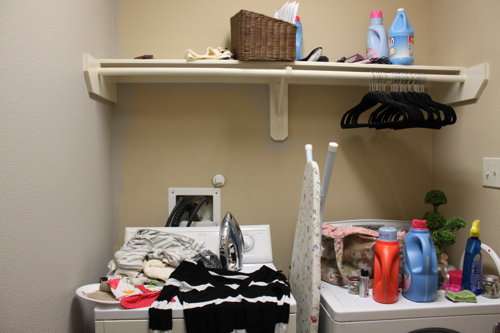 See, I had already started painting this room over a year ago and decided I didn't want grey in this room.  And sadly this room hasn't changed much since this photo was taken…a year ago. Ha!
This room is just awkwardly shaped because of the staircase.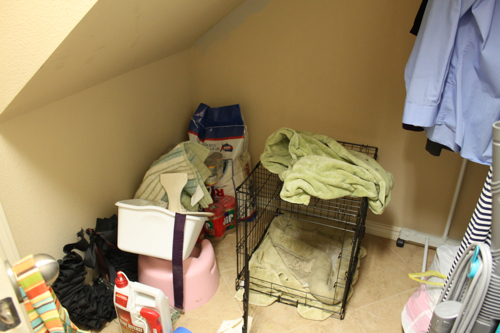 So I need to come up with some kind of storage solution and make this room functional instead of a junk yard. The dog and the cage are up for grabs too if you're interested.
I'll get some better photos of this room when I start painting. And that may be tonight because my husband is gone.  I seem to do crazy things when he's gone and not sure why…
So do any of you have any bright ideas for storage in here? I'm kind of leery of any type of permanent built ins in here because we do use this room for storage and for big things, like the vacuum, strollers, saxophones (hubby's), etc. so built ins would limit the items that can go in here, to a degree.
Anyway, if you can think of anything I'd love to hear! Do you like orange and aqua too?  Or what's your favorite color combos? I'm ready for a bright and cheery laundry room! :)
And if you're in the market for any beds or bedframes check out Tesco.
xxoo,
Decorchick!
_________________________________________________________________________
Also find me on Facebook, Twitter, Pinterest, Google+, and RSS.