Hey everyone, hope you had a great weekend!  I was able to finish up some painting and snap some shots of the laundry room finally, and am so excited to show you the room now!  It's come a long way that's for sure. :)  And now, here's the new orange and aqua laundry room!
UPDATE: I have since added a few more things to this room and new shelving. See the post here.
I tried to do my best with the photos but there are no windows in this room, or in the hallway leading to it, so it was a bit challenging. But I just love this room now!!
Let's look at a few before pictures now so we can see where this room started.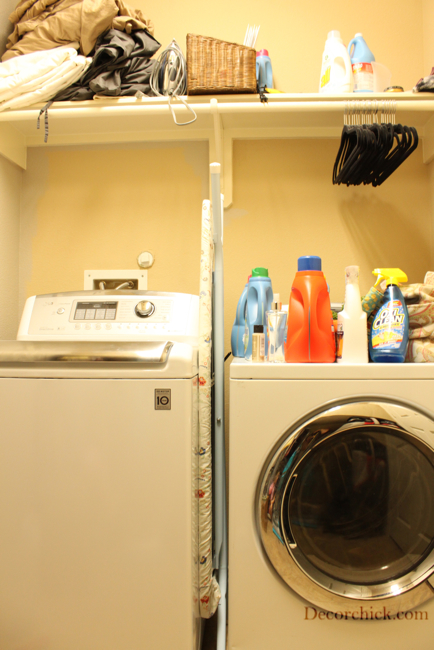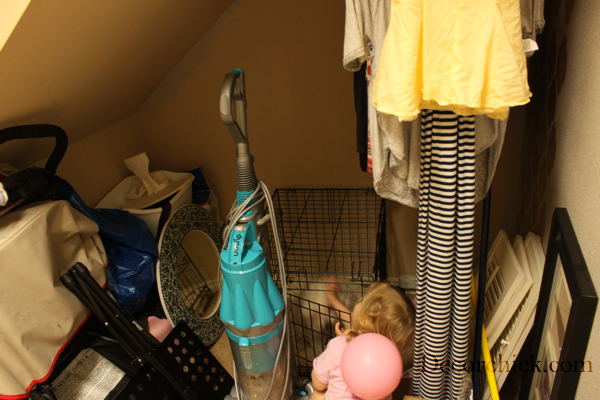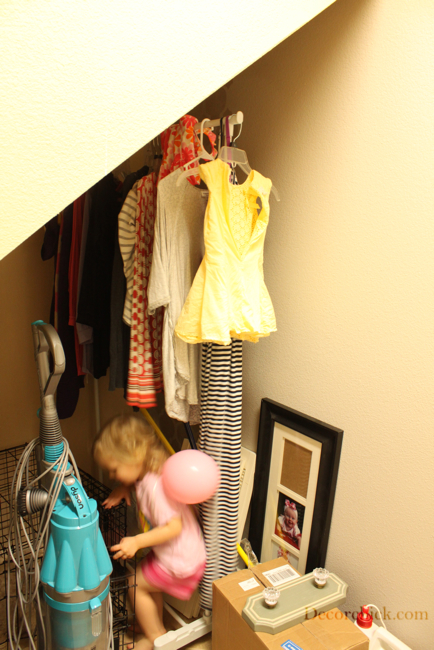 It was chaos. Complete and utter chaos. I first just cleared out the room and decided I wanted none of this stuff in here anymore. So I found a new place for everything (besides the vacuum) and got to work.  I painted the room Chrysanthemum by Sherwin Williams in their HGTV line of paint and love the color.  I know orange might not be for everyone but if you like an intense orange, this is a good one.
You'll notice I decided to not remove the existing shelf and bar for now and just added some pretty bins for extra storage.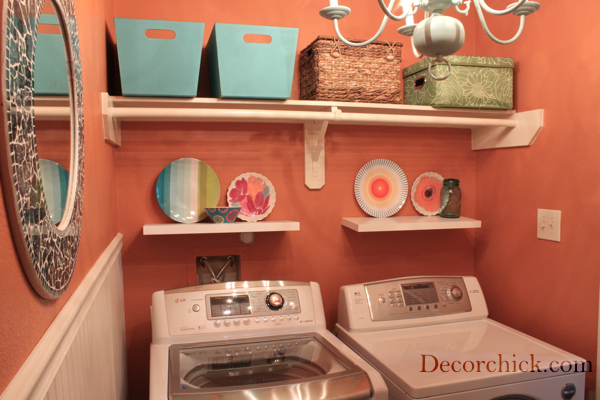 The 2 little white shelves I did add (from Lowe's), and they are merely for decorative purposes only. You would not want to set a bottle of detergent on them. :) And yes, one is crooked.  I hate hanging shelves.  When I saw all of those pretty plates at Target I had to have them. The colors were perfect for this room.  And yes it might be weird to have plates in a laundry room, but hey, they make me happy and it's my kind of "art."  And I bought those over a month ago (maybe 2?) so I'm not sure if they are still there? If so they are probably on clearance now.  Oh, and the bins came from Lowe's, Homegoods, and Target.
Oh yea, and I slapped up some beadboard and a chair rail too for added charm. :)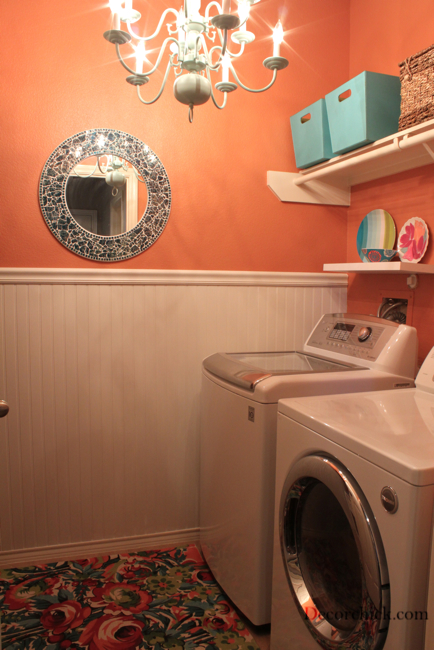 Molding makes the world just a little bit better. And I just did it on this one wall because it is the only wall it made sense on. This room is way too choppy with the staircase and all.
And we also had that ugly florescent light in here, which was replaced with this $8 thrift store chandelier that I redid.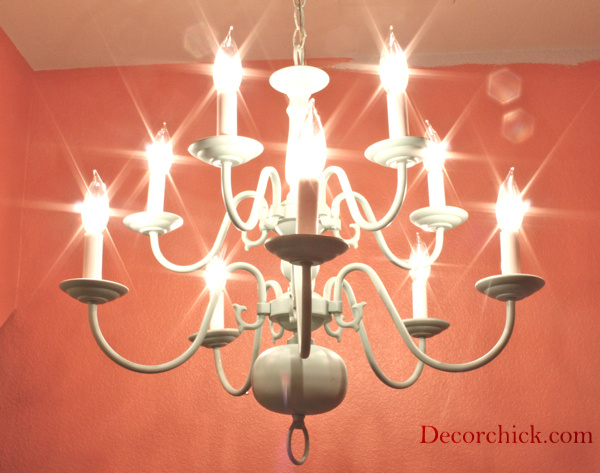 I love it! And yes it puts off plenty of light like most of you said it would, so thank you very much!
And on the other side of the room we have this now.
We just added an Expedit unit from Ikea and that is now where I keep all of the detergents, the iron, and other miscellaneous things.  Only 2 of those bins have stuff in them right now too, so I have plenty of space for extra storage. It's amazing what these little Expedits do to a space am I right?  It's instant organization that looks pretty.  Those little baskets on top of the Expedit are also from Target, and 2 of them from the dollar spot section. I figure the extra things I find in pockets can be thrown in here. :)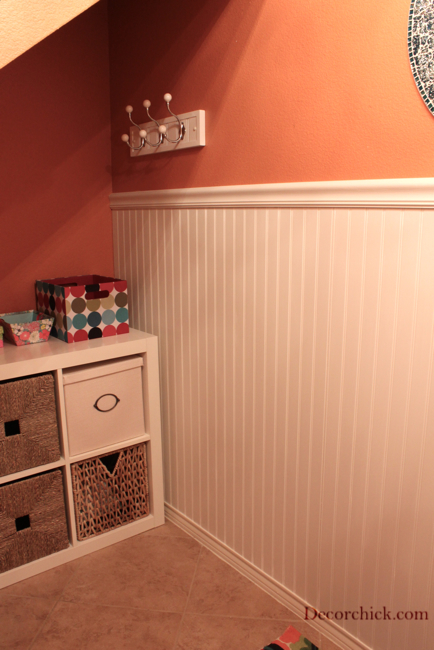 That beadboard hook thing I found at Lowe's on clearance for about $12. I'm so mad I didn't get 2 of them because when I went back they were all gone, and they are discontinued now. :(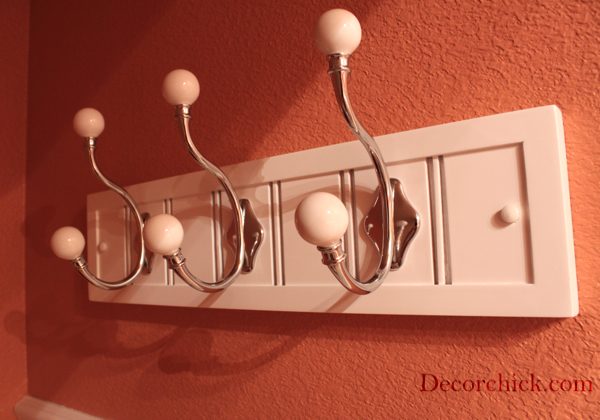 So cute right?  I've just been hanging whatever clothes need to dry on these hooks and it works great.
Oh and let's not forget about this gorgeous rug from Urban Outfitters.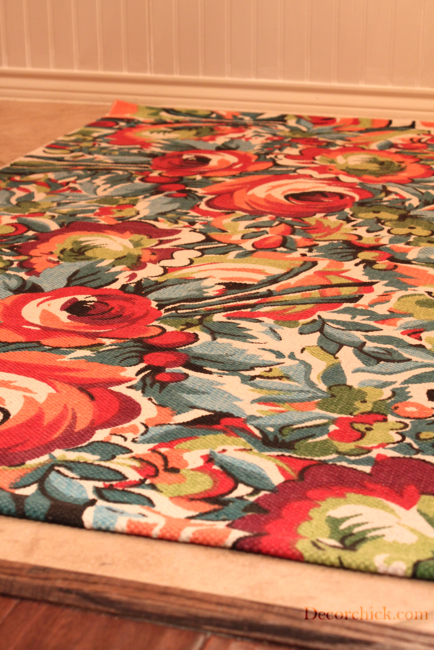 It's one of my favorite things in the room.
And here's a few more shots for ya.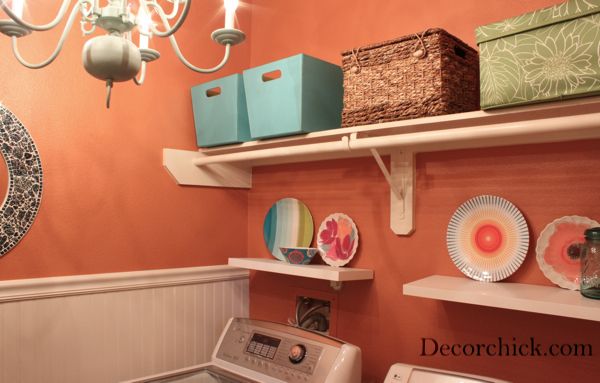 And for anyone wondering, I still LOVE my top loading washing machine.  We didn't get the matching dryer because our dryer is only about 3 years old and works great.  But they are both by LG and love them!
But between the new washer and the new pretty laundry room, I can say that doing laundry is just a tad bit better.  Now if they can just make a machine that folds and puts the laundry away…now that would be awesome.
So what do you think?  If you do not like orange, ummm, I'm guessing this isn't for you.  And that's ok!  But I just looooove orange/coral and aqua and can't get enough. :)  Would you be bold and paint a room orange?  Or what's a color you'd like to use but might be scared to try?  If you love it, I say go for it!  It's just paint after all…it can be painted again. :)
I'll be sharing this post at Sarah's before and after party, Weekend Wrap Up Party, Inspired by Charm and Between Naps on the Porch.

UPDATE: I have since added a few more things to this room and new shelving. See the post here.
xxoo,
Decorchick!
__________________________________________________________________
Also find me on Facebook, Twitter, Pinterest, Google+, RSS and Instagram