Hi all! I have something fantastic to share today. I'm sure you already know that from the title of this post but whatever. :) I wanted to show you all a few laundry room updates I made recently, and then at the end of this post you can enter to win a $500 gift card to Home Depot! Wow, that will buy a lot of goodies.
First things first. Here is our laundry room now with a few changes I made to help it be more efficient.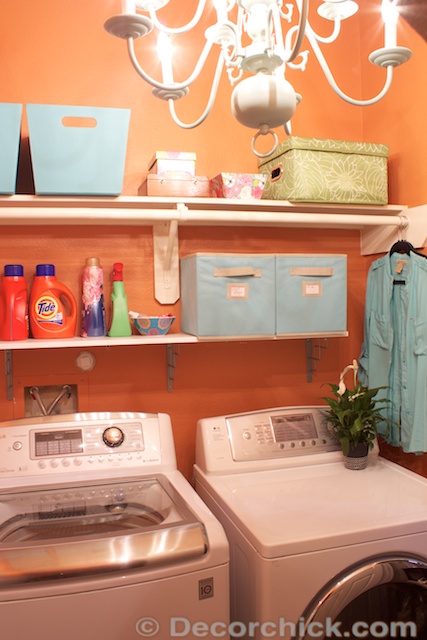 Can you spot the changes? It's minor, but big to me. If you don't remember or haven't seen our laundry room before, you'll recall I put up 2 little shelves back when I redid this room…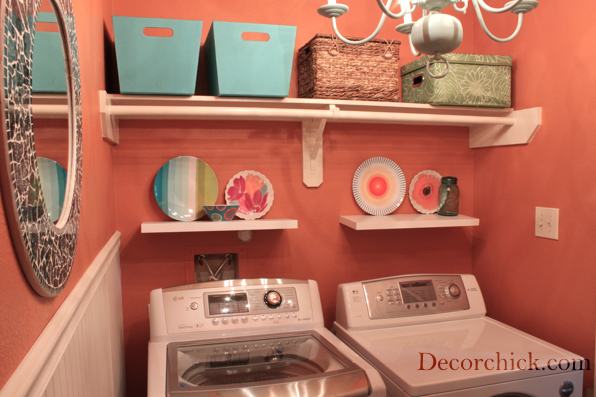 While they looked pretty with the plates and such, they weren't real functioning shelves. They were very flimsy and I didn't have peace of mind putting detergent on them. So with that issue, me going back to the Expedit cabinet on the other side of the room was a pain and eventually everything just landed on top of the dryer. So it was never clean and tidy. Never. I know. Tough problems to have.
So since I partnered up with The Home Depot again for their #BrilliantHEClean campaign, I went there and bought a few new things. The main thing being a new shelf!
It was one of the Rubbermaid shelves that are very inexpensive, maybe $25 or so? I just love it and love having a shelf there that I can actually use. It's just very handy to have everything right there.
We also picked up these silver brackets so it was a bit more decorative.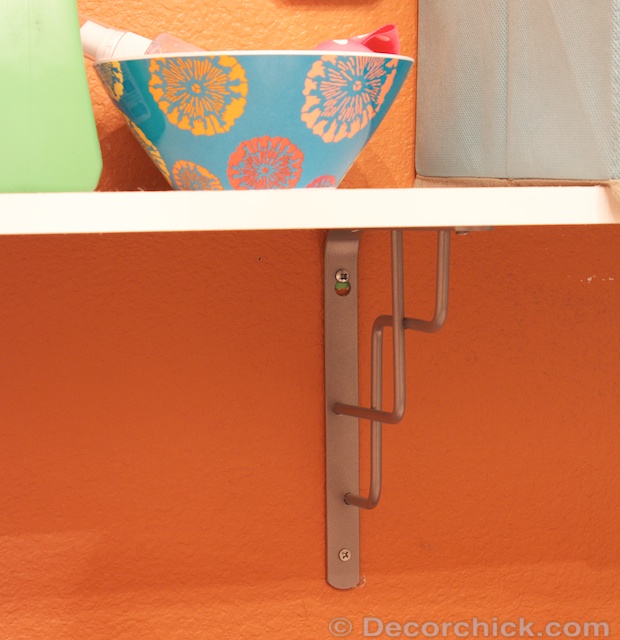 I bought a few of these Martha Stewart bins at The Home Depot for extra storage too. I keep my iron in one of them.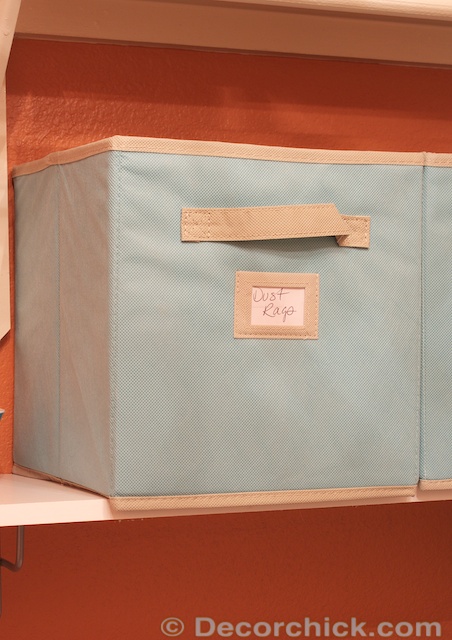 And of course I'm stocked with my Tide detergent and liquid fabric softener.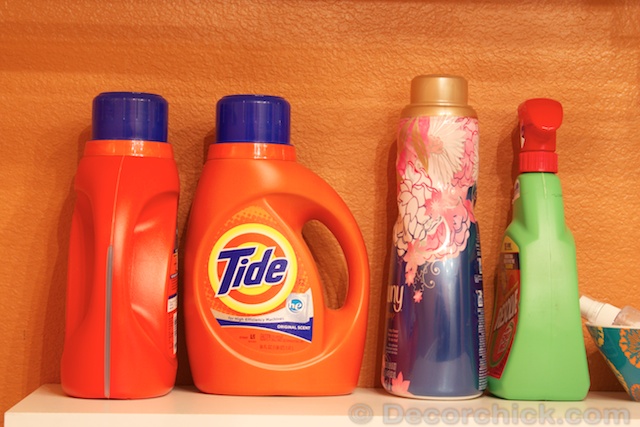 On the other side of the room I still have the expedit, but I ended up throwing random stuff on top of it so it also never stayed cleared off. So I bought these awesome Rubbermaid bins to store stuff in.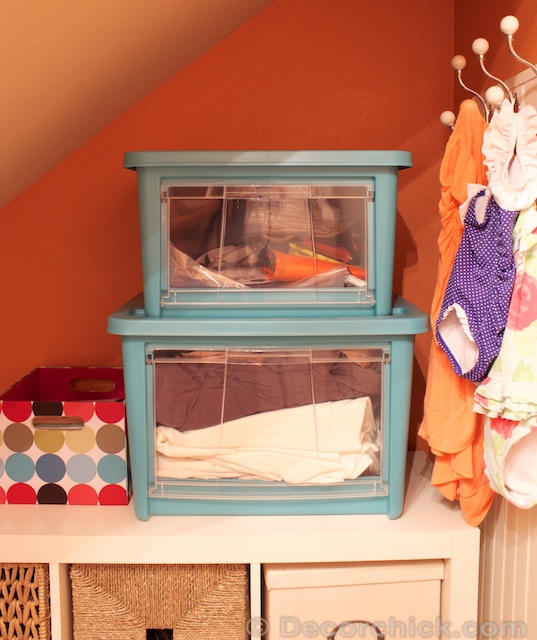 I love them because that clear side opens up. Such a genius idea. I want to buy 2 more for in here also. They would also be very handy for books and such and all of my magazines that I can't seem to part with. They will be collector's items one day.
Here are a few more shots of the laundry room. You can see all of the details about this room in my original laundry room makeover post.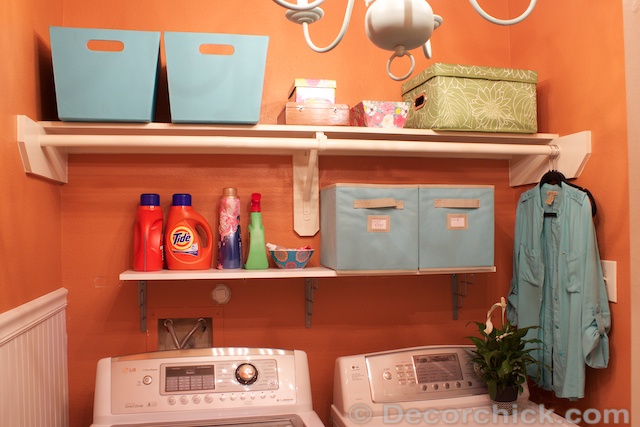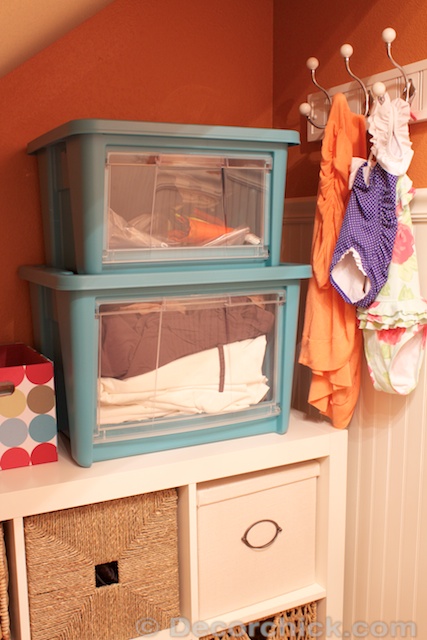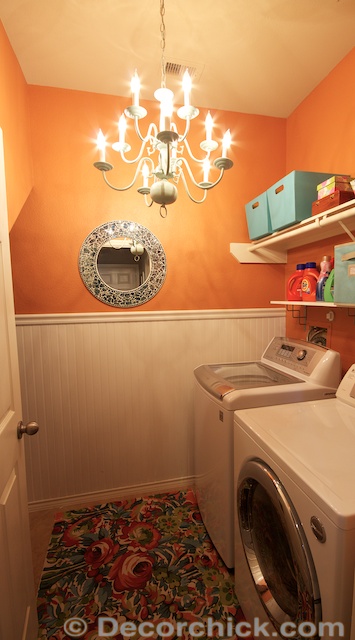 The laundry room redesign with my new storage shelves and new storage bins have been so great and I feel I can operate much better in here now. And I say I because I'm the one who does laundry. I still love our laundry room and the bright colors. It's a happy little place. :)
Tide, The Home Depot and Maytag have all partnered together for the #BrilliantHEClean campaign, and you can visit their site to enter to win a Maytag washer and dryer + a year's worth of Tide detergent AND $5,000 to redo your laundry room! They've also partnered with Jenny Komenda, decorator and blogger at The Little Green Notebook where you can also win an e-design consult with her for the redesign of your new laundry room. See her tips here to make your laundry room even more awesome.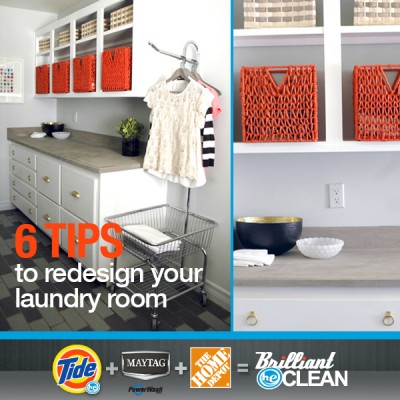 Now for the giveaway!!
Do you want to win a $500 gift card to The Home Depot and a few Tide samples? I know you do so to enter to win, just leave a comment and tell me what you'd love to do to your laundry room or how you'd like to spend $500 there. If you'd like a second entry, you can share this giveaway on any social media outlet and come back here and leave a comment with what you did. Easy peasy! Here's a graphic you can pin too.
Good luck everyone! I'm so grateful to work with such awesome companies who really want to help out their loyal customers and fans. $500 isn't no chump change. :) Giveaway will run through August 16 and I'll announce a winner chosen at random.
*GIVEAWAY NOW CLOSED* Congrats to #691, Mindy!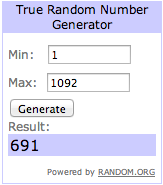 xxoo,
Decorchick!
Let's Connect!




I did receive these products for my consideration from The Home Depot and they are also providing the giveaway prize. As always, opinions and random musings are, and always will be my own.