Goodness, thank you all so much for your help and thoughts on the washing machine debate.  I am thrilled to announce that I am able to do laundry again!! And yes, it really is thrilling to do laundry now.
I read all of the comments several times (again thank you!), and they pretty much confirmed some of the thoughts I had, so….this is what we have now: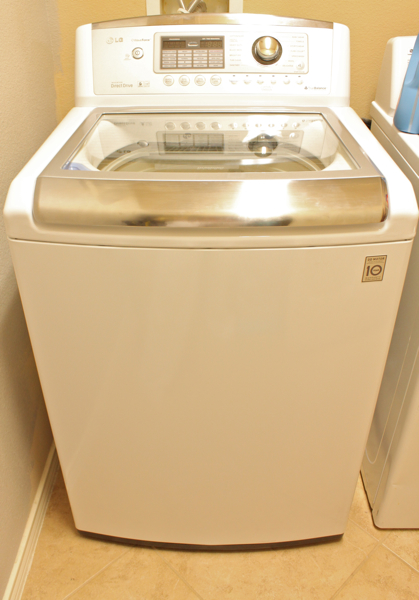 The LG HE top loader!!  And oh my, this baby is amazing.  And again, I know the front loaders can be great too, and a lot of people love theirs.  A top loader just made more sense for our setup anyway right now, and I got a really good deal on it.
And yes, I guess this one would have the bells and whistles as you would say, and I went back and forth on that aspect of the machines, but in the end chose this model because of all of the different cycles it has, and its capacity size.  And yes, I've already used about 6 of the cycles so far, so they will get used for sure.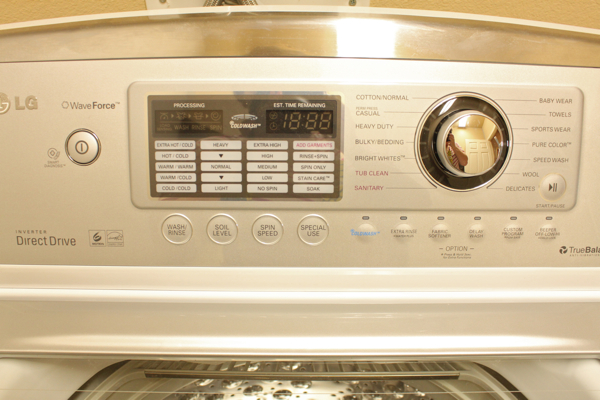 I am especially excited about the sanitary cycle (which I haven't used yet), but will soon.  It's a 3 hour long cycle and reviewers seem to love it.  The reviews on this machine were also excellent I have to say.  I did get the extended warranty (for free), so if anything happens I'm covered.  These new machines are like computers these days so the chips and stuff can go out and break I read.  So I have a little peace of mind with the warranty. :)
And there are definitely some marketing geniuses out there because having the clear lid definitely sways customers! Haha.  And noooooo, I didn't pick this machine just because of the clear lid.  It's just a nice little bonus. :)  I have to say it's pretty fun watching it wash clothes and doing it's magic.  And our clothes come out clean and smell lovely.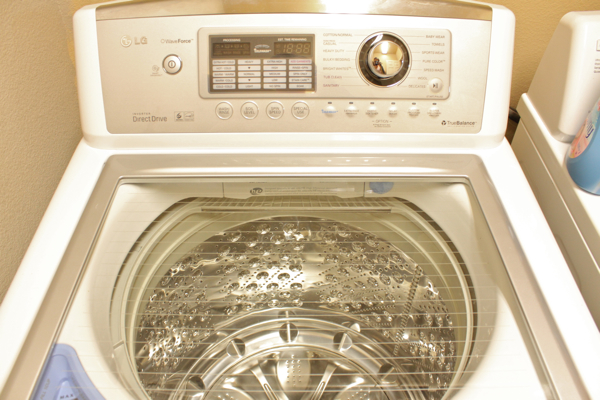 I know a reader (hi Shawna!) said that the clear lids can begin to show mineral deposits from hard water, but hopefully if that does happen with mine I will be able to find a good cleaner to get that off. I'll keep you posted if that happens.
And check out the inside of the tub.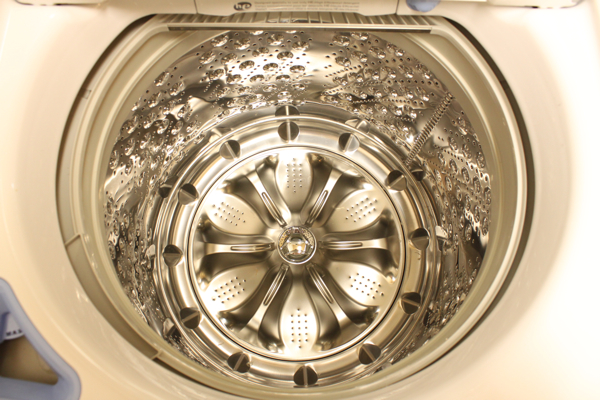 It's HUGE and amazing and shiny and pretty. And no agitator.  The capacity on this washer is 4.5 and that is ummm, big.  Oh, and the dryer we had already is a large capacity dryer as well, so it can accomodate the large loads.  The dryer we have is also an LG (3 years old), and it's capacity is 7.3.  Someday I would love to get the matching dryer to the new washing machine, because it's a steam dryer.  I really think I would use that function for the kids' toys, stuffed animals, bags, etc. But that's just a wish list–not a necessity at this point. :)
And that is the latest purchase my friends.  Maybe not the most exciting to you all, but to me it was pretty darn exhilarating.  I've never had a brand new washing machine!
Just be sure and do your homework and research all of the places you may buy from so you can get the best deal.  And research the stores' warranties too.  And get the places to price match (most do anyway), and see if they will throw in the same promotions the other store is offering too.  That's what I did, and while it took talking to 2 different people and not giving up, they granted my requests. :)
Yay for clean clothes and good deals!
xxoo,
Decorchick!