I am soooo happy the chandelier I bought at the thrift store works!  Even though a small headache occurred when we took down the florescent lighting, the electrician already came and installed the electrical box and our laundry room (which is still undergoing a makeover) is now sporting a lovely "new" aqua chandelier! *UPDATE: See Laundry Room Makeover Here*
Doesn't it look beautiful??  And yes I still need to finish cutting in around the edges on the wall with the orange paint.  I just can't reach it and still not sure how I'll get that one done.
Here is the before of the $8 thrift store brass chandelier.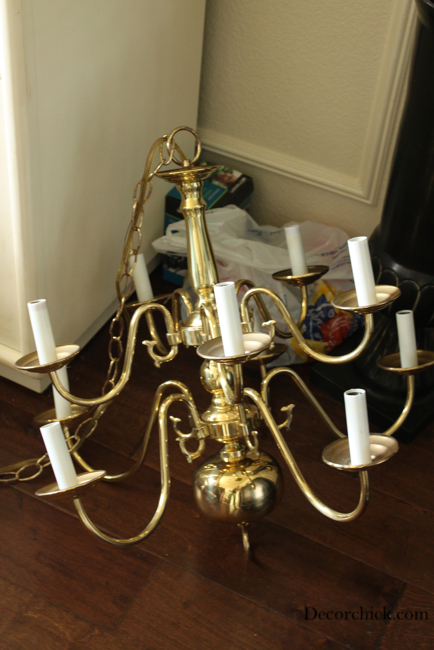 I first just cleaned the chandelier, and then protected all of the bulb sockets by wrapping them in foil before I spray painted.
Then I painted the chandelier with my favorite aqua spray paint from Krylon called Catalina Mist.  It's soooo pretty.  For other projects using this color you can see my aqua painted mason jar here, and my old drawer project here.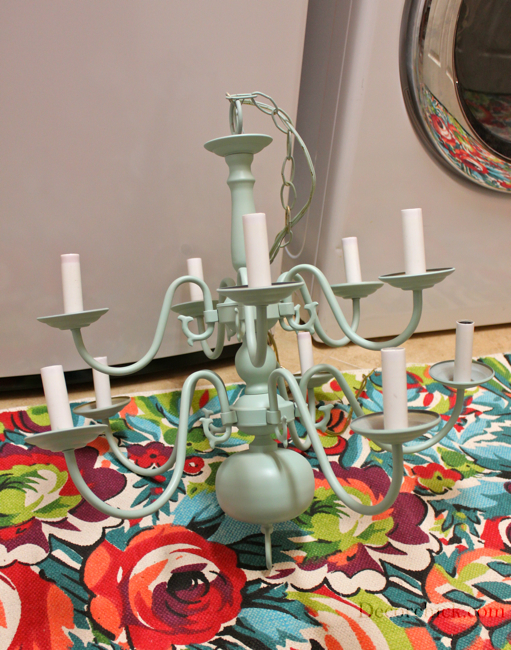 Don't look at the chain too closely and think I forgot to paint it or something.  I just didn't worry about it much because I plan to put one of those cute chain covers around it anyway.
And here it is hung up again in the laundry room.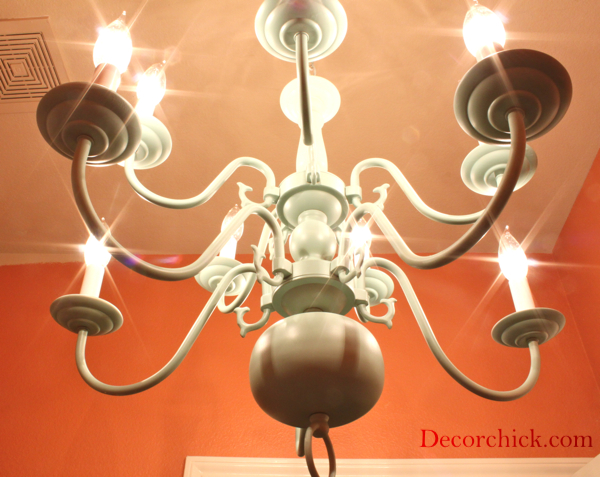 And YES, this fixture does put off plenty of light in this room which I was originally worried about thanks to my husband, but we set him straight didn't we? :)  I just love it and it makes the laundry room more happy.
Ahh I love spray paint.  It's still amazes me what a little paint can do!  You'd think I would lose my excitement by now about paint in general, but I haven't and probably never will. It's just awesome! :)
This room is just about done now with a few touch ups left to do.  I can't wait to show you!  Have you painted anything recently?  Do you ever get tired of what a little paint can do to something ugly?
Sharing this post at Sarah's Before and After Party and Weekend Wrap Up Party.
UPDATE: See Laundry Room Makeover Here.
xxoo,
Decorchick!
__________________________________________________________________
Also find me on Facebook, Twitter, Pinterest, Google+, and RSS.