Woohoo! I am SO excited to finally share this space with you all! Funny thing is though, is that I've never really mentioned I was creating a mudroom. Well, I sort of have a long time ago, but nothing detailed. So surprise, you get a full reveal instead of just snippets. :) I did however mention that I had a striping fail (not to be confused with stripping), and this was the little hallway that I was doing the stripes on. Another funny thing is that you've never seen this hallway ever on my blog! You'll see why soon. Until then, here is the mudroom makeover done under $100, and with the striped wall!
I'm very excited about this space can you tell? When I show you the before you'll know why. Here ya go.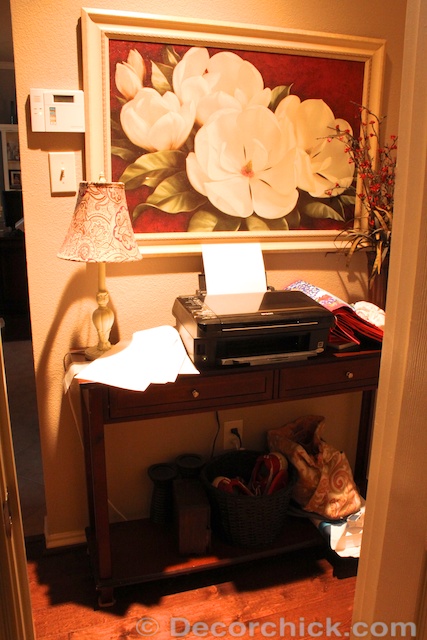 Yep. That's the hallway you've never really seen. That before pic was taken about a year ago, but the only thing that had changed was that I moved the printer into our office. Other than that though, that console table was a landing spot for junk, as you can tell. Plus that stuff isn't really my style any longer. So operation mudroom/functional hallway began.
When my cousin and her husband were down visiting last year, I had him build me that bench! I'll show the tutorial for that at a later date, but the materials for it ended up being about $65. You can find similar benches all over the place for usually about double that.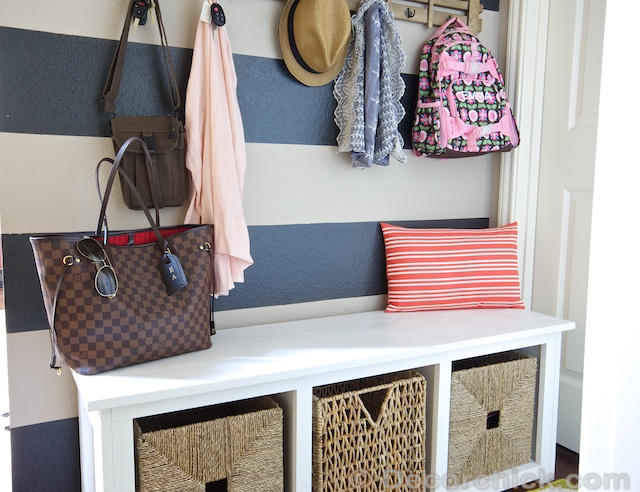 The baskets I already had from Ikea. They are to mostly store shoes, and I do have one where I keep tools that we use regularly in the house.
I don't know that I'll do a tutorial on how I did the stripes because after all it did take me 3 tries, but if I get several requests I will.:)
And another reason you haven't seen this hallway is because it's a very dark hallway, no natural lighting anywhere, and getting a tripod to fit anywhere is hard! We also have a powder room in this hallway that you've never seen for the exact same reason. So needless to say I was in very many awkward positions trying to take these photos.
This is also the hallway that leads to our orange and aqua laundry room, so I used colors that would flow with that room as well.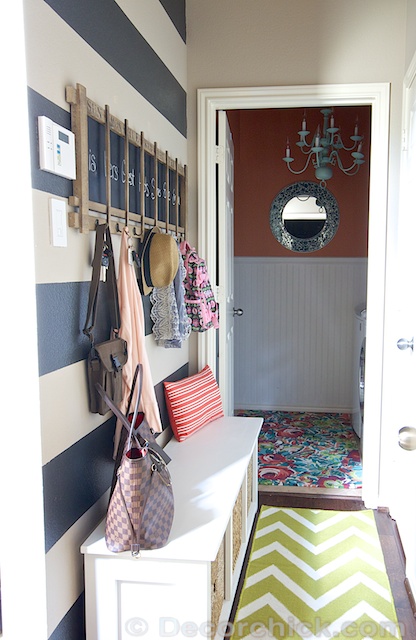 I did not do the stripes all around because there are like 4 doors in this little area, the side you can't see, so there really would have been no point. It would have been a choppy mess.
And while this isn't the greatest picture, I wanted you to see how the stripes look by the archway.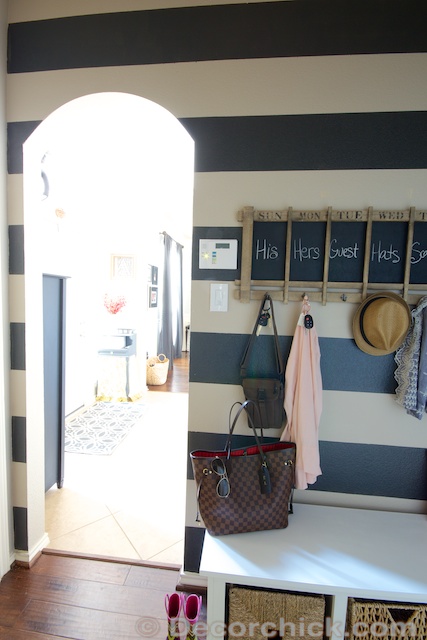 I have to say I am pretty impressed with those stripes with nice crisp lines because we have very textured walls! Okay, yes I better do a separate post on those stripes eh? (UPDATE: See How To Paint Stripes Tutorial Here)
Ok, now just enjoy the rest of the photos!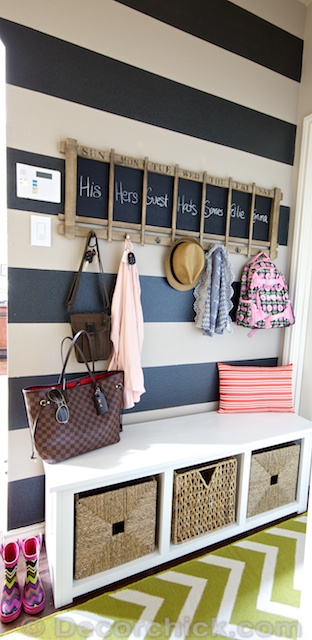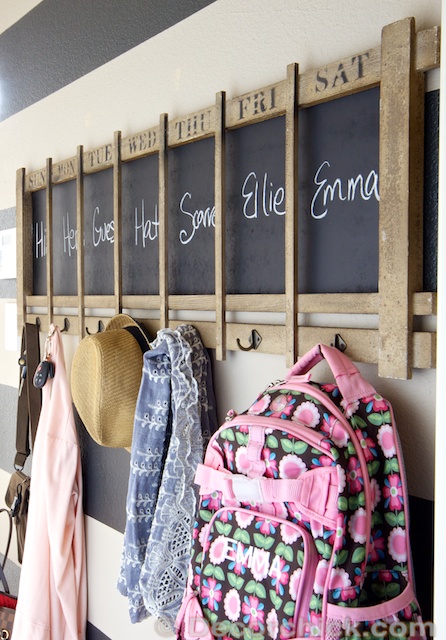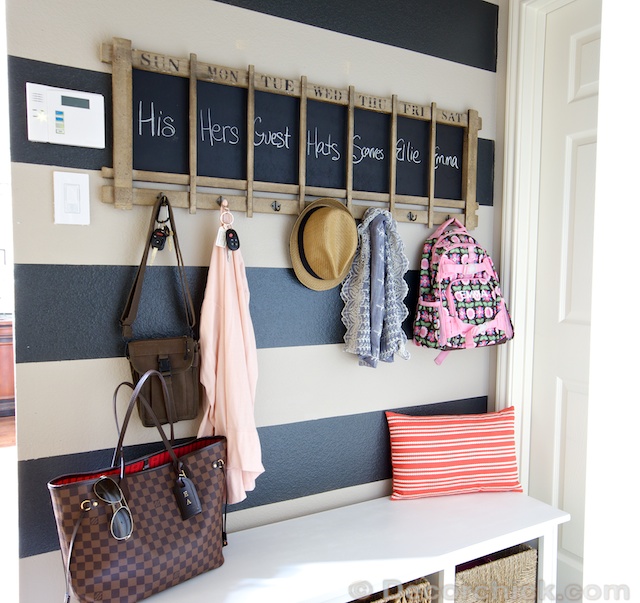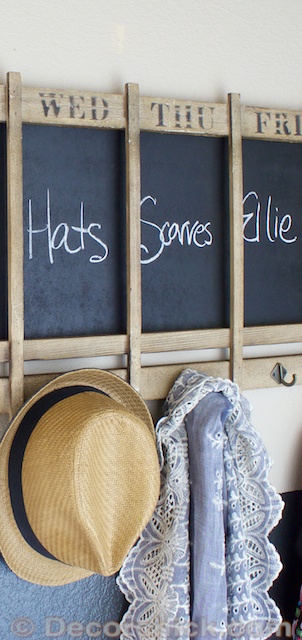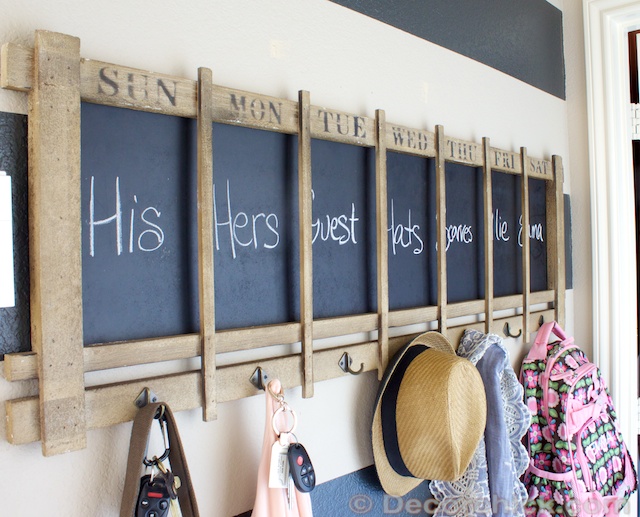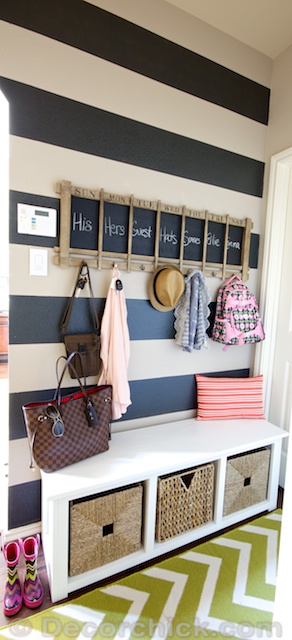 I think that'll do it. :) That last shot above is so you can see the stripes up to the ceiling. And yes, on my husband's hook he has an army bag there. He's always got a bag of some sorts with him. He loves man-bags like I love nice purses. We are quite the pair.
For such a small space, it packs a lot of function. Backpacks and purses and keys are no longer thrown on the office desk and office floor. It's joyous. It's a proven fact that people are happier when there is a designated place for everything. Okay I made that up, but that rings true for our family. :)
Budget Breakdown:
$65 in materials for the bench
$10 for the sign with hooks. Garage sale find that still had a Homegoods sticker on it. :)
$20 for the green chevron runner, found at Homegoods
Everything else including paint, tape, etc I already had.

Total: $95
Not too shabby to have this look for under $100!
Paint base color is Sherwin Williams Balanced Beige (like the rest of most of our downstairs area), and the charcoal grey stripes I did the same color (SW Iron Ore) as our Painted Pantry Door.
I didn't plan on talking this much for this post sorry, but I have to say that it's amazing how much bigger this hallway feels with the stripes. They just make such an impact and it's SO cheap to do! And you can see the tutorial for how to paint the stripes in this post.
Soooo, what do you think?! Sharing this post at Thrifty Decor Chick's Before and After Party.
xxoo,
Decorchick!
Let's Connect!