Hey everyone, first let me say thank you so much for all of the love on our laundry room makeover! I'm loving the space and glad y'all dig it too! :)  So now today we are talking about the backsplash again in the kitchen and I want to show you the progress we've made!
I mentioned last week that I've partnered with Home Depot for this project and am using their new Atmospheres Tile Collection by Daltile to redo our kitchen.  I first met with the tile designer at our local Home Depot and she was awesome to work with and she showed me the entire collection.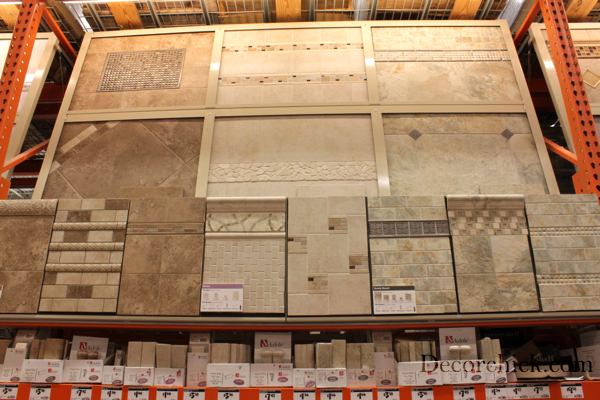 There is another section as well but not pictured, and they have an amazing Carrara marble tile collection too! I love how the collection shows you what pieces work well together so it can make choosing your design a bit easier.  The Atmospheres Tile Collection by Daltile offers a variety of style, color and size options, so you can create your own unique designs with tile. Like I said before I have never picked out tile before so it was a bit overwhelming for me at first.  It's a big decision to make!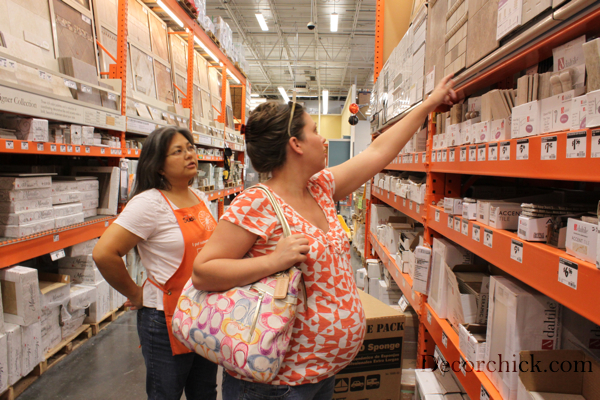 That's me (duh-can't hide the humongous belly) looking around while she patiently waits for me to make up my indecisive mind.
This little monkey was running the aisles too making me nervous, so I was a little preoccupied at times.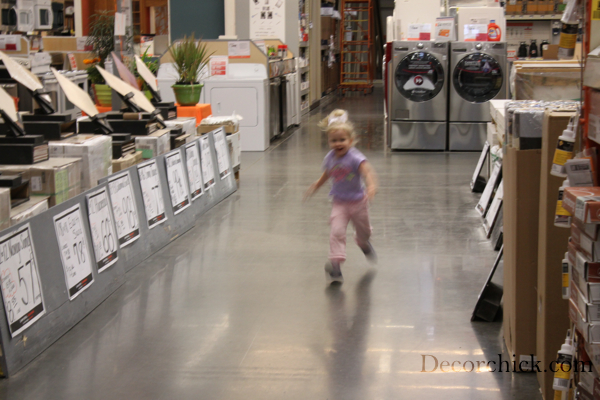 My husband was "watching" her by the way and I guess snapping photos of her doing things she shouldn't be doing in the store. ;)
Anyway, back to tile.  I reeeeeally wanted a subway tile design for the new backsplash.  But since there isn't technically a "subway" size in this collection, the designer came up with something brilliant….to cut the 6×6 tile size in the color I liked into either thirds or halves, depending on if I wanted the tile to be 2×6 or 3×6.  I chose the 3×6 so Home Depot cut them all in half for me so I could have the subway design! Awesome right?
Here is the 6×6 size that I first took home to make sure the color would look good in the kitchen, and luckily it worked.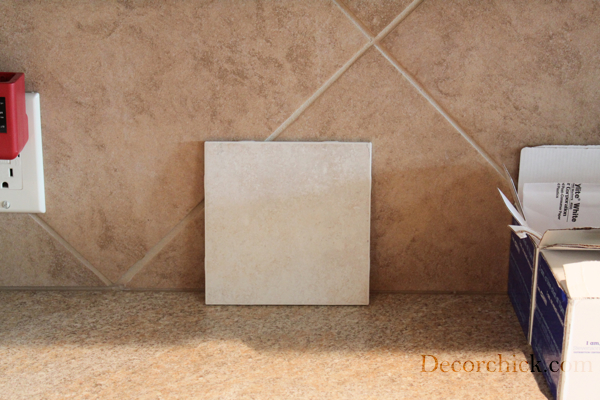 I definitely wanted something lighter than the boring beige we already had and this fit the bill.  I also had to think ahead for future renovations because I still want to paint our cabinets white, and get new countertops one day, so I needed the new tile to work with our existing AND future cabinets/countertops.  See, not an easy task. :)  But this tile is called Briton Bone Ceramic Tile (in the 6×6 size).
Then I sat down with the designer and we came up with the design and planned it all out as to how much I needed to cover our kitchen, etc.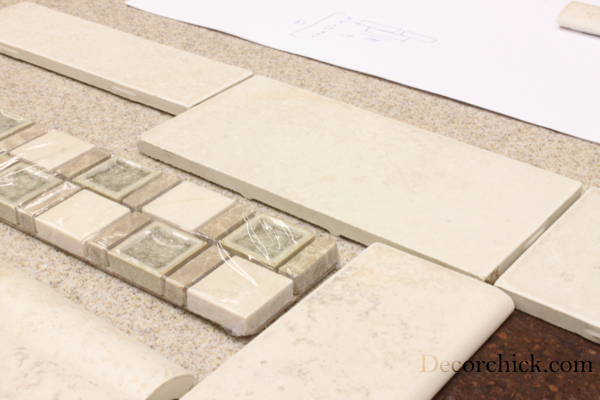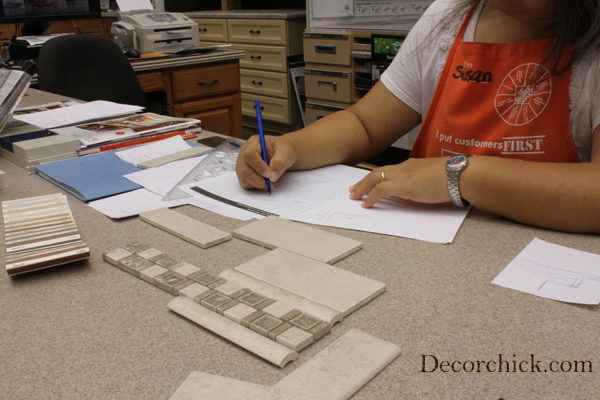 I also picked out that pretty accent piece to run through the subway tile design and am SO glad I did. It's their Crackle Fantasy Glass Deco Decorative Accent piece. It adds so much more interest to the subway design.
Then it was time to get to work and time for the old backsplash to meet its maker.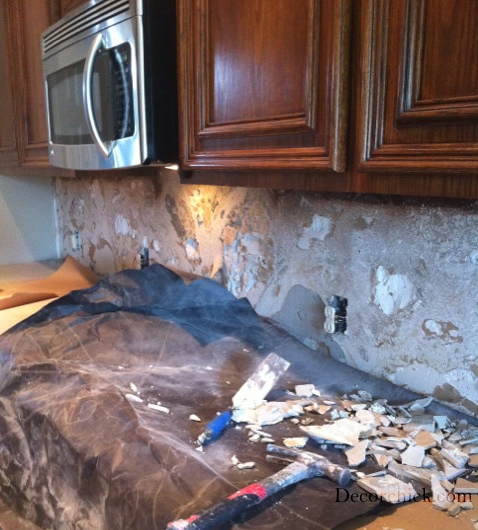 It was a mess…so dusty everywhere! And once it was down I realized I needed some help fixing the sheetrock because huge chunks came out.  I knew some would come down but not big holes leaving all the walls an uneven mess.  And you definitely want your wall level when you put up tile! So once my helpers were done fixing the wall it was time to tile!
I laid out the design again so I wouldn't mess anything up.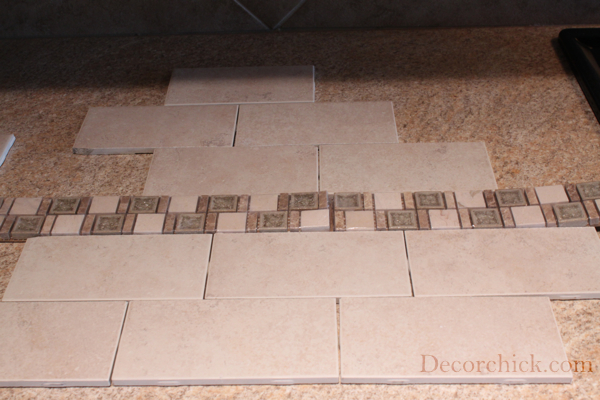 Again, I cannot say how happy I am she recommended to cut the 6×6 tile in half for the subway design because it's fab.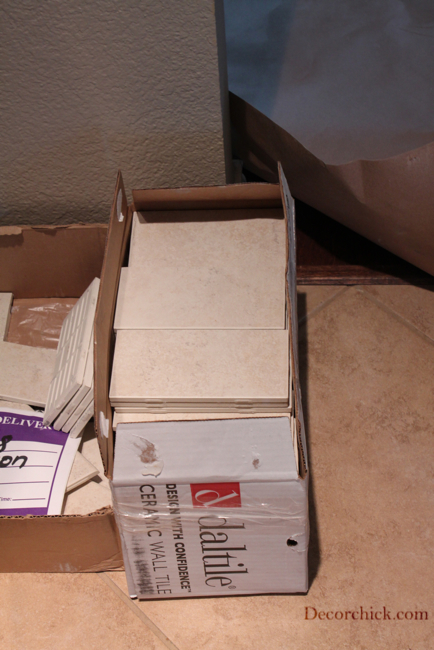 Then up went some thin-set mortar and tiling had begun.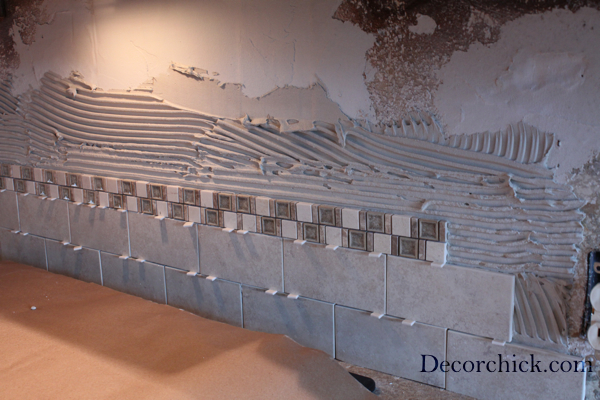 We used 1/8 spacers as well.  I didn't want a very thick grout line and this size looked good.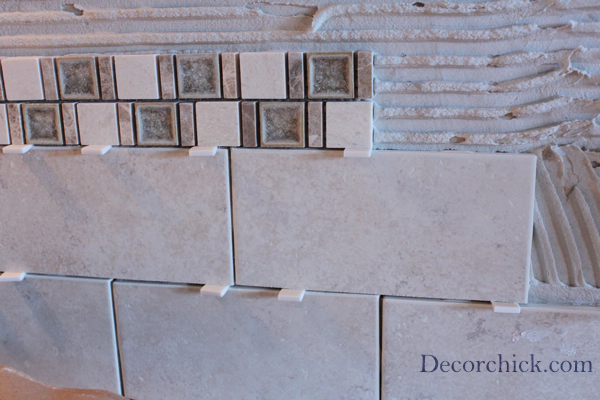 Once all the tile was set it was time to grout, and I chose this grout brand and color.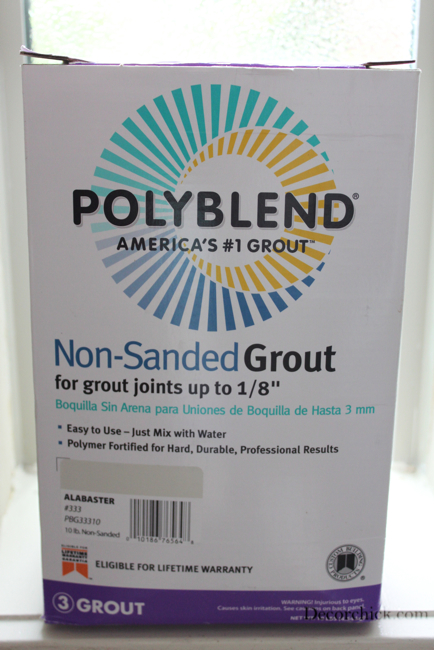 The color is Alabaster, and I chose a non-sanded grout.  Only because I like the smooth look better than the rough texture of the sanded grouts.  That's just a personal preference though.  They also told me at the store that grout will appear lighter once you put it on, and I wanted a white but a soft white, and this was perfect.
So now I'll have to leave you with this.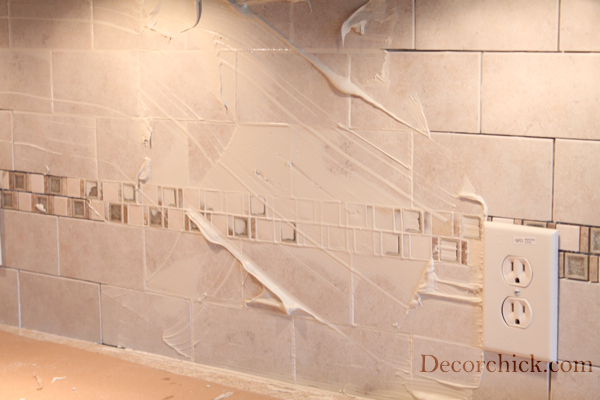 Yep that's just all the grout needing to be wiped off.  But it's looking good yes? :)  The kitchen looks totally different now and I can't wait to show you!!  It's SO much brighter in there, it's quite amazing. I'll show you next week promise. :)
So what do you think of my tile choice?  Do you love the subway tile as much as me?  It really is a dream come true to have subway tile in our kitchen.  The only bad thing is that now I want the farmhouse sink, painted cabinets and new countertops like…yesterday. Ha!
xxoo,
Decorchick!
__________________________________________________________________
Also find me on Facebook, Twitter, Pinterest, Google+, RSS and Instagram
Disclosure: The Home Depot partnered with bloggers such as me to participate in its Daltile program.  As part of the program, I received compensation from The Home Depot in the form of a gift card to participate in this campaign promoting the new Atmospheres Tile Collection by Daltile.  They did not tell me what to say about the products used for the Daltile Program. The Home Depot believes that consumers and bloggers are free to form their own opinions and share them in their own words. The Home Depot's policies align with WOMMA Ethics Code, FTC guidelines and social media engagement recommendations. The winner of any giveaways in this program will be randomly chosen and gift card fulfillment will be handled by a third party.