Well, the good thing about c-sections is that they are typically scheduled, unless you have an emergency one like I did the first time around.  My due date all along has been July 7, same birthday as my stepson, and we had scheduled the c-section for July 6 which is next Friday.  BUT, just at the last minute my husband and I changed the date to July 2 (for personal reasons). So yes, that would be this MONDAY. Monday people!!  Monday we will finally meet sweet pea and I am literally terrified and ecstatic at the same time.  There's just no other words to describe what I'm feeling.
So to somewhat get my mind off of things I've been an organizing junkie and painting junkie. Now in our bedroom we have this in there.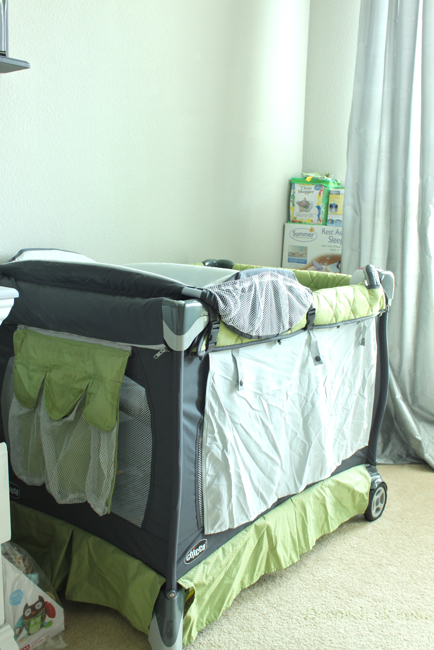 And I put it together myself thankyouverymuch.  And it was not fun at all.  AT ALL.  We had this same one with Emma too, and she NEVER used it so I don't really anticipate this one using it much either, but I like having it for the changing table.  I have a co-sleeper the baby will sleep in for a while. But at least the pack n play matches our room a little bit. That's important. ;)
Oh and while I was at it, I took a few real life pics of our bedroom for your viewing pleasure.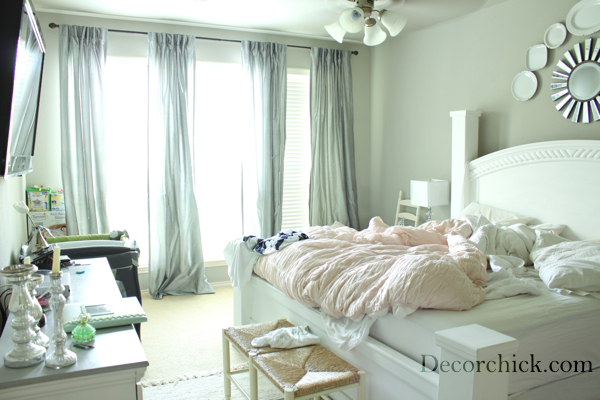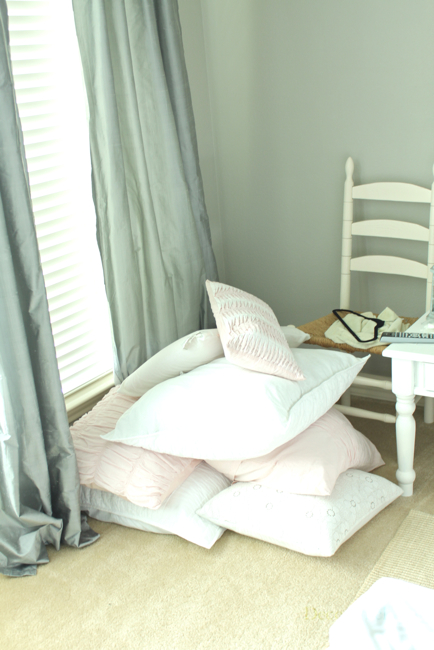 I hardly ever properly make the bed, and those pillows pretty much always stay on the floor.  At least my daughter has fun diving into them.
If you want to see our room in a much prettier state of mind, you can read this post. :)
So yea, that's the latest, and a little bit of our real life for ya. I have a feeling it's going to get even a bit more chaotic in the next few months, so I'll be sure and snap some pictures then too. Haha.
And Monday…oh Monday.   Say a prayer for me please and that everything goes well with the surgery and all and that the baby is happy and healthy.  Getting sliced open typically isn't on my to do list, but I know it will be worth it when he/she is finally here!  And thanks to all of y'all for coming along with me on this 9 month journey.  I have definitely enjoyed writing about this pregnancy to my online friends, even though this is a home/diy blog. :)
If you want to be one of the first to know the baby is here, be sure and like my facebook page and follow on twitter because I'll get to those first before I think about writing a blog post. :) But you know I'll post here when I can! Just forgive me ahead of time if my writing is a bit loony–that'll be the meds.
xxoo,
Decorchick!