Well our gallery wall and board and batten is done. And….we love it!!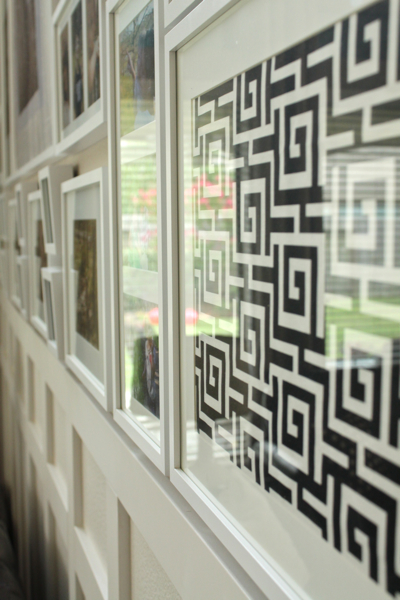 Let's first take a look at the before picture of this wall in our living room before I show you the rest.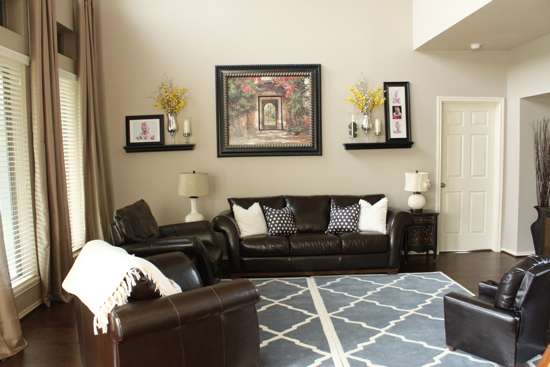 You know, the one where the picture is hung too high? :)  Well since this is a big 2-story wall, it needed something with a little oomph, so this is what we did…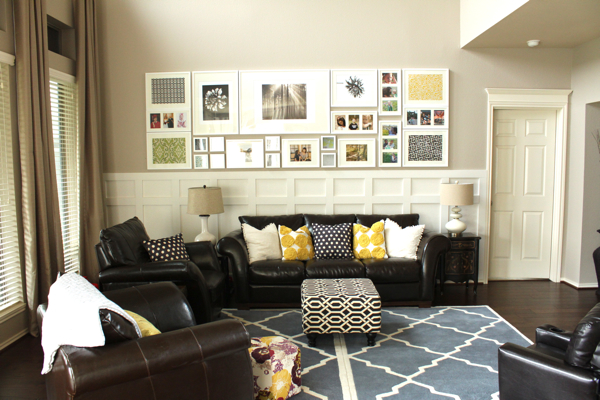 Yummy! :)
I will add a source list at the bottom of the post for all of the new things you see, in case you missed my previous posts on them.
The 3 big new things are obviously the paneling (or board and batten), the gallery wall, and the crown molding on the door.  I did the paneling exactly like I did in my stepson's room, so I won't give another tutorial on that.  This version is just a shorter one.  The only thing I did do differently was:
I used primed MDF this time, and I'd highly, highly recommend if you can splurge for it. Painting was a breeze this time around.
I used satin/eg-shell white paint this time instead of semi-gloss like I usually do. Just wanted to try something different and I like it!
I went back and forth and back again on what type of wainscoting to do in the living room.  This went on for several months and I couldn't make up my mind, but I finally went with this chunkier paneling because I love it so much.  I don't care that it isn't the same wainscoting we have in the office or the other living/entry wall with the chair rail and boxes.  This wall called for something bigger in my opinion, and something that needed to stand out.  If I had done just the regular chair rail and boxes, they would hardly even be seen.  And well, I wanted that pretty molding to be seen!  But anyway, I'm really happy I just went for what I loved, and not what I thought a future buyer or other people might love.
And now for the gallery wall….my new favorite thing.  Let me first say that both me and my husband are pretty symmetrical people. My husband even a little more. In overcoming my fears of actually putting up a gallery wall, I knew that the types of gallery walls that have several different items other than frames displayed wouldn't work with us.  Although I love the look of those too, it wouldn't work on this huge wall space to fill and would have end up looking cluttered.  We wanted a clean and modern look.
So this is what I did first .
I went to Ikea and took a pic of a gallery wall they had displayed that I liked, and pretty much bought the exact same frames (all Ribba frames).  Pretty smart right? All the work was done for me. :)  I did end up expanding on Ikea's gallery wall and added more frames to fill in our wall more.
Got home and we laid them out on the floor, and did a little rearranging…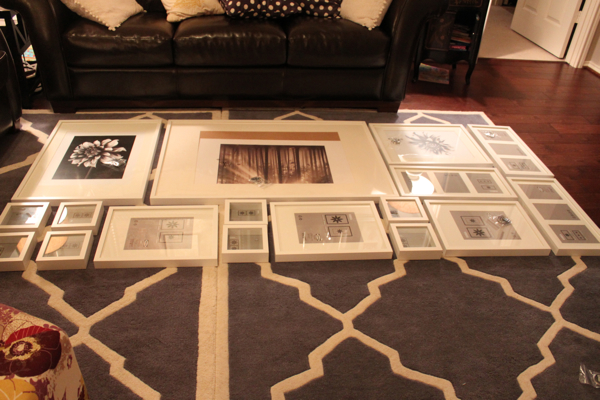 And then this sweet guy hung them all up, and it wasn't fun for him.  Not at all.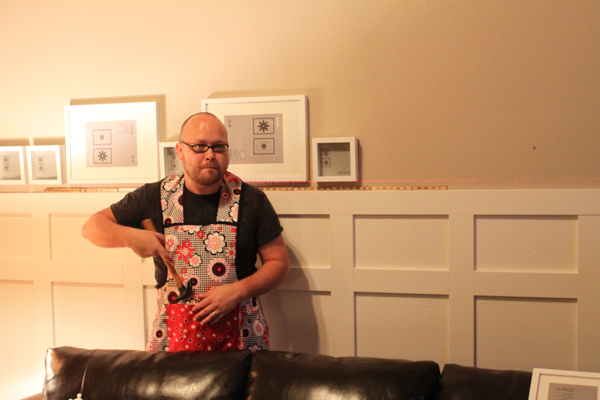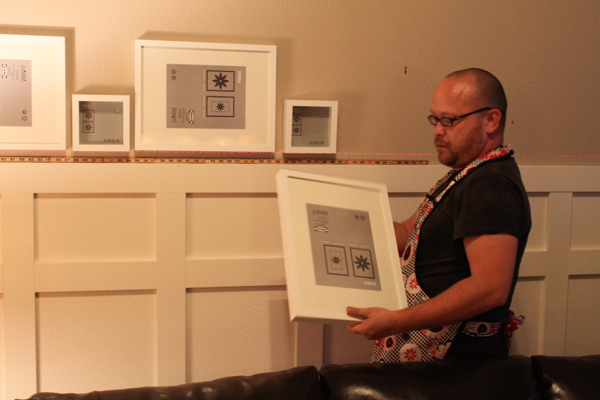 How awesome is he for letting me post up a pic of him wearing the apron my grandma made me, and using it as a tool belt?  (Sorry Mom, guess I shouldn't have returned that tool belt you got me last year…).
I did help him string them all up with the wire hanging stuff though, because of course nothing comes fully assembled from Ikea (which was just as much as a pain to do!)
My husband just used the laser level and put up the bottom row of frames first, and then worked his way up. The spacing of the frames are all p.e.r.f.e.c.t.  Did I mention he has OCD?  Having OCD though pays off in cases like this because you get a pretty immaculate looking gallery wall if you ask me!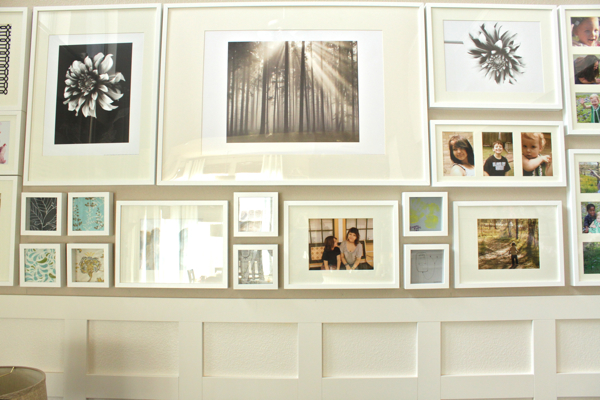 The big poster prints you see are also from Ikea that I got until I can get some good photos blown up. But now, I like the mixture of the prints and the photos, so they will stay for a while.
So what else is in the frames? Beautiful family pics, some artwork from my stepson and daughter, an old NY map, and some pretty, modern, and colorful fabric that I got at JoAnn's half off because it's outdoor fabric.  The fabric in the little square frames I already had.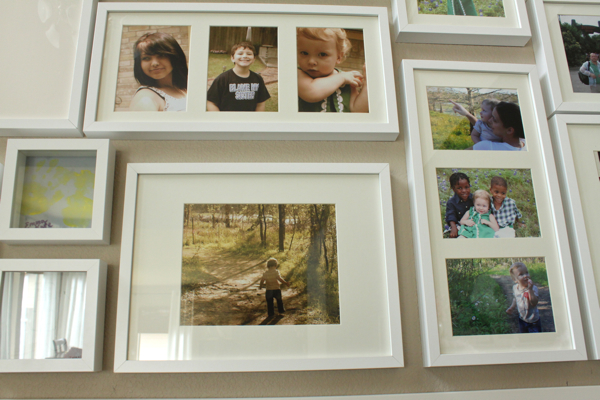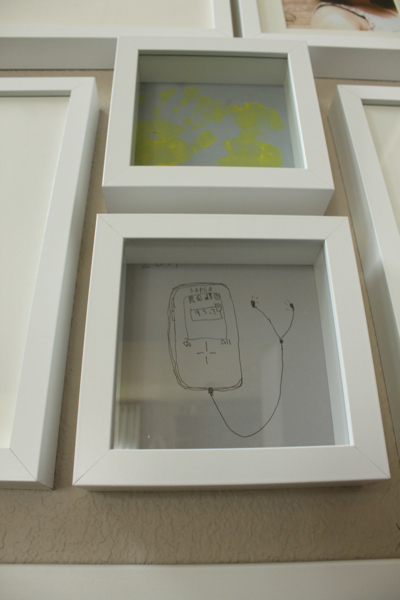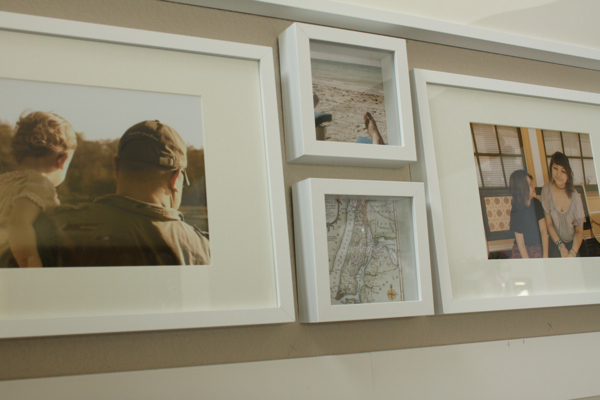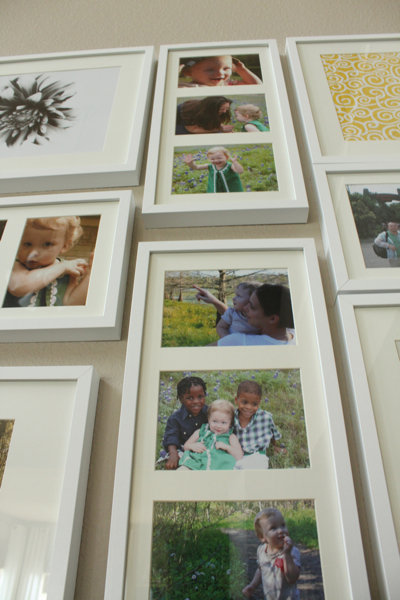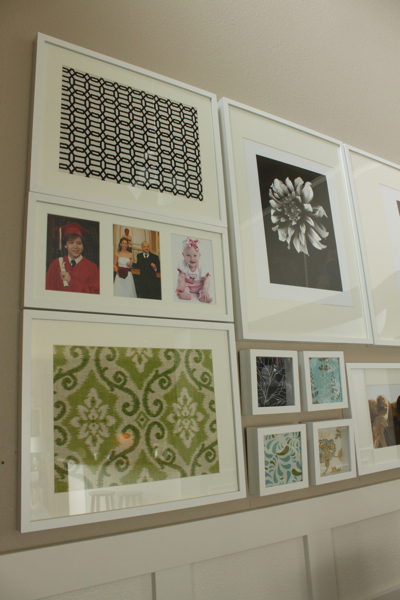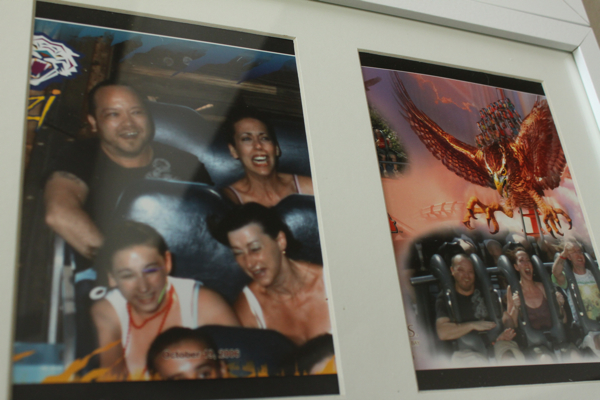 Um, are those hilarious or what?  Those were when we went to Disney World and Busch Gardens for our Honeymoon. Yes, we're thrill seekers.  That has to be the ugliest picture of me that ever existed, but it cracks me up and I have been dying to use these pics somewhere. And I love having random pictures of people we don't know on our gallery wall too. Ahh, gotta love roller coasters.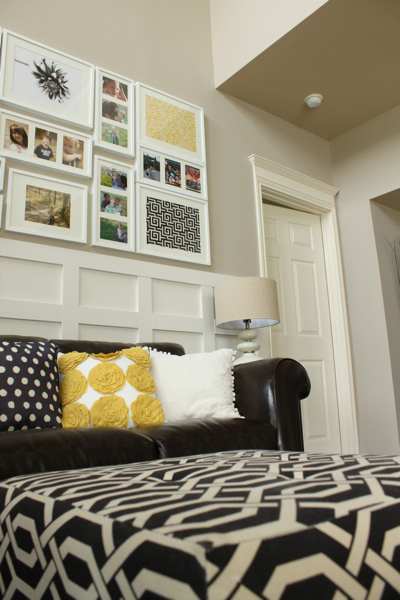 And because I couldn't stop…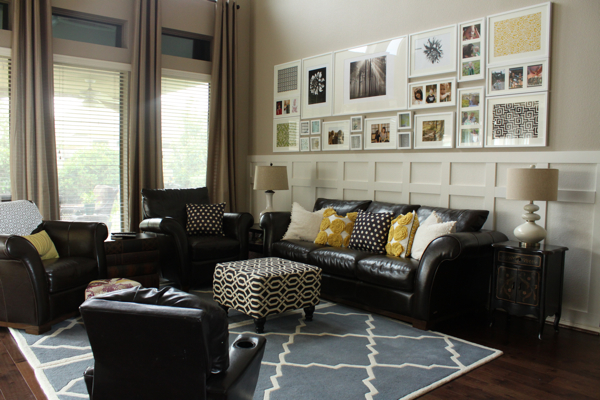 And another before…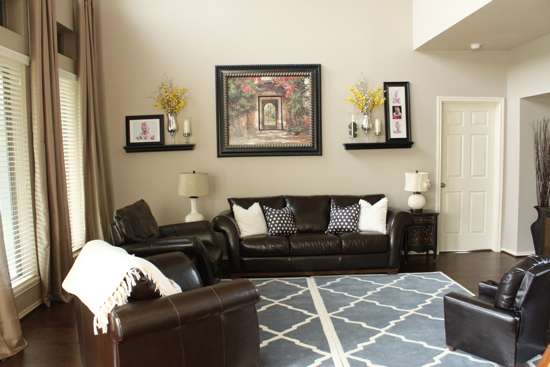 And after.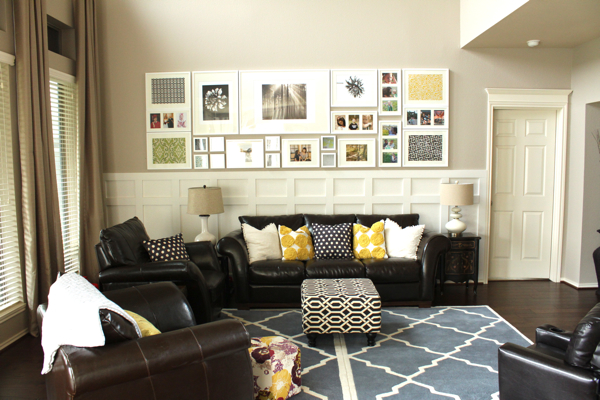 We love it!! What do you think??  Everything just kind of came together with all of the fabrics, ottomans, pillows, and all of the geometric prints we have going on.  Love when that happens!
And let me just explain real quick why the couch still isn't centered with the wall (which doesn't even bother us).  But if we did do that, then my husband's recliner would have to pushed back all the way against the windows. We like to have that space back there open since Emma's toy storage is back there and she goes and plays in that little nook. And yes I know we could move my chair (with the blanket on it) across from the couch so it's more conversation style, but honestly, that isn't us, and we do both like to be facing the tv.  We still have conversations at angles. :)  Plus, we like the open space so the kids can play, and the room feels bigger, so having the furniture arranged this way works out good for us.  Just in case you were wonderin…:)
Source list:
Let me know what you think of our new wall! I'm so happy I can say we have a gallery wall now and more pretty molding…you have no idea! :)
And for more gallery wall goodness, check out Mrs. Limestone's, John & Sherry's, and Shellie's walls. There are TONS of great gallery walls out there, but these have always stuck out in my mind and I love how clean looking these all are.
Sharing this post at Sarah's Before and After Party, Tip Junkie, Between Naps on the Porch, The Lettered Cottage and Tatertots and Jello.
I'm also joining in the Pinterest Challenge for this project since I have been scared to do a gallery wall for forevah!!
xxoo,
Decorchick!