Why didn't I do this sooner y'all?! Last week when I posted about some inspiration doors I really had a hard time deciding which route to go for our pantry door, but you all did help me with my decision. And in the end I went with….
A pretty charcoal grey color! I was close to doing a "fun" color, but I went the classic route instead and knew I wouldn't grow tired of this one nearly as quick as I would if it were a color. Greys are just so calming to me anyway. I absolutely love it and I really can't believe I didn't do this when I redid the entire kitchen.
Here is a before picture where it was all white, the same color that our cabinets were painted.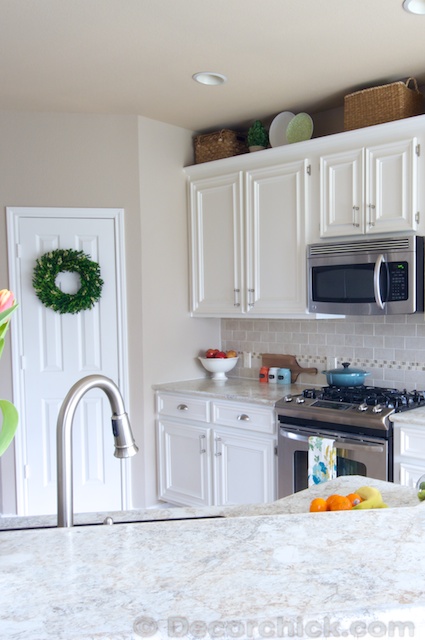 There wasn't anything wrong with it, but I knew it could pop more, especially since I didn't want to repaint the walls (which are Sherwin Williams Balanced Beige), and since all of the cabinets were now white.  I'm still very much loving neutrals these days and being able to change out my accessories on a whim is crucial to me, so going with the neutral charcoal door suited me best. :)
I also didn't want a full-on black pantry door either because I thought that would have maybe been a little too much in our all white kitchen, so I used the color Iron Ore by Sherwin Williams and it's a great dark grey color.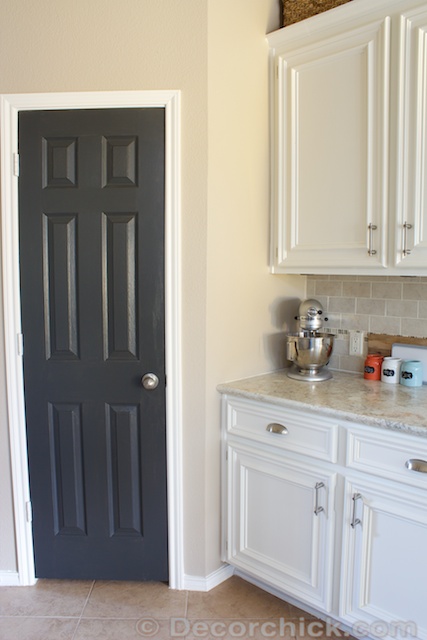 I also used a satin finish (not glossy), and used SW's All Surface Enamel in latex, the same paint I used for our coral vanity in the master bathroom. I also just used a brush for the entire door and didn't mess with a small foam roller. Those foam rollers just soak up too much paint for my liking. I painted the panel insets first, then just followed the grain of the door to do the outside areas. It's very easy. I did not sand the door or anything first (wasn't necessary for this door), but I did clean it well with some TSP before I began. And I painted 2 coats. That enamel paint is very thick and covers well. There are a few more areas that could use a touch up, so maybe 3 coats would be best.
I taped off the hinges so they could stay white, and also taped around the knob.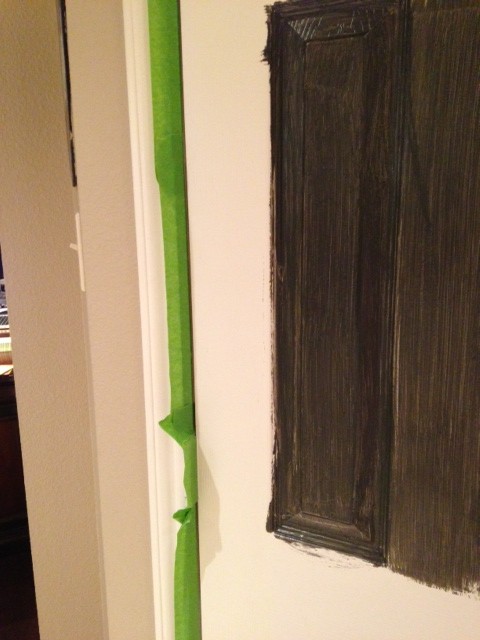 I really love how the new door compliments all of our stainless and black appliances, and most of all, my black quartz sink.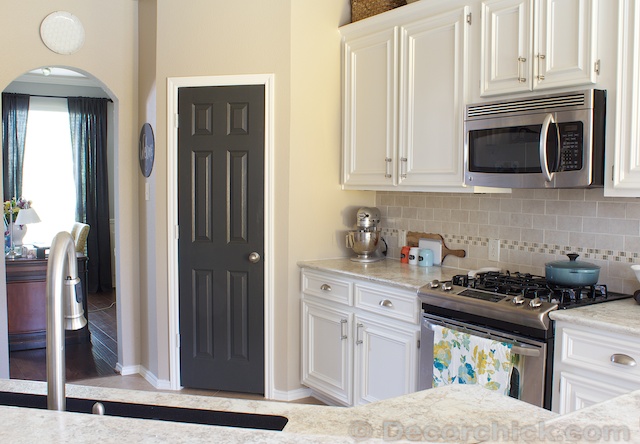 I know I'm probably biased because I really love my white kitchen, but I really really really love it now with the new door. You will also notice that I put back up my grey Ikea curtains in the office that I've had for several years now. I got tired of the velvet mustard curtains and the grey just flows great now, don't you think?
Here are a few more.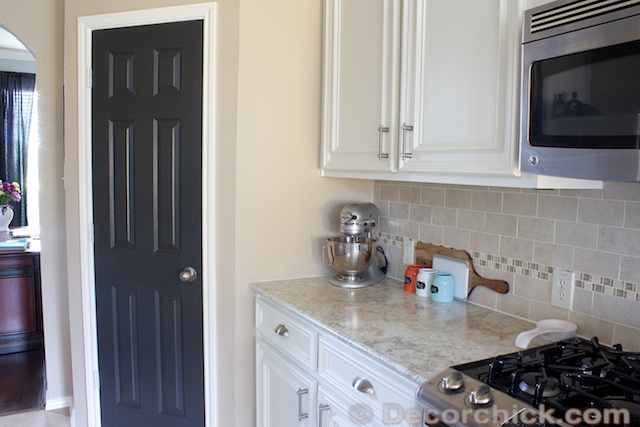 So what do you think? If you have a few bucks to spare on some new paint and a few hours of your time, this is such a fun and easy project to do that makes such a big difference, and improvement, in my opinion. I think it's going to look really sharp when I can get all of our interior doors painted this color. I'm hoping to use my new paint sprayer on them too!
Oh, and if you have questions on the white kitchen, the cabinets, the countertops, the black quartz sink or anything else you see in these photos, please check my kitchen makeover post because all of the information should be provided in there. Thank you so much and thank you for all of your help on helping me choose a color! :)
xxoo,
Decorchick!
Let's Connect!