I find it ironic that I'm doing a post on how to paint the perfect stripes, especially since it took me 3 times to get it right, but practice makes perfect right? And well, my stripes came out pretty darn perfect with our textured walls so it deserves a little attention.
I need projects like this spelled out very clearly for me so I hope this tutorial helps you guys. After all, we already know I'm no expert in painting stripes. :)
First thing you need to do is measure your wall from floor to ceiling. Or ceiling to floor. My wall was 104 inches from the top of baseboard to the ceiling. I wanted 9 inch stripes because I thought that would be a good width. So when you divide those 2 numbers together that gives you 11.5, so that means I'll end up with 11 1/2 stripes when I'm done. Not a perfect number but fine with me. I'd much rather measure off an easy number like 9 for my stripes, than something like 9 3/4. That would be lame.
I started from the bottom just because. I'd probably start at top next time.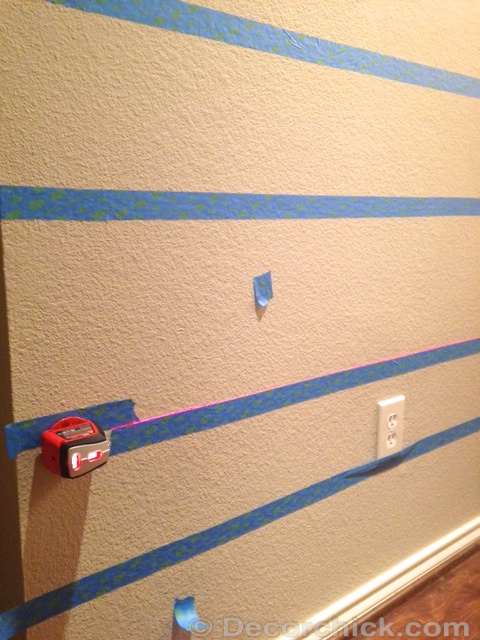 Now trying to write out how to measure off taping properly is tricky. I taped off wrong twice before I got it right. Just be sure you take into account the width of the tape you are using. So for each 9inch stripe you tape off, I measured each time with a tape measure. I measured 9inches on the tape measure, taped off, then measured 9 inches again, but just be sure on that next stripe that you are measuring the tape that you just taped off below as well, because that gives you about an inch or 11/2 inches. Make sense? It will once you start taping off.
The other thing you have to think about is when you tape off, is if you need to put the tape below or above the laser line to get the right width for that particular section. Just keep that in mind and you will understand once you start doing this. And definitely use a laser level for this project!
The stripes that you see that have a spare piece of tape in them are the sections I did not want to paint. So I'd recommend doing that too.
And once you have taped off correctly, it should look something like this.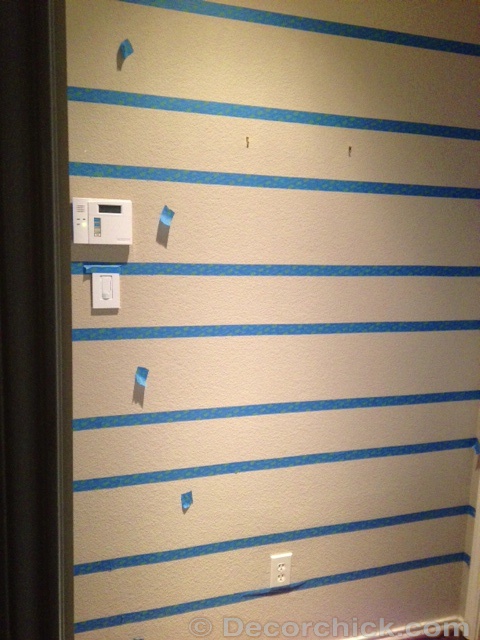 The sections will look uneven and that's good! That means you have completed this awful task.
Now for the fun part! Painting them! And FYI-I kept our original wall base color the same, but if you need a different color, you will need to paint that entire wall first and let it dry good before taping off stripes.
When I mentioned to my Facebook and Instagram fans I was doing stripes everyone said to be sure and paint the main base coat on top of the tape on the sections I am painting to prevent bleed through. THEN paint the black stripe color on top of that. I had read that several places before as well so that's what I did. And that step is totally necessary for textured walls. I'd do it for non-textured walls too just because I know it works.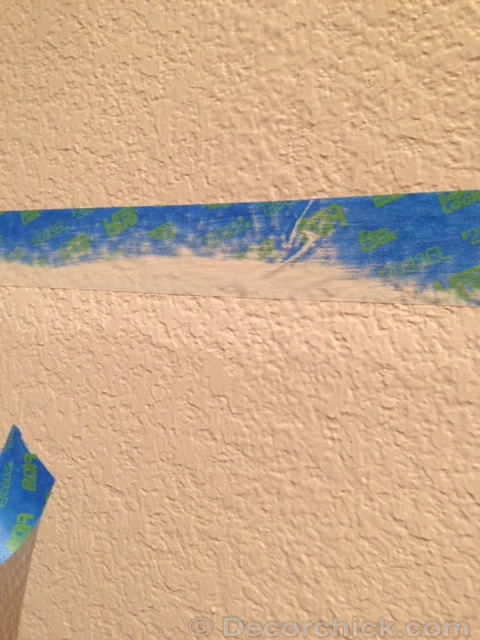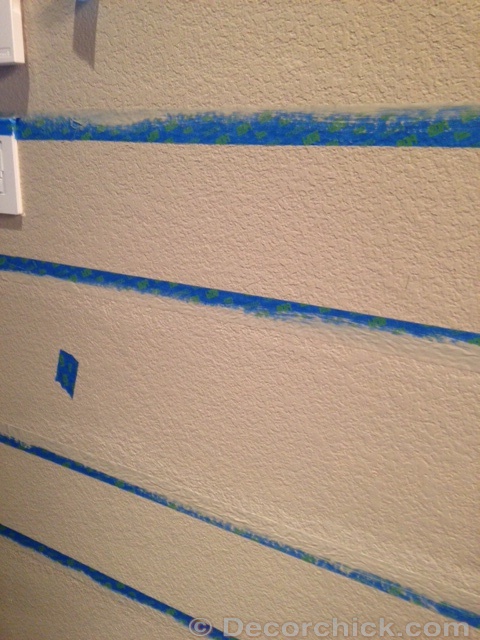 I did that part with a paintbrush, and I did it heavier than dry-brushing, but not as heavy as if I were painting trim or something. Just don't get the tape too wet or it might shift around. But I must reiterate, that step is a MUST to nice crisp lines.
Once that was all done (only takes a second to do), then I used the dark charcoal grey that I used on the pantry door and painted those stripes with a foam roller.
I did about 3 coats of the dark grey. Then it's important to immediately remove the tape once you are done painting. The paint was still very wet and that is also key to a nice line. Plus the added bonus is that you get to see your handy work instantly!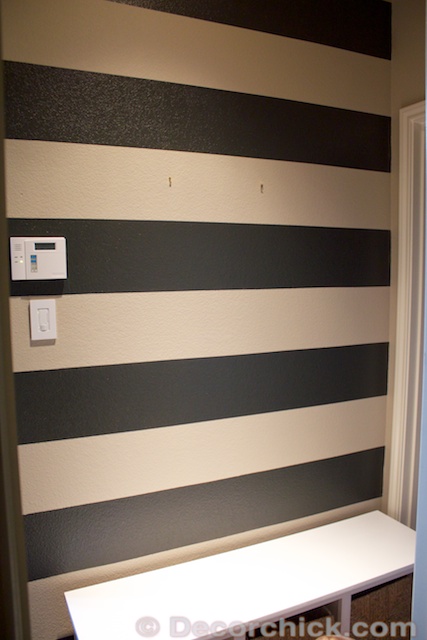 I oohed and ahhed many times. Out loud. Not gonna lie.
And I want to show you what very little seepage did occur.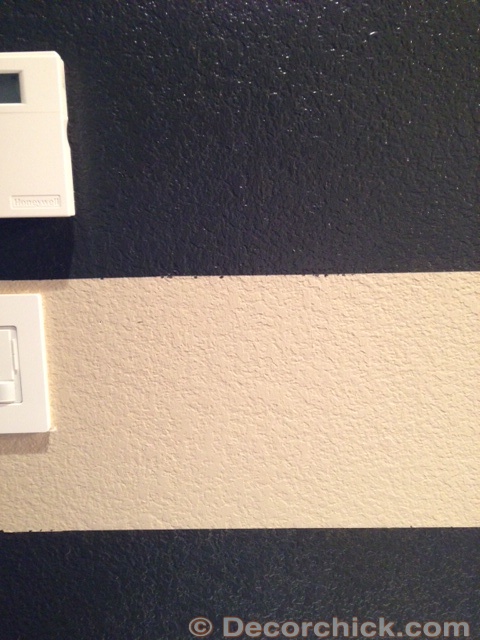 It's really very minimal and only happened in 2 areas. I just went over it with a paintbrush to touch them up.
Also, I want to show you all exactly how crisp the lines are too! I think it's pretty amazing for all of the texture on our walls. Gag, I hate textured walls. But this photo I took a screenshot of when I was editing my photos in my photo editing software. I had it on the magnifying glass so I could see details with a magnified view.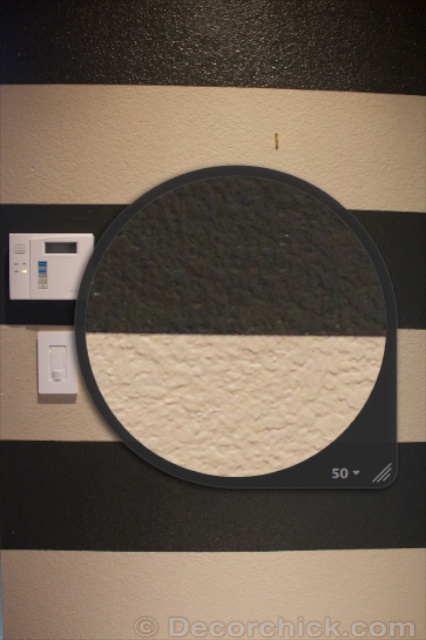 Pretty cool right? That little trick to prevent bleed through really works!
To see how this room came out in the end, this is now our mudroom which I posted about here.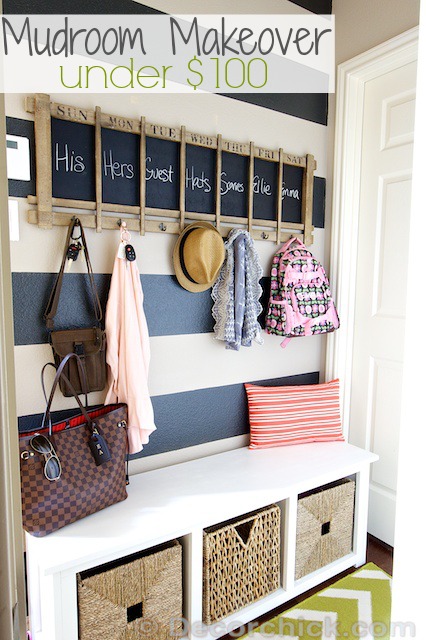 All of the details can be found in that post.
So I think that concludes the little tutorial!
Don't be scared to try it. I waited months because I was so scared then kicked myself afterwords because it's not bad once you do it once. Or three times. :) But just a warning…you'll want to stripe everything after you do it once!
Have you painted stripes before? Any other favorite tricks you have?
xxoo,
Decorchick!