I wanted to update you all with how our life has changed with new lights. Really. Might sound silly but I promise you it's the truth. *Spoiler-giveaway at the bottom of post* About a month ago I showed you all where we installed a Lutron Maestro Occupancy Sensor dimmer switch in our hallway, which is now a cool striped mudroom! I loved it then and living with it a month or so, I love it even more.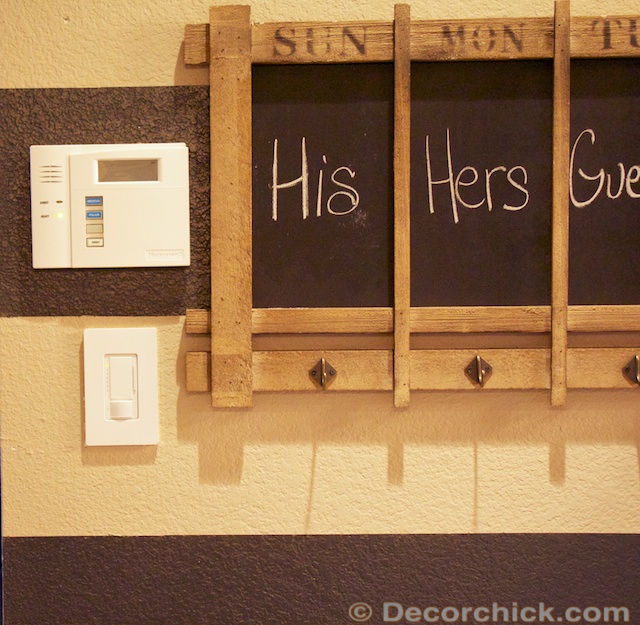 Sorry that pic was with the light on in the hallway–see better pics of the mudroom and stripes here.
But what I love most about this light switch is that it's automatic and it's been so nice to have my daughter just walk in the hallway to get something without needing help to flip the switch. Plus it's entertaining for kids to sit and watch the light go on and off by itself. Not that mine have done that or anything though. <cough>
What I also love is not having to remember if we turned out the lights when we leave the house and question whether or not we are wasting precious energy. And now I can say with ease that we aren't!
We loved the hallway dimmer switch so much we decided to install more of these in different rooms in the house! The next room we did was the laundry room.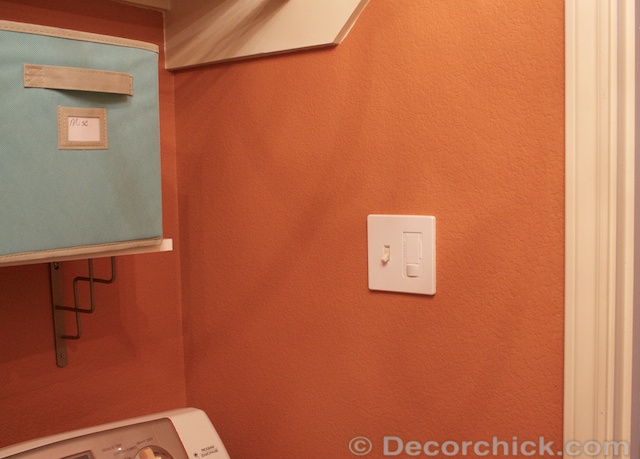 Having the switch in this room has been SO incredibly handy you have no idea. Walking in and out with the laundry basket and not worrying about the light switch is just too convenient. I am very spoiled now and expect everything to be hands-free now. That doesn't always work out in my favor though.
We also installed them in the hallway powder room and our master bathroom. Again, total lifesaver with kids. I plan to install them in all of our closets too. Can't wait! Oh, and we have all of ours set to turn off after 3 minutes of no one being in the rooms. There are different settings you can do which is a nice feature.
Lutron is running a special promotion too if you wanted to change your life with some new switches too:
25% off Maestro occupancy/vacancy sensor dimmers and switches* on LutronStore.com PLUS one free Claro single-gang wallplate ($4.90 suggested list price) with each qualifying item
Promo Code: wholeftthelightson
Code expiration date: Sunday, Oct. 31, 2013
OH, and guess what? They are letting me give away FIVE Lutron devices so 5 lucky readers will get to try them out. Just leave a comment on this post with what room you'd like to try them in and that's it. I'll have random.org choose 5 winners on October 4, 2013.
Update: The winners are:
#18 Leslie S.
#28 Brad McGhee
#105 Vicky McGovern
#135 Jennifer
#202 Edie Cummings
Good luck!
xxoo,
Decorchick!
*Thanks to Lutron for sponsoring this post. All opinions are always my own*
Let's Connect!