Little did you all know I have been working on a bathroom makeover over here! I've had a lot of things going on actually. And on overload. But that's a good thing right? Well anyway, I don't think I've ever even shown you all this bathroom. It's the powder bathroom (that is by the mudroom) that was still under the curse of builder beige.
Anyway, I am going to show you a sneak peek of the bathroom makeover now, and on Monday you will see this room in it's entirety with plenty of before and afters and I'm so excited about it!
UPDATE: See the full makeover in this post. 
Here's a peek of the new vanity…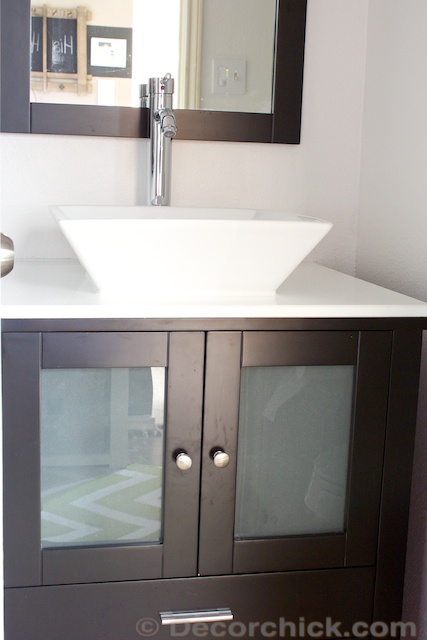 It's always been a dream of mine to have a vessel sink. And now I have one!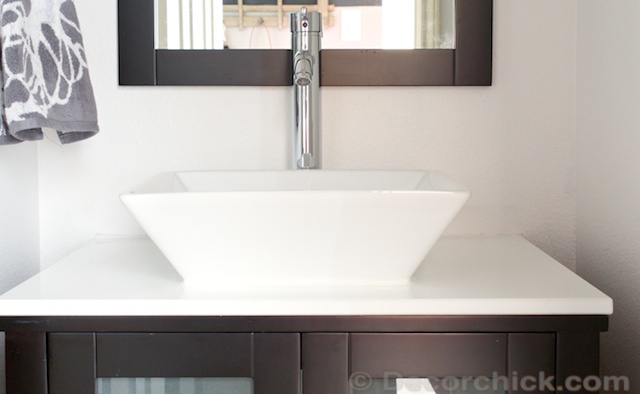 And that faucet is just delicious. I love it so much! This particular Brentford vanity/basin and chrome faucet is from Virtu USA and they have teamed up with some of us to use their vanities for a bathroom makeover. I will go into more details on Monday, but I am THRILLED to have a vanity and sink with storage!
I can't wait to show you the full reveal on Monday, but until then, Virtu USA is having an amazing giveaway! 2 grand prize winners will receive new vanities, faucets, and towel warmers!! There are 10 runner up prizes as well! ENTER HERE at Virtu USA's site. Super easy.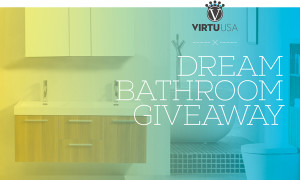 To see the other bloggers' bathroom makeovers, be sure and check out Sawdust Girl, Funky Junk Interiors, My Blessed Life, The DIY Showoff, The Shabby Creek Cottage, and Remodelaholic. They will knock your socks off. Enjoy!
And one more time so you don't have to scroll up….you can enter the bathroom makeover giveaway here. 
UPDATE: See the full makeover in this post.
xxoo,
Decorchick!