Well yesterday I was on a roll doing a few projects, cleaning the garage, taking care of the garden etc, and then I also got a wild hair and tried painting stripes on a wall. I've been wanting to do them for a while and nothing like family coming into town to get your rear in gear. And in my case practically redoing 3 rooms in 1 week. Not really. But sort of.
Anyway…my striping attempt numero uno was a fail.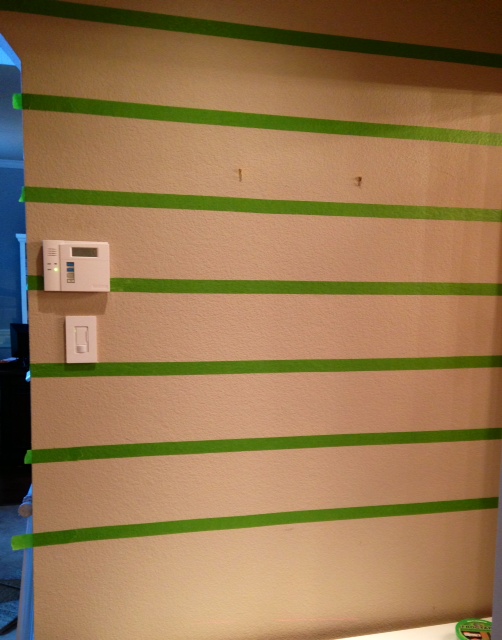 Do you notice anything wrong with that picture? I was all excited about them. I was thinking, wow, this taping off thing is easy and I was so proud for using my laser level! I was so happy I even Instagramed a pic and put on my Facebook page. I was so excited because this little hallway would finally look a little completed and not so blah.
And then it hit me. And it took me a few hours to realize this after blankly staring at my taped off wall of stripes….but I had forgotten to take into account the sections that would be painted that they actually needed to be bigger sections. So instead of just measuring 7 inch stripes like I had been doing, the stripes that I want painted should have been marked wider because when I take the tape off, the base coat would have been bigger. Hope that makes sense. It's confusing to me. Just sit and stare at that picture blankly too and you'll see what I mean.  Imagine painting every other section a dark color, then peeling off the tape. The stripes would have been different sizes. Oops.
I knew there was a reason I have not attempted to paint stripes before. Good times.  Now off to fix this ignorant mistake!
Fails. They happen. Go ahead and laugh, it's ok. Ever had a striping mishap? Hopefully I will have a striped wall soon. I almost just went ahead and painted it knowing they would be off. Yes, I am that lazy.
xxoo,
Decorchick!
Let's Connect!