Let me explain something. I've been talking about white kitchens for ohhh about 3 years now. First I was going to paint my cabinets, then I wasn't, then I was, and on and on. I know, I'm annoying. I first asked you all if I should paint our oak cabinets. Then the last you heard about me painting cabinets was 2 years ago! Then I tried to even stain them darker and that was a disaster. Then I wrote yet another post about white kitchens and decided that white kitchens are what makes my heart flutter in peculiar ways. What a roller coaster I've had you dear readers on!
So back to be being a fraud…
I was looking back at an old post and I said this: "I swear I'm done talking about painting our cabinets white because it's not happening.  It's good to get it out of my system." I actually laughed out loud when I read that the other day because I definitely did not remember saying it. BUT, everyone always has a good reason and method to their madness, and here is mine. I finally found that when your cabinets are painted correctly, the heavens open up and angels sing and those visions you had in your head of your dream white kitchen actually is possible.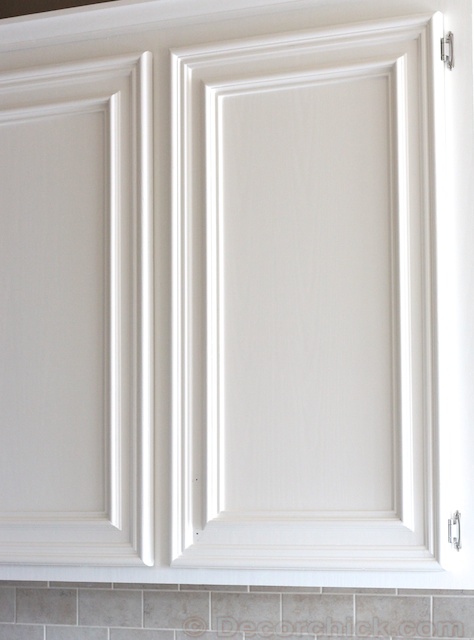 Yes that is MY kitchen!! My dark oak cabinets are painted white now!! I'll go into detail about them more when I reveal the entire kitchen. But over this past Christmas I told you a white kitchen was in the works, so I just had to post about it so you all believe me this time. And I wouldn't be a good blogger if I didn't show you just snippets up until the final reveal. Haha. But seriously, there is so much to post about in here so it's coming. Remember those countertops…? :)
Back to the cabinets. Sorry, I know I'm all over the place today. I write how I think which can be scary.
Remember 2 years ago when I said I really was done talking about white cabinets? Well in that post I posted a really crappy picture of why and here it is again to refresh your memory.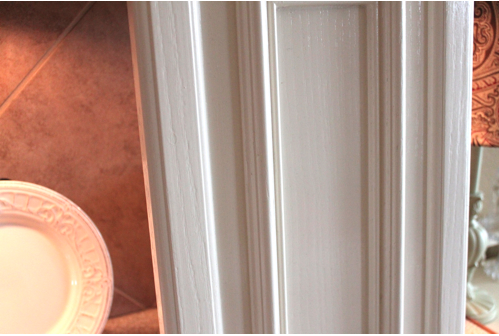 See that doesn't look good. I had that sample made from our builder's painter and it just wasn't a good job. It was sub-par. And the color wasn't right.
Here is another picture I took of it against my new white cabinets so you can see how creamy/yellow it was.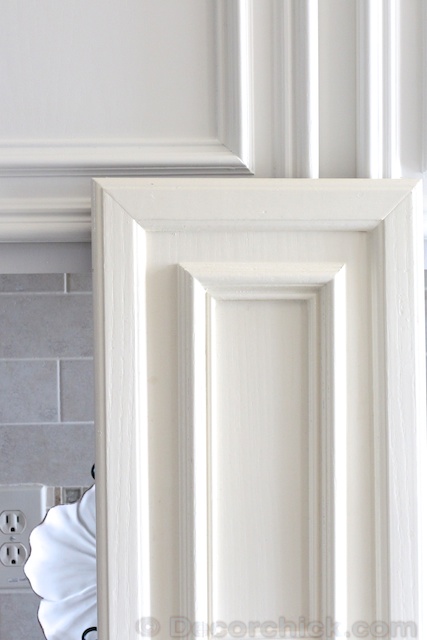 The other thing I did not like about that first sample was how much the grain showed through. It looked like painted wood. I did NOT want that. It takes a ton of work to get a smooth finish like priming, sanding, filling in, painting with paint sprayer, and repeat (not in that order) if you are painting oak. And yes I hired this job out and my painter got the most amazing finish on our cabinets.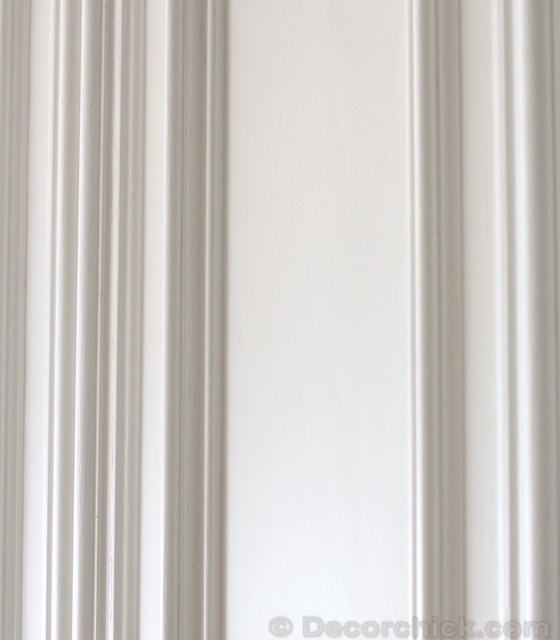 They are soooooo smooth and just gorgeous and look way professional. And they look nothing like that first sample I had made thank goodness.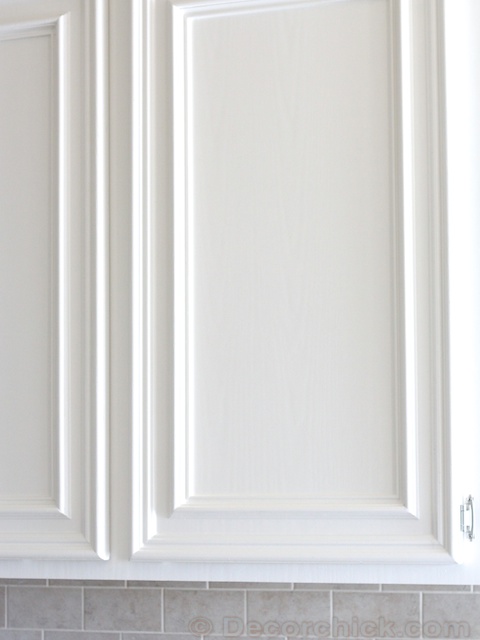 I wish I could have you all over here for a white kitchen party! :)
So even though I said I was done talking about white cabinets and wasn't going to do it, I think my reason back then was understandable because the paint job was a cruddy one. It's kind of like that saying "you get what you pay for."
Anyway, I'll talk more about the paint, color and cabinets soon. I still have some things to do in here before the reveal but I was just so excited to show you all some progress. I know you want to see the full thing but big makeovers like this take time! I like to break it up into several shorter posts anyway so all of the information isn't in one huge long post. It makes it easier for you all to find the sources etc. :)
Okay I better get back to work now! So are you shocked I went for it? There's no turning back now!  And I hope I convinced you that I'm not a fraud.
Oh and don't forget to check out my Joss & Main curated event it ends tomorrow!  If you need an invite to sign up, here's the link.
xxoo,
Decorchick!
Let's Connect!