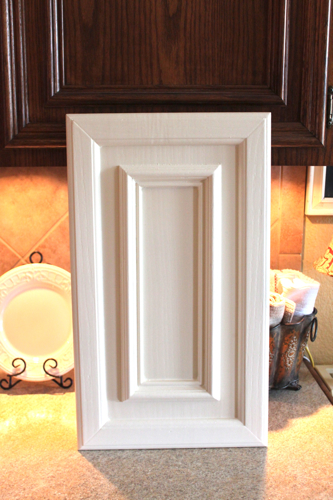 Husband: "Why is there a white painted door on our doorstep?"
Me: "Umm, I don't know, maybe it's a sign from God to paint our cabinets?"
Husband: probably rolls his eyes.
When I had first talked about painting our cabinets white about a month ago in this post, I think that same day I called the paint contractor I have used before to see if he would make me a sample of what our cabinets would look like if painted.  He said he would and I made sure he knew to clean, sand, prime and paint with a sprayer so I could get the full effect.  But then a month goes by and I figured he forgot about it, and so did I until it showed up at our house.
When I first saw it I was in love.  Then after a few days I didn't love it as much.  Now I don't really like it at all.  I think it's the whole painted oak thing.  I'm not crazy about the woodgrain showing through, but I liked it at first. I would just get tired of it. Or maybe I just don't love white cabinets like I thought I did?  There's no telling.
Here are a few more pics so you can get the full effect too.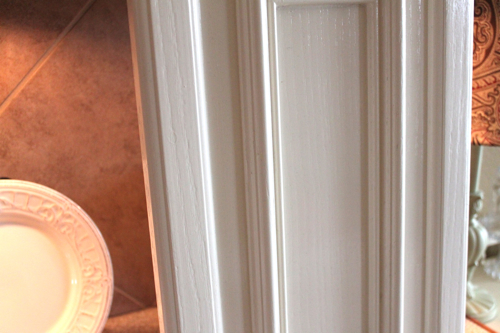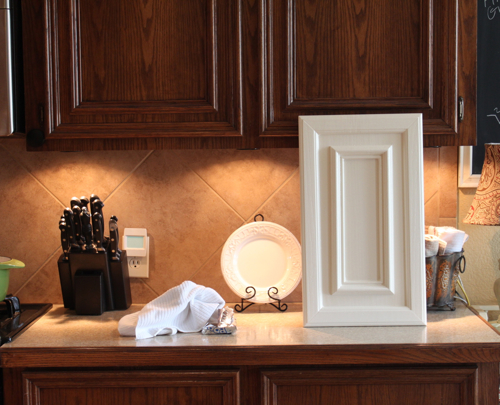 I swear I'm done talking about painting our cabinets white because it's not happening.  It's good to get it out of my system.
And in other non-related news, Silhouette has a few promos going on right now if you're interested.  You can buy the machine for $225 and it will come with 2 rolls of their new premium vinyl, 1 roll of transfer paper, and a home decor cd.  It's a $395 value so that's a good deal.  The second promo is that you can get 25% off any of their new premium vinyl.  Use the code DECORCHICK at checkout for both promotions.  Both deals are good through January 22.
What's new with all of you?  Have you visited some of the links from the mess party?  They are awesome!! I'm still making my way through them all, but wanted to say thank you all SO much for participating and showing us your mess.  It's freeing.  And if you noticed, I didn't even move the pop-tart wrapper off of the counter in the above picture.
I appreciate you and this was such a fun party! There's still time to link up too if you'd like. :)
xxoo,
Decorchick!