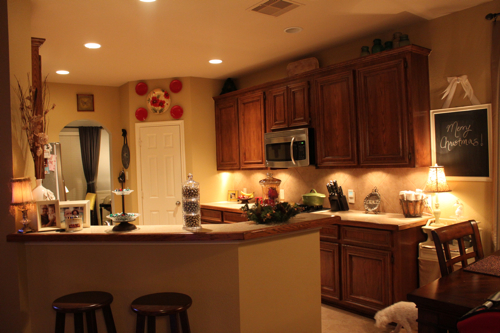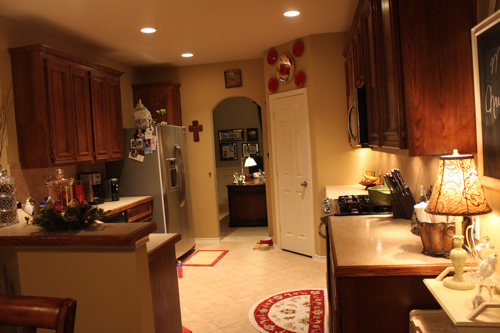 And these?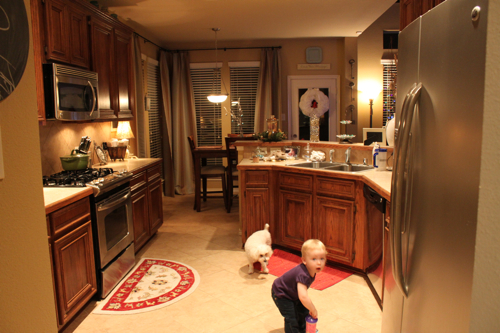 Lately I can't stop thinking about painting the kitchen cabinets white.  Before I had said I wanted to just stain them darker, but now I turned completely crazy and am craving the white kitchen, with some beautiful white subway tile for the backsplash.  But I wouldn't be able to change the backsplash for a while.  Oh, and a pretty new farmhouse sink wouldn't be bad either. :)  I'm reading too many magazines and watching HGTV too much aren't I?
I think it could totally transform our kitchen and look amazing.  But, it would be a ton of work and a very time consuming job for me.   A job that I am not even sure I have the time for.  There are LOTS of cabinets and wood trim all the way around the bar and countertops.  I do love the warmth of our kitchen, and a lot of that comes from the cabinets and paint color.  But I do know you can still achieve the warm feel with beautiful white kitchens.
I have a lot of questions.  Will the paint chip over time or yellow?  Will the movement of the woodgrain still show through? Because I wouldn't want it to. Which oil-based paint brand?  I heard Benjamin Moore paint was the best for this type of job?  Do scuff marks show up easily etc, etc.  I'm only a little hesitant because these are real wood cabinets and a lot of people would love to have them.  Now, if they were that orangey particle board stuff or old dated wood, I'd have no hesitation.  I guess I shouldn't worry about what others might like to have, since they don't live here right?
I've been doing a lot of research on tackling this project, and just the thought of everything involved in a little nauseating.  It needs to be done perfectly, and well, I don't do perfect. :)
So, let me know how you think our kitchen would look with new white cabinets.  I'd also love to know what your experience has been if you have painted yours.  Did you paint them yourself or hire it out?  See, I can't stop with the questions! :)
Thanks so much everyone!
xxoo,
Decorchick!