Eeeek I am so thrilled y'all love our new countertops and quartz sink as much as we do! Thanks for the great feedback. :) Today I am switching gears back to the white cabinets, and am going to show you the lovely jewels, a/k/a, the hardware we put on them! It made SUCH a difference wowee!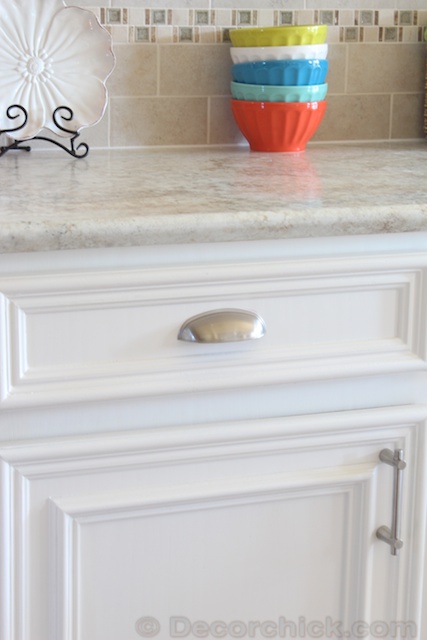 Amazing, yes?
Here are the painted doors without hardware…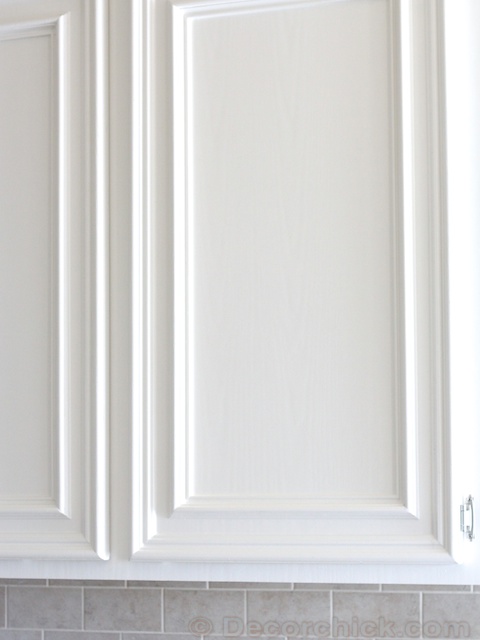 And with.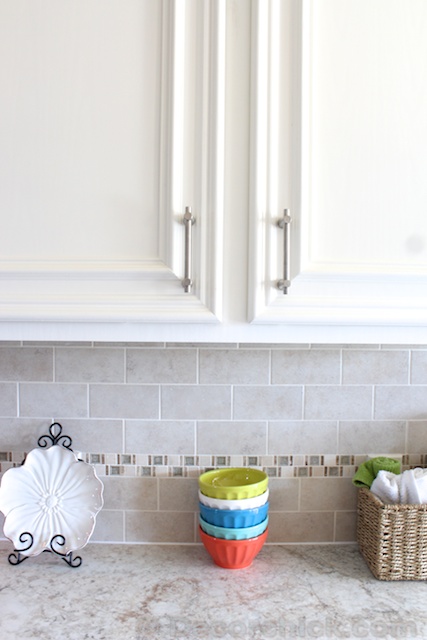 I knew adding hardware would make a big difference, but I still can't believe how HUGE of a difference it made. We didn't have any hardware at all before, and I must say that it is so nice having handles to use. Having easier functioning cabinets and dreamy shiny hardware is an all around bonus. :)
These cabinet gems came from D. Lawless Hardware who is an importer and distributor of cabinet and furniture hardware. They have THE best prices on the web for hardware (and several other items) so you must check them out. Derrick, who I worked with, was SO nice to work with. He was very patient with me as I am very indecisive, and even went as far as sending me some pictures of a few things I was thinking about and matching them up for me. Top notch service all around.
As for the handles and pulls I picked out, they are top quality and very heavy. I chose the Stainless Conical Pull for our cabinet doors and love them! They are sleek but not too contemporary. Then I mixed it up a bit with a more traditional satin nickel cup pull. I knew I didn't want just regular knobs for our doors because everyone has knobs. I wanted something a little bigger that made more of a presence. And these do! Ack I can't wait to show you the entire kitchen. You're going to flip!
D. Lawless Hardware also replaced our hinges with the same type of hinge we already had, but found one that matched the new hardware in a satin nickel finish. They fit like a glove in our existing hinge holes so that was a relief.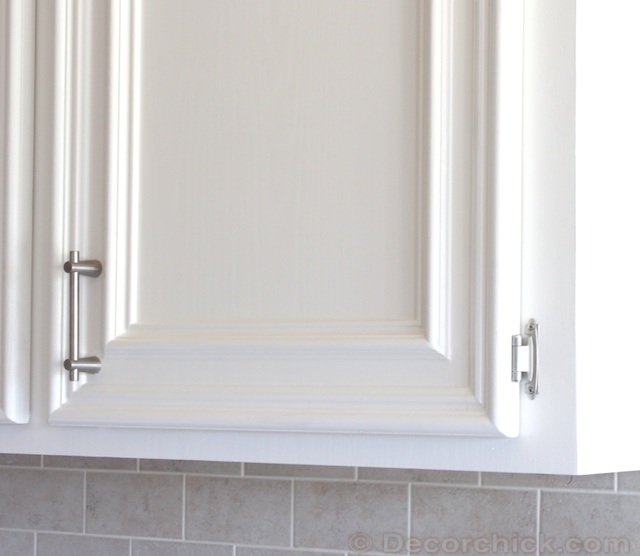 Another pic for ya.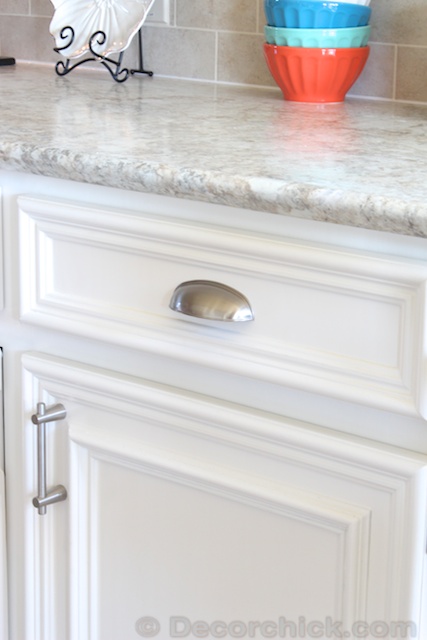 I just love love love them! Thank you D. Lawless for the hardware and the amazing prices. Be sure and check them out when you need something. And if you don't have any hardware on your cabinets, PUT SOME HARDWARE ON THEM! You'll be amazed at how dramatically it will change the look of things. And for little money. Perfect.
xxoo,
Decorchick!
Let's Connect!