I'm back and rested and finally more kitchen remodeling coming your way today. I've been so excited to show you our new countertops and quartz sink I could just burst! I gave you a sneak peek the other day about how our cabinets have been painted white, and the new countertops looks oh so amazing with them. But what material are they you ask?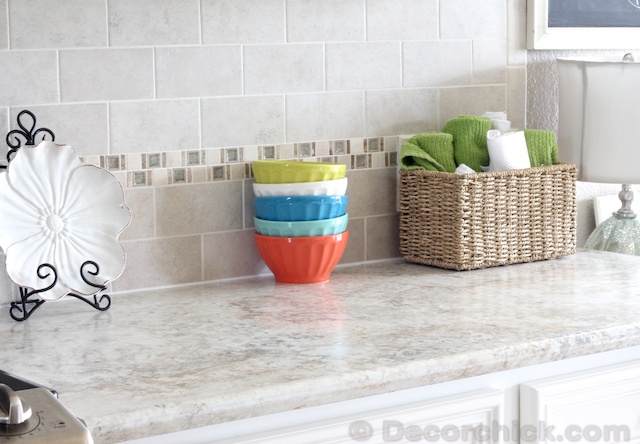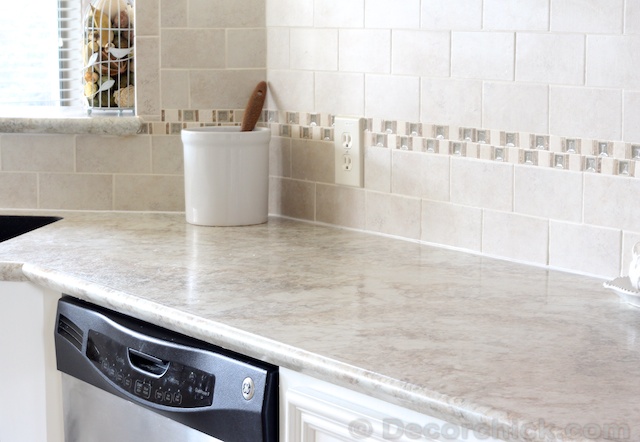 The answer might surprise you, but they are laminate! And I couldn't be more in love with them. Seriously. I'm not a granite snob or particular marble lover or anything, and with the way that laminate looks these days, there's no reason not to love it! I mean sure, I think granite and marble and quartz are beautiful of course, but laminate now has come SO far and is able to replicate those gorgeous patterns! At a fraction of the cost too. This is 180fx laminate by Formica in the color "Crema Mascarello" and here's what they say about it on their site. "180fx captures the true scale and visual drama of a full granite slab, recreating the dynamic sweep of its striking colorations and exquisite veining. Affordable luxury on a grand scale."  And when I say "granite snob," I say that jokingly. I know people out there who just love their granite and won't settle for anything less. I actually had granite one time in an apartment of mine and I didn't really even like it. It's cold, and loud when you set dishes on it. It annoyed me.
Take a look at our old countertops that I disliked.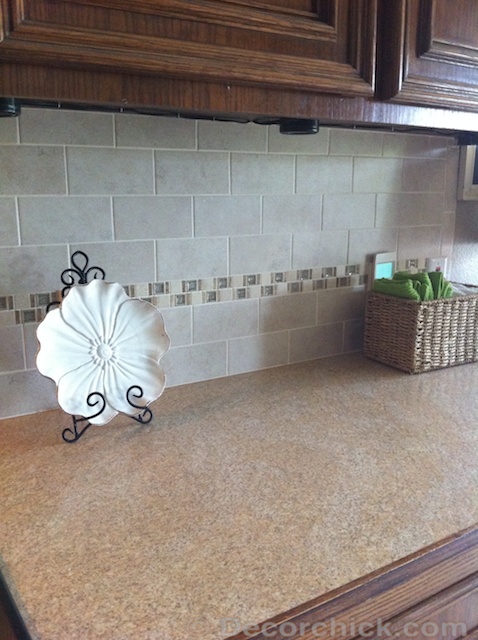 What I mainly hated about those was the wood trim that was going all around.
I know that wood trim was custom work done by our builder, but it was just not for me. And oh my gosh I can't believe our cabinets are not brown stain any longer!!  But anyway, those old countertops were also laminate (Venetian Gold) and the durability was great and required no maintenance, but the color was just not my cup of tea.
The countertops have this new special edge on them (no more laminate "brown lines!") that really makes it more upscale and real-granite looking. It's called Ideal Edge by Formica.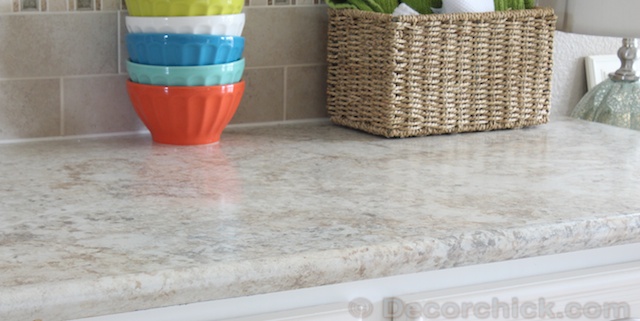 I chose an Ogee edge, just like what you would choose if you had granite or something too. You can also choose a bullnose edge if you'd like.
I'll come back to the countertops in a bit. Now let me show you my new favorite possession…our Karran quartz sink!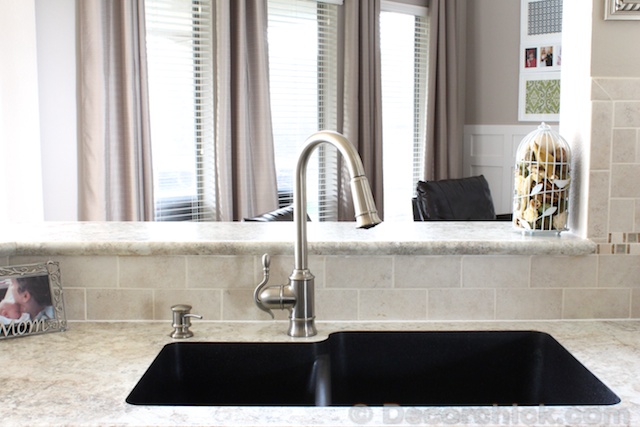 Oh goodness where do I even begin. There are SO many cool things about this sink it's really hard to contain myself. I guess the first being that it's QUARTZ. Hello, Ms. Fancy Pants sink. Second cool thing is that it's BLACK!! Um, hello Ms. Unpredictable sink color. And the third thing? That the sink is SEAMLESS!! What do I mean by seamless? Check it out.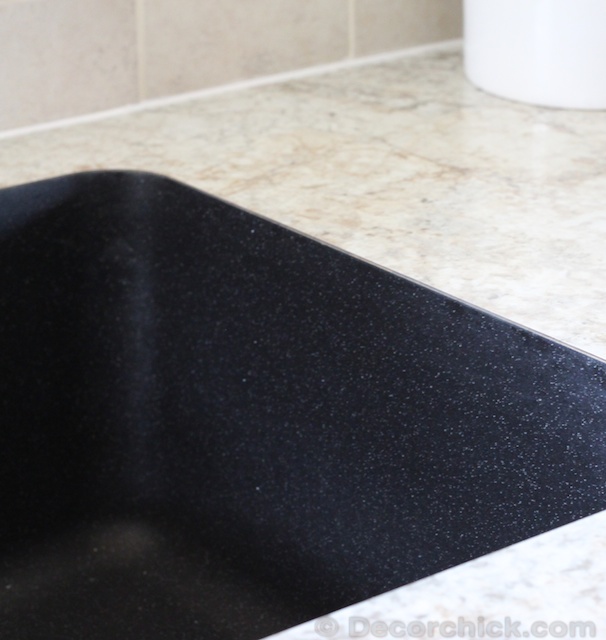 That's what I mean. It's virtually seamless from the countertop to the sink. That is what is so unique about Karran's sinks is because they can be undermounted seamlessly into laminate! Traditional undermount sinks typically have a gap (that gets dirty and funky) between the sink and the countertop. You do need to find a fabricator of course that is familiar with doing this though. And especially since I chose quartz which is a much heavier sink, you just need to make sure the company doing the install knows that they are doing. :)
And I can't tell you how happy I am I  chose the dark sink. It is Karran's Q-55 series in Midnight. I seriously agonized over this for weeks! I was close to getting a white one too. I knew I did not want stainless because of the scratches. Our old one looked bad and you have to wipe them out every time you used it if you didn't want water spots. And well, that never happened. But I ultimately decided against the white sink because our cabinets were going to be white, our countertops a light color, so I just thought it would be too much white. The black sink looks fab with our stainless appliances (which have some black on them too). The contrast is just perfect!
Being able to just wipe stuff in the sink is a lifesaver. I couldn't do that before with our old drop-in stainless sink.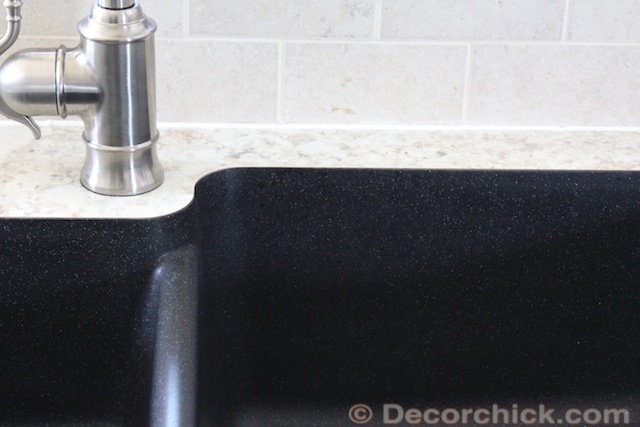 And if you were worried (like I was) about a black sink and waterspots, let me tell you something. It's amazing how there are NOT waterspots! There are already little white speckles you can see in the sink from the quartz material, and I kid you not, that the sink never looks dirty. Ever. It's amazing. And I want to kiss it. It's my glistening gem. :)
Craftmasters here in Houston did the install and they did amazing work. Most of the countertops were built here on site, but the grooves were already routed out for the sink when they got here. They used a special glue to bond the sink to the wood, flipped it over and inserted it on top of the cabinet bases.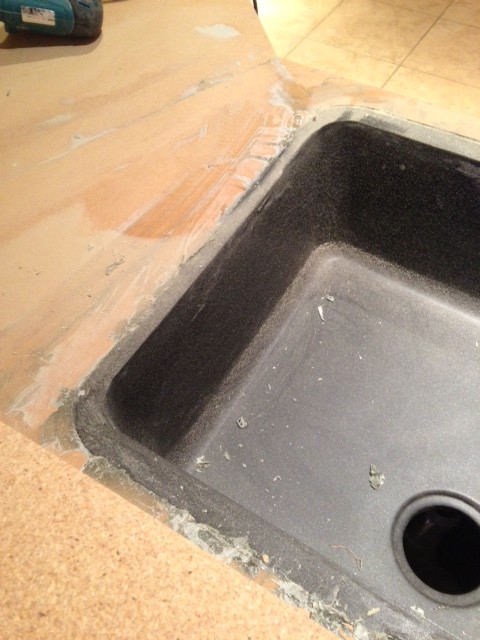 Then the guy sanded and sanded and sanded some more until it was completely smooth.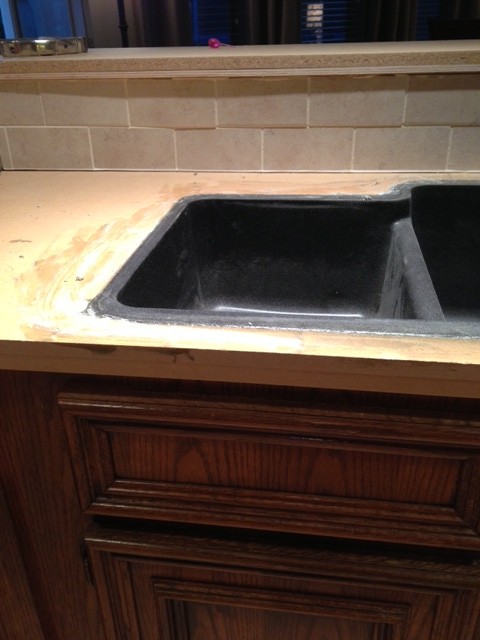 Once that was completely smooth they were ready to put the laminate on top. Then he sanded those edges a TON around the sink so it's perfectly smooth. It was pretty amazing.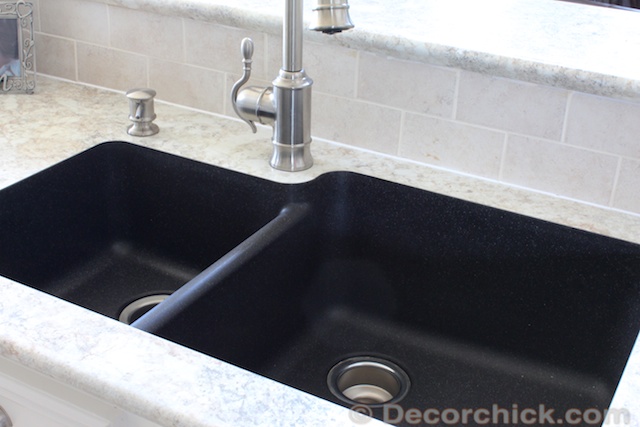 Another thing I LOVE about my sink is how massive it is compared to my old one. And it's deep. It is SO nice to have.  The right side is very large and deep, and the left side is smaller and sits up a bit higher. I wasn't sure how I'd like the 2  different size bowls, but I actually love it. The only thing we had to get used to was having the garbage disposal moved to the left side. Not a big deal now. Have I mentioned I love my sink yet? Yea, I do. Very much.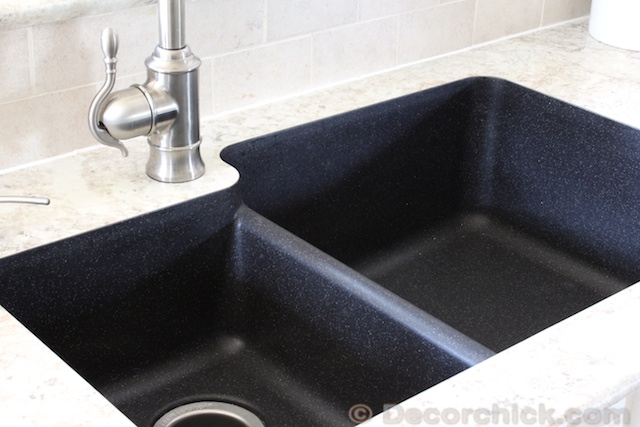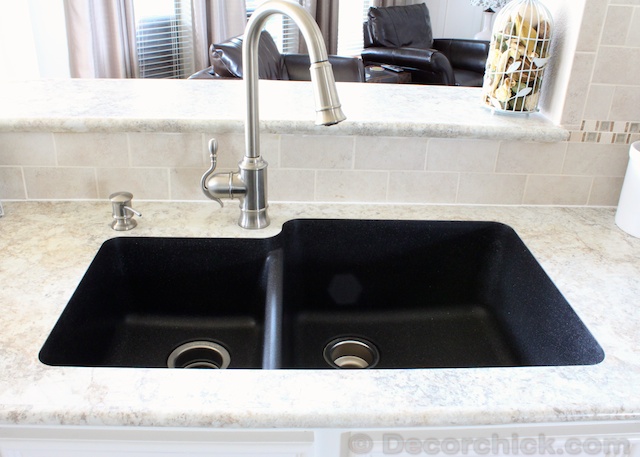 Now can we talk about that gorgeous faucet with a long beautiful neck for a moment?  Gosh I know this post is forever long please forgive me.
But my Ms. Fancy Pants sink needed a mate, and this Moen beauty won her heart.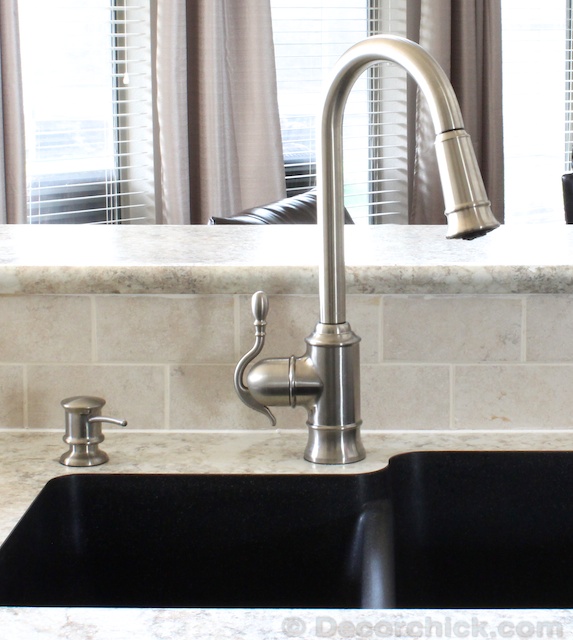 Yes I have to rave about my faucet too because well, it's amazing. Duh. I've never had a nice faucet before. Like, ever. Much less one with a pull down sprayer that goes back up itself because of Moen's reflex system. They also sent the soap dispenser too and I love not having that extra bottle on the countertop cluttering things up. This is Moen's Woodmere faucet in classic stainless and it's beautiful. I never thought I could love a faucet as much as I do this one.  And I am very particular about it too if people (cough cough, kids) handle it too rough for my liking they get in trouble. So step away from the faucet people! :)
Now back to the countertops real quick…Y'all won't even notice this, but when Craftmasters was here doing the countertop install, I had them do 2 more cool things for me. One I'll show you later this week, and the other one is this: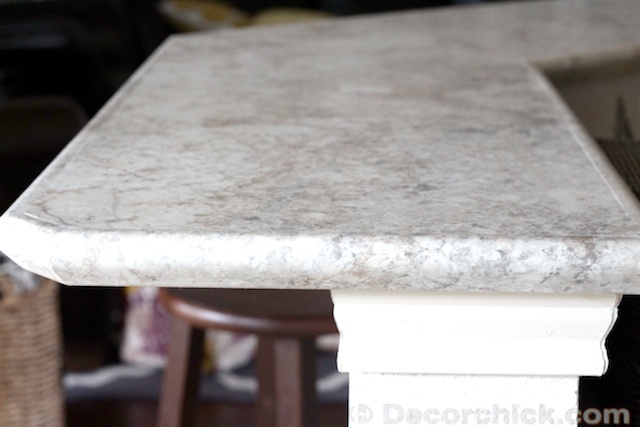 Might not look like much to you, but they actually extended our bar by 3 inches! You don't know how HAPPY I was they could do that. Now we have more of an actual breakfast bar all around and it's much more comfortable to sit there now and you aren't banging your knees on the wall near as much. :) Our wimpy bar was something that always bugged me and now I'm bugged  no more hallelujah. Can't wait to  show you what else they did!
And one more.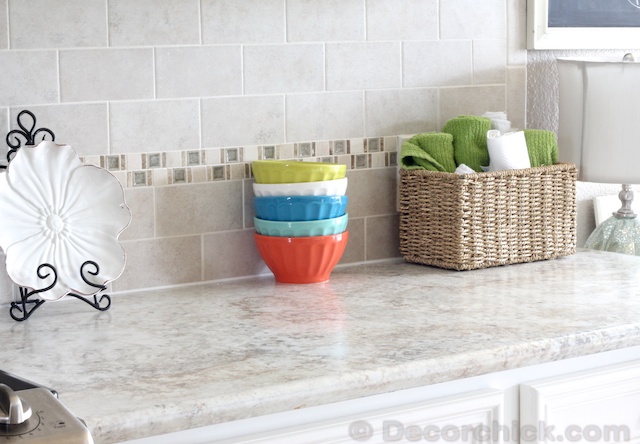 Ok. Whew. I know that was a lot of info. I worked with several great companies for this kitchen remodel and I can't thank them enough for their generosity and support! This particular part of the remodel was with Karran (sink), Formica (countertops), Moen (sink faucet) and Craftmasters in Houston, Texas (countertop installation). They were all so wonderful to work with so thank you!
A few cliff notes to take away from this post:
I think that's about it! If there is anything I missed I will update the post or leave a question in the comments for me. I am getting so close to showing you the full kitchen reveal I'm so excited about it! More great kitchen updates coming your way this week. :)
I'd love to know though what you think about our new kitchen thus far!
xxoo,
Decorchick!
Let's Connect!