Last week I got a wild hair and decided to stain our kitchen cabinets a darker color.  Uh yea, still talking about the kitchen.  I thought I could be a smarty pants and not sand our cabinets and strip the original finish off first.  BIG MISTAKE.  I can laugh about my miserable attempt now, but I was not a happy camper for about 2 days last week. :)  I don't blame my dad or anything, but he did say that I could stain them without doing anything first.  And since I'm a good daughter and always listen to what Daddy says, I tried it.
Let me first say that I did do something right and cleaned all of the cabinets with TSP.  Then I applied some minwax stain to them with a staining pad, being sure to not use too much.  And then I would wipe off the excess but very lightly.  I made sure the wood grain was still showing and not looking like I was "painting" on stain.  That's not good.
Anyhow, look how pretty they are looking at this point…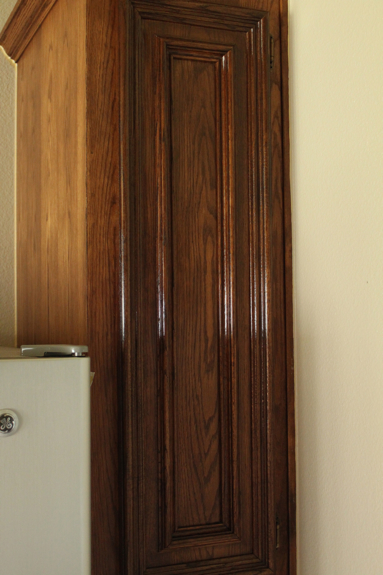 That pic above is just 1 coat of stain on the cabinet door…not the frame (and yes, I've repainted over that yellow back there in the corner where I never finished cutting in when I painted the kitchen grey).
But it's looking good right?  Here's another.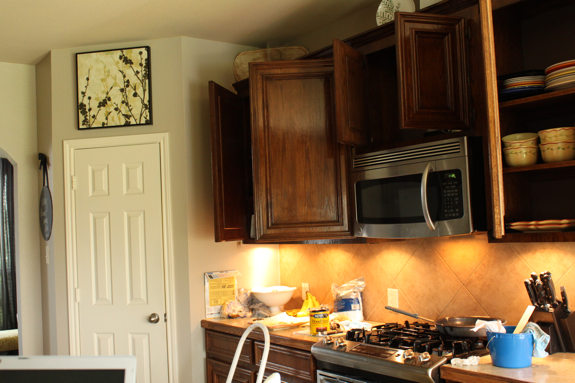 Just be looking at the upper cabinets.  Thank GOD I didn't do the bottom cabinets, but unfortunately I did do all of the upper cabinets in the kitchen.
And one more pic of how the stained uppers compare to the bottom cabinets.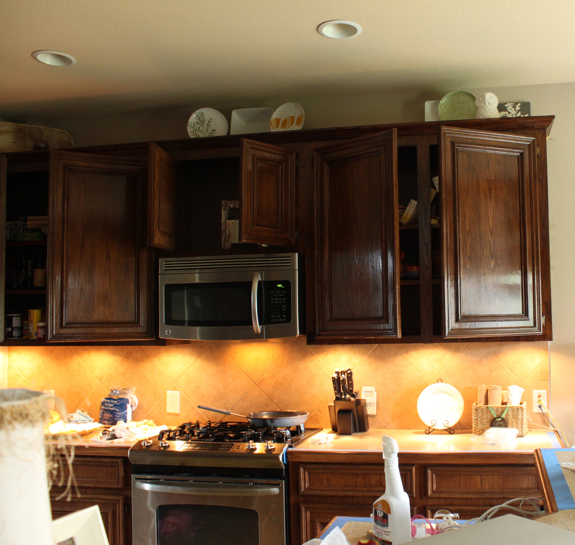 It looked so pretty in person.  But do you notice anything odd?  Maybe like how shiny they are?? Which by the way me and my husband really liked.  We were diggin' the glossy look.
So since I was doing this at night, I didn't think anything of it and just thought it had to dry.  So I got up the next morning and ran to the kitchen to admire my work and they were SO sticky and tacky.  And still shiny (which was ok with us).  I thought "hmmm" so I started googling and found some people who said it can take a while for stain to dry if it's humid where you live.  Then I was happy again because we live in Texas, and yes it's humid here!
Then I let it dry for another day.  Went to touch them the next morning and they were STILL sticky.  At this point I started freaking out a little bit. Did more googling, and to confirm what I thought the problem was I called Minwax's 800 number.  Yes, I called them to speak to the professionals.  I told them what I did and they said "sorry, that is leftover stain residue and you are going to have to take some Mineral Spirits and wipe all of the cabinets down to remove it."  I said "well won't that remove all of the stain I've applied?"
And sure enough, yes, it did.  Why?  Because the stain never had a smooth bare wood surface to stick to from the beginning.  So basically, the stain I applied was just sitting on top of our original finish on our cabinets.  And then the fun began (did I already mention I wasn't happy?) and I had to use some major elbow grease and wipe them ALL down with mineral spirits, saying bye-bye to that rich dark color. Sniff.
So yep, our cabinets still look the same as they once did. Haha.  3 days of hard work all for nothing.  I was pretty sickened by it, but over it now.  I think I may even need to apply a coat of poly on top just to be safe. Guess I better call Minwax again.
I hope you enjoyed this tutorial on how NOT to stain cabinets, and learned to always sand/strip any existing finish you have on wood if you are thinking of staining it a different color.  But I'm sure you all knew that already…I should get an E for effort though right? :)
*Update* I forgot to add before that with the cabinets being shiny and sticky, they would have really been messed up once I applied the coat of Poly on top, if the stain never fully dried. If you apply poly to wet and sticky stain, you will get like a "hazing" effect. That would be bad.
Sharing this post at Beth's Tutorials and Tips party, The Lettered Cottage How-To Day, and Tip Junkie Tip Me Tuesday.
Also, check out my new subscribe tab so we can always stay in touch and you'll never miss important tutorials like this one. ;)
xxoo,
Decorchick!