Well, luckily you can't see my tears through your computer screen, but my little princess is going to be 1 year old on Friday.  It's been very emotional for me planning her little party.  I just can't believe she's almost 1.  It doesn't take much for me to cry or tear up.  I've been tearing up walking the aisles at Target and Hobby Lobby just looking at birthday stuff.  I'm excited at the same time, but whenever I start talking or think about it, I pretty much lose it.  I hope I can keep it together at her party.
Since we are on a budget, I wanted to make some things for Emma.  Ok, I'll quit blabbering and get to the hat!
This is what I made…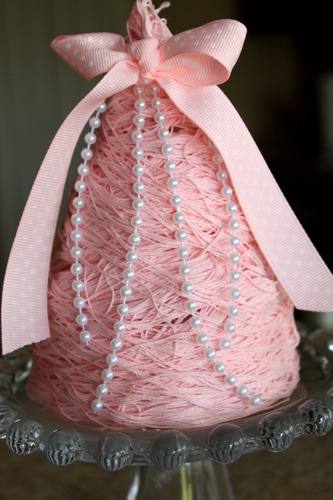 That's her party hat!  I hope she will wear it at least long enough for me to get a picture.  But isn't that the cutest thing ever??
I saw this hat on The City Cradle and followed her tutorial exactly, and it couldn't have been easier.
First you take some embroidery thread and a paper party hat.  Then you tape the end of the thread on the inside of the hat and just start wrapping.  And wrapping, and wrapping and wrapping.   You'll just have to mess with it and once you get in the groove, you'll get it.  It took me a few times to get it right.  Here it is after it was wrapped up.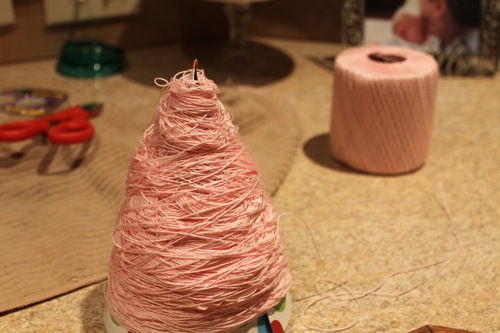 Then you take a bowl and fill it with liquid fabric fabric stiffener (you can find it at Wal-Mart or sometimes a big grocery store), and then dip the whole hat in there making sure it all gets soaked.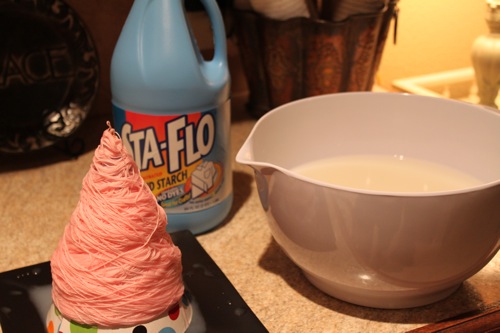 After you soak it all, then you can make the little point on the hat and it will stay like that.
Then all you have to do is let it dry overnight, but I let mine sit for 3 days because I used a LOT more thread than the above link and so it took longer to dry.  You'll know it's ready when it's completely hardened and no longer has wet spots.
After it's hardened, just flip the hat over and cut a slit in the paper, and carefully wiggle it out.  I just used some scissors and kind of pried it out.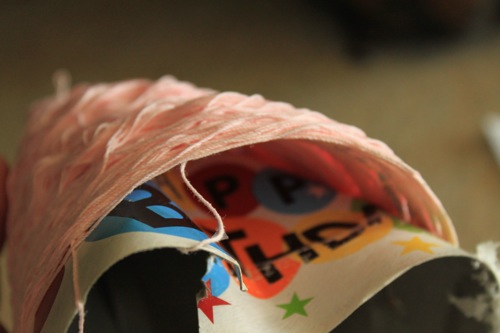 Cool huh?  I've never even heard of fabric stiffener before this project or knew it would even make a mold like this.  So cool!
Here is what the inside of the hat mold looks like in case you are interested.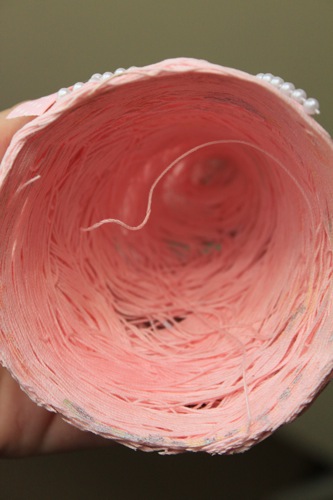 Then you've got your hat all ready and you can decorate however you wish.  I adorned Emma's with a little bow and pearls.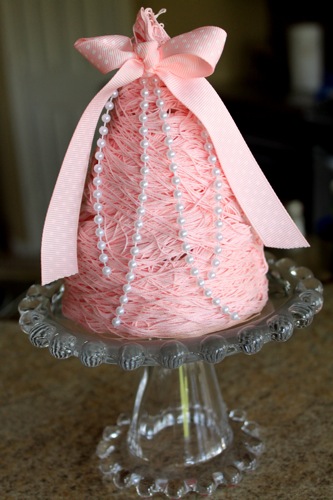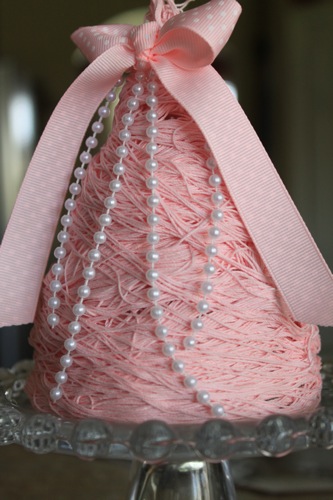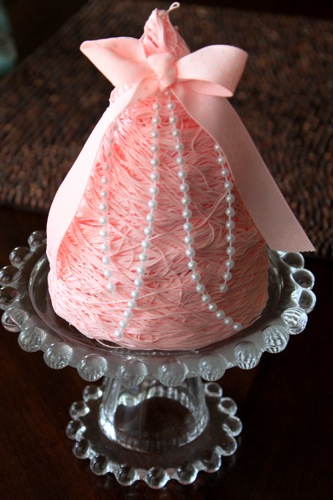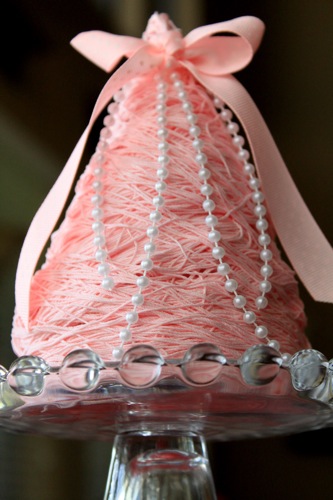 I still have to glue on some ribbon on the inside so I can tie it under her chin.
Here are 2 tips…Don't throw away your bowl of liquid after you dredge your hat.  I didn't see any reason to since it was only in there for 1 second, so I just poured it back in the bottle.  Also, if your hat mold isn't perfectly round on the bottom when it's dry, you can just trim it with some scissors.  I had to do that.
So, that's the party hat!  I will definitely be saving this…like, forever.  It will look cute in her room. :)
Gosh this was a hard post to write.  When I show you the other thing I made, that's going to be even more difficult for me to write and will be fighting back the tears. Arghhh, *sniff sniff.*
*UPDATE – Please click here to see the party post and a picture of her wearing it for 1 second!*
xxoo,
Decorchick!