Hope you all had a great weekend! I'm back today to talk more about that hidden door bookcase that was part of my daughter's bedroom makeover reveal last week. Thanks for the love on that post too I really appreciate it! One of the big undertakings in there was this DIY hidden door bookcase and magical secret room…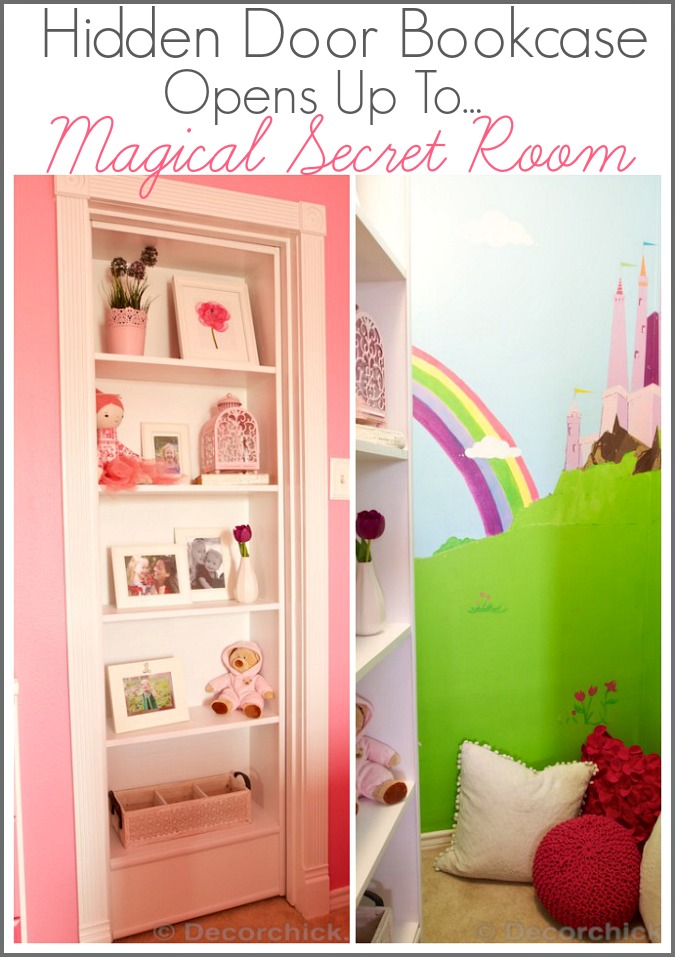 This was such a fun element of my daughter's room makeover, and really glad my husband came up with the idea, even though I grumbled a bit at first. We had a very tight deadline and I was worried. But it all worked out.
Here is her closet before.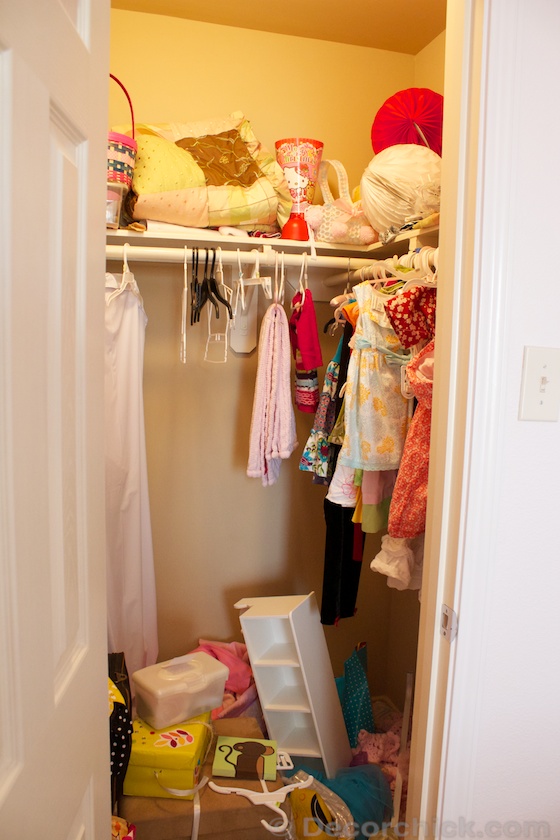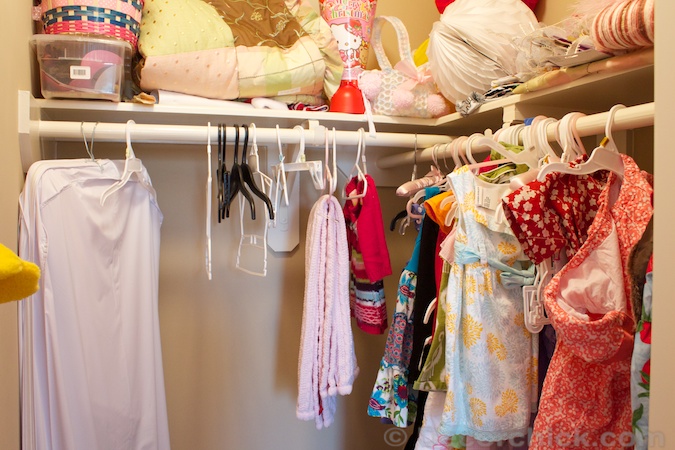 I know, awful. I'm to blame for it so I take full responsibility. But her closet was your typical builder closet with those shelves and rods that are SO poorly designed because there is a ton of wasted space.
And since Ellie's closet is a little bigger, and not a mess, and the extra closet in the spare bedroom is free (minus decor items), we decided we would just use those closets for Emma's things too. So that is how we were able to do away with the closet system in Emma's room. I know not everyone has that luxury or extra space. Plus, I put most of Emma's things in her dresser, so just dresses are hung up and a lot of times I keep those in my closet downstairs too. And all their shoes. It's just what works for us now.
So Randy started out by removing the shelves.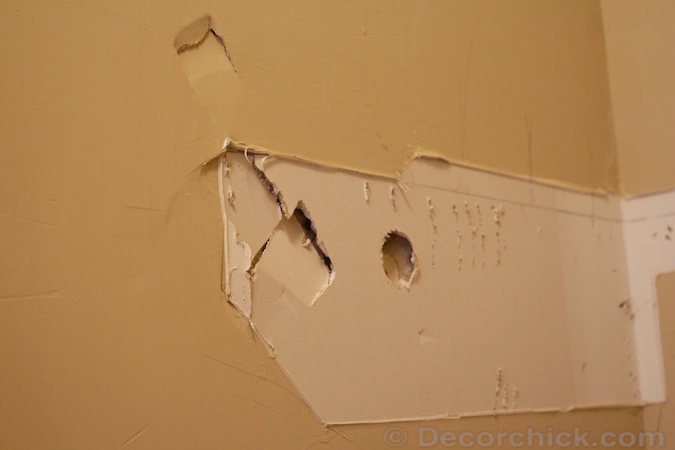 And once he removed all of it, he was left with some pretty big holes to patch, so he also now knows how to sheetrock and repair holes. :)
Once he finished with that little setback, I painted the walls blue (Sherwin Williams #6952 Blue Click).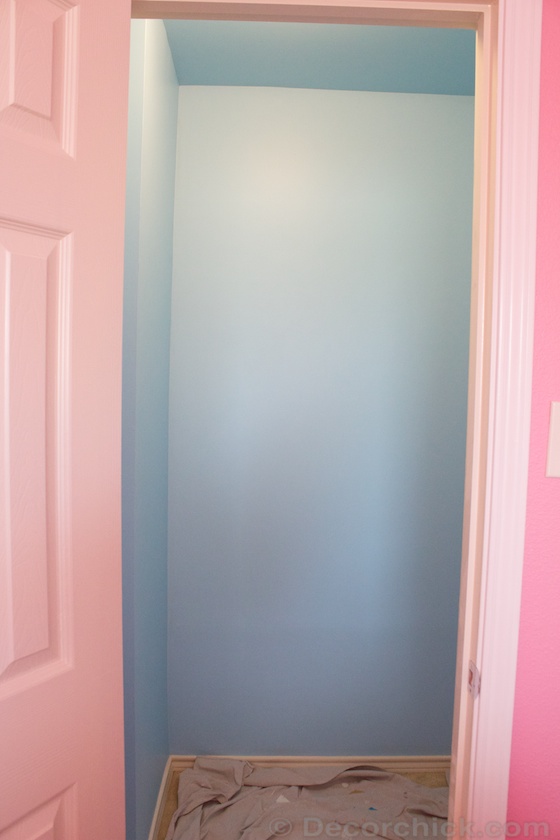 Then I had to go back and paint the bottom half in #6922 Outrageous Green, for the "rolling hills."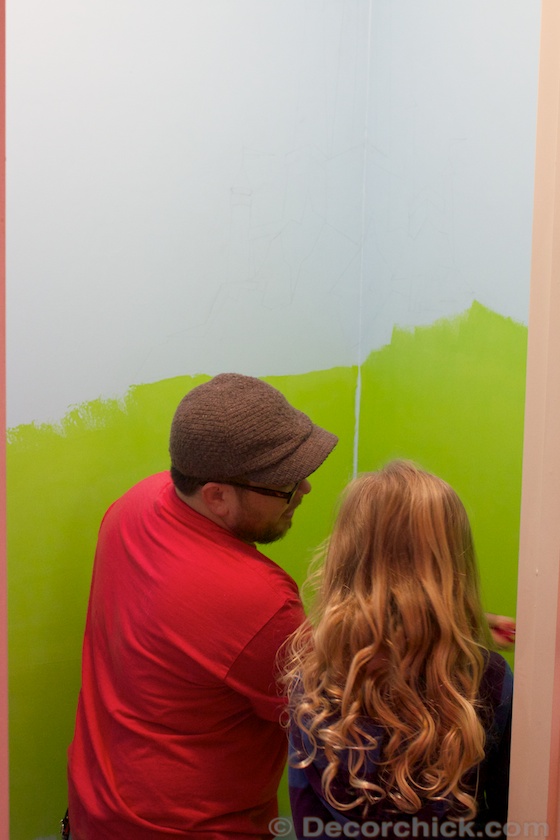 That is Uncle David getting to work and Emma hanging out with him.
Randy was very specific in the vision he had for Emma's secret room closet. He wanted the colors bright and fun, he wanted to give her the rainbow she asked for, and to make sure she got her pink and purple that she was very adamant on. :) He even knew exactly what colors to use for this…Teletubbies colors. So he researched and found out what their blues and greens are and we had those done at Sherwin-Williams. So fun!
David (Randy's brother) is quite the artist so he and Randy were right in sync with the vision.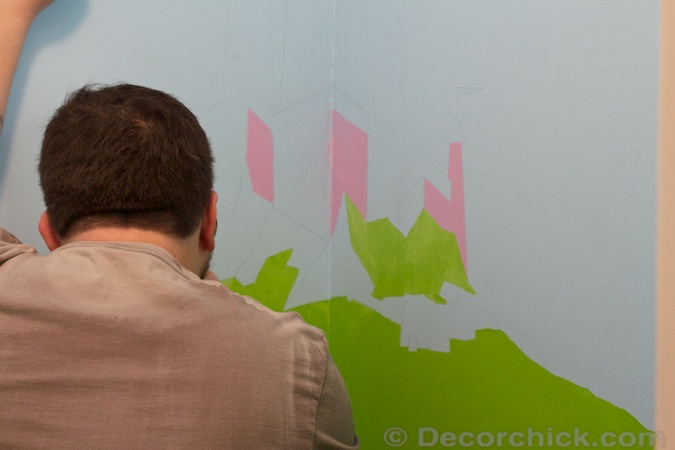 David is extremely detailed, right down to the unicorn that looks like the one from the Pinkalicious books.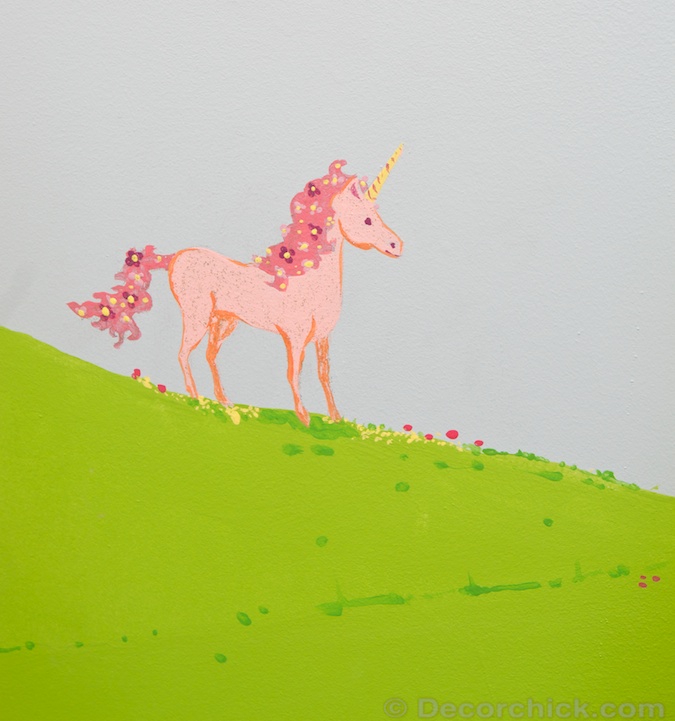 Now check out this castle.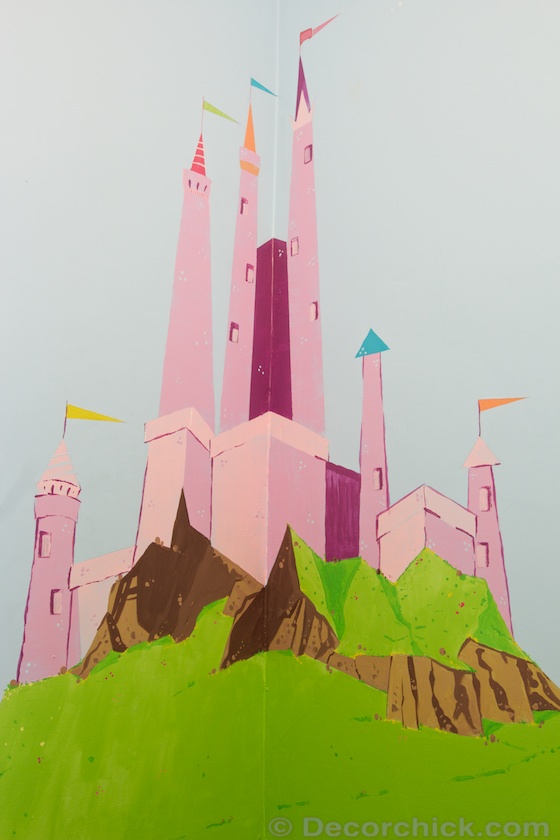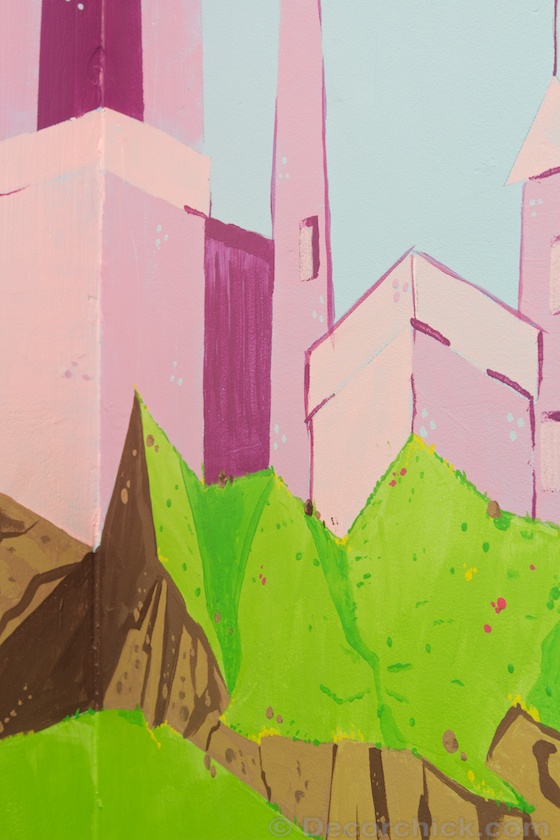 Unbelievable.
He really outdid himself. Especially with this gorgeous glittery rainbow.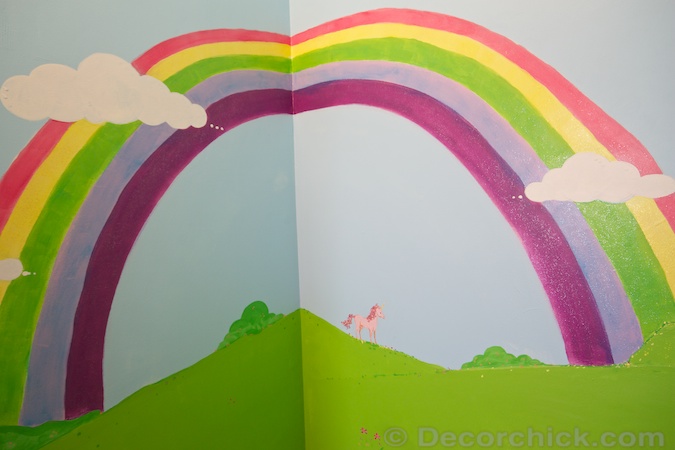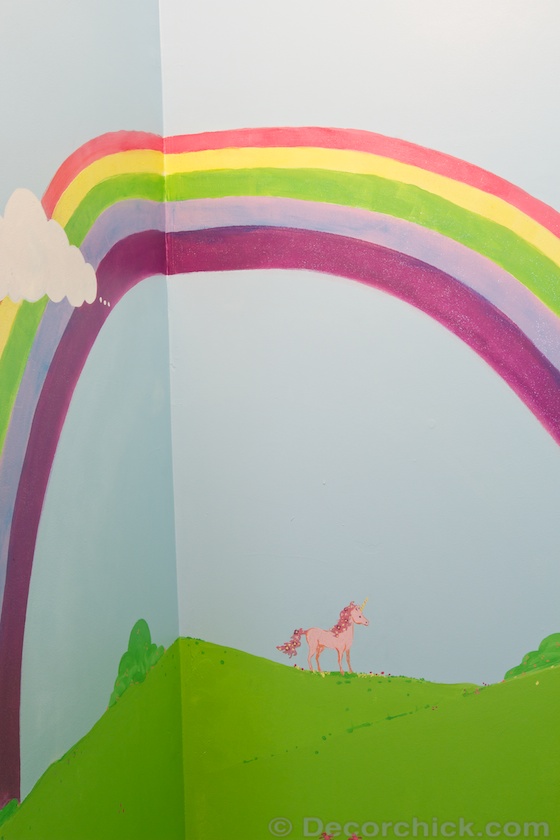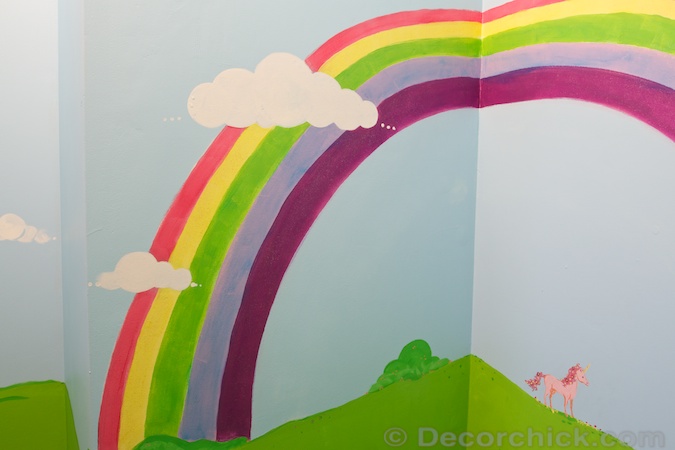 So fun right?!!
The mural and rolling hills goes on all of the walls in the closet. I had to get out the wide angle lens to show you.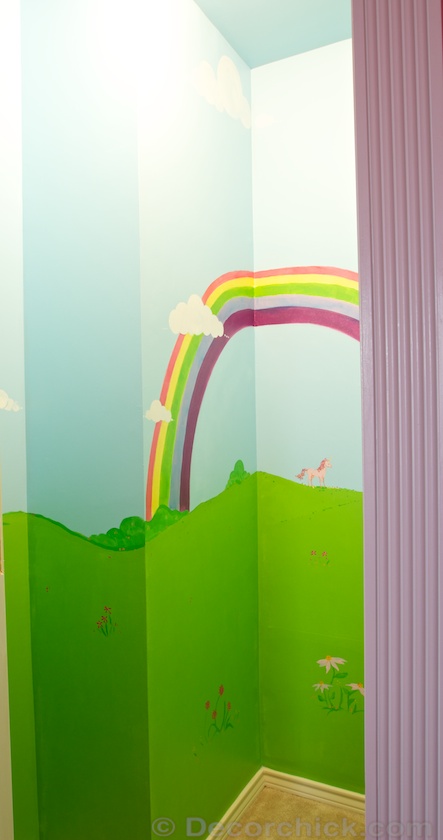 So that little nook to the left is where we may eventually add a little tension rod or a simple shelf to store a few things in there.
I wanted to quickly say also that Emma's hidden door pushes in, in case you didn't realize that yet. Her shelves are also 8 inches deep on the bookcase. Depending on the clearance you have in the closet, will determine how deep you can make your shelves. But we wanted our door to actually look built-in, and we wanted a good functioning shelf to hold standard size books and everything. If we had the hidden door pull out, then you would have a door that is not flush with the other walls, and very shallow shelves. That's just not very practical or useful.
I will get Randy to do a how-to on the door soon, but will briefly tell you that to have the door push in, he had to reverse the hinges, like this.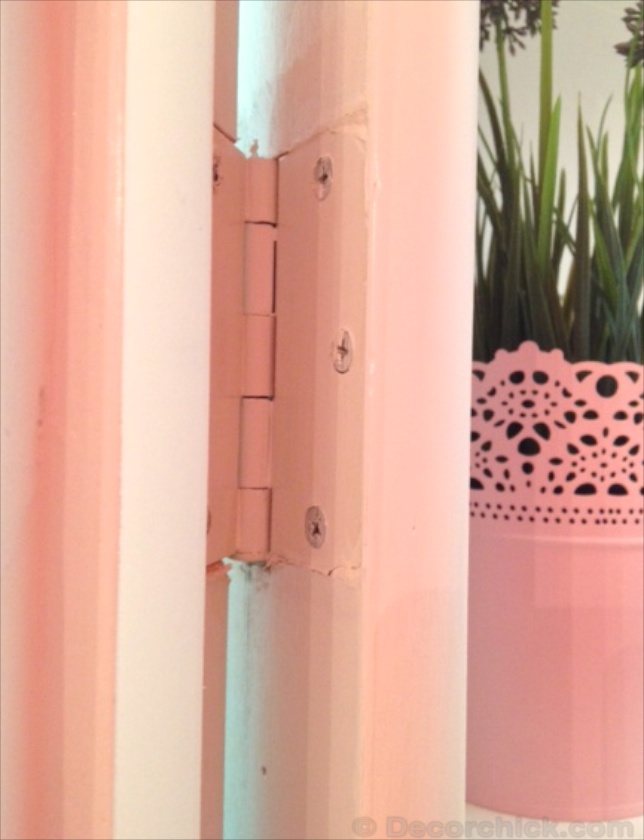 I did a poor job of filling it in (because it's all hidden and no one sees it), but at least you can see the hinge and how it's inset. He had to carve out new hinge holes and everything, so again, I'll get him to explain soon. :)
Are you wondering how the door stays shut? This is how.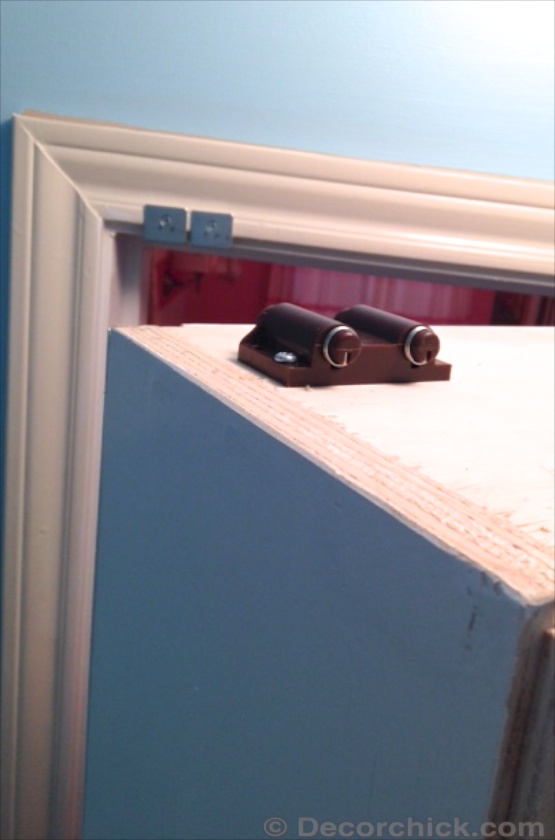 He attached a heavy duty magnet that you push on to open, and push to close etc. It could be stronger but it works fine, especially for a 4 year old. We also have a door handle attached on the inside of the bookcase, so if Emma is in there with the door shut, she can just pull the handle too or if anyone else that doesn't know about this door gets into a frantic in an emergency situation, they are covered and can easily get out. Trust me, we thought about emergency situations when designing this door and we feel confident all basis have been covered.
So now here are a few more pretty pictures of the closet. :)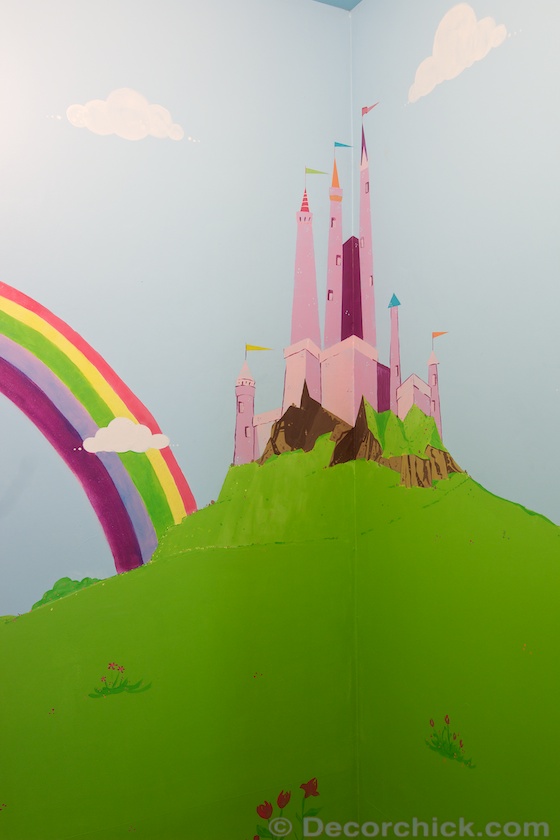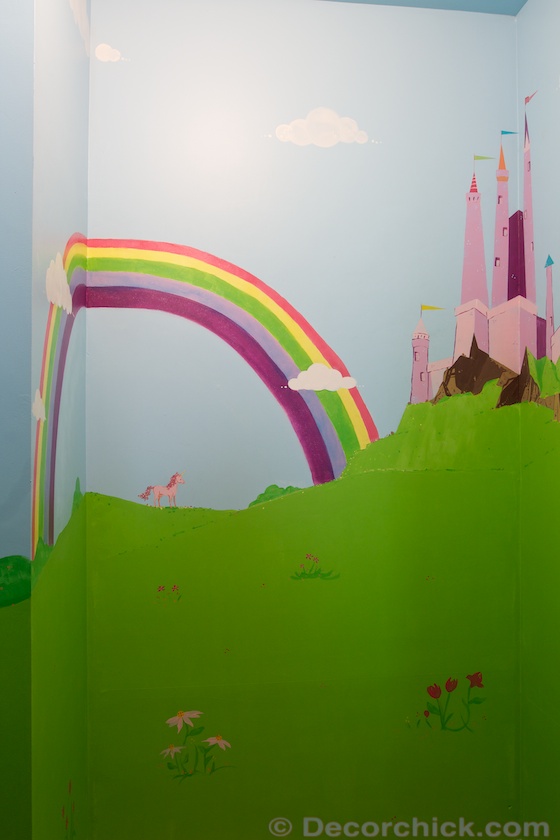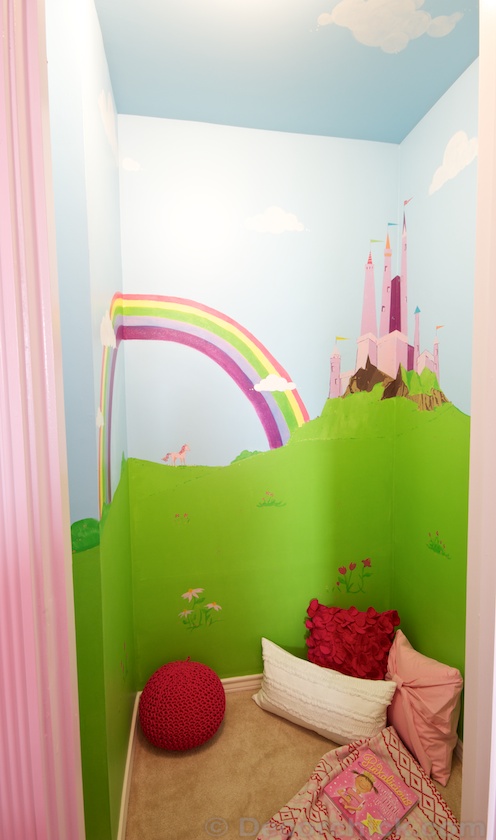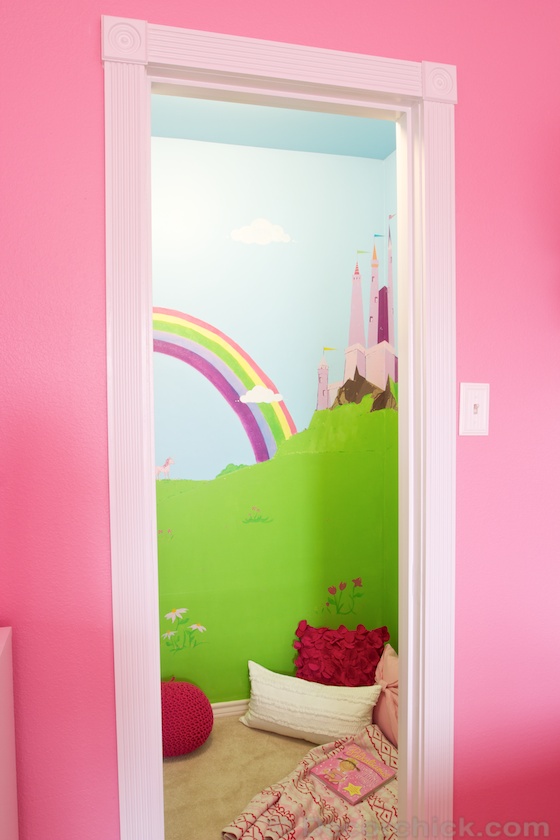 We are so happy with it, and Emma just loves it too. It's probably one of the coolest closets any 4 year old I know has!  :)
But it's even more awesome because it's a hidden door into this magical place to let her imagination run.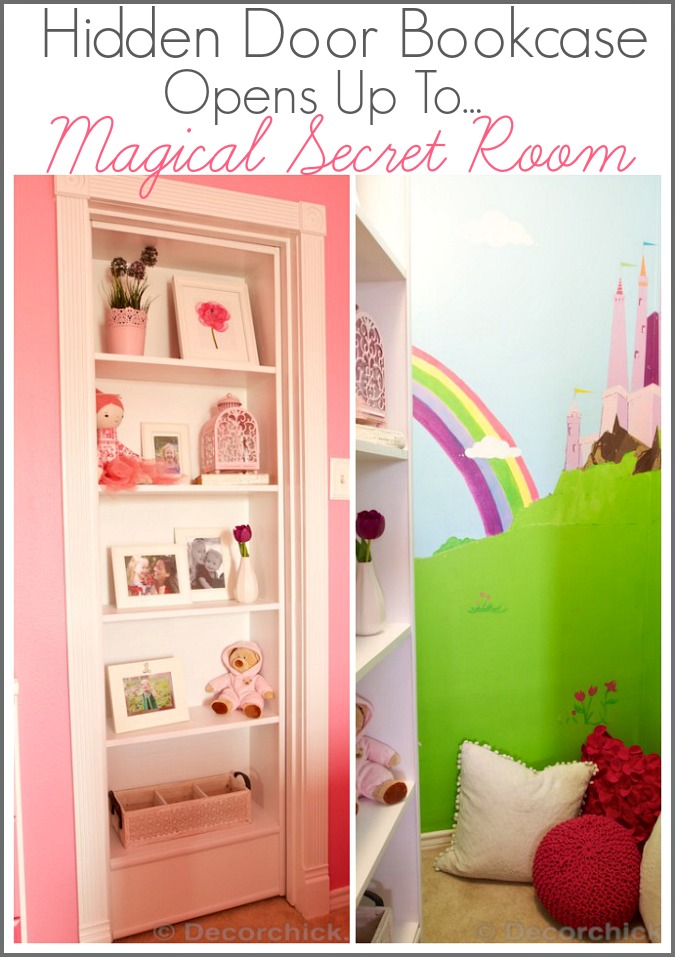 So now who's already looking for a spot to put a hidden door??
Remember you can find all of the other details in Emma's room makeover in this post.
xxoo,
Decorchick!