Come on in, grab a cup of coffee or cocoa, and enjoy the Christmas home tour! I'll start out by saying our house is never this clean, things were shoved out of the way to take pictures, we don't have a perfect home, and it took days to clean up just so I could take a few photos. :)
Ok, whew, glad that's out of the way…
Here's a snippet of what's to come.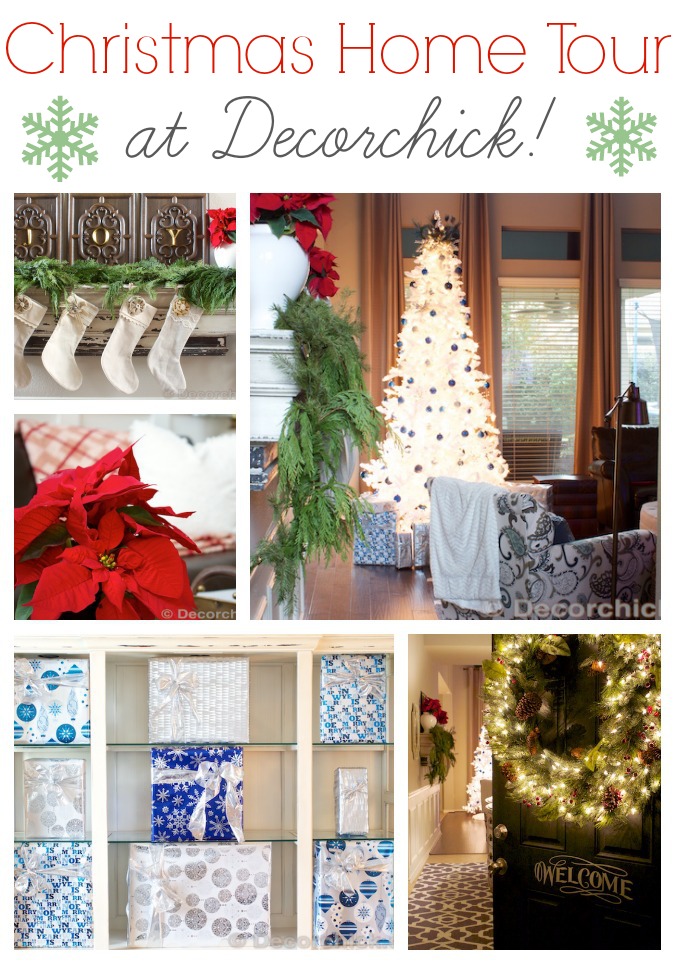 If you're visiting from Storywood Designs thanks so much for stopping by!
Now come on in!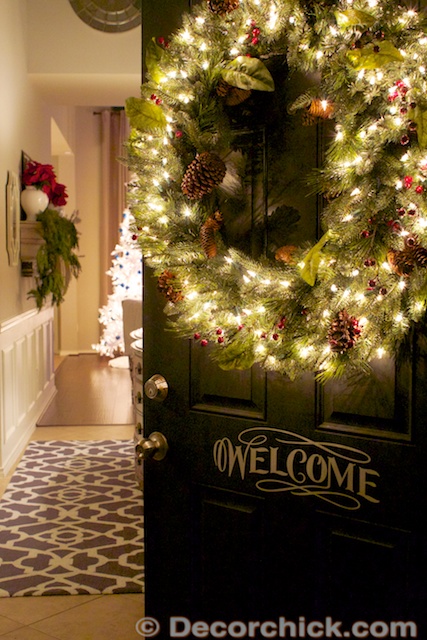 The huge lit wreath will greet you as you come in. It's from Tree Classics and I love it! It's like, really big.
As you come in the office is on the left, and the stairway on the right.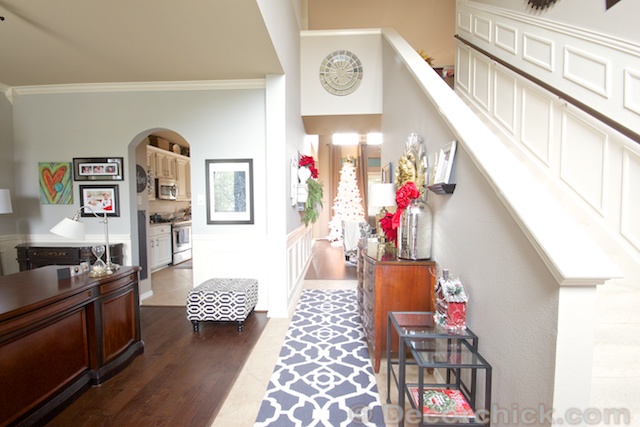 Here is the office and more of a closeup of the gift wrapped present hutch.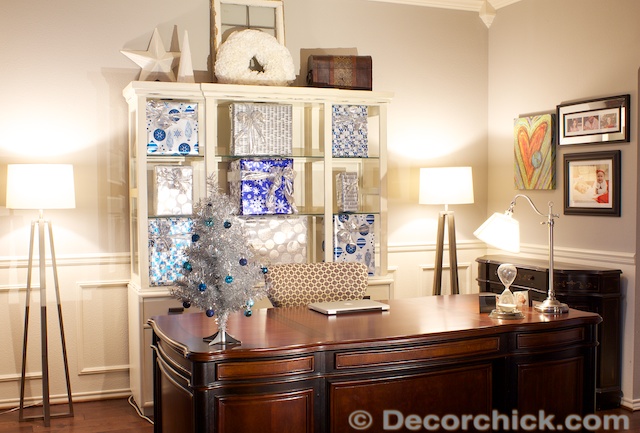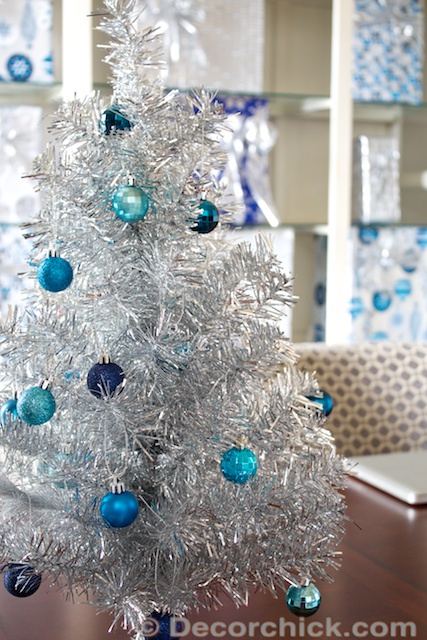 The entryway wall is across the way. I went simple this year and used my dollar store gold wreath I made, and used red poinsettias.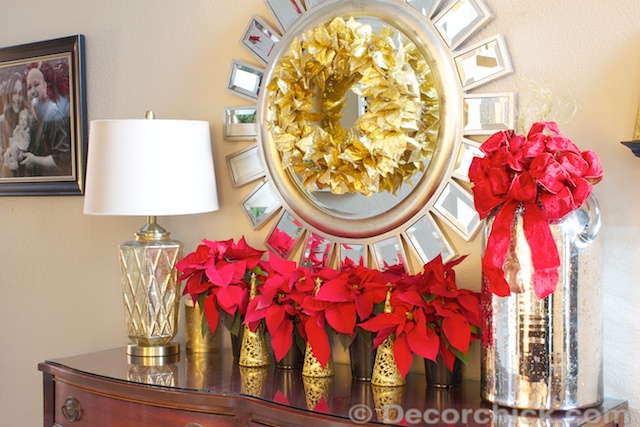 Can't go wrong with traditional red and gold. Those gold cone things are also from the dollar store. Oh, and I stole Ellie's lamp from her nursery. Bad mommy.
I have the nesting tables up here too with a little winter birdhouse on it.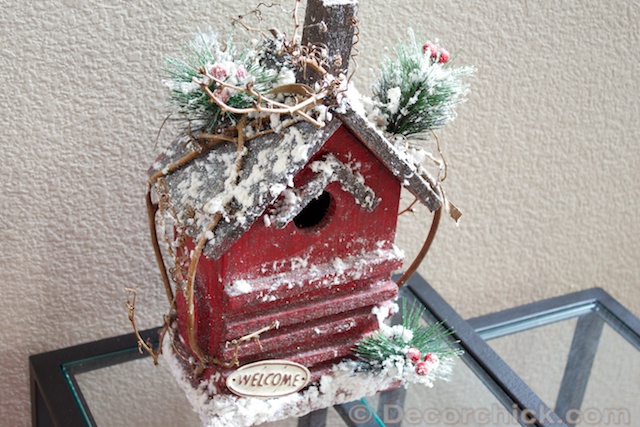 And I had this big red bow already and just put it around the big mercury glass vase.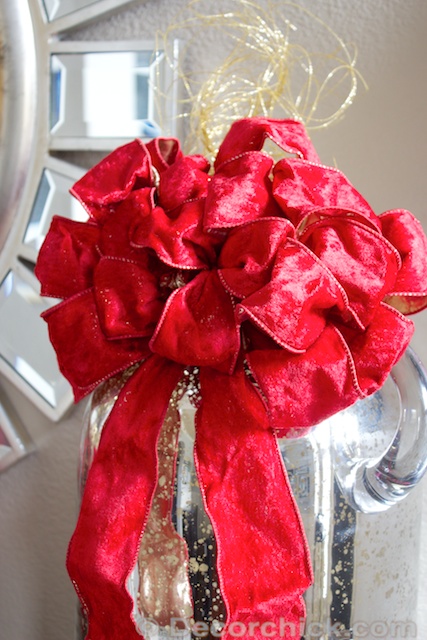 Simple simple!
Next up you walk into the living room. Again, I kept things simple this year, because really, the more you put out, the more you have to clean up and put away. And I didn't want the holiday decorating to be stressful. Taking pictures and making sure the house is clean is stressful enough.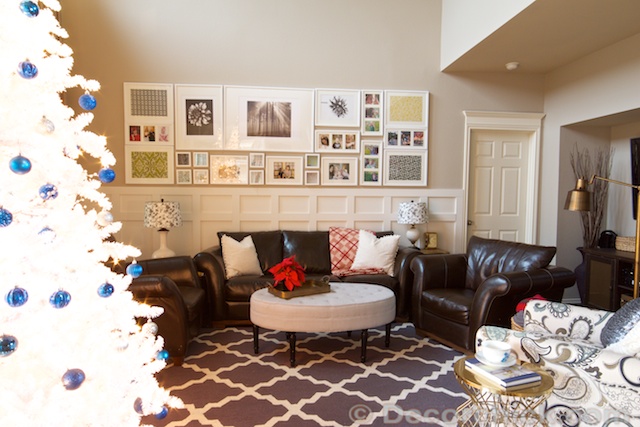 That brown leather chair is usually where the Christmas tree is but things are moved around right now until the tree is gone.
You can see more pictures of our white flocked Christmas tree in this post. Love it!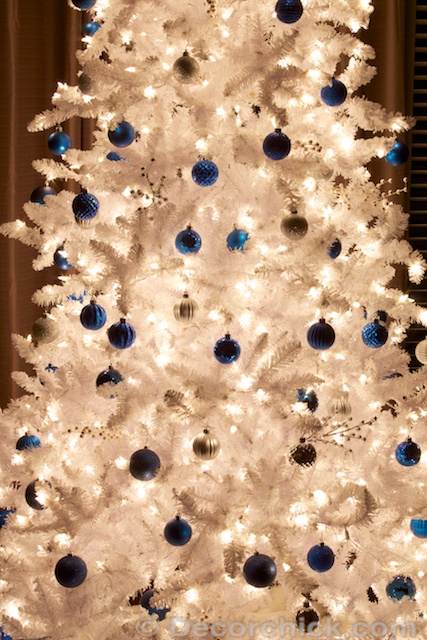 Our mantel is on this opposite wall near the entryway too.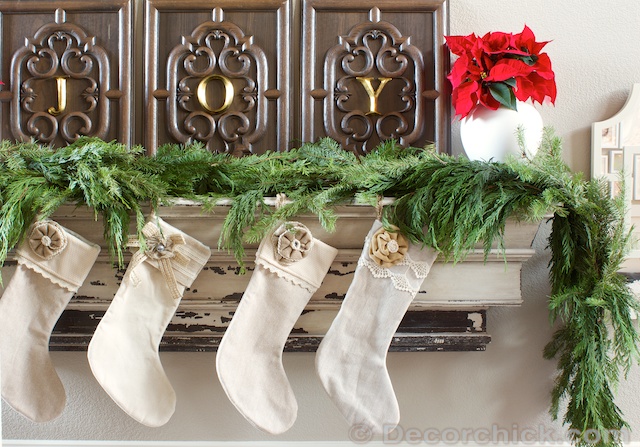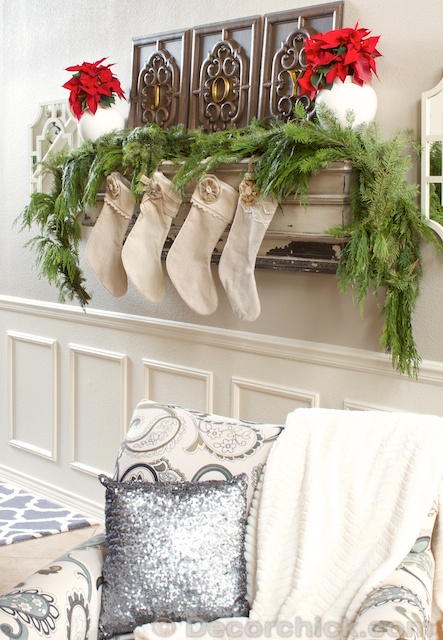 A red poinsettia on the living room tray makes it feel instantly more festive.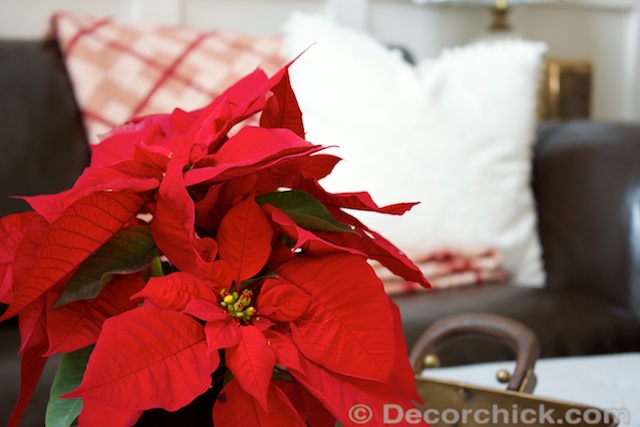 My grandmother made me this red and white quilt and it's something I'll treasure forever.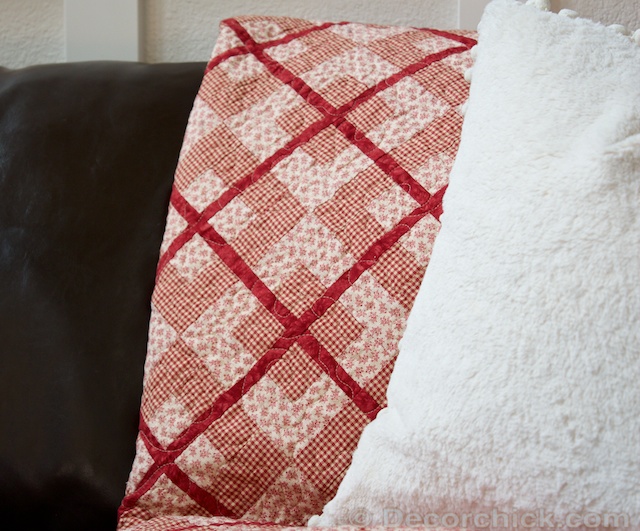 Next is the breakfast room and you can read more about the new table in there in this post…
I didn't do much in here. Just added my boxwood wreath to a cloche for the centerpiece.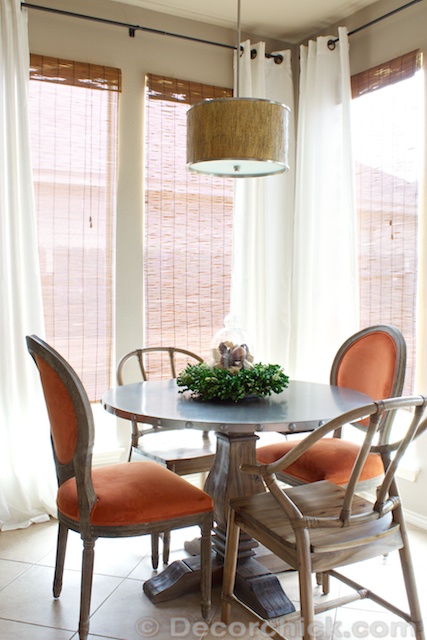 I pulled out all the stops I tell ya.
And the kitchen, again kept simple, but still Christmasy. I'm telling you…just add a red poinsettia and people will be impressed.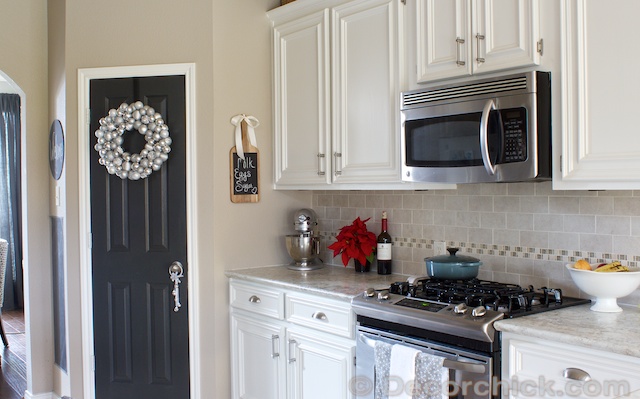 Read about our white kitchen in this post.
Then of course how to make the ornament wreath hanging on the pantry door here.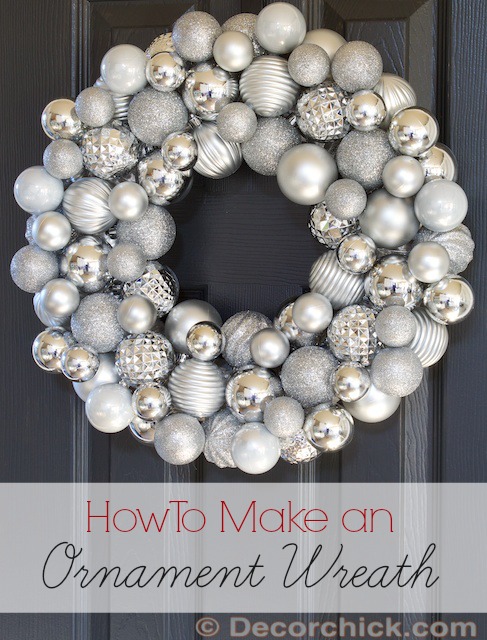 By the way, this is a tasty red wine.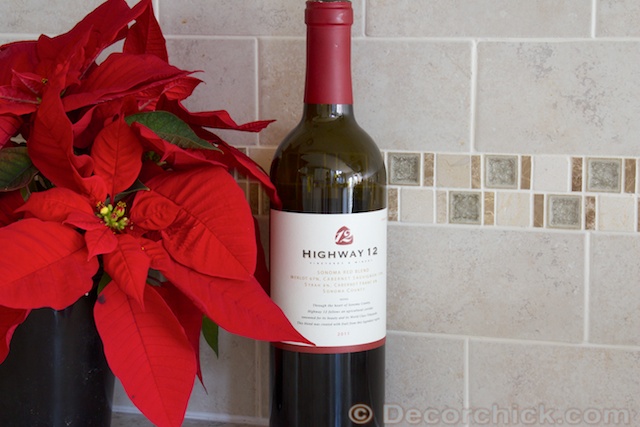 And guys that's really about it for the house tour this year! I hate to leave you with a bottle of wine but that's all I got. I didn't decorate in bedrooms or bathrooms, just mostly focused on the downstairs areas that we use the most.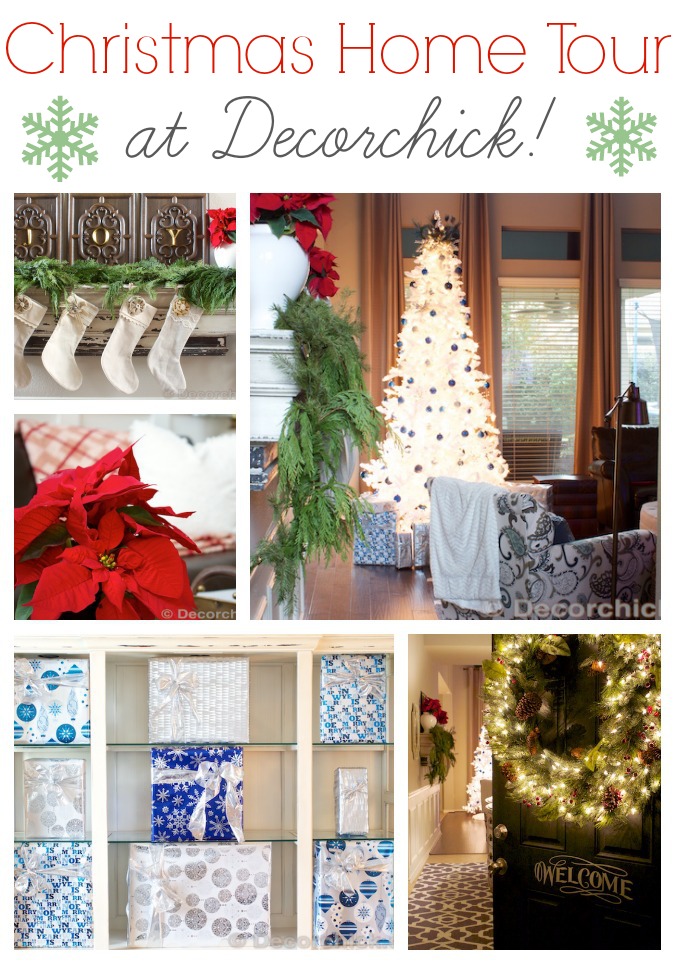 As you can tell I love many different colors, different styles, and just try and make them work together. Do what you love and you will make this Christmas special no matter what. Because really, Christmas is not about pretty trees and decorated mantels or having the perfect looking home. It can be hard to lose focus of the real meaning of Christmas because of this Pinteresty-perfect world we now seem to live in, so just step back, take a deep breath, and thank God for your many blessings.
Now to see more decked out pretty Christmas homes, continue today's tour of homes by visiting:
So yep, you have lots of reading to do today and this week! The hostess with the mostess, Chris from Just a Girl has a complete list going of all of the tours happening this week, and be sure and check out her gorgeous home too!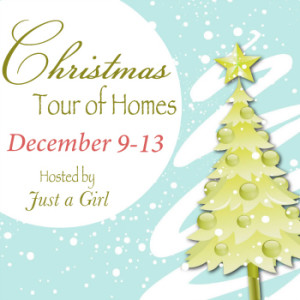 Whew, I hope you made it. Merry Christmas! :)
xxoo,
Decorchick!