Hi all! Hope you had a great weekend. I finally was able to snap a few photos of our much new and improved breakfast room over the weekend. I mentioned a few weeks ago we took advantage of World Market's big furniture sale they had and got our new table and chairs from there. And I just love them so much.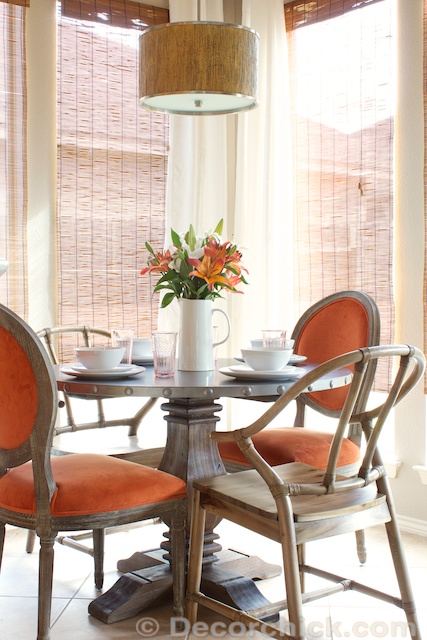 Where do I begin with why I love it so? I love the round shape, the metal top, the industrial yet traditional look, the mixed chairs, the pop of orange/coral (you all know I love me some coral!), and just that it's different and not your ordinary breakfast table.
You can read in this post the many reasons why our old table just wasn't working out for us any longer, so this smaller round one works much better for this space. And it cleans like a dream.
I also kept the same white curtains and the same bamboo shades, and that chandelier is also the same! So really the only thing new in here is the table and chairs but a whole new look.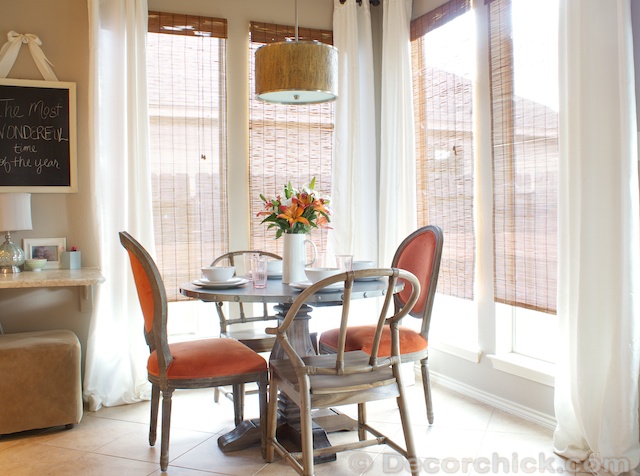 Usually I just always keep the shades raised and don't mess with them, but I lowered them so I could take pictures in here and not have just horrible backlighting with all the windows, and it turns out I really like them all lowered! They still let in plenty of light and they just look pretty. So that was a happy accident. :)
The 2 orange chairs are the Paige dining chairs from World Market, and really comfy.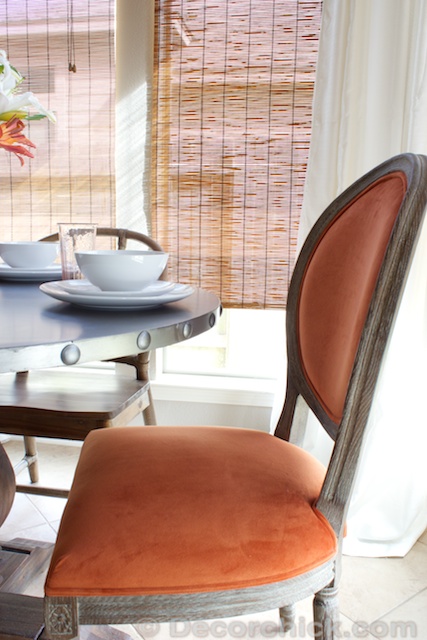 And these other 2 chairs are also from there and called the Wishbone chair.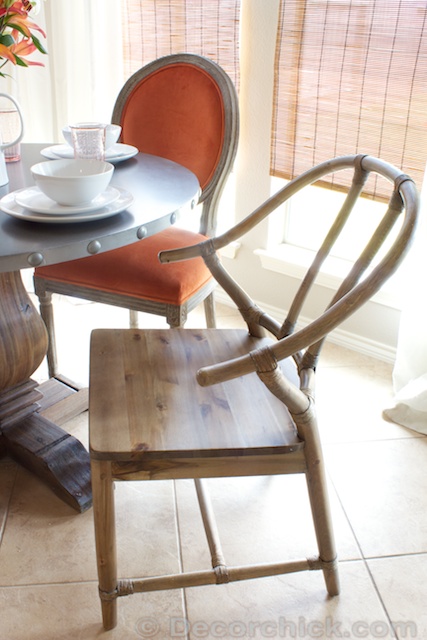 LOVE that one and also comfy. I was so over upholstered chairs from the last table I swore I wouldn't get anymore for a while until the kids are bigger, but my husband helped me choose and he loved the orange too, so we decided to brave it and assign the wood chairs for the kids. They know not to touch or even breathe by Mommy and Daddy's orange chairs. Haha.
OH, and since we had that highchair that connected to our old table we needed a new chair for Ellie. I hate big bulky highchairs but heard good things about "the one" at Ikea and sure enough, it's perfect.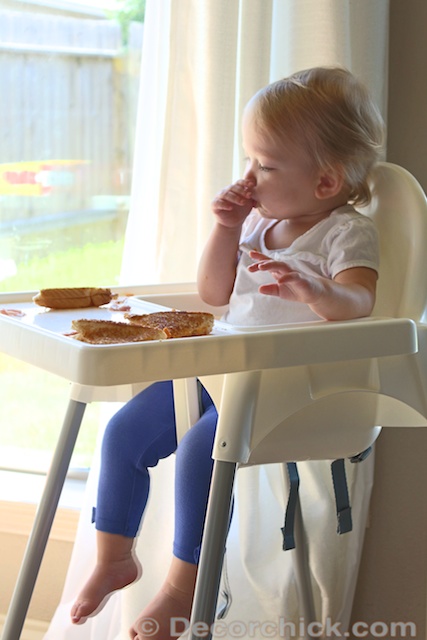 And it was only $15 a few weeks ago!! It's so light and compact I just love it. You can take that tray off too and pull them right up to the table with you to eat which is really nice. And that highchair has got to be the simplest thing Ikea has to assemble which is another perk. Don't you hate those crazy instructions on everything?!
Anyway, I won't hate on Ikea too much because this is the $20 white dish set that I talked about last week and I just love it.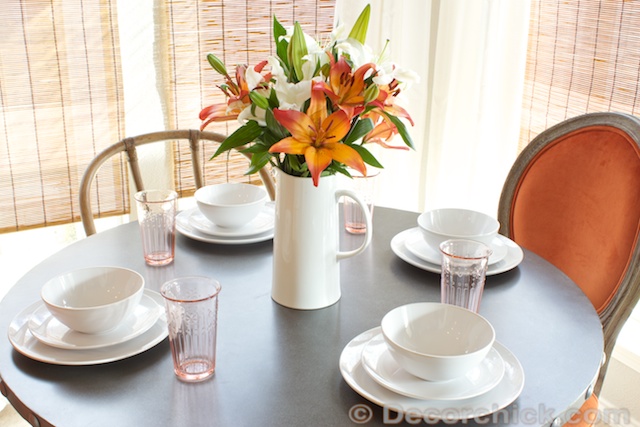 Those glasses, also Ikea. I saw the color and that little flower and knew they belonged in our breakfast room.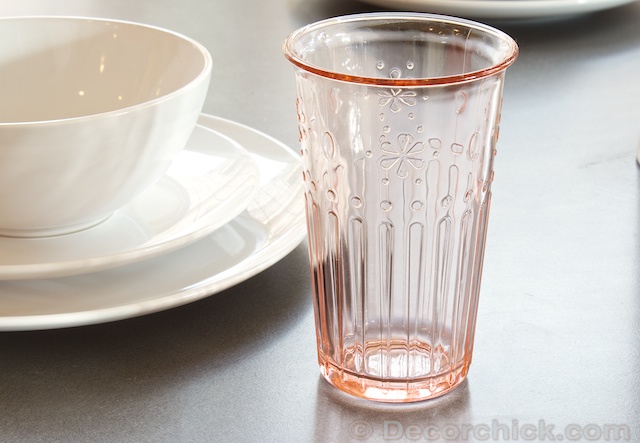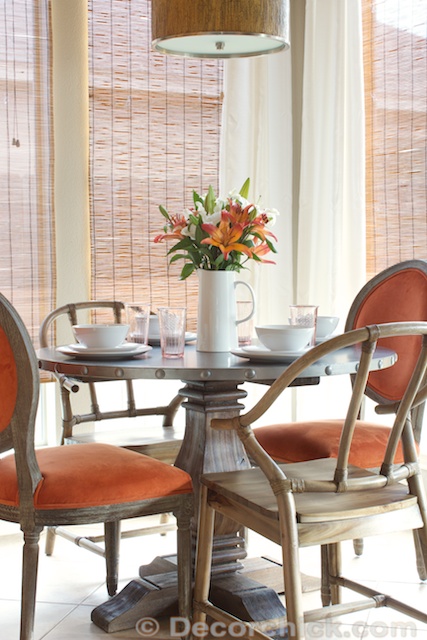 And you can't go wrong with beautiful lilies. I am in love with their scent.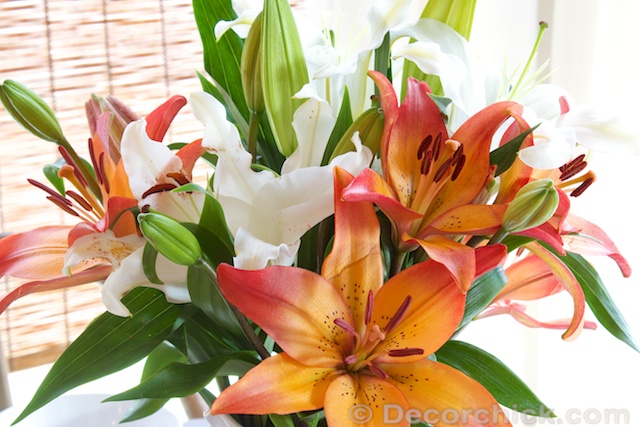 For grins here's the old breakfast room (and the old kitchen)…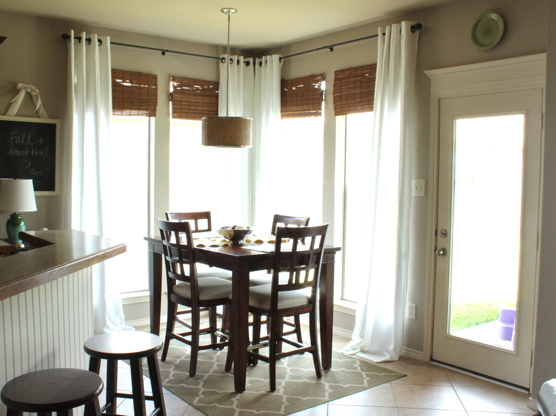 And now again with the updates.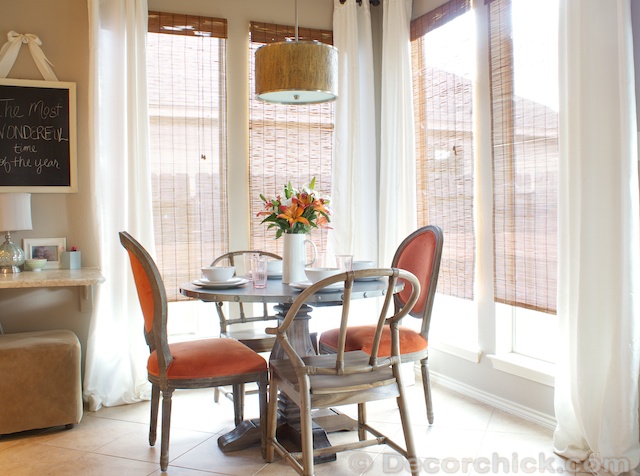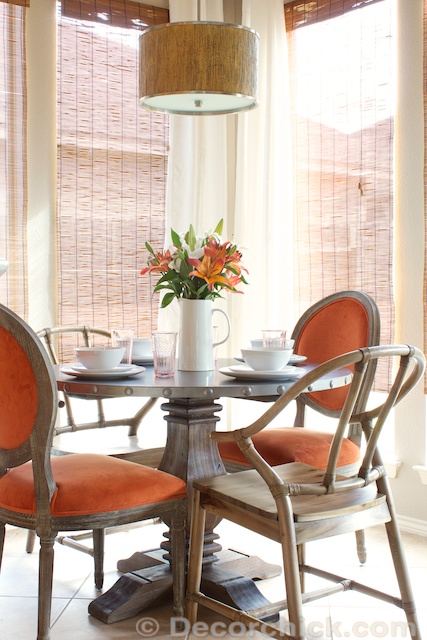 Much better don't you think?
And yes I know a rug would look even better under the table, but as you can see from the old picture I have had a rug in here under the table before. There's just really no point in that because they get absolutely filthy with kiddos, no matter what you put down to prevent it. It's much easier on me to have nothing. :)
So what do you think of the updates? I'd love to hear!
xxoo,
Decorchick!