I really did have a bright idea. And an original one (at least that I know of) and it really just hit me one day so I went for it! I love how it turned out too since I typically don't decorate my hutch in the office much. I knew I wanted to do something in there, and UPS has been visiting here ummm, quite a bit…..and I am sure you can see where this is going if I have a lot of empty boxes laying around right?
So here is what I came up with for our holiday hutch.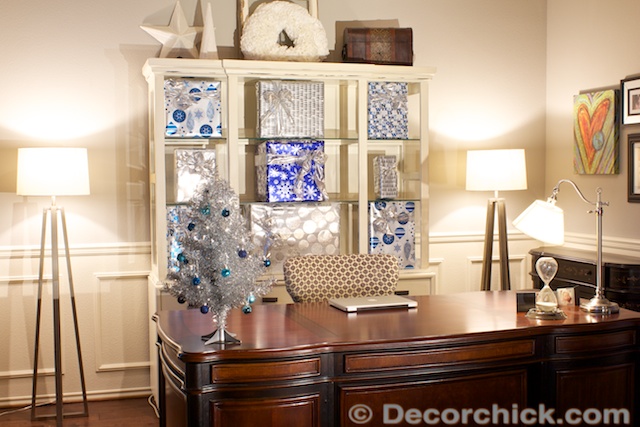 Here's a closer view in the daylight.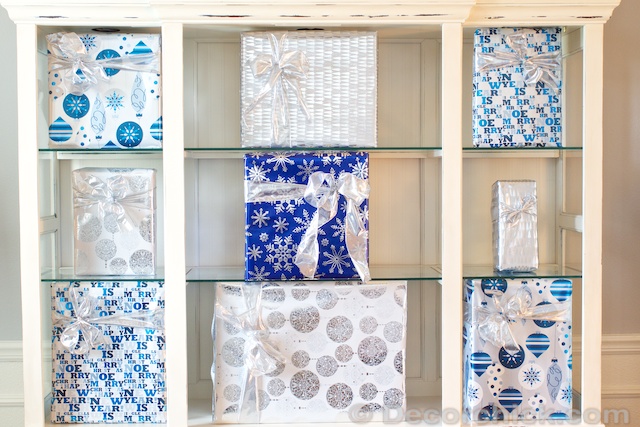 So cute right? I obviously just removed all of the stuff I had in there before, wrapped some empty boxes, tied bows, and voila. A masterpiece! Ok not really a masterpiece, but still fun and different. :)
You want to know some more cool things about this?
Many of you may have noticed a few different things here in the office, but the biggest transformation was the new added lighting.
I partnered up with Philips for their Bright Ideas Campaign and Sweepstakes. They must have really liked my light bulb video I did over a year ago…Haha just kidding.
They sent me a plethora of LED light bulbs y'all.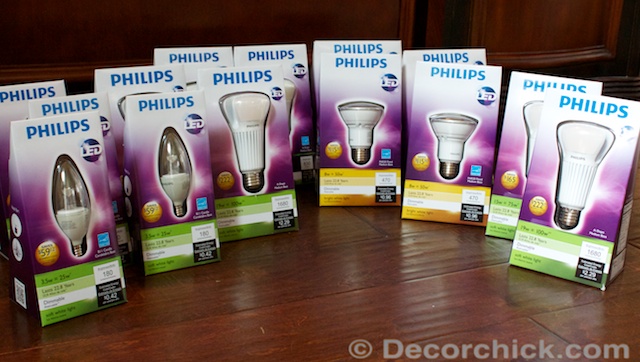 It was good to have options of the different bulbs and wattages, because obviously we can't put all of them in one room or it would be like a stadium in here, and ultimately we decided to go with these 3.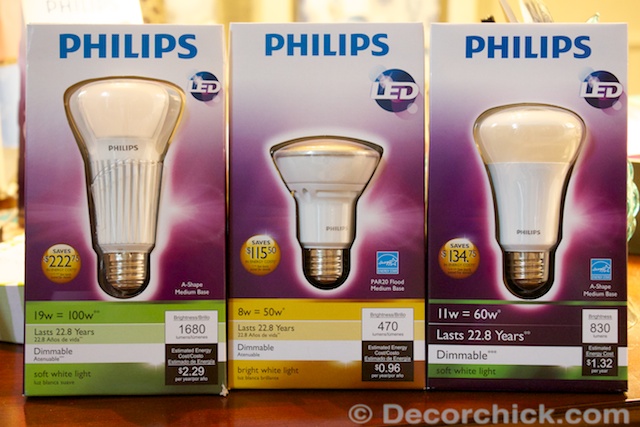 We used 2 of the 19w bulbs for the 2 new floor lamps, 1 of the 11w bulb in my desk lamp, and 2 of the 8w flood lights in 2 spotlights. More on that coming up.
I really love the soft white bulbs, and if you aren't familiar with the LED bulbs, here's what's on the back of the packages.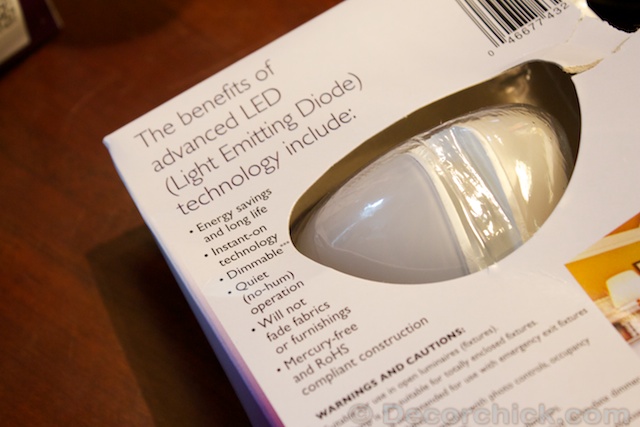 But with the addition of those new bulbs and the halogen track lighting we already had, the look and feel of our office completely changed. Lighting is so amazing!
Now let me show you a before of our office before we swapped out bulbs and added the new lamps. (those are from Target by the way)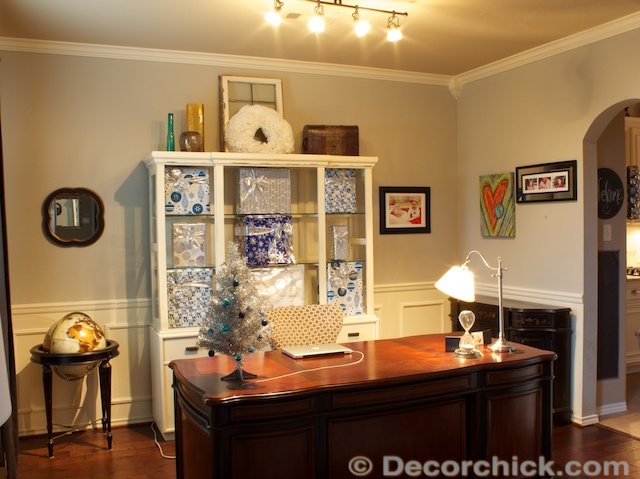 Ok and now here is the after.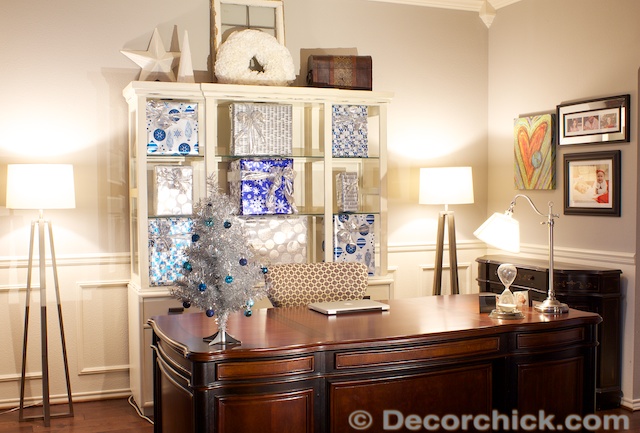 Such a big difference! I totally am in love with the new floor lamps in here and can't believe I didn't have any until now.
Now let me show you something pretty cool. And I have to give this "bright idea" to my husband because it was his and he's pretty brilliant…
But in that picture above, the presents in the hutch are nice and lit, and the silver tinsel Christmas tree on my desk has a nice sparkle to it.
Now look at this picture and you will be able to tell a big difference.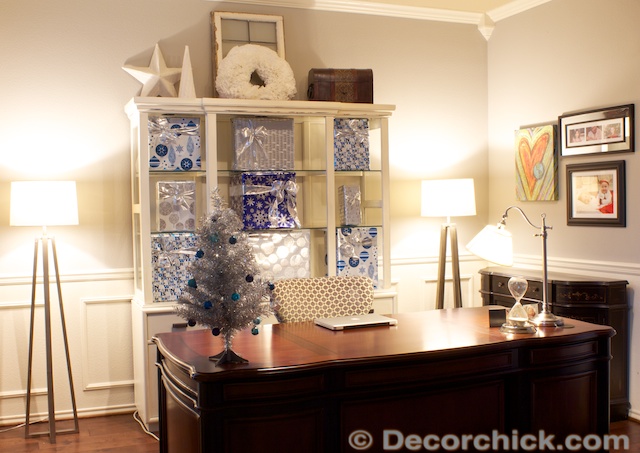 See how it's more dark in there and those presents and tree aren't standing out?
Well that's because of those spotlights I mentioned earlier.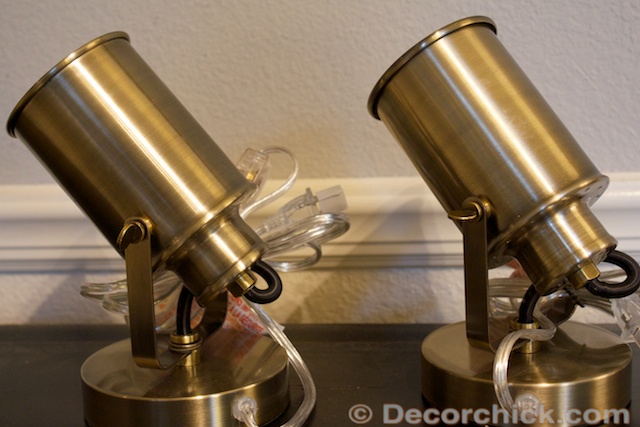 I found those at Target too and wow, so cool. You can even mount them on the wall so you can aim it wherever and have what it is you want highlighted. And the little Philips flood lights worked so well in them!
My husband had one aiming at the hutch area and one towards the tree. Why can't I think of cool stuff like that to do?!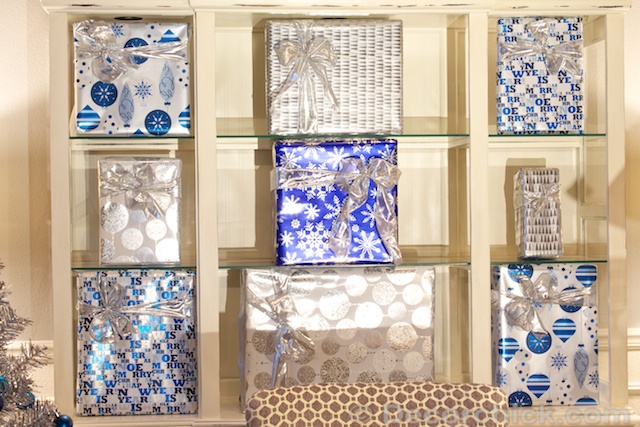 Regardless of who's idea it was, I think we can all agree that the new lighting made a huge difference and really allowed the Holiday Hutch to shine and take center stage. :)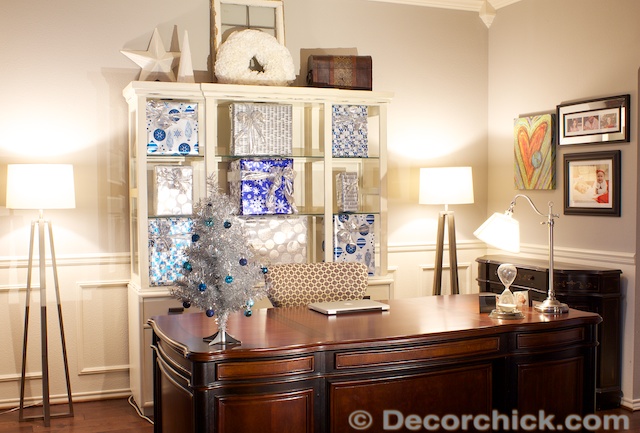 We love the new look and feel in here and I wish that my office looked this neat and tidy every day. It makes me much more efficient when I have cleared surfaces to work on!
And another bonus is that if these lightbulbs really last 20+ years, I may not have to buy another bulb till I'm old and gray!
Philips is having a Bright Idea Sweepstakes where you can enter to win a lighting makeover too. Enter by December 21 and you can see all of the rules and details here. Lighting is one of the easiest and cheapest updates you can do to your home so I really hope you stop by and enter.
What do you think of the holiday hutch? All of those wrapped presents came in handy too when I took my photos of the Christmas tree. Ha! Oh, and you can read about the hutch and buffet transformation here.
xxoo,
Decorchick!
Disclosure: Thanks to Philips for sponsoring this post for their Bright Ideas Campaign. The holiday hutch was 100% my bright idea though, and all opinions are my own. :)