Oh happy day y'all I get to show you all our Christmas tree for this year! I had dreams this year of having an all white tree, but it couldn't be just white…it needed to be white and flocked. Which isn't the easiest to find. Last year we did get a real tree, and it was flocked and it was beautiful too. But I just wanted all white this year, and an artificial one. And this is the new beauty.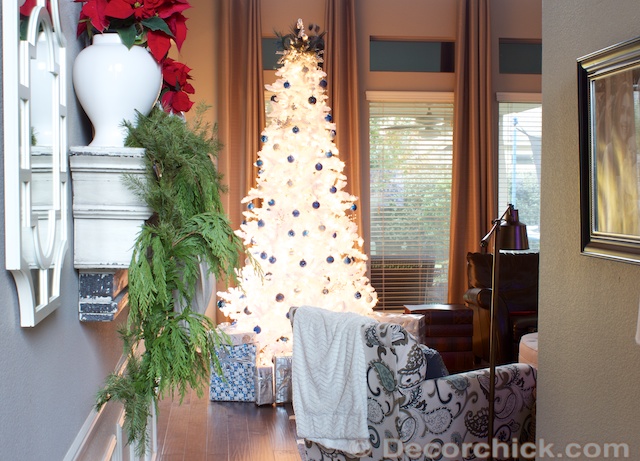 Y'all it is SO gorgeous. I can't get over it.
I also had visions of blue and silver this year so that's what the tree ornaments are. I still have to use a little bit of traditional red and gold too throughout the house though because Christmas just isn't the same without red.
So the tree…
Tree Classics sent me this tree and I LOVE Tree Classics. I have the most beautiful wreath from them on our front door that I got a few years back, but you'll see that in the home tour coming up soon. So I knew the quality would be amazing and of course it was.
With this tree having flocking, expect a mess at first when you put it together. There is no getting around it. I can't lie and say you won't have fake snow everywhere because you will, but it will be worth it I promise.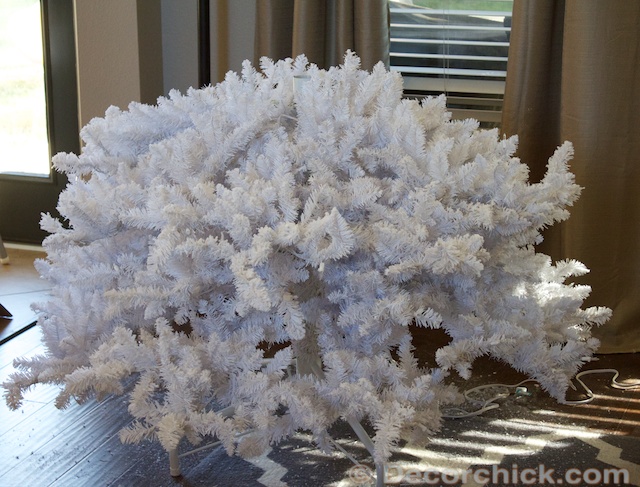 This tree is a whopping 9 ft too! I've never had a 9 ft tree but it suites our living room well with the tall 2 story ceilings. I also love this particular tree too because it's space saving as well, so it's not so ginormous in diameter which is perfect for our room. This is their Flocked White Fir Deluxe Christmas Tree.
It didn't take long to put together either, and of course the tree comes pre-lit.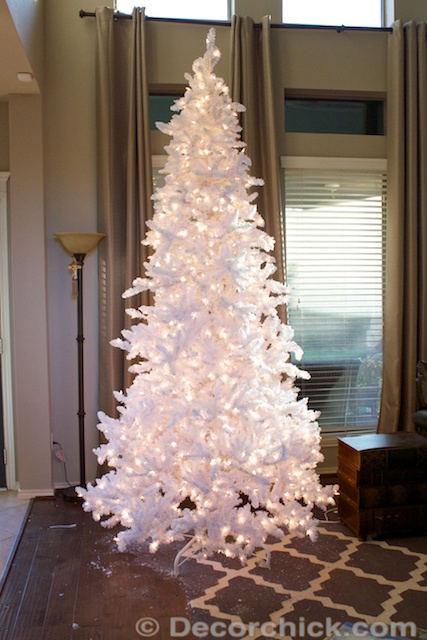 See the flocking on the floor? That only happens when you unbox it for the first time and put it together don't worry. :)
Here's the tree with no lights on, all decorated in the blue and silver ornaments.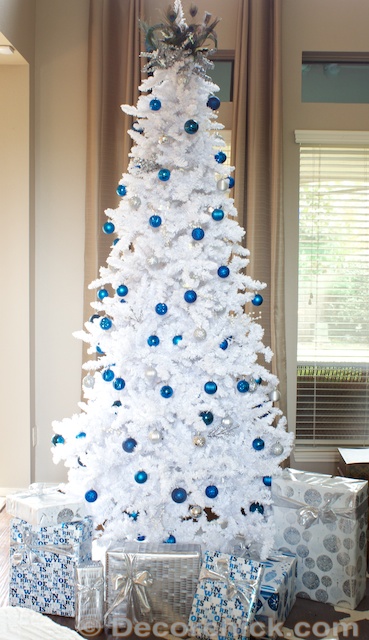 I didn't even put on any ribbon this year so all of the white can just shine through. I love it!
For the topper I just used some swag stuff that I already had…the peacock feathers I've had a long time and I think I got those at Pier 1?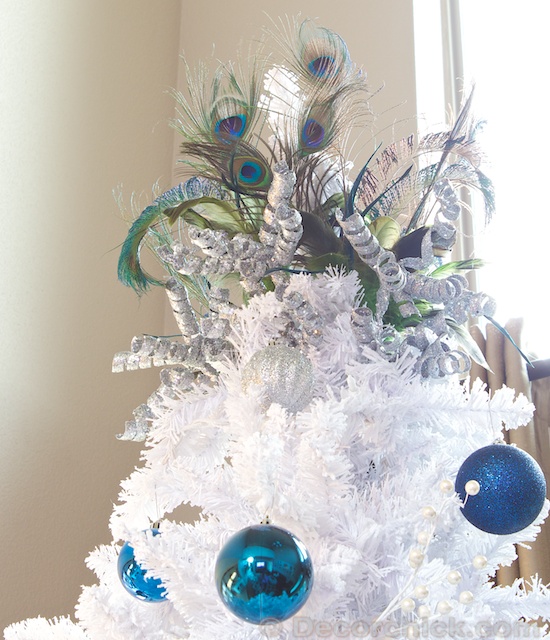 Here's a closeup of how the flocking looks on the tree.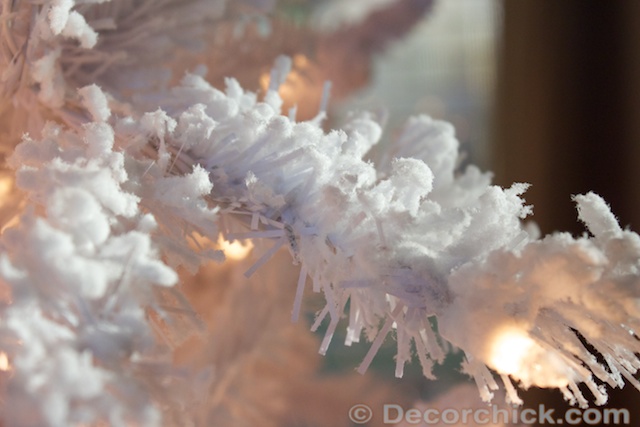 It's mostly on all of the tips of the branches making it look like more natural snow.
And of course Christmas trees are most magical at night…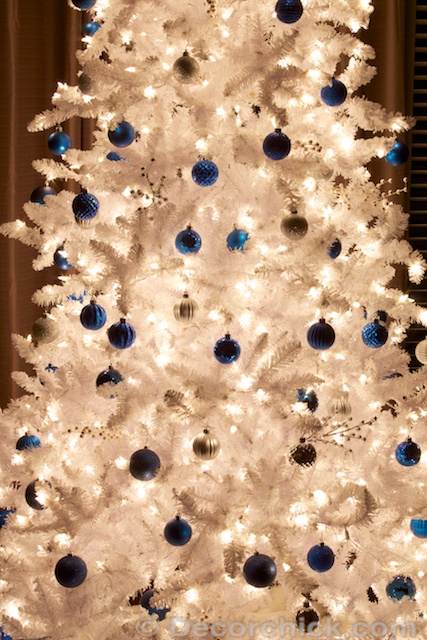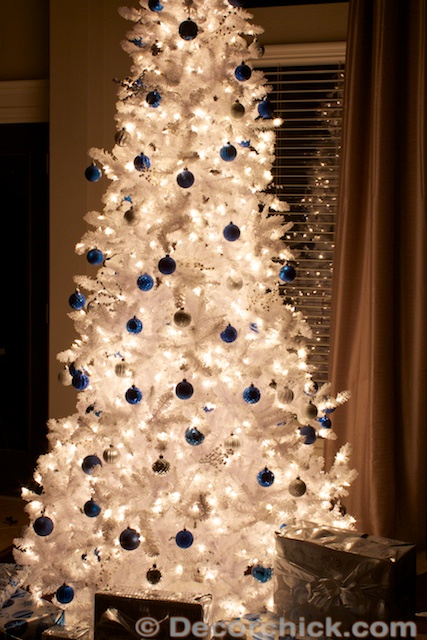 Then I went a little crazy taking some bokeh pictures.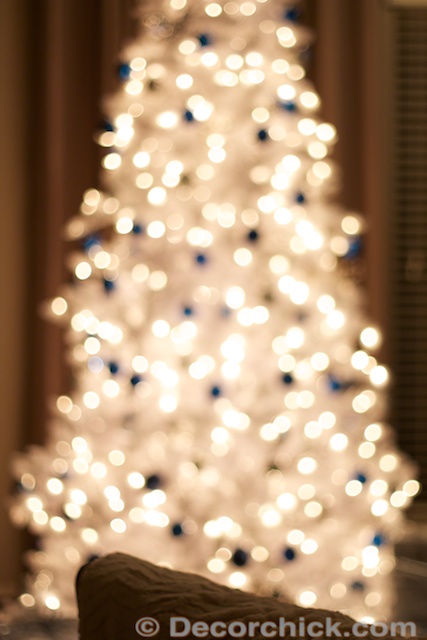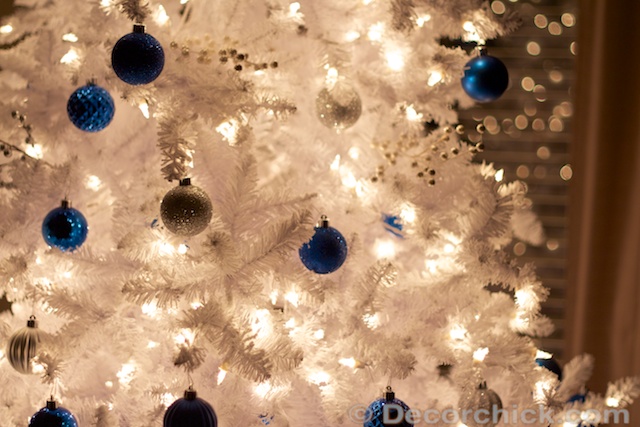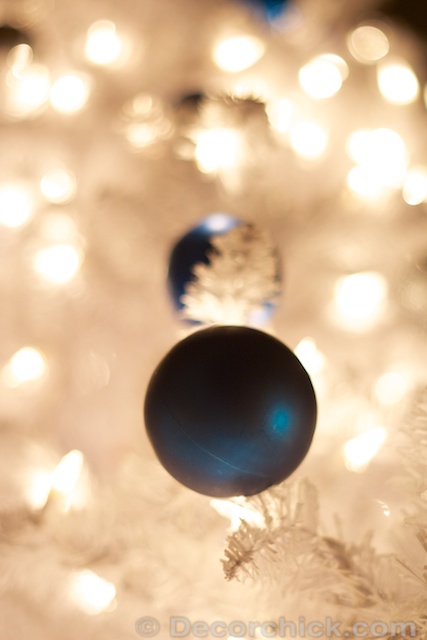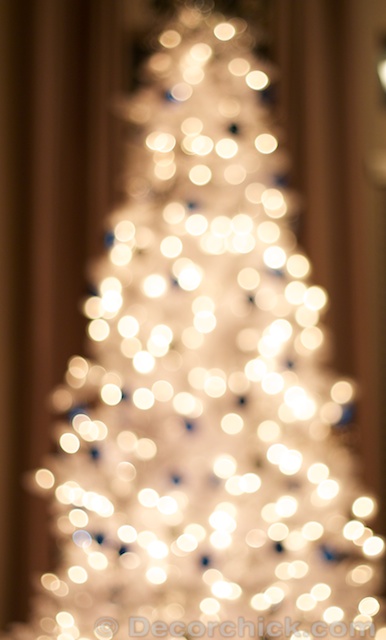 For a little bokeh tutorial, check out this post I did last year on it.
Here's one more pic for you of this year's tree. Can you tell I love it?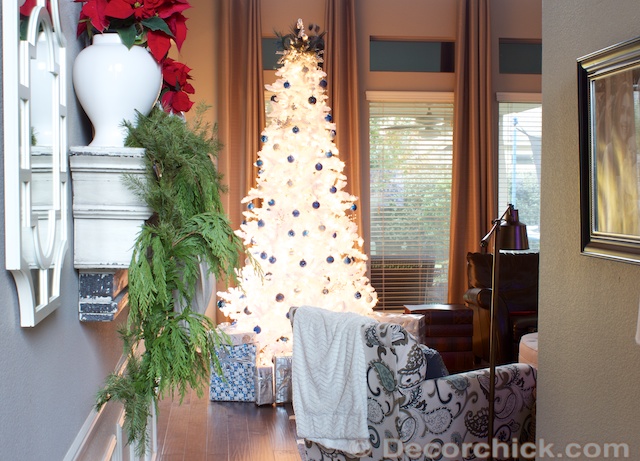 We are going to get to use this tree for many years to come and I am super excited about all of the color scheme possibilities!  Last year's flocked tree was beautiful, but it was real and it was expensive, and then you spend that money and just throw it away after 30 days. So I'm happy to have an artificial one again!
Check out Tree Classics if you are on the hunt for a new tree. You won't be disappointed.
So what do you think of the tree?! Could you go all white or do you need a green one? That's why I have that fresh garland on the mantel too to get a little green fix. :)
xxoo,
Decorchick!