Hey guys! I needed another mental break day after getting back from the Haven conference and I can't wait to show you all a few pics from it. But today, I want to show you the world's easiest chalkboard. Like ever in the history of DIY. Why? Because it's just chalkboard vinyl!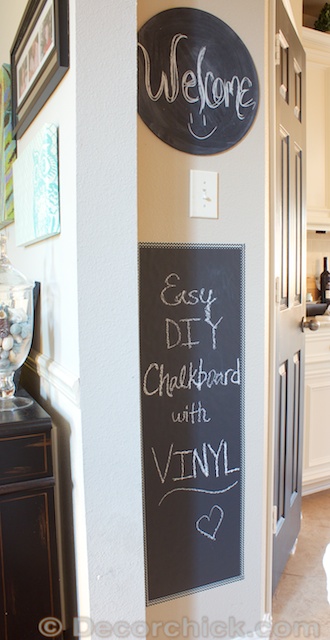 Did you know Silhouette has chalkboard vinyl? It's AMAZING. It works just like a chalkboard and almost even better. All I did was unroll the vinyl, stick it on the wall, and that was it. Then I "framed" it with some chevron washi tape that I got from Hobby Lobby.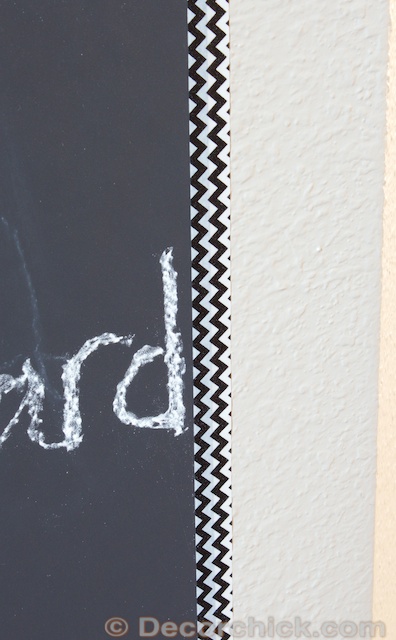 So cute right?! And it took all but maybe 2 minutes.
This chalkboard wall in the kitchen is for Emma and she came home and was SO excited! It's at her level and height and she has full rights to it. I won't be writing any inspirational quotes on this or anything afraid it will get messed up. ;)
We do have textured walls so chalkboard paint just doesn't work well in our house unfortunately. So the vinyl does work better, and will peel off super easy and won't be a pain to change up in the future if we need to. It cleans really well too with a damp rag.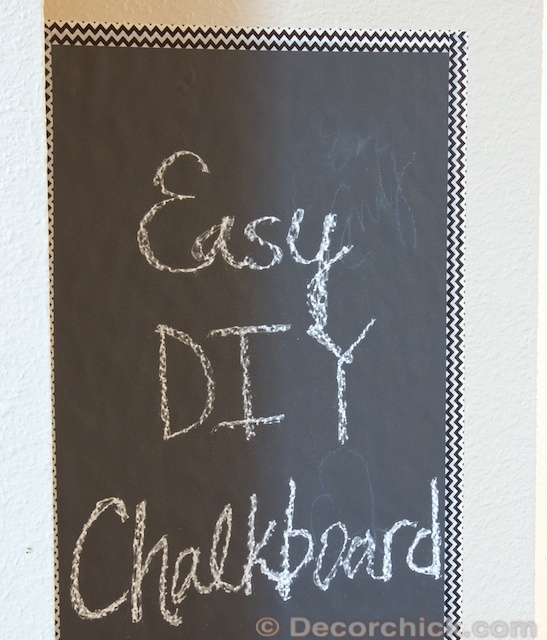 I love how it looks with the newly painted dark grey pantry door.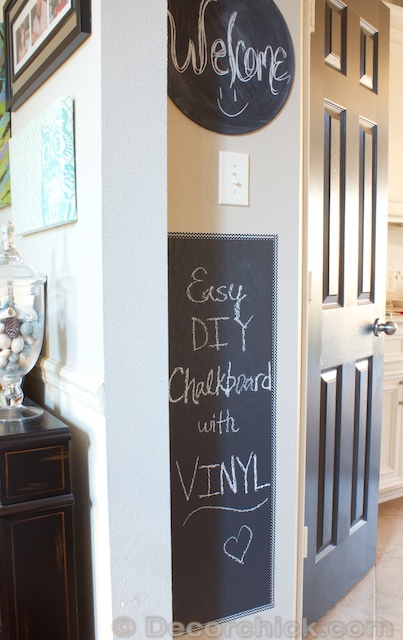 Silhouette has a crazy awesome deal this month. You can get the Cameo machine + 2 rolls of vinyl (chalkboard & white) and transfer paper for $269.99. And guess what? ALL vinyl is BOGO FREE!! Yes, I said ALL vinyl. Now's the perfect time to stock up, and the sale also includes stencil vinyl and transfer tape etc. Awesome!! You can order it all here, and enter the code DECORCHICK at checkout.
And for the giveaway? I'm giving away 1 Silhouette Cameo and 2 rolls of vinyl (chalkboard and white). I know, that's awesome. And guess what? All you have to do to enter to win is leave a comment on this post. If you'd like an extra entry, you can share on social media, or even pin the above image. Just leave me a separate comment that you did so.
I wouldn't wait on the BOGO on the vinyl though because they do sell out quickly and it's limited quantities. Here's the link to order, and again the promo code is DECORCHICK.
Good luck everyone! Giveaway open to U.S. Residents only and will run until August 12 where a winner will be announced at random. The promotion however will run until August 14.
*GIVEAWAY NOW CLOSED* Congrats to #363 N Sequeira.
xxoo,
Decorchick!