Yayyy, the kitchen backsplash is done and I'm so excited to show you all today!  Changing out the backsplash made a huge difference in our kitchen and I'm so happy.  Bye bye beige on beige backsplash and floor, and hello new brighter subway tile!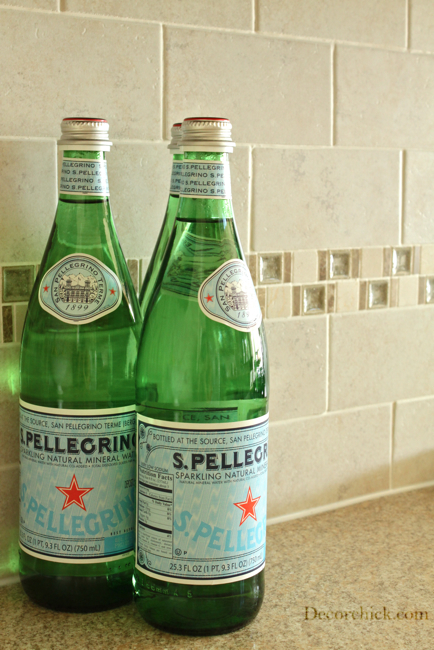 Yes, that's just a little peek. I have to show you the before pictures first.  That would just be the appropriate thing to do. :)
AND, I will be adding a source list at the bottom of this post since I have already done 2 posts on the progress and how-to of the backsplash, so please look at those posts first for any questions you may have.  This post will mostly just be the pretty afters. :)
Now here are the before photos: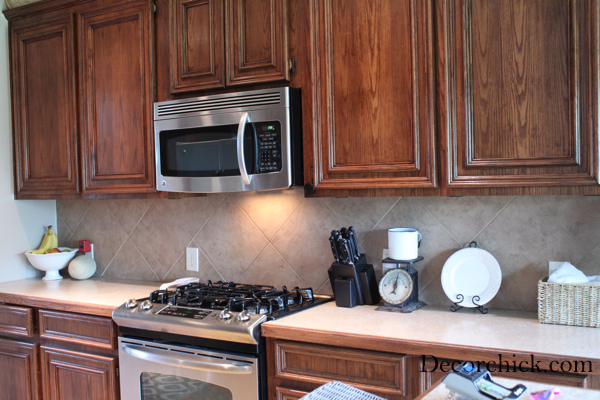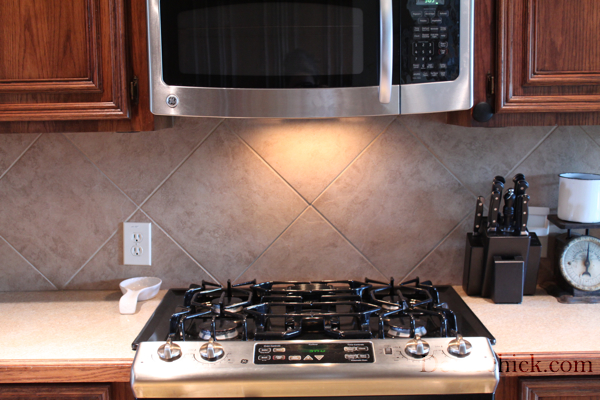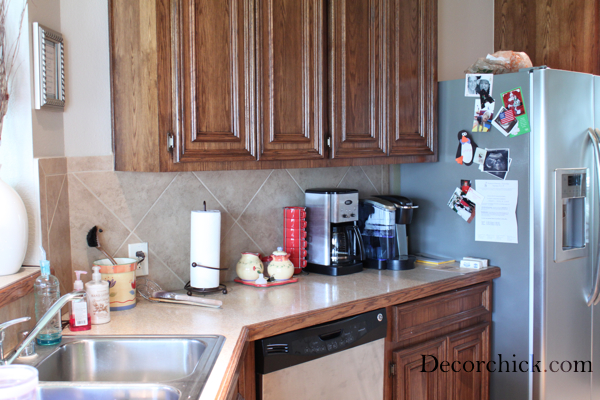 And no I didn't take the time to clean for the before photos.  But I did take this makeover opportunity to de-clutter our countertops.  Gosh they were bad!  And notice the beige backsplash right?
Okay and here are some afters!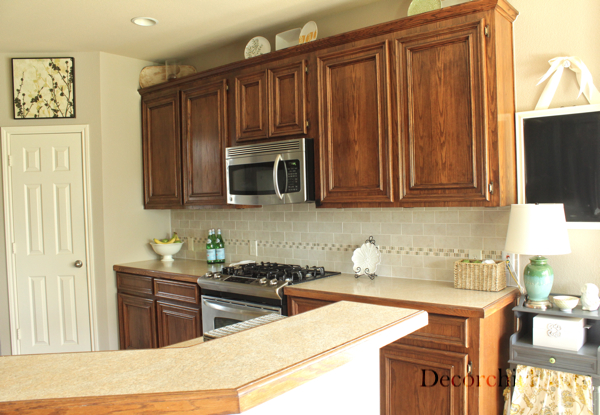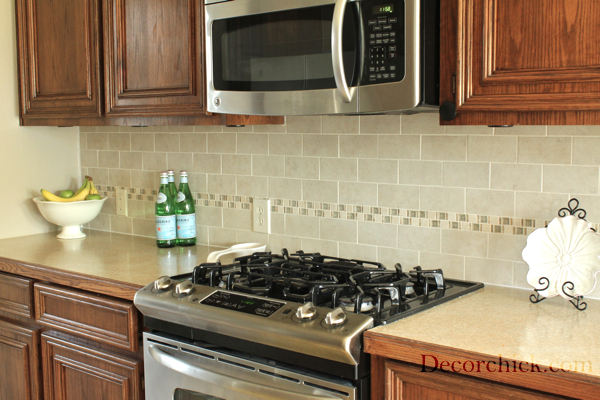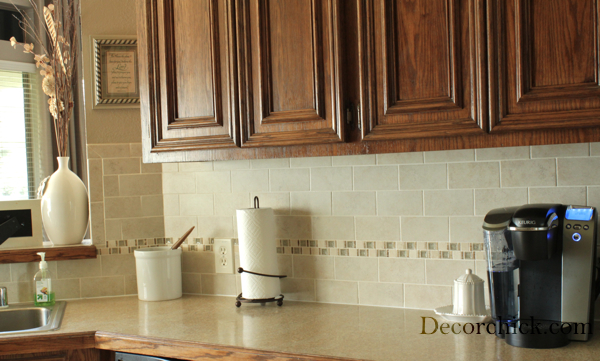 Pretty amazing right??  And if you look in the before pics, you'll notice my accessories were mostly reds and yellows (it's a Pfaltzgraff collection), so I just wanted a new look with mostly all white accessories to give it a clean feel.  I found them at Homegoods and each item was $5 or less (besides the white accessories I already had).
But I just love how there is contrast now between the cabinets, the backsplash, and the flooring. Before there was not.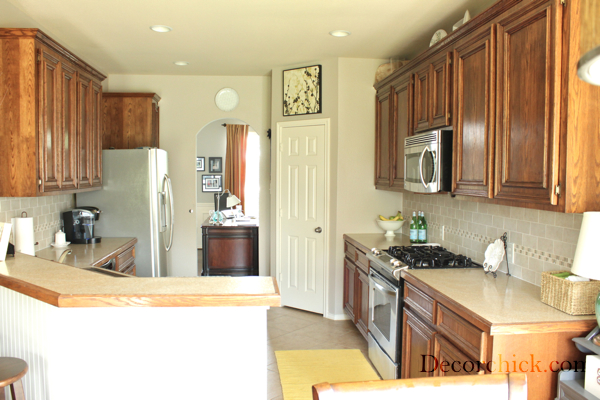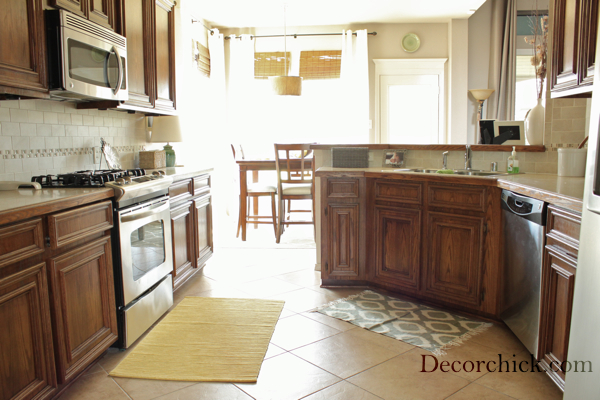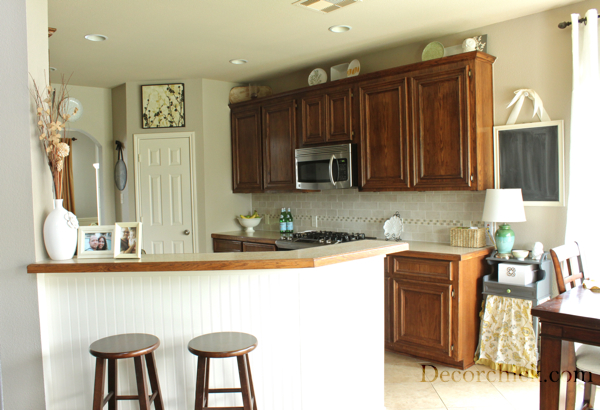 Here are a few more detailed shots.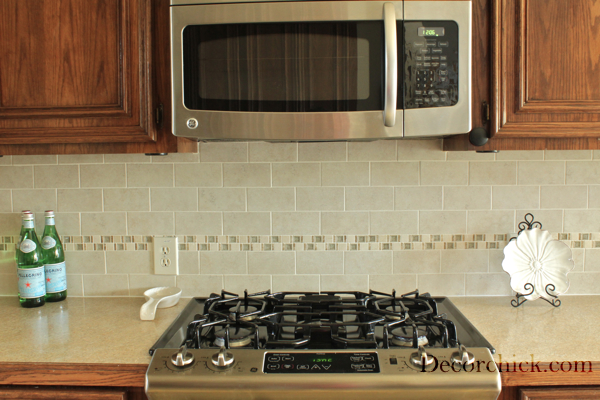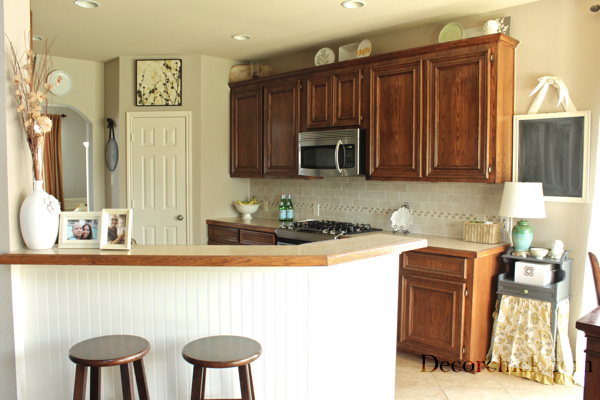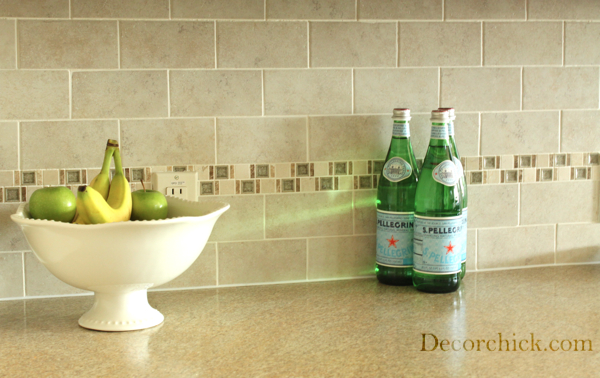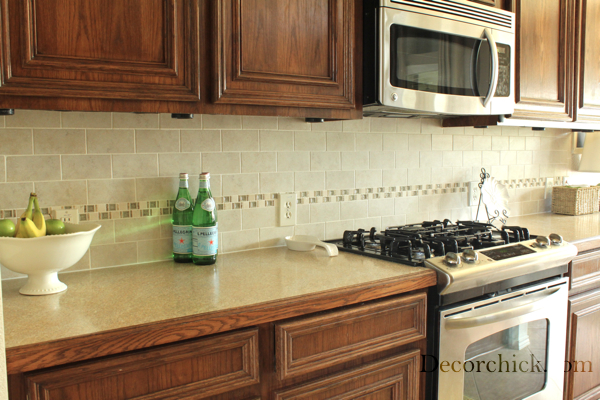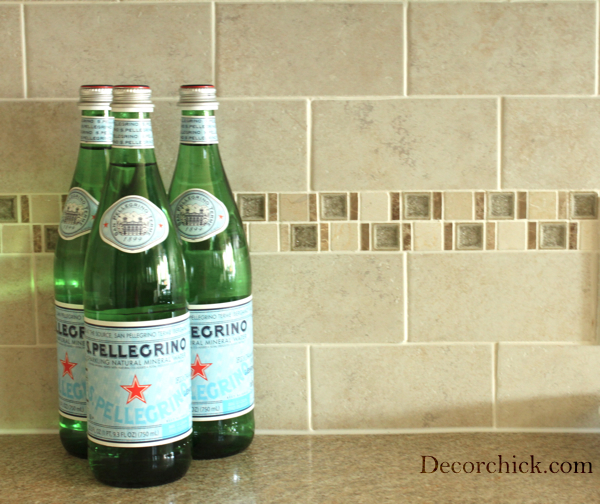 I love the decorative accent piece running through don't you?
And here's another before and after so you don't have to scroll all the way up to see a before shot.
I finally have my subway tile and I can't believe it!! And don't hate me but now more than ever do I want to paint our cabinets white. And yes I definitely will be.  I don't think I can pull it off before the baby is born but soon people, soon. I think the new tile will pop even more against white cabinets and will look just lovely!
Source List:
Paint color in kitchen is Sherwin Williams Balanced Beige (the same as living room)
So what do you think of the new backsplash?  Are you inspired to take on a tiling project?  The Home Depot is the one-stop shop for all tiling needs, whether you are an experienced DIYer or a first-time tiler.  You can totally do it I promise!!
Now does anyone want to come start painting the cabinets for me? :)

Sharing this post at Inspired By Charm.
xxoo,
Decorchick!
__________________________________________________________________
Also find me on Facebook, Twitter, Pinterest, Google+, RSS and Instagram
Disclosure: The Home Depot partnered with bloggers such as me to participate in its Daltile program.  As part of the program, I received compensation from The Home Depot in the form of a gift card to participate in this campaign promoting the new Atmospheres Tile Collection by Daltile.  They did not tell me what to say about the products used for the Daltile Program. The Home Depot believes that consumers and bloggers are free to form their own opinions and share them in their own words. The Home Depot's policies align with WOMMA Ethics Code, FTC guidelines and social media engagement recommendations. The winner of any giveaways in this program will be randomly chosen and gift card fulfillment will be handled by a third party.