Hey hey! I'm SO excited about this project!  And I have to say it felt awesome to be creative and crafty again. It's been too long. Ha! But anyway, as the title of my post says, here's the Scrabble  Tile Wall Art I created for Ellie's nursery.
I'm in love!  It's one of many projects I need to do in her room, but I'm off to a good start.  And I love it even more because when I was searching online a few months ago for baby bedding, I came across this site and this same thing was selling for $500!!! Yes, $500!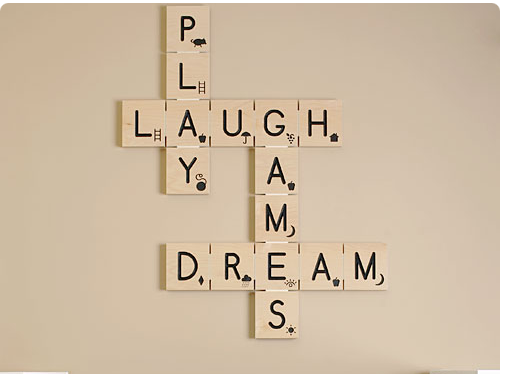 Immediately when I saw the price I knew it could be DIY'd for MUCH cheaper, so that is where my inspiration came from.  And if it's ok to say this, I think I even like my version better that only cost $63. :)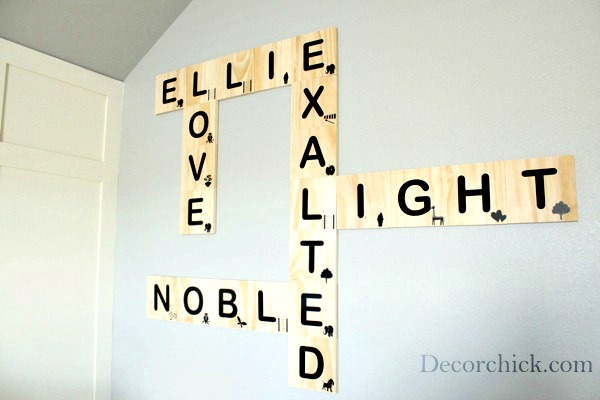 Yes, I said $63! Here's how I did it.
Let me first say that the words in this crossword puzzle are the meaning of Ellie's name.  She has a good name huh?  The only one that's not is "love" but I just added that one.  :)  And I probably will build off of the other letters in the future too but for now I just wanted the meaning of her name up there. So figure out a layout with your puzzle until you find one that works, then measure the wall it's going on.
Then go to Home Depot and pick out a nice wood–you don't want to go cheap on this part because you want the wood to look nice, and not have a lot of knots.  Remember you are trying to get the look of Scrabble tiles which are very smooth and light colored.  I chose a select pine board called Radiata Pine. It's super smooth and pretty. Then have the guys at Home Depot cut your "tiles" or squares. I decided for each square to be 8×8 in size so they cut me several squares (however many I needed for my puzzle).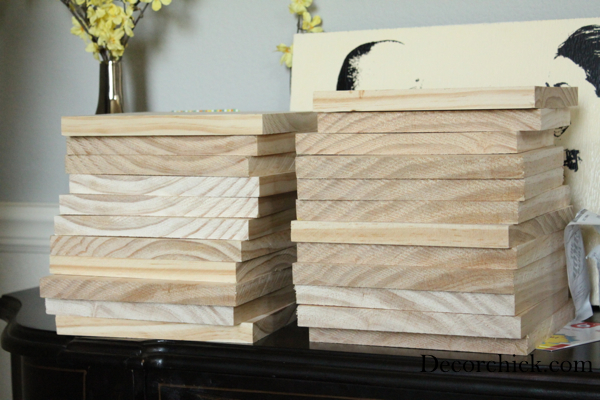 Then I used my Silhouette machine and cut the vinyl letters and my images out and put on my tiles. Please know this part will be very time consuming. :)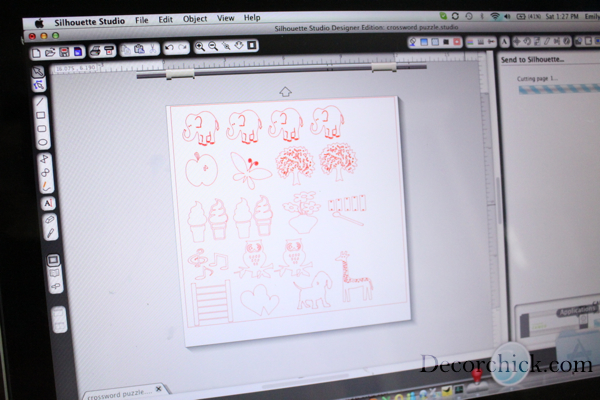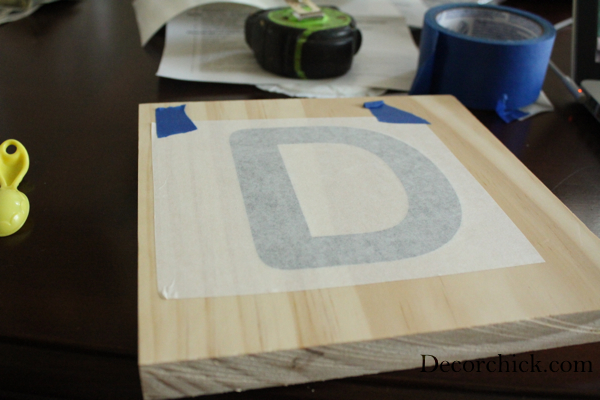 If you notice on the puzzle from Posh Tots, they had an image that corresponded with the letter so I did the same thing because I liked the idea.  So for my D I had a dog, E for elephant etc. So however many E's I had, I printed out that many elephants at once.  Got it? :) And the font I used for the letters is Arial Rounded.
Figuring out how to hang my puzzle on the wall was a little puzzling. *giggle*  Seriously it was though. Finally, with my husband's help, we figured an industrial strength velcro (which we already had) could maybe do the job, and it sure did! It worked perfectly and the tiles hang all straight. But let me warn you–if you are worried about taking the paint off the wall when you remove it, don't use velcro.
*EDITED 11/7/2012 – DO NOT USE VELCRO TO HANG THIS. The velcro lasted a few months with no problems, but a few of them have just fell down probably from temperature changes, so hanging with velcro is not recommended.  You need to find another method even if it takes 50 million nail holes in the wall.  Please hang at your own risk.*
This is what we used.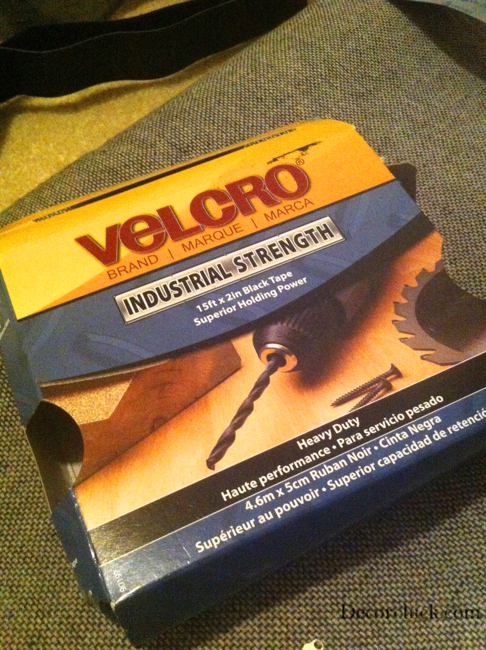 My brilliant and OCD husband hung them up for me. Remember when he hung up our gallery wall in the living room?  Yea, it was like that again but this time way easier. :)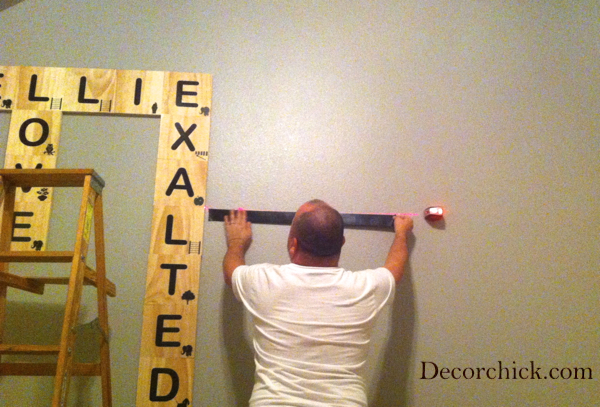 Sorry, awful Iphone night pic.
And once the 1st piece of velcro was on the wall, then he would attach 1 long piece of the other piece of velcro stuff on the back of the letters that were going to be hung.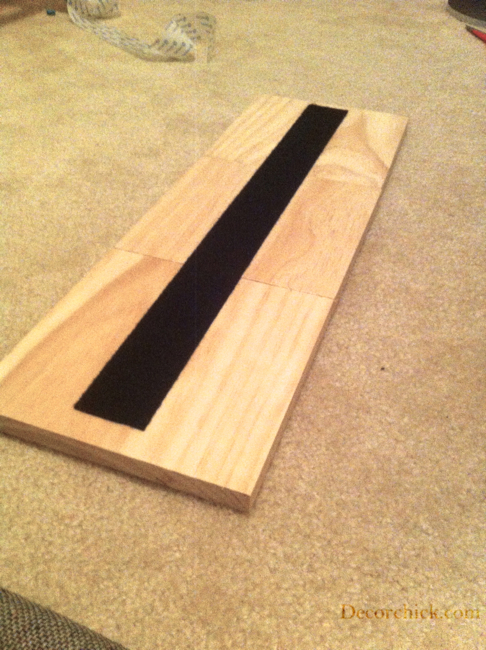 That was a time saver because you can hang up several letters at once instead of individually.  He's a smart one!
And that's it–it's really easy and SUPER cute.  And this doesn't have to be just for a nursery. It'd be great in a gameroom, bedroom or even a family room.
Here's a few more shots and closeups.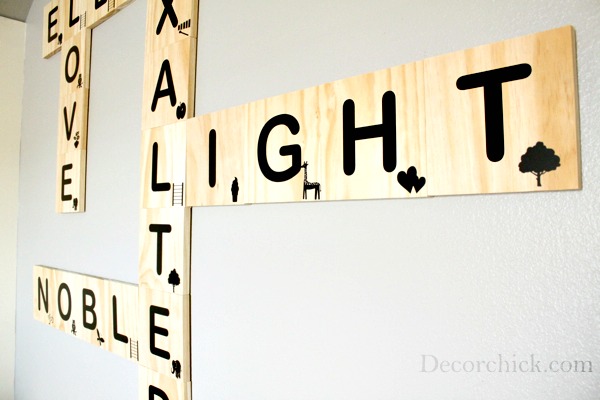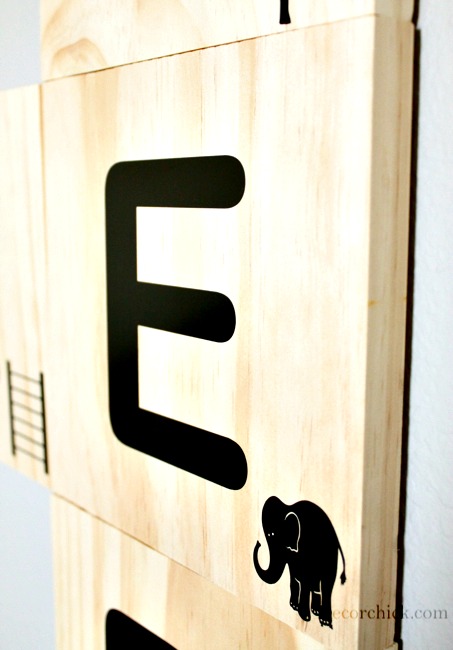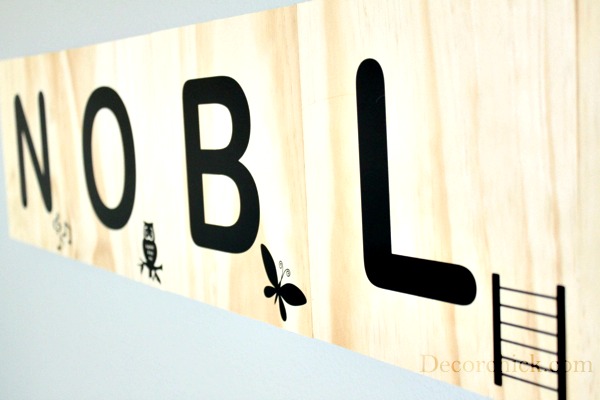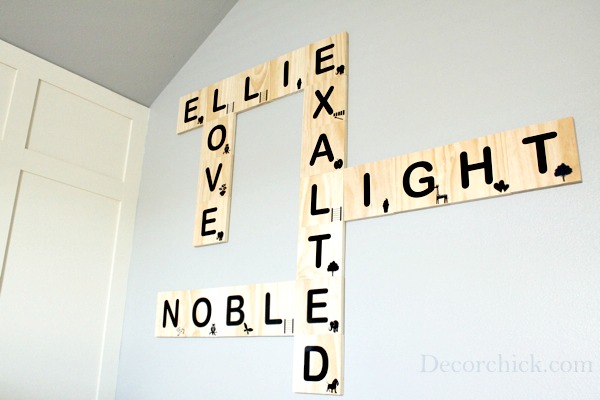 What do you think? Not bad for $63 vs. $500 huh?! This really is one of my favorite crafty projects to date by far!  I hope Ellie likes it too. :)
EDITED 11/7/2012 – AGAIN, please do not use Velcro to attach to the wall.  It is not safe and will not last.  Please find another method of hanging the tiles and hang at your own risk.
xxoo,
Decorchick!
__________________________________________________________________
Also find me on Facebook, Twitter, Pinterest, Google+, RSS and Instagram