Hey y'all, hope you had a great weekend!  I did some painting, shopping, had my baby shower, and celebrated Father's Day so I'm pooped!  But everything was great. :)  I know you all have been on pins and needles (not really) to see which rug I ended up choosing for our living room, and today I get to finally show you!
You all know I struggled with the ones in our living room that I loved so much because they shed like mad.  And we had had them over a year and it still never let up.  And when I asked for all of your opinions on a few rugs I was thinking of choosing, a lot of you said I should just go for a synthetic rug to eliminate all shedding problems. And I almost did, but instead was a rebel and chose another wool rug! Haha.
And now enters in RugsUSA who so graciously sent me this new beautiful wool rug!
I LOOOOOOVE it!!! And this was option B for those of you who chose option B in that other post. :)  I absolutely love how big it is and really grounds the space better than before. It's an 8'6″ x 11'6." It's their Moroccan Trellis Rug in the color Charcoal.  It's a very pretty grey color and I love it in our room.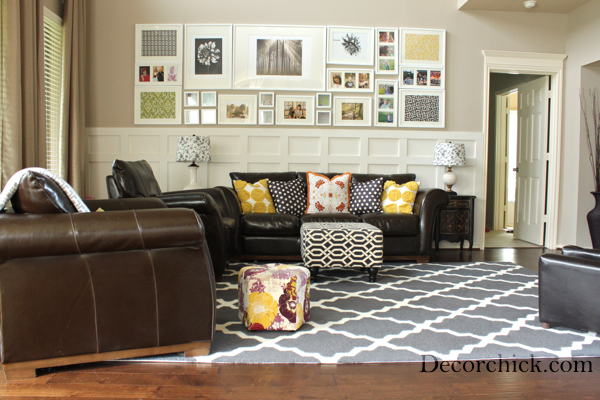 Now the burning question…does it shed?  Let me start by saying that this rug is hand-hooked, and the old rug was hand-tufted. There is an obvious difference between the 2 which I only discovered when shopping for a new rug.
So you can see what I mean, here is the old rug close up: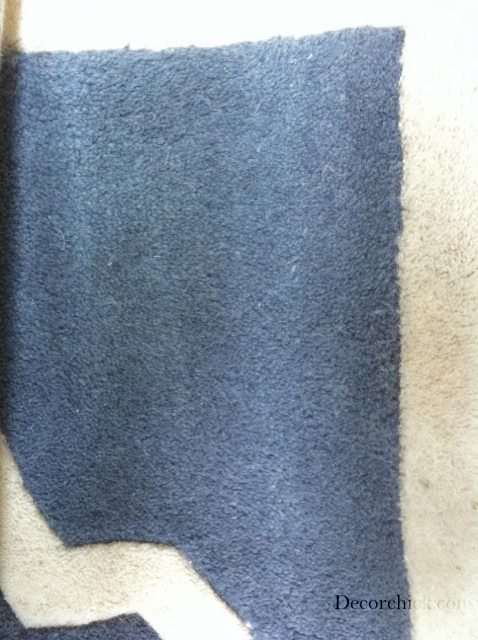 And here is the new one.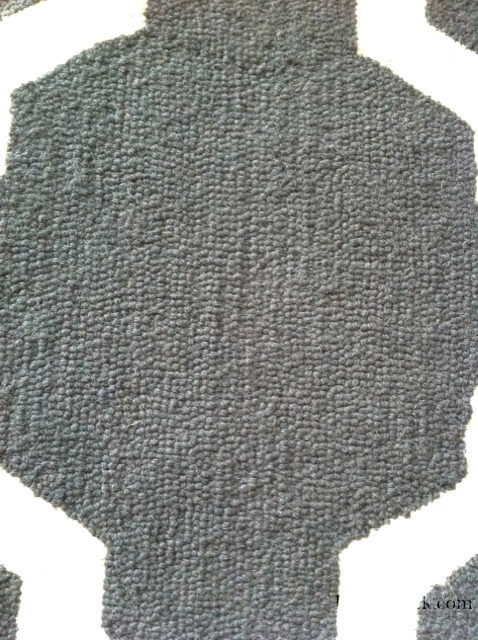 In the new rug see how the fibers are hooked/looped, and in the old one they are just there?  Well, in living with this rug for a few weeks, I have to say the new rug doesn't shed NEARLY as much as the old one.  It's such a joy.  I think since the rug is hand-hooked the rug fibers stay in place and don't fly around near as much. Now I won't say that it doesn't shed at all because I'd be lying.  BUT, the old rug made our hardwood floors always look dirty because rug fibers would be all over the place.  This new rug does NOT do that, hallelujah.  The thing it does do though is it will "ball" up (but stay on the rug) after kids and stuff play a lot on it.  So when the big kids and little kids are here rough-housing, I'm vacuuming it quite a bit, but that's no biggie.  I do think it will eventually slow down in that regards too.  But at least the floors still look clean! I guess you have to pick and choose which you'd rather have with a wool rug…fibers everywhere around your house or fibers balled up on the rug.  I choose the 2nd one. :)
As always I'll keep you updated if thing start to change though!
Everything in the living room you'll see in the following pics can be found in the link I'll put at the bottom of the post.  The only new thing are these lampshades that I bought at Homegoods.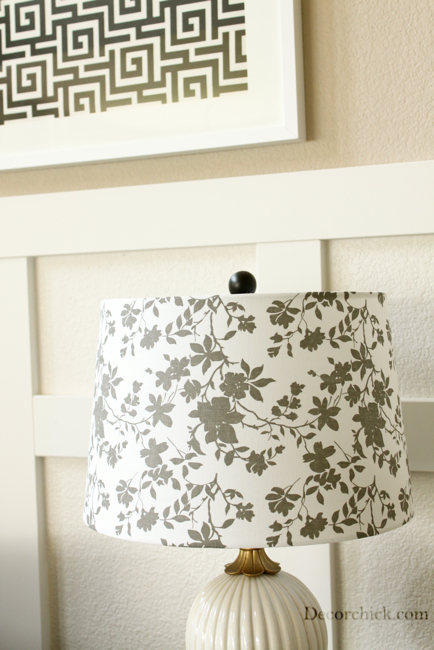 Now here are just a few more shots of the living room with the new rug, so enjoy!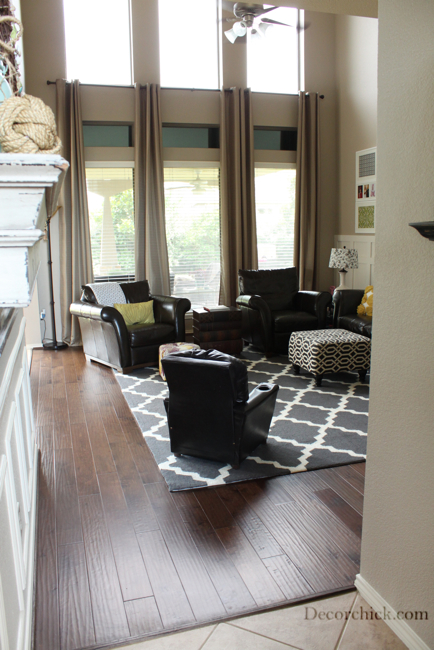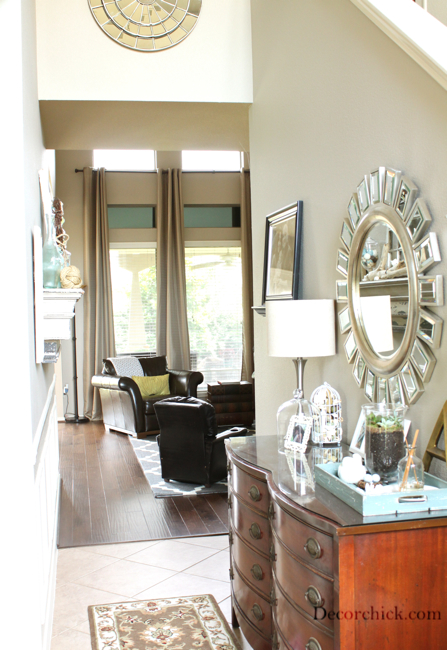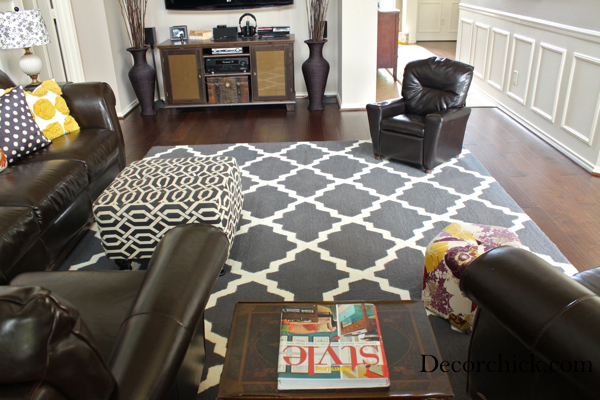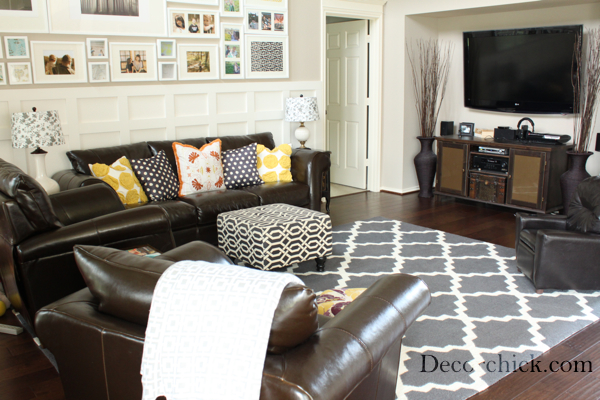 Have I mentioned I love it?  And while I loved the old rugs too, I'm kind of happy this rug isn't as blue and is a true grey.  Gives more decorating options. :)
RugsUSA has an abundance of rugs in all styles so if you haven't checked them out before you should.  If you can't find anything you like on their site I don't know where you could!
If you wanted to see more about the gallery wall and the previous living room makeover, you can view this post to get most of the source list for everything in this room.  And the paint color in here is Sherwin Williams Balanced Beige. :)
I love the way this rug looks so much I plan on getting a runner for our entryway too. What do you think?  You like the new rug?
Sharing this post at Inspired by Charm and Sarah's Show Us Your House Party.
xxoo,
Decorchick!
__________________________________________________________________
Also find me on Facebook, Twitter, Pinterest, Google+, RSS and Instagram