Every single time I set out to do a "little" project, somehow it doesn't end up being so little.  It's annoying.  We got the florescent light down in the laundry room so I could put up my new chandy, and we were left with this.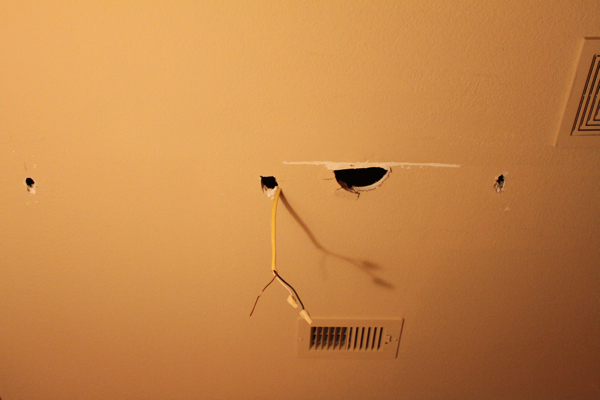 If you notice it is just wires up there hanging, and no electrical box.  The electrical box is needed to hang up chandeliers, and it looks like this in case you don't remember.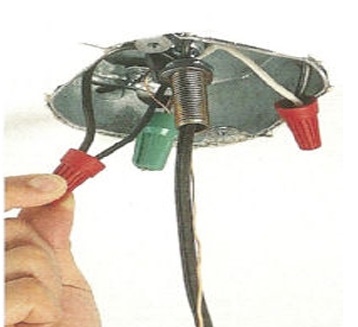 Florescent lights can be hung differently like ours was.  Ummm, good to know now, after the fact.  And all of those ugly holes. That one big hole that is shaped like a half moon was a mistake by the builders apparently.  That is actually the center of the room, but then they must have realized the florescent box wouldn't fit if centered so they cut another hole.  Lovely.
I know that you can put up an electrical box yourself, but my husband doesn't want to mess with it and well, I don't either, so we will have an electrician come do it for us.  It will just be a few dollars for us to have someone that can do this with their eyes closed, so it's worth it for us to hire it out.  You have to pick your battles, and sometimes it's just easier to hire out. :)
But the good news is that the builders will come fix the holes after we are done hanging the new light free of charge.  Yay!
I can't wait to see the new light hanging up in there.  I did paint it and it looks lovely.  I just hope it works.
Do your little projects end up being more than you bargained for too?  I think I just need to learn that's just how it's gonna be. :)
xxoo,
Decorchick!