You know that time you had kids and wanted to give them moon and the stars, and the best birthday party ever? That time you went all out and spent a lot of money in the process? That time you spent hours cleaning, decorating, and preparing food for the party? Well, this year I am taking a stance and saying no to those extravagant birthday parties.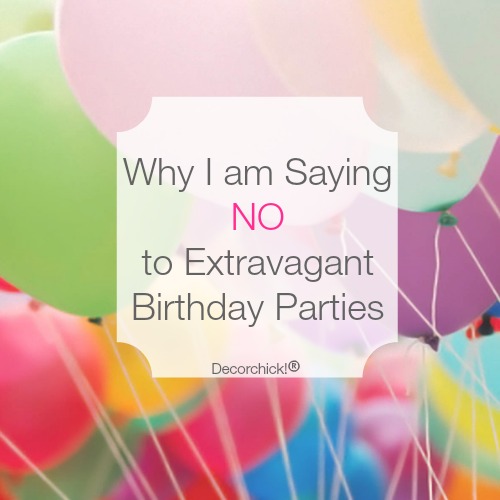 But I am saying it lovingly. So us as parents don't get bogged down with pressure to do better for the next birthday party.
Now don't misinterpret this post by any means. I am not bashing anyone at all who throws these lovely parties for their kids.
I do however think with this Pinterest-y world we live in now, that expectations to have the amazing dessert table, the beautiful bar cart with the glass jars and pretty paper straws, exquisite decorations, and hand-made labels sticking out of each appetizer or other food item are all just a little too high.
I know that people have thrown elaborate parties way before Pinterest even existed and that is just their thing. And that's totally fine!
But what I'm talking about here are us regular moms, just browsing around Pinterest to "be inspired," and see all of these GORGEOUS parties they have for their very young children. I probably wouldn't believe you if you told me you didn't feel like you may need to step it up a little bit for your next party after seeing some of them.
As a blogger, it's important to do little evaluations of yourself from time to time and find out your WHY. What is your WHY as to why you want to have the most beautiful dessert table ever? Is it to impress people? Is it to have blog content that will get repinned over and over? Or do you just genuinely love throwing elaborate parties and decorating for them? I love redoing things in our home obviously, but the stress of parties gets to me. But I love redoing our home especially since my taste in decor is always changing and evolving, and I just love sharing it with you all. Lucky for me that part of my job just comes naturally. So that's my WHY.
So why am I saying no to extravagant birthday parties? Because that's not me. Like I said above, I don't want the pressure each year of making that year's birthday party better than the last. It gets expensive y'all. And we are instilling something in our children's minds and they begin to expect it.
With all that said, that doesn't mean I haven't splurged on our kids' birthday parties. Case in point, the year Foofa came to visit at Emma's Yo Gabba Gabba 3rd birthday party.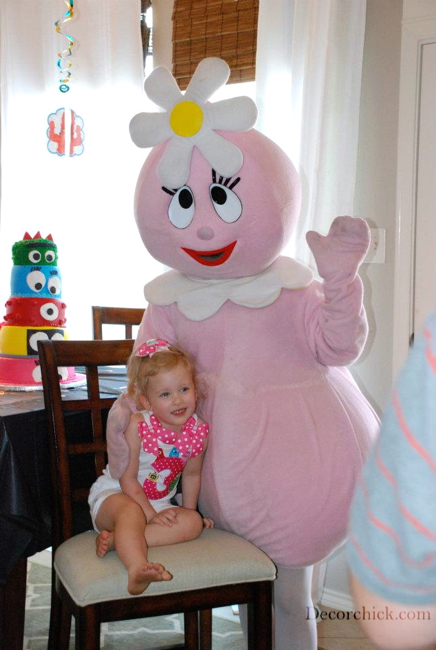 Oh yea, see that cake in the background? This giant 5-tiered cake?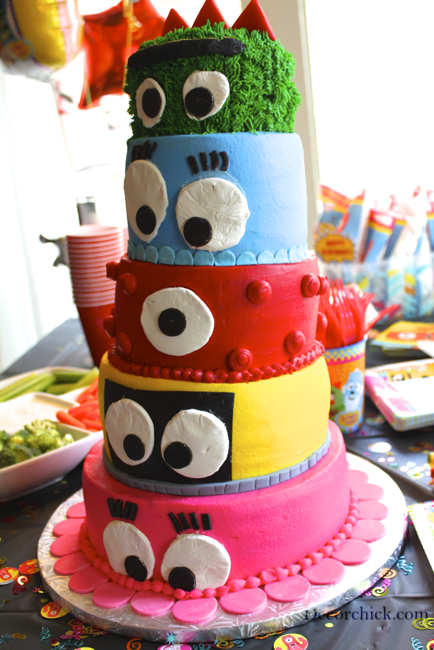 It was awesome. And it was delicious too.
Do I regret having that party? Not at all. Emma still talks about that party and loved that Foofa came to visit her! I did want her to have an incredible birthday that year, especially since her little sister was born just a few weeks prior.  So I wanted it to be memorable and special and it was.
The problem though, was that the next year, she wanted Sofia the Princess to come. Or whatever she was into at the moment. It's kind of like I set the bar a little too high for future birthdays. And with her little baby sister now here born in the same month, I didn't want her getting used to that!  What if we have another baby? Is one of them going to get the best party ever, then I slack on the rest? There's just no way I could have kept up with anything extravagant with multiple children.
Last year for Emma's 4th birthday, we had a Sofia the First birthday.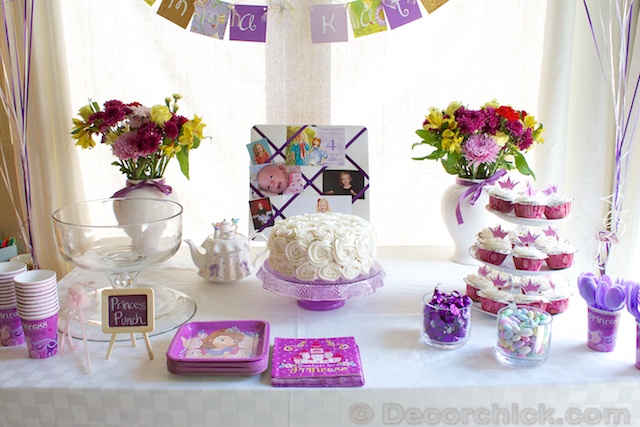 It really was pretty!
Then for Ellie's 1st birthday last year, I had a vintagey shabby-chic ballerina party.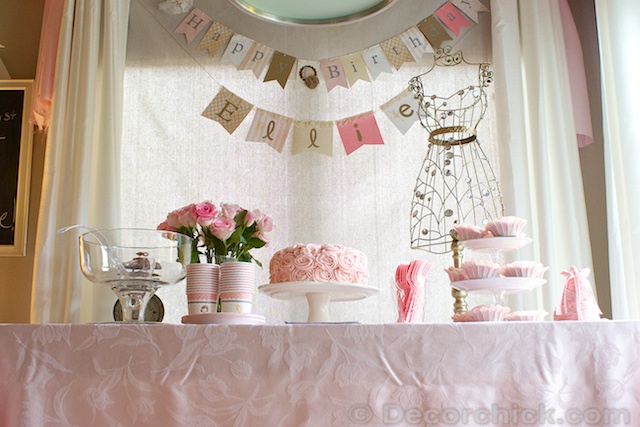 I know these aren't elaborate as some of the others you see, but it's more than we had growing up! And maybe even more than what's necessary. I still don't regret having them by any means, but I want to change some things.
What I am getting at is this.
We aren't having an extravagant birthday this year. We are having 1 combined party for both of them with a Veggie Tales theme, but Veggie Tales supplies aren't easy to find, so I went to the Dollar Store and got all this for less than $15.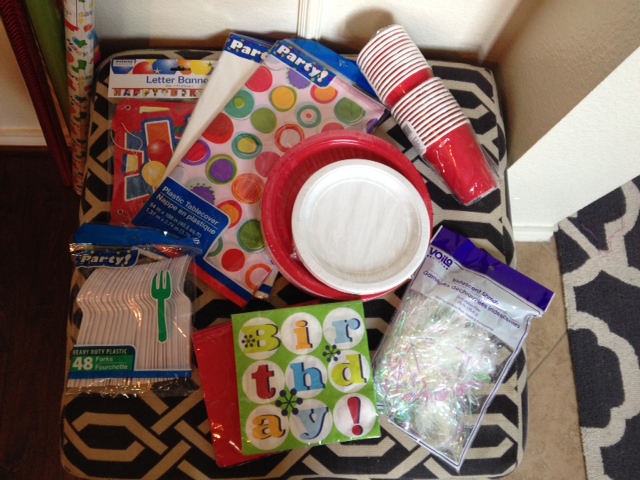 And I am pretty proud about saving so much money! So Veggie Tales colors will have to do, and luckily my mom is making the Veggie Tales cake, so we will be eating Bob the tomato and Larry the cucumber. :)
I will put out that stuff, get balloons, order $5 pizzas, and call it a day. And the thing is, my kids will still love their birthday party. A birthday should be all about celebrating the birth of that precious person, and not about knocking it out of the park with the decorations and food.
What will we do next year? I don't know. We will play it by ear. But keeping things simple, having family over, coming in under budget, and not setting kids' expectations too high sounds about right in my book.
I would love to have a quiet get together with a few of Emma's friends and have a "fancy" tea party or something, but I can't do that for an entire birthday. Do you know how hard it is to have 10+ kids at your house? With adults? Hard.
And Emma does like to play dress up, have tea parties, and do those girly things. Making those memories with her doesn't have to come in the form of an extravagant birthday party or a pretty picture for the www to see.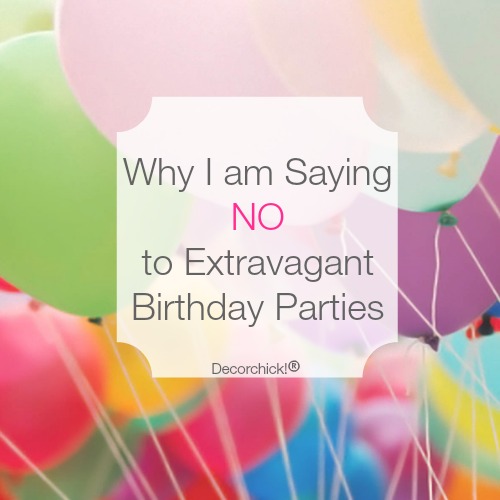 So where do you fall? In the extravagant party column, or the simple column? No judgment being cast here at all. I'm just talking out loud and sharing past and our future plans.
And, my sweet Emma Kate, is actually 5 TODAY. Happy birthday princess!
xxoo,
Decorchick!