Ever wonder what everyone did before Pinterest came around? Oh yea, we probably had lives! But really, do you ever think about it? Do you ever think about how blogging as a whole changed completely? And for you readers who don't have a blog, it's different for you too. Maybe you see all of these crazy "pin it" buttons around everyone's blog posts and wonder what in the world is going on. I know I did at first.
But there's another aspect of Pinterest I want to talk about today and not how blogging is so different these days (even though that's the truth). But why does it seem everything is Pinterest-perfect these days?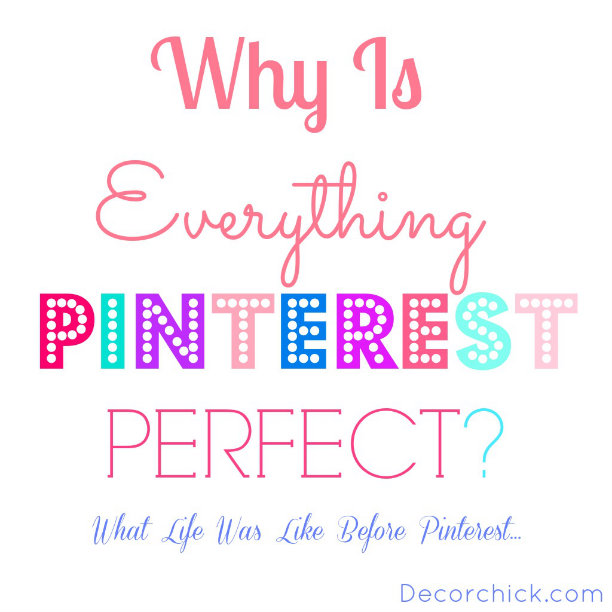 How does Pinterest make you feel? Do you feel Pinterest-pressure and do you feel the internet is turning pinterest-perfect? Do you really feel inspired when looking at it? Or do you secretly want to just punch those people with the perfectly huge laundry rooms filled with gorgeous cabinetry or the home that has the super shiny footprint-free wood floors? When I think back a few years ago when Pinterest was just taking off, I thought wow, that's cool. Something to get inspiration from and bring in new traffic is always good right? And by the way thanks for actually pinning my projects y'all! But with Pinterest and blogging, it also causes you to have to basically be a graphics designer too! I didn't go to school to be a graphics designer. Oh yea, I didn't go to school to be a blogger either but whatever. So having to have to make your photos Pinterest-perfect is not an easy task. It takes me a long time! Sometimes I just wish that how a little over 3 years ago when I started blogging, that those same crappy text-free photos that I took would still be acceptable. Ha! Gosh, some of those are SO bad. Very bad.
Or what about the lavish birthday parties and gorgeous dessert tables you see on there? How does that make you feel? Every year I say I am going to do less and less for birthday parties. I won't say that my parties that I've given are like totally awesome or anything, but they are definitely more than I would normally do. Does the pressure get to me to have a beautiful party like that? Sure. Would I be doing it if I didn't see them on Pinterest? Likely not. Why can't I just serve up a piece of cake to my soon to be 1 year old in her high chair, take a few pics of her messy face and be done? Don't get me wrong…I do enjoy a pretty party and like doing this stuff for my kids. I just don't like the pressure that I sometimes feel with having to have one I guess is what I'm saying. I want to just do stuff that I want to do, not because I saw a pretty picture or because I saw this great idea somewhere–the world is full of great ideas. If we try and do them all that would be insane. I say I am not going to have an elaborate dessert table, and then next thing I know I'm planning 2 of them for the girls' parties coming up in the next few weeks. True story. I have issues.
Want to know a little secret? I am rarely on Pinterest just browsing. I do get on to pin things I see from other sites and will pin my blog projects to my own boards so my followers can have easy access to them, but other than that that's about it. I don't browse just to browse. If I do browse I'll browse with intent, like I'm looking for something specific (like elaborate dessert tables. Haha). I feel it kind of strips me of any and all creativity I may have. Why? Because you can search anything on Pinterest and it's bound to be there. It's already done. That idea you had was not a new idea although you thought it was. If you wanted to make a blinged out toilet paper roll holder with rhinestones or something, I'm sure that would be on there. And I have no idea if it is I haven't checked! :) So that's why I choose to just not check any longer.
What's the point of this post? I don't really know. I'm a thinker and today I just decided to put these random thoughts on the www. But more so, I'm curious how YOU feel about Pinterest and what you use it for. What things do you like to pin the most? Does it make you feel inadequate at all or that your home isn't enough? I've read a few articles where women seem to really struggle with this and Pinterest, and I want to reiterate again that no matter how clean and tidy my house looks in my pictures, you all know I have no problem showing you our messes either (see here and here), and our home is far from Pinterest-perfect. We are normal, human, mystery items with weird growths get left in the refrigerator for weeks at a time, and our house gets messy.  I've spilled it so now it's your turn. :)
Updated: Maybe I should do a post on the positives of Pinterest as well. I think there are some misinterpretations happening here, so please don't read this post the wrong way. Keep on crafting, decorating, painting to your little heart's content. Pinterest is great, we all know that. I shouldn't have to say that…:)
xxoo,
Decorchick!
Let's Connect!