We had my daughter's 3rd birthday party over the weekend and it was SO fun.  And as I've mentioned before she is a huge Yo Gabba Gabba fan so that was the theme of this year's party.  I'd say I kept it simple again, but I guess it really wouldn't be considered simple. For me, I kind of went "all out" this year because I wanted it to be really special with all of the new changes lately (which she's been super awesome about) and I'm so glad I did.  They only turn 3 once and if she remembers awesome birthday parties when she's older, then that will make me feel good. :)
The party started out by these adorable invitations being sent out.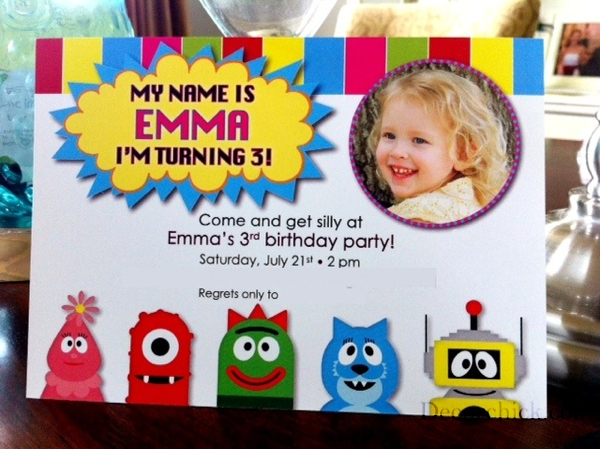 I ordered them from DigiCreations on Etsy and she even printed them for me, so all I had to do was put them in the mail.  I received SO many compliments on her invitations too.  Apparently they were a hit with all of the kiddos. :)
Then I ordered Emma this super cute Gabba shirt from ChasenLonden also found on Etsy.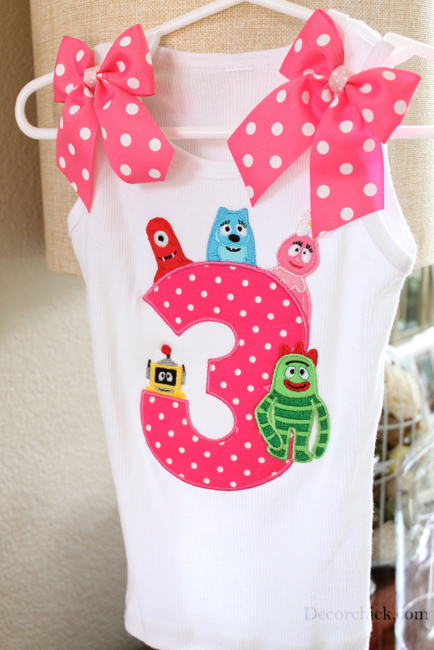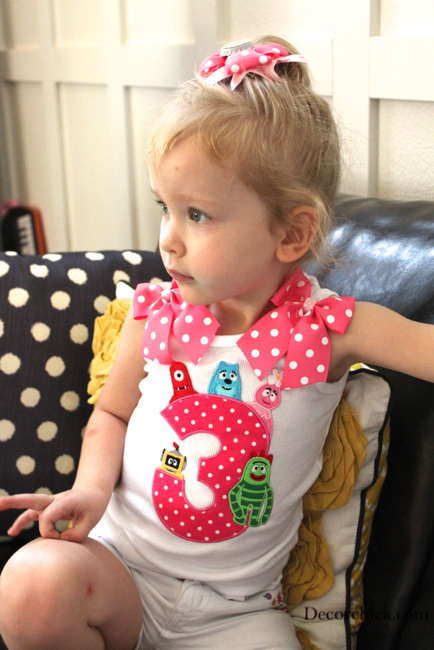 How stinkin' cute!  It even came with a matching bow for her hair too.
And now for the party deets. Party favors came from Party City, and here's some of them.  I also threw in candy in each bag too.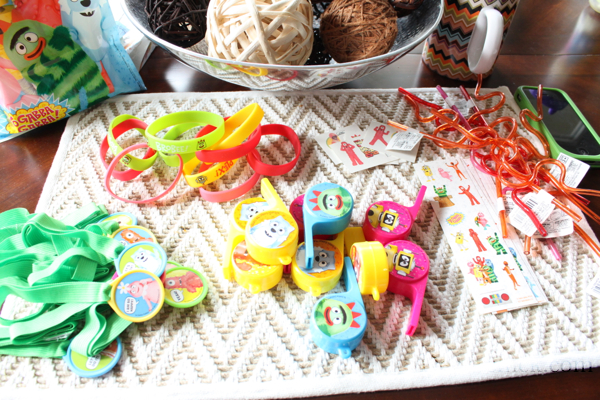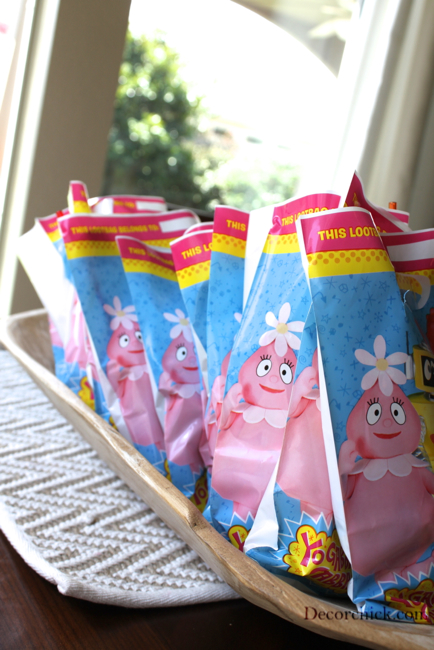 Look at these ADORABLE rice krispie treats decorated like the 5 Gabba characters that my mom made.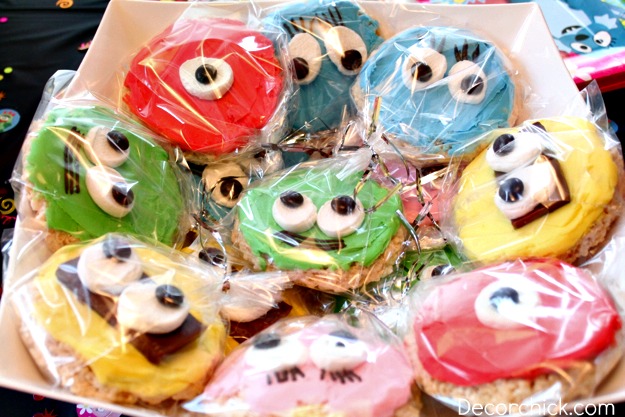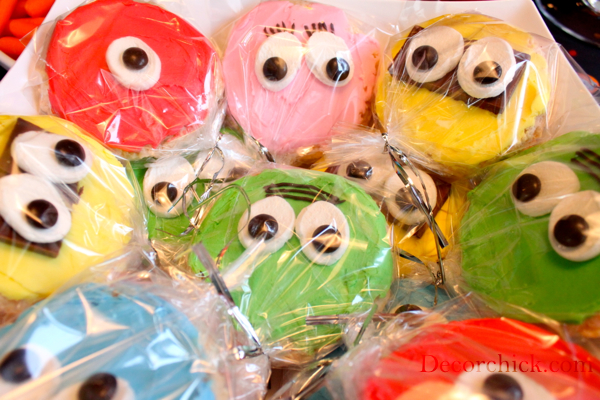 Oh my gosh I loooooove them. I sent her a picture from this other Gabba party on Two Parts Sugar and asked if she could replicate and make them.  She sure delivered, if not over-achieved.  How to make: Cut rice krispie treats in a circle, make icing and color it the right colors, then use marshmallows and M&M's for the eyes. For Plex (the yellow one) use part of a chocolate bar. She made the eyelashes with chocolate icing and used a #2 decorating tip. And a tip from her: Dip scissors in glass of hot water when cutting marshmallows to minimize sticking (because you need 2 sticky sides).
And now for the cake!! I wanted a fancy cake after seeing this one from the other Gabba party Two Parts Sugar had that was amazing, so I called a local bakery, sent her the picture, and she did an AWESOME job.  And the cake was SO good. Like maybe the best cake I've had.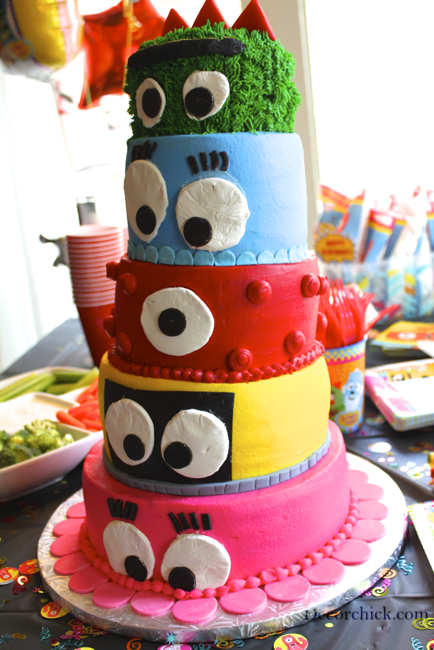 It looks like all fondant but it wasn't, just the eyes and stuff.  It was all a delicious buttercream icing and the bottom layer was vanilla, then the next layer was chocolate and it alternated like that.  It seriously was delicious and so worth spending money on it.  How often does a 3 year old get a 5 tier cake? Um, probably never! But for any locals near Houston area, I'd highly recommend Kakes Xcetera–she did amazing and delivered the cake on the day of the party!
Basically we just had the cake, the Gabba treats, a veggie platter and LOTS of these.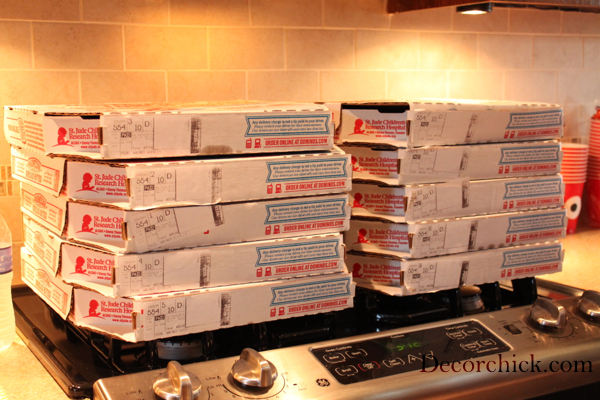 Just makes everything much easier than making a billion different things to eat.
Here's a few more shots of the party table.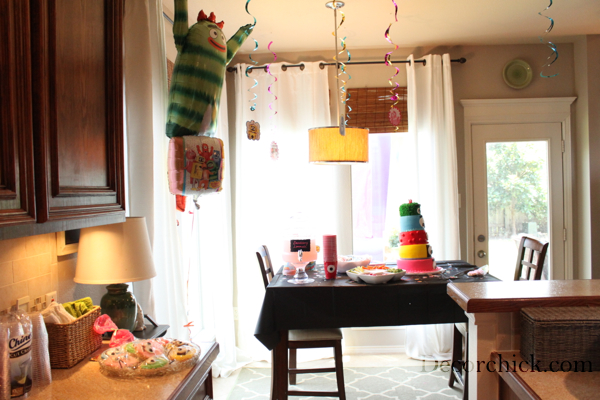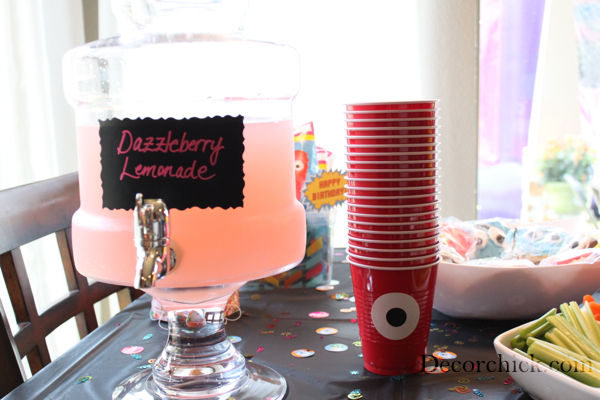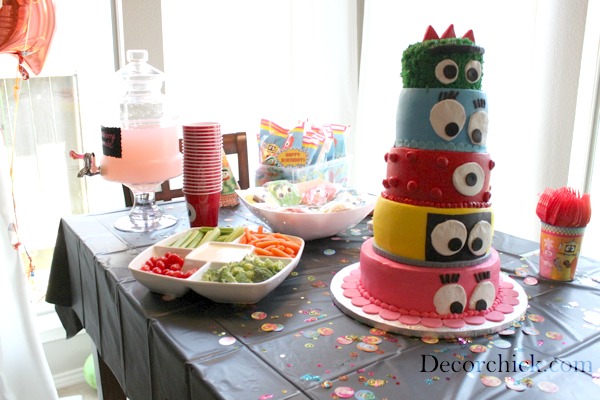 We just don't have the space to decorate a big party table, so our breakfast table will have to do.
Other things we had at the party?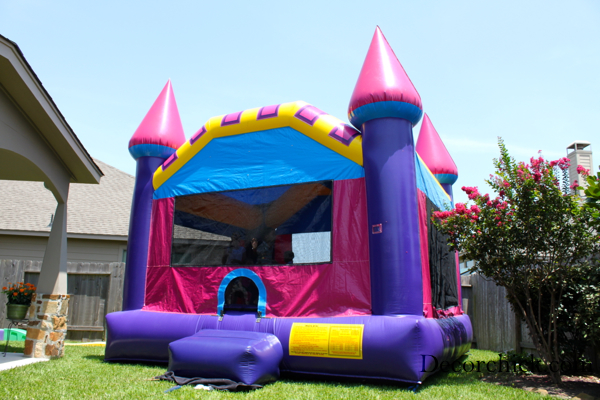 Everyone loves a good bouncy castle!
We also rented a snow cone machine and that's always a crowd pleaser. :)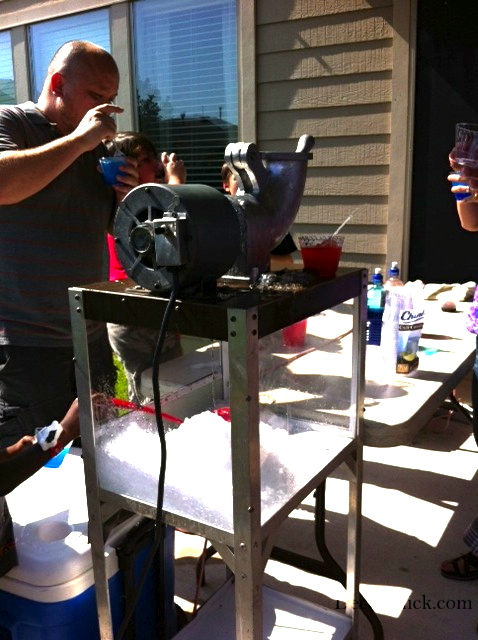 And for the BIG surprise at the party?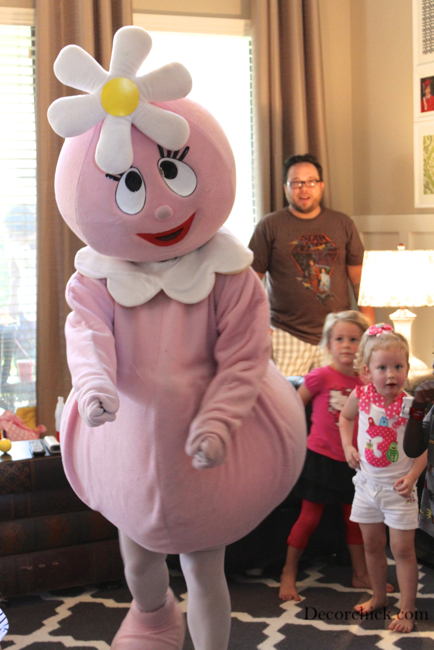 Miss Foofa herself came to visit! Emma was beyond happy…made me tear up several times seeing how happy she was.  I have never rented a character or anything for a birthday party, but it was the best money spent.  It's something we will all remember.
Foofa came for 45 minutes and she danced and played games with all of the kids, passed out treats, and took pictures with all of the kids.  It was SO fun.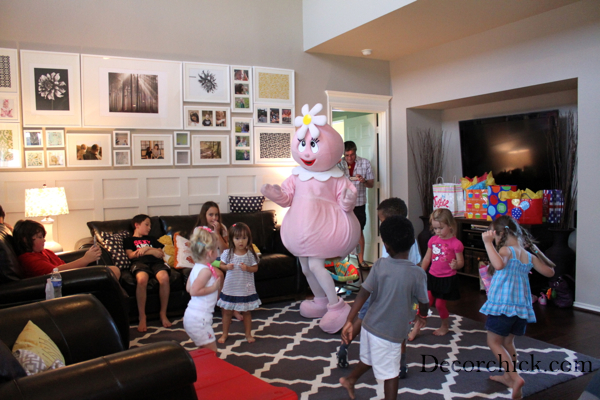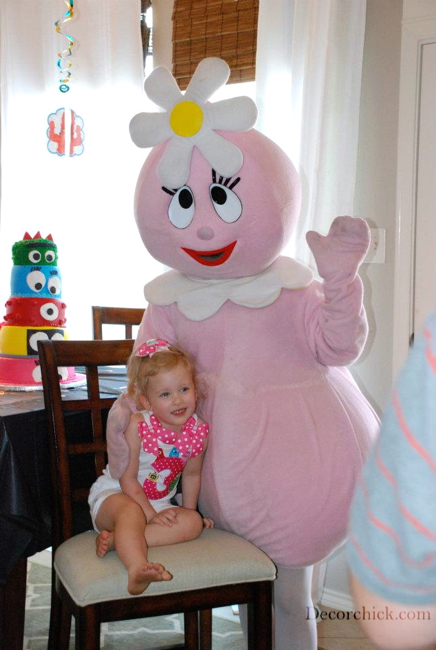 So so cool.  Then Foofa went back to Gabbaland and we all ate cake and more snow cones. :)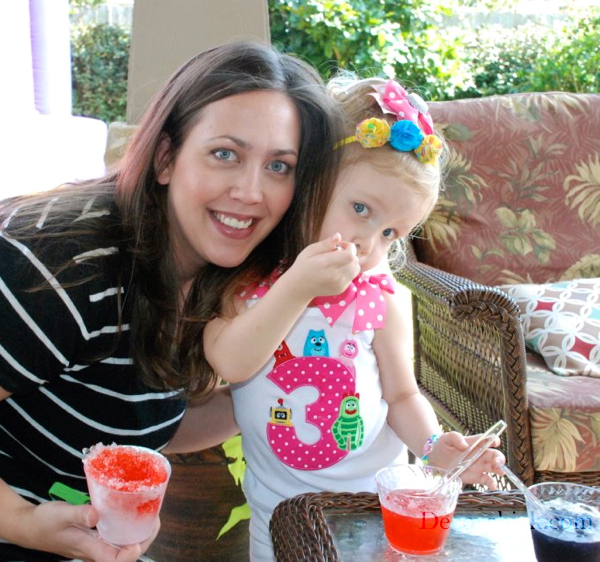 And that's how we celebrated the Yo Gabba Gabba party! Was it a little over the top for a 3 year old?  Probably so. But was it worth it? Most definitely.
How do you like to celebrate your kiddos' birthdays?
Pin it if you love it and to have for future reference!  :)

xxoo,
Decorchick!
__________________________________________________________________
Also find me on Facebook, Twitter, Pinterest, Google+, RSS and Instagram