I wasn't even going to write about the girls' Veggie Tales birthday party we just had, because as I had said in this post about extravagant parties, you know how I feel about those. BUT, their Veggie Tales cakes that my mom made I just have to share with you so I decided to show with you a very frugal birthday party! That turned out pretty cute I have to say!
Now those cakes. Feast your eyes on Bob the tomato and Larry the cucumber.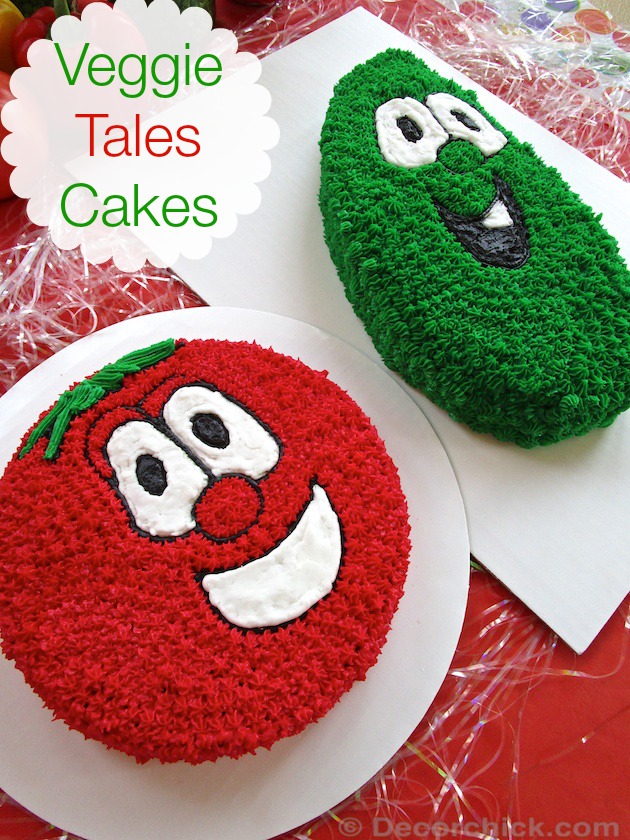 I know. My mom rocks.
A closer look…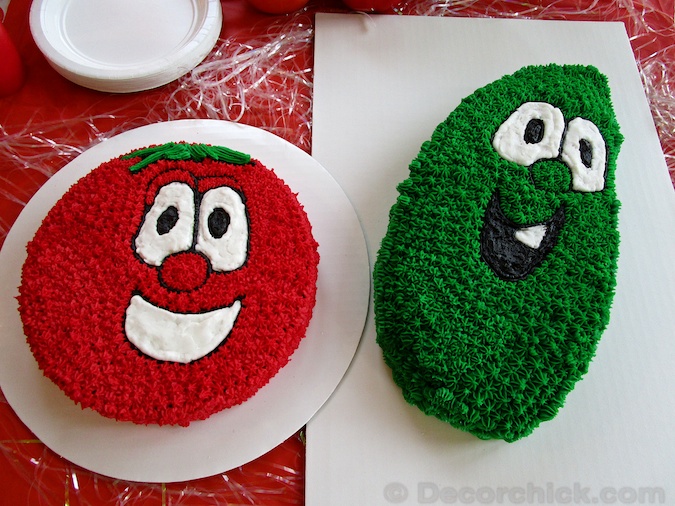 I believe she just printed out something from the Veggie Tales site of their faces and shapes, and just kind of traced it and then drew on the faces with icing. My step-dad drew the faces I think.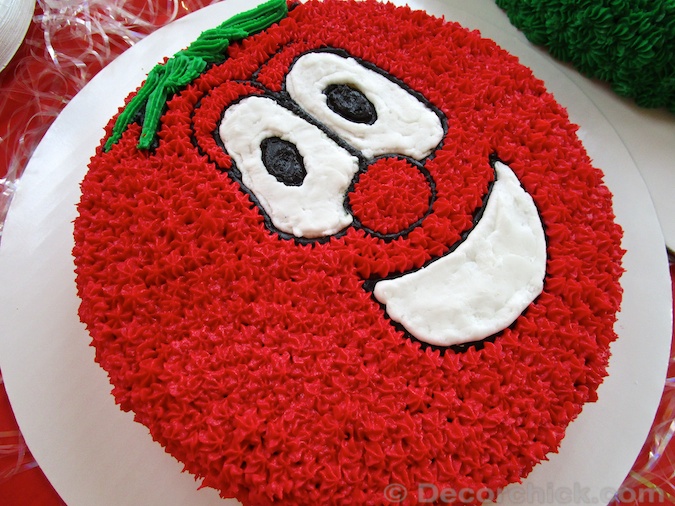 And yes, those are all individual squeezes of icing using a special size tip. :)
Oh, Bob was white cake, and Larry was chocolate cake. And they were delicious!
I made a VERY simple centerpiece with cucumbers and googly eyes and stuck those in mason jars that I had. And sprinkled a few other vegetables around.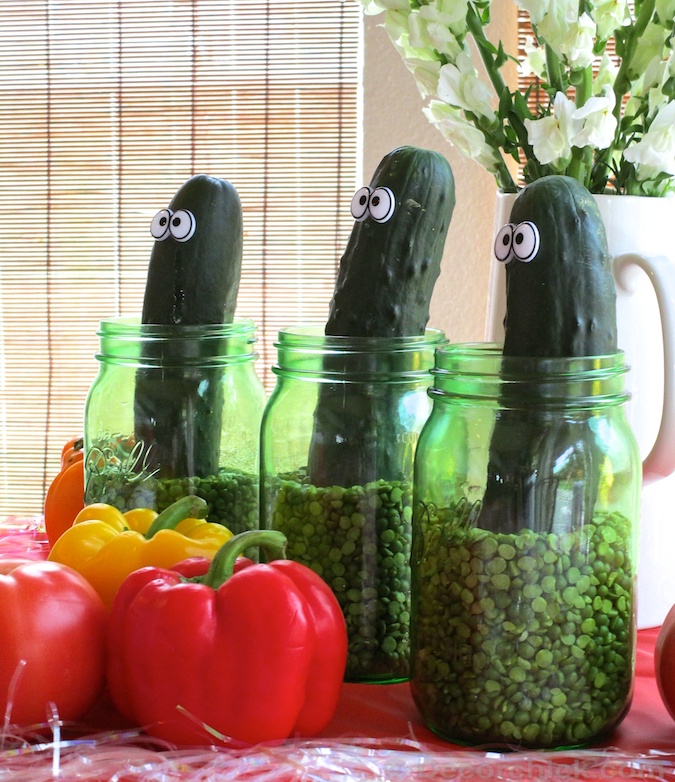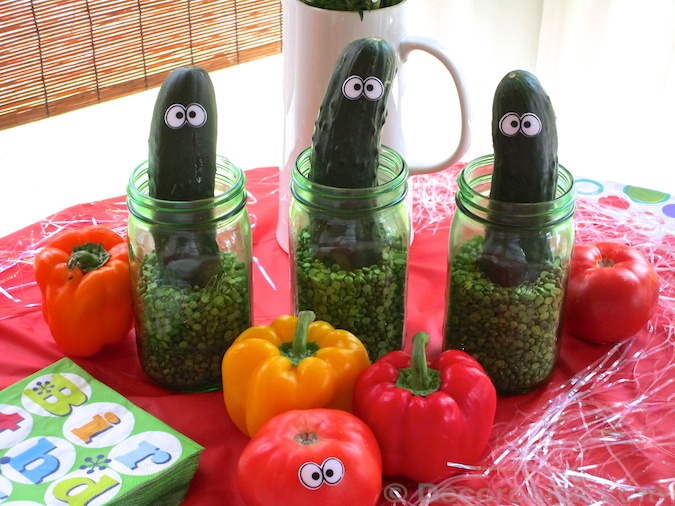 Seriously ridiculously easy.
I told you all I bought all of the party supplies from the Dollar Store this year, especially because VT party things are hard to find (which is a shame), and so we just used Veggie Tales colors.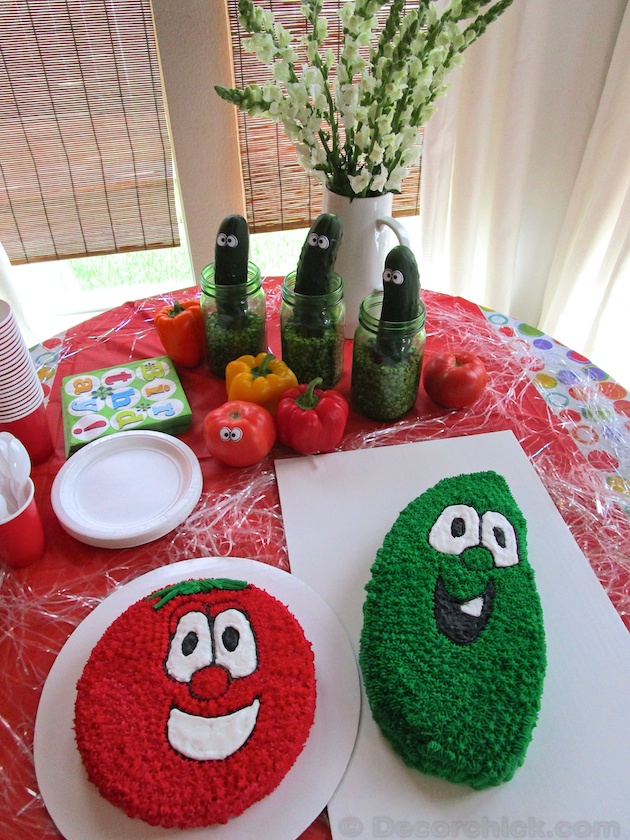 So the total budget spent on party decor was $13 from stuff from the dollar store and $10 on balloons. We did order the $5 pizzas and had drinks too, but really, that was it!
And would you believe this is the only semi-decent-not-too-blurry picture I got with the 2 monkeys at their party?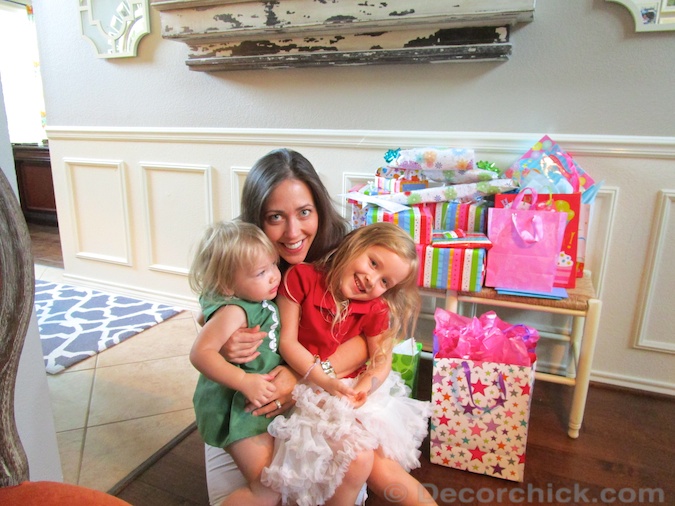 Ellie wore green in honor of Larry, and Emma wore red for Bob. Maybe they can wear those at Christmas too. :)
We had a great time and the girls wouldn't have known any better if we spent $500 or $25. All that matters is that everyone came to celebrate their special days.
Hope you enjoyed!
xxoo,
Decorchick!