We did something different this year and bought a real flocked Christmas tree!! And when I mentioned that on Facebook some of you haven't heard of a flocked tree! You know, the ones that look like snow is on them? Maybe that's a Southern thing since we don't get snow? Anyway, I love it, and didn't want to decorate it because it was already beautiful.
I kept the tree all white and silver. I used my white ornaments that I paid $3 for at a yard sale last year. It was the score of the season.
Here's the tree in the day without any lights.
It looks pretty realistic to me. The "snow", that is. And that's of course the mantel peeking through on the left.
For the topper I improvised on an old topper my cousin made for me a few years back (the same cousin that did my non-wreath), and cut out all of the red that was in it, and kept the gold part of it then stuck in a few pieces of silver swag so it matched the tree. So easy!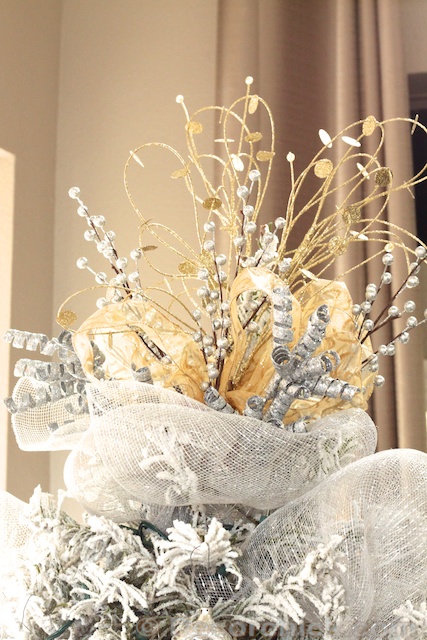 And of course Christmas trees are most magical at night with the lights all glowy.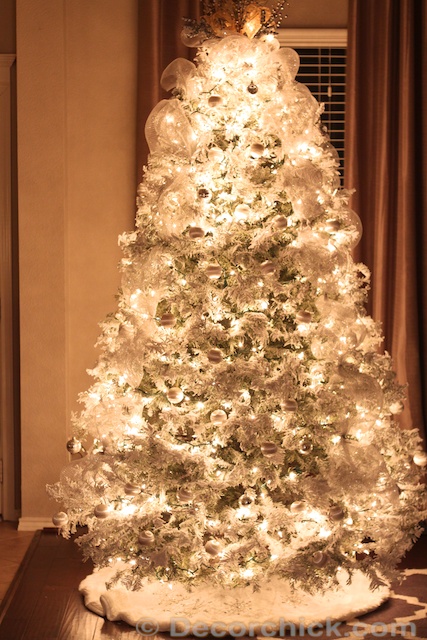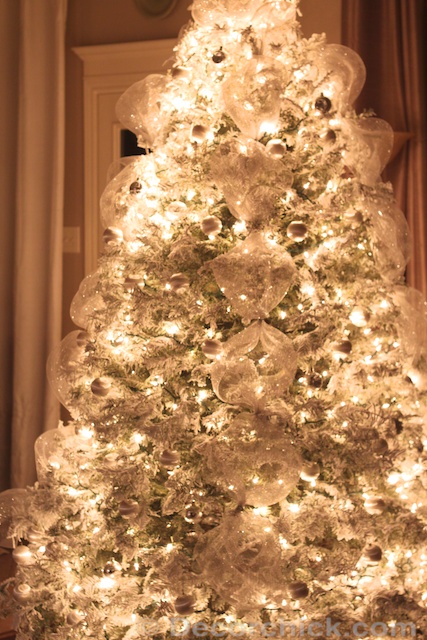 It's one of my favorite trees yet. But…I'm not sure how good our tree is going to look come actual Christmas. The bottom branches are already pretty droopy and touching the floor and I have to keep trimming them. I guess that's from the weight of the flocking on the branches maybe? Not sure. But I'm still glad we got one. Next year I just won't get it as early as we did this year.
For some bokeh shots I did of our tree be sure and check out this post. So fun!
Have you ever heard of a flocked tree? Do you like them? My mom told me she heard they were "in" this year and I had no clue. I just woke up one morning and decided I wanted a flocked tree this year so we went and got one. I guess that makes me in the cool club if they are in this year…?
I can't believe Christmas is so close! Sharing this post at Sarah's Christmas Tree party.

xxoo,
Decorchick!
Let's Connect!