I have something pretty to show you today. But I don't know what they are "officially" called? My cousin Rachael made this for my Christmas door decor all the way from Alabama and sent it to me! She's like a professional bow maker (to me) and she really needs to move to Texas so she can make me bows all the time. Just wait till you see what her hubby made for me a few weeks ago when they came to visit!
But back to the non-wreath. Here it is.
So pretty right??! So what are these things called? If you google "door hangers" that's not it. And "red berry swag" doesn't quite describe it either. Haha. Fill me in if you know because I like them and like how it's something different than your regular wreath.
There's not a full blown tutorial or anything but I think you can figure it out from the picture. Pretty much buy a piece of the nice swag berry stuff at a craft store, make a pretty bow and tie it on with floral wire, leave some ribbon hanging to run it down, then embellish with cute jingle bells. :) I love it!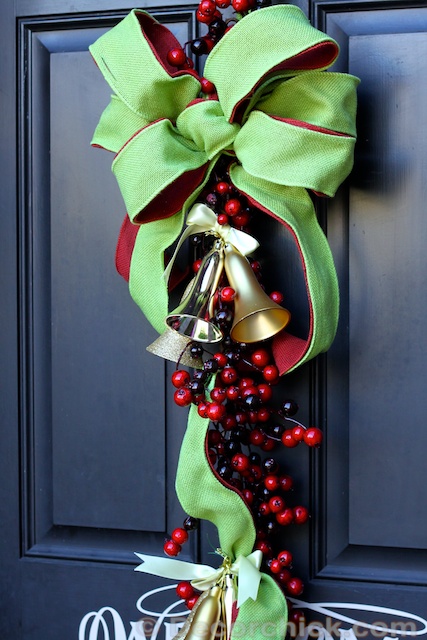 I'll show you the rest of the front porch next week. :)
Thanks for the "hard to describe what to call this pretty thing" cuz. You're the best!
What are you hanging on your doors this year? Don't forget to enter the Pick My Own Prize HUGE giveaway we have going on now to win ipads, cash and other awesomeness!
Sharing this post at Kate's Christmas craft partay.

xxoo,
Decorchick!
Let's Connect!