Hey everyone (does that sound familiar?)! Thanks for the love and sweet words on my video. Y'all are seriously TOO nice. :) And just as giggly as I was in my video, today I am more giggly and giddy because I finally got some good bokeh shots of our Christmas tree.  You know, those little lights you see in the background almost floating around and bubble-like? If you don't know what I'm talking about, I'm talking about these:
Now, I'm not a "professional photographer" or anything, but I do know a little bit about Bokeh and that it's super popular around this time of year because a lot of people have their Christmas trees out.  And it's the perfect way to experiment with bokeh.  It's sort of…magical.
What you really need to do is just sit and play with your camera after you read my post.  I will tell you what settings I used on my camera, a Canon Rebel, so you can try those same settings too.
In that image above, I was just focusing on that wintery birdhouse which is on our breakfast bar, and the Christmas tree is literally right behind it. I even edited that pic and made it mostly black and white except for the birdhouse which was kind of fun.
Before I get ahead of myself, this is what I used and what settings etc. One of the most important things though is the lens.  I used my 50mm which I got for Christmas from my mom last year and love.  It has a really low f-stop which allows for pictures like this, and ones with really blurry backgrounds.  It's a great lens for right around $100. Put it on your wish list.
Items and Settings used:
Canon Rebel DSLR camera
50mm lens
Camera setting in manual mode: ISO: 400 / Aperture: f/1.8 / Shutter Speed: Either 1/13 or 1/20 for all pics.
Now like I said, what worked for me may not work exactly the same for you, but this should give you a good starting point.
First, all you need to do is focus on your object like your kids, or whatever. You can even put your feet out in front of you, focus on them and have your tree in the background. You will have to play with the distance because you get different bokeh sizes when your object is closer to the tree or further away.  For all of the shots I am about to show you my kids (and the birdhouse) were maybe just 5-8 feet away from the tree.
Once you have your object ready and the tree in the background, press the camera button down half way to focus the camera on your subject only (do not focus it on the Christmas tree) and then just snap away. It's really VERY simple.  Don't be afraid to change your settings.  I used these same settings at 4:30 p.m. and 8:00 p.m. You can tell which ones were done at night, but they are still pretty.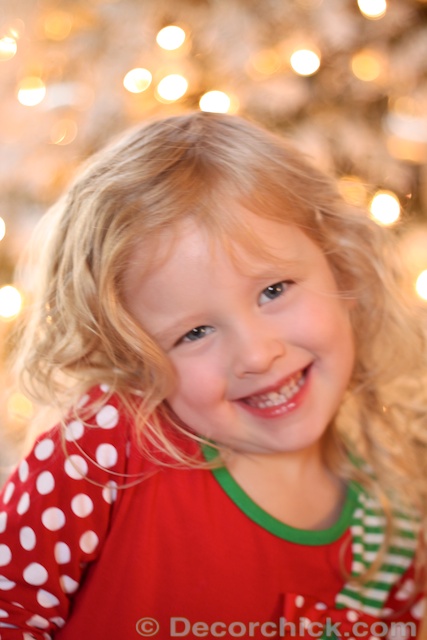 If they are coming out too dark, try raising your ISO to 800 to get a brighter picture. You of course can use a tripod too, but since I was photographing kids (which do not stay perfectly still) I opted not to. :)
But that's really all there is to it! If I can do it, you can do it. I promise. I think the bokeh shots make such a unique photograph. It's just pretty bright bubbles floating around. :)
Now enjoy the rest of the pics. And yes, I love my kids and want to show them off…and my bokeh. :)
Settings again for all pics: Manual mode: ISO: 400 / Aperture: f/1.8 / Shutter Speed: Either 1/13 or 1/20 for all pics.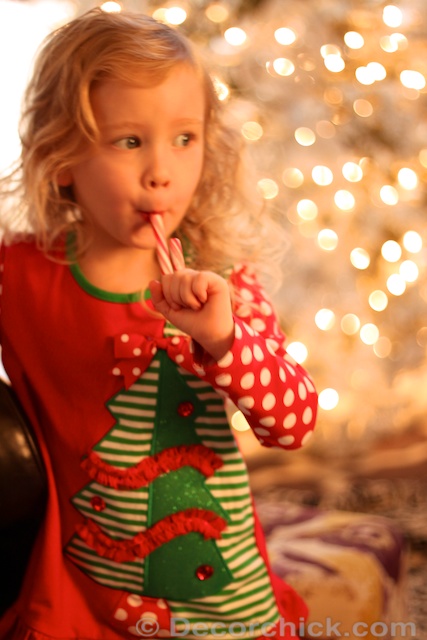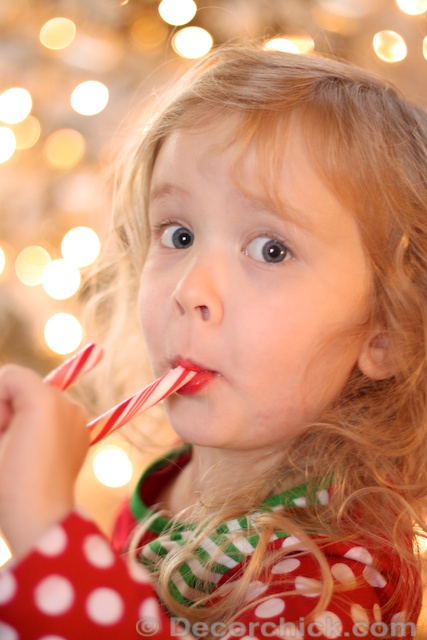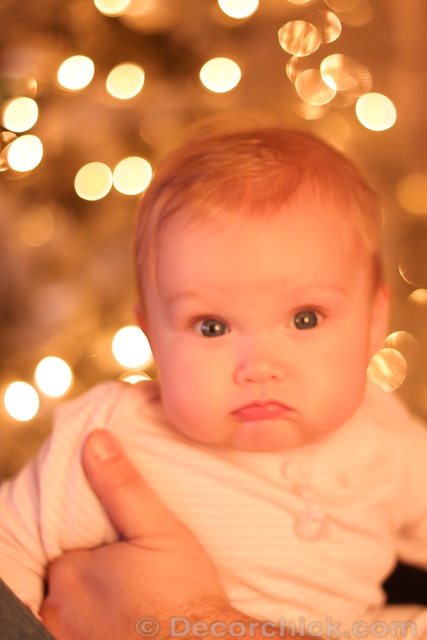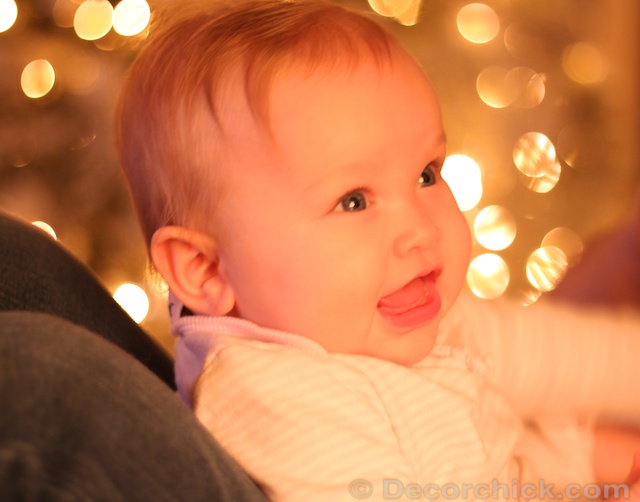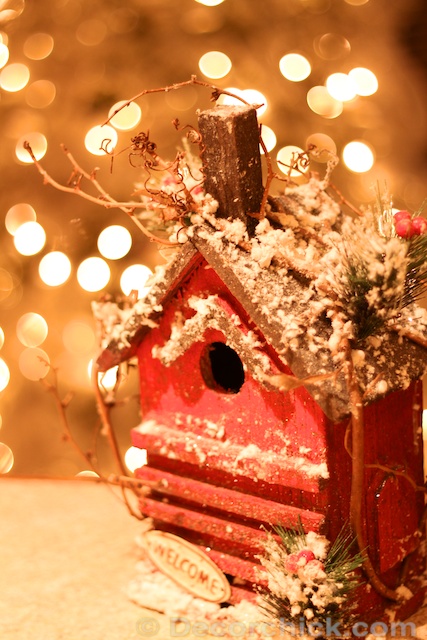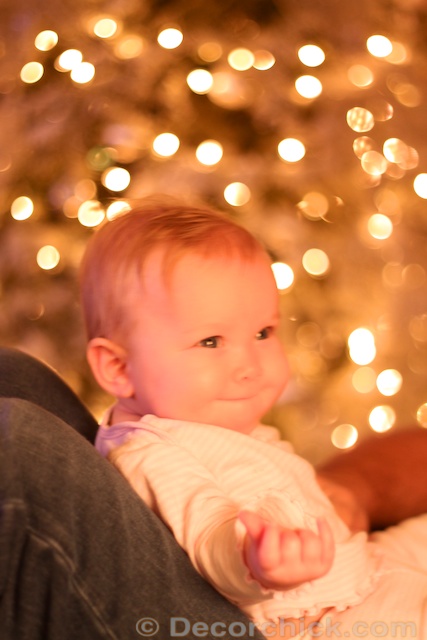 So cool right? I just love them! It's kind of addicting though once you start taking pictures.  I couldn't put my camera down the other night. But aren't those cheeks the sweetest? So sqeezeable and pinchable! :)
If you do not have a 50mm lens with a low f-stop, I am not sure what results you would get.  I will have to try my kit lens (18-55mm) and see what it does and update this post.  I'll keep you posted!
SO, have you ever tried taking pics like this? Are you a bokeh pro? Never heard of bokeh? I hadn't until I started reading blogs, of course. :)
Hope this post helped you! If so you should pin for future reference so you'll never forget. :) Sharing this post at Sarah's Christmas Tree Party.

xxoo,
Decorchick!
Let's Connect!